Affordable Housing Available in Hillsborough County, Florida: All you Need to Know
Phil Ganz
/
8 Min Read
/
Aug 24, 2022
Located in west-central Florida, Hillsborough is the fourth most populous county in the Sunshine State, with a population of 1,459,762 according to the 2020 census. Like most counties in Florida, Hillsborough County attracts thousands of domestic immigrants mainly due to its fantastic weather, high quality of life, and plenty of opportunities for working professionals.
(Mar 30, 2023)
Even so, property prices can be pretty steep. So, if you're planning to buy a home and settle in Hillsborough, chances are you'll need a mortgage to finance the purchase. The good news is that there are numerous home finance options that you can qualify for in Hillsborough County.
This complete guide will delve into all the affordable housing options in Hillsborough, including the different mortgage loans that you can take advantage of when purchasing a home in this county.
First Mortgage Loan Program In Hillsborough County, Florida
There are several conventional and government-backed home financing products that prospective homebuyers can leverage under the first mortgage loan program when buying a home in Hillsborough County. They include:
Freddie Mac HFA Advantage loans
These are fixed-rate loans, fully amortizing loans with a term of 30-years with 360-level monthly payments.
Eligibility Requirements For Hillsborough County First Mortgage Program
Hillsborough County's first mortgage program has several standards and requirements that an applicant must meet to qualify for a home loan. These include:
First-Time Homebuyer Requirement
It would help if you were a first-time homebuyer to be accepted for the Hillsborough First Mortgage program. This implies you shouldn't have shown any ownership interest in a primary house in the three years leading up to the execution of the Mortgage Loan. You need to prove that you can reside in the U.S permanently.
Consequently, when applying for the first mortgage loan, you (and your spouse, if married) will be required to produce federal income transcripts.
Nevertheless, two main exceptions may allow you to bypass the first-time homebuyer requirement. These are
Veteran's Exception - You do not have to be a first-time homebuyer if you are a veteran who served in the active military, navy, or air force and was discharged or released under honorable conditions. Likewise, you will not be required to produce past three years of federal income transcripts.

Federally Designated Targeted Area Exception - You don't have to be a first-time homeowner or provide federal income transcripts for the past three years to qualify for the first loan program if you want to buy a property in a federally designated targeted region in Hillsborough County. Targeted regions are typically deemed economically distressed and categorized as such based on HUD census tract numbers.
Homebuyer Education Requirement
Borrowers of the Hillsborough County First Mortgage loan need to undergo a pre-purchase homebuyers education course even if they are veterans or buying a home in a federally targeted zone. Hillsborough County's HFA accepts in-person homebuyer education as long as it's offered by:
a HUD-approved counseling agency

a unit of the local government that provides homebuyer education in Florida

a counseling agency that a unit of the local government has tasked to provide homebuyer's education on its behalf
Online homebuyer education is also acceptable, provided a HUD-approved agency offers it. This government unit provides pre-purchase homebuyer education in Florida, a mortgage insurance provider, or a GSE-sponsored course.
After undergoing the approved pre-purchase homebuyer course, borrowers are granted certificates of completion which are valid for up to 2 years from the date of completion. It is worth bearing in mind that any homebuyer education provided over the phone or by a lender is not permissible by the Hillsborough HFA.
Credit Requirement
To qualify for the first bond loan program, you need to have a minimum FICO score of 640. With that being said, if a lender has a higher minimum for other loans and wishes to require a higher minimum for the first bond loan, they must use the higher minimum.
DTI Requirements
The maximum permissible DTI ratio for qualifying for the Hillsborough first bond loan program is 45% for VA, USDA, and FHA loans, if a borrower has a minimum credit score of 640. For borrowers with a minimum credit score of 680, the maximum DTI ratio permissible is 50% for FHA and HFA Advantage Freddie Mac conventional loans.
Income Requirement
A borrower's income and that of their spouse and any other adult property occupants will be factored in when qualifying them for the Hillsborough first mortgage loan program. The qualifying income for the bond program is typically annualized rather than averaged.
The different income types that are taken into account when calculating qualifying income for the first-time buyer mortgage loan program include:
Base pay from an employer

Additional pay such as sick leave and holidays

Income from self-employment

Income from trusts, royalties, dividends, and interest from money markets, investments, and mutual funds

Government transfer payments, including disability benefits, pensions, veterans benefits, public assistance, and social security benefits

Alimony payments and child support
Property Requirements
Hillsborough County's first-time buyer mortgage loan property requirements are as follows:
New or existing 1- 4 unit condos and townhomes. Homes are considered new if they haven't been previously occupied.

Mobile, seasonal and recreational homes are not permitted.

The U.S Bank (Master Server of the first bond loan) will not purchase loans for manufactured homes. These are mobile homes that have been built offsite on a permanent chassis that is transported to a permanent site.

Properties purchased using the first bond loan must be strictly for residential purposes.

A maximum of 15% of the residence's square footage being acquired may be utilized for a business (other than incidental rental from eligible multiunit structures).
HFA Second Mortgage Loan (Down Payment And Closing Cost Assistance)
Borrowers who qualify for an HFA Advantage Loan are automatically eligible to receive a second mortgage to cover part of the downpayment and closing costs on the first HFA conventional loan. This second mortgage has a 30-year term and is 0% deferred. It is also not forgivable, so you'll be required to pay it back upon sale, refinance, or transfer the title.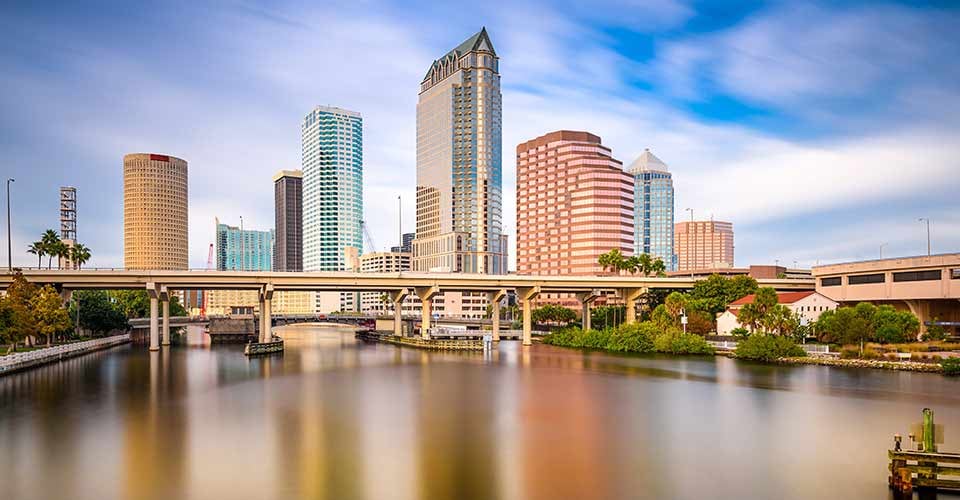 Best Places To Live In Hillsborough County, Florida
If you're considering purchasing a home through a mortgage in Hillsborough County, Florida, it's easy to feel spoiled for choice. After all, the county is home to some of the best neighborhoods in West-Central Florida, with plenty of affordable townhouses, condos, and single-family homes.
In addition to being one of the safest and most affordable counties to live in Florida, Hillsborough has a great school district with many top-rated public schools. There are also numerous family-friendly amenities, including parks, museums, and other attractions where residents can go to unwind.
Let's now look at some of the neighborhoods you might want to consider making your new home when moving to Hillsborough County.
Pebble Creek
With the median home price coming in at $391,212, Pebble Creek is one of the most affordable neighborhoods in Hillsborough County. It has a very neighborly feel, with more than 70 percent of homes being owner-occupied and an average family size of 3.1.
If you have kids, the quality of the school district in the area you intend to move to is an important consideration to make. Fortunately, Pebble Creek has a top-rated school district with plenty of highly ranked public and private schools.
Some of the best schools in the area include Countryside Montessori Academy, Bell Creek Academy, Dayspring Academy, Tampa Bay Technical High School, and Wharton High School. Access to adjacent parks, playgrounds and childcare centers is critical for families with children.
Fortunately, Pebble Creek is home to several friendly parks and playgrounds, including West Meadows Playground and Benito Playground Activity Center, to mention a few. These playgrounds offer excellent leisure opportunities for both children and adults. In the summer, families can also enjoy beautiful picnics in the shade or take a weekend walk along the numerous trails available in these parks.
Apollo Beach
The picturesque town of Apollo Beach is nestled between Tampa Bay and the Gulf of Mexico. This modest beach town has grown in popularity as one of Florida's most desired destinations to live and invest in real estate. Apollo Beach is approximately 30 minutes from Tampa International Airport, making it excellent for regular flyers.
Apollo Beach is a fantastic spot to reside if you want to ensure that your kids have an academic advantage in life. The Hillsborough County Public School District, which serves the town, is an excellent option for young talents, with the greatest concentration of top-performing public schools in Florida and students consistently ranking highly in proficiency in math and reading.
Some of the best schools in the area include Southshore Montessori Pre-School, Waterset Charter School, and East Bay High School.
If you're a foodie, you'll be pleased to know that Apollo Beach has plenty of fantastic restaurants, cafés, and culinary establishments that cater to a wide range of tastes. These restaurants provide a wide range of cuisines, including both local and foreign cuisines and the best part is that they are relatively affordable.
This means you can dine out virtually every day without spending a lot of money. The atmosphere at these restaurants and cafés is also excellent, and you can enjoy your meal while looking out over Apollo Beach.
Apart from the numerous restaurants, the town also has several cafés that provide delicious snacks and some of the most incredible coffees anywhere in Florida. These cafés are mainly located near or at beaches, where you may relax with your favorite cup of coffee or tea while watching the sunset and enjoying the breathtaking sights and sounds of the ocean.
The city also offers a vibrant nightlife, including nightclubs and bars where you can have a good time with friends over beverages. It is worth noting that these spots are very popular with both residents and visitors, so they can quickly get packed, especially during the weekend.
Pinecrest
Pinecrest is a wealthy Miami-Dade County suburb with about 19,000 people. This picturesque suburban village features lovely tree-lined lanes, magnificent residences on spacious lots, and a relaxing, calm ambiance, with a total size of fewer than 8 square miles. While most people often assume that the tiny town of Pinecrest is an exclusive community for the super affluent, it is pretty welcoming and friendly.
Despite its proximity to downtown Miami and Coral Gables, Pinecrest maintains a tranquil atmosphere with little city noise and no heavy traffic. This lovely town draws people who want to live in a neighborhood where social activities and events are prioritized.
Municipal zoning restrictions are closely enforced by the progressive local government, encouraging an ecologically friendly mindset. This has resulted in a neat, well-kept neighborhood with lovely gardens and landscaping.
Locals of Pinecrest like spending time outside, and the warm, sunny atmosphere is excellent for outdoor activities such as picnics and strolls. Residents also love riding their bikes through the neatly kept streets, admiring the massive residences with gorgeous gardens.
Sports competitions and parties are frequently hosted at neighborhood parks like Evelyn Green Park and Coral Pine Park, while communal celebrations are commonly held at Pinecrest Gardens. This magnificent park hosts several events and festivals throughout the calendar year and serves as a gathering place for the community.
Pinecrest is served by the Miami-Dade Public School system, which features highly ranked schools such as Miami Palmetto Senior High School and Pinecrest Elementary. Private schools, such as the American Academy of Pinecrest and Gulliver Academy, are also available for families that wish to offer their kids a solid foundation in academics outside the public school system.
Moreover, the community is served by several excellent higher learning institutions, including the University of Miami, Miami-Dade College, and Florida International University.
Keystone Heights
The beautiful neighborhood of Keystone Heights lies north of Tampa in Hillsborough County. It attracts many families every year due to its low crime rates, high quality of life, and plenty of social amenities, including top-rated schools, parks, recreation centers, etc.
When you compare the cost of living in Keystone to the rest of Florida and the national average, it's less affordable. This is primarily due to the housing market in Keystone, which is Keystone housing is 73 percent more expensive than the national average and 71 percent more expensive than the rest of Florida. The average price of a home in Keystone currently sits at $458,500, up 9.2 percent over the previous year.
The great school district is one of the reasons individuals choose to relocate to Keystone. Among the best schools in Keystone Heights are Bryant Elementary School, Farnell Middle School, Hammond Elementary School, and Steinbrenner High School.
These institutions receive high ratings for their student's progress and diversity. The Keystone Heights neighborhood is also served by several private schools, including Community Montessori School and Keystone Preparatory School.
Riverview
If you are considering relocating to Riverview, Florida, you should first learn about the city's living costs. The city of Riverview, which was formed in 1885 and is located in Hillsborough County, is one of Florida's fastest-growing localities. The average property price in Riverview is approximately $278,251, while the average monthly rent is around $900.
The wide variety of housing options is the primary cause of the city's rapid expansion. However, with a 4.5 percent increase in the previous year and a forecast growth of around 2.2 percent in the coming year, house prices are likely to rise in the foreseeable future.
Furthermore, the utility cost is almost 16 percent higher than the national average. On the other hand, transportation and petrol prices are around 6% more than the national average, while food and grocery prices are comparable to the national average.
Since Riverview falls within the jurisdiction of Hillsborough County, it is served by the public school district, which features highly-rated institutions such as Bell Creek Junior Academy, Spoto High, Riverview High, Newsome High School, Bloomingdale High School, and Valrico Lake Advantage Academy.
A Final Word
Like most places in Florida, the real estate market in Hillsborough County can be very competitive. However, by doing your due diligence and qualifying for a mortgage, it is possible to make your dream of living in Florida a reality and settle in one of the fantastic neighborhoods in Hillsborough County, Florida.