All Day Indoor Fun at Orlando's Dezerland Park
Phil Ganz
/
4 Min Read
/
Apr 02, 2022
If you are into indoor fun and activities, consider visiting Orlando's, Dezerland Park. This location promises you a day of endless fun, thrills, and entertainment.
The park has a wide array of offerings suitable for the entire family. Dezerland Park boasts an arcade, trampoline park, bowling alley, auto museum, movie theater, go-karting, and many more!
Dezerland is best known for its collection of James Bond movie vehicles. It also has the world's largest Vespa collection, making it a popular destination for motor and scooter lovers.
This post explains everything you need to know about Orlando's Dezerland Park, so you can plan your itinerary accordingly before coming to town.
History of Dezerland Park
After three years of thorough preparation, Orlando's Dezerland Park finally opened its doors on December 14, 2020. The park is located along International Drive in the former site of Festival Bay Artegon Mall, which closed in 2017.
Dezerland is the brainchild of Michael Dezertzov, an Israeli-American real estate developer who is also the founder of Dezer Properties. Partnering with other real estate gurus, Dezer has interests in numerous properties. However, the inspiration behind Dezerland Park is Dezertzov's love for cars.
Dezerland Park covers over 800,000 sq. ft, making it one of Florida's largest indoor amusement centers. It has a collection of over 2,000 cars straight from movie sets such as Harry Potter, Austin Powers, Batman, Ghostbusters, James Bond, and Terminator, among many others.
The park also hosts a gaming arcade, 12 bowling lanes, a trampoline park, and arguably Orlando's longest go-kart track.
Major Attractions at Dezerland Park
As you already know, Dezerland Park is home to over 17 different attractions, all under one roof. Regardless of your age, the park promises you a day of fun, thrill, and entertainment.
The major attractions at Dezerland Park include:
Orlando Auto Museum - Dezerland Park is renowned for its large collection of vehicles and Vespa scooters. The Orlando Auto Museum at Dezerland is over 250,000 sq. ft. It hosts over 2,000 vehicles collected straight from the silver screen from movies like Batman, James Bond, and Harry Potter. If you want to explore rare real-world vintage cars and bikes, make a point to visit this museum.

The Pinball Palace - If you are a pinball enthusiast, you can test your skills against your friends or other players at the Pinball Palace in Dezerland. The Pinball Palace has over 150 pinball games like Data East, Stern, Williams, Bally, Gottlieb, and Sega. You can also keep track of your points total and world records by checking the leaderboard.

Bond Lounge & Exhibit - Bond Lounge & Exhibit is an extension of Orlando Auto Museum, and it is the only sit-down restaurant where you can wine and dine while surrounded by James Bond memorabilia. The lounge features James Bond's items ranging from spy vehicles to his famous Smartwatch. Grab a bite at the Bond Lounge and Exhibit as you enjoy a real-life James Bond experience.

Axecelsior Axe Throwing - If you love axe throwing and want to experience thrills aiming at and hitting moving targets, visit the Axecelsior Axe Throwing inside Dezerland Park. The venue hosts the only projection targets in the entire Orlando. It has a variety of games for the whole family, including safety axes for kids under eight years to guarantee fun and excitement for everyone.

Arcade Orlando - Arcade Orlando at Dezerland is one of the largest arcades in Florida. The arcade is ideal for gaming lovers who want to nimble out their fingers and flex their muscles to play their favorite games. It features over 300 ridings, skill, redemption, nostalgia, and video games. If you like gaming, make a point to visit Arcade Orlando.

A Quick Escape - A Quick Escape is another major attraction at Dezerland Park worth checking out. The location is home to six immersive five-minute escape rooms, including Space Ranger, Bunker 57, Area 51, Wizards of Wormbly, and Pirate's Cove. A Quick Escape features a futuristic spaceship that takes you into a black hole and through all these escape rooms for a memorable experience.

The Putting Edge - The Putting Edge is a glow-in-the-dark mini-golf course, arcade, and lobby. It features images, colors, and sounds that promise to propel you from the real world into a universe full of fun, thrills, imagination, and creativity. The game is suitable for all ages from 8 years, and a round of golf takes about 45 minutes to complete.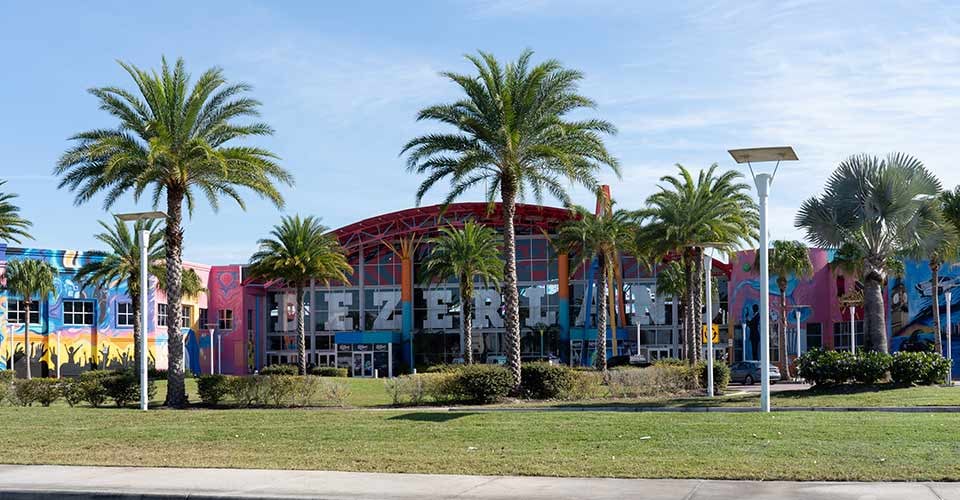 Top 5 Things to Do at Dezerland Park
Dezerland Park has plenty of indoor attractions and places to see. Choosing what to do and where to go can be overwhelming for anyone considering the numerous options available.
With that said, here is a list of the top 5 things to do at Dezerland Park:
Bowling - If you love bowling, Dezerland Park is the ideal destination for you. The park features 12 bowling lanes for endless fun and entertainment. Bowling Orlando at Dezerland also features a bar and restaurant service.

Go-Karting - As you know, Dezerland Park is home to Florida's longest indoor go-karting track. The area features state-of-the-art electric go-karts for pro and amateur racers. Test your racing skills against other players by visiting Karting Orlando.

Trampoline Jumping - Visit Jump Start Trampoline Park for endless fun jumping on the trampoline. The park features trampoline courts, party rooms, a dodge ball, super slam, and restaurant service.

Play Shooting - Play Shooting at Dezerland Park allows you to fire as many replica guns as you desire. You have the option to choose between a handgun, BB gun, and a machine gun for hours of play shooting fun.

Axe Throwing - Do not leave Dezerland Park before visiting Axecelsior for hours of axe throwing fun. The venue offers traditional moving targets, and they provide safety axes for kids to ensure everyone joins the fun.
Is Dezerland Park Worth Visiting?
If you enjoy indoor attractions and games, a visit to Orlando's Dezerland Park is worth every penny and every minute. The park is one of the largest in Florida, attracting hundreds of thousands of tourists every month. Its vast size means that you cannot complete a tour of the area in one day, but every site you visit promises utter fun and thrills.
Interested in learning about becoming a resident in Florida or moving there? Read more.