Learn About the Best Magnet Elementary Schools in Florida
Phil Ganz
/
9 Min Read
/
Sep 14, 2022
The first U.S. magnet school was founded in 1978. Since then, more than 3 million students have attended magnet schools throughout the country. Currently, there are approximately 4,400 magnet schools in operation.
How to Get into the best Magnet School in Florida
All students can attend the best magnet school Florida. Magnet schools allow all students to excel in their chosen focus without worrying about bullies or other issues that can occur in traditional public schools.
Know the basics of magnet schools in Florida
Florida magnet schools are non-traditional public schools that use a theme to attract students from across the district. They differentiate themselves by offering a specialized curriculum.
Every student in Florida is eligible to attend any school in their district, and some districts have open enrollment policies that allow students to apply for schools in other districts.
While magnet schools are primarily designed to attract students from different neighborhoods, they must be available to residents of all neighborhoods.
Keep an eye on magnet school Florida deadlines
Applications for a Florida magnet school must be submitted by a deadline set by each district. The applications may be available online or in paper format at each school.
Each district has its own process for accepting and rejecting applicants. Many districts will hold lotteries if more applicants than seats are available, while others use wait-lists after all available seats are filled.
Make sure your child is eligible
The Florida Department of Education DOE sets the standards for applications to each magnet school. Check the DOE website to make sure your child meets the eligibility requirements in place for the school.
If you have any questions, contact the other parent or school administrator.
Choose the right school for your child
Once you've ascertained that your child is eligible for a magnet school Florida, you'll need to choose a school or school to apply to. Decide which schools are best for your family.
You can check out the schools' websites and even visit them if you want more information or a better feel for what they're like.
Fill out the paperwork correctly
After choosing a magnet school, fill out all required forms completely and accurately. Some magnet schools include interviews as part of their application process, so you must provide accurate contact information on your forms so that interviewers can reach you easily if necessary.
To avoid mistakes, double-check all parts of an application before submitting it. Make copies of everything you submit, just in case something gets lost in transit.
Be prepared for interviews
It helps to know what they will ask your child so you can think about answers ahead of time. Florida magnet school interviews generally include questions about academic interests, career goals, extracurricular activities, and community involvement.
It also helps to have a copy of transcripts if they ask for it.
Things to Know about the best Magnet School in Florida
The best magnet elementary schools in Florida are incredibly welcoming places for students of all backgrounds.

Florida's magnet elementary schools are known for their encouragement of the students to get involved in extracurricular activities.

Magnet elementary schools in Florida are the epitome of what a school should be.

Magnet elementary schools in Florida are typically known for being very affordable, making them accessible to many families.

The elementary schools in Florida encourage their students to form friendships with as many people as possible.

Magnet elementary schools in Florida typically have large libraries, which is always nice because it makes studying easier and more convenient.

The elementary schools in Florida are a great option for kids who want to learn slightly faster than they would at a normal high school.

Magnet elementary schools in Florida typically offer an after-school program for students who need extra academic help or somewhere safe to go when their parents aren't home from work yet.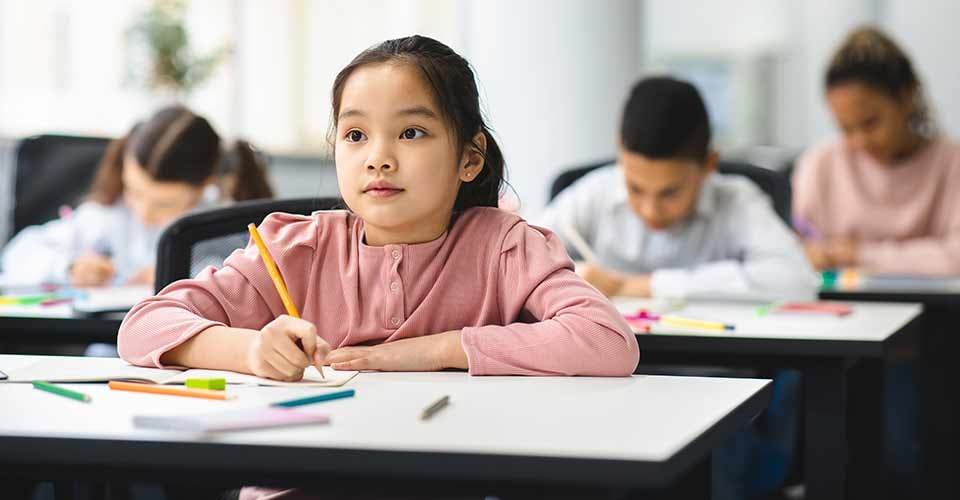 Florida's Best Elementary Magnet Schools
Some of the best magnet elementary schools in Florida includes:
Alimacani offers a variety of activities that help build positive character traits in students. Just one example is the school-wide anti-bullying campaign, in which students wear blue every Wednesday and pledge to "Be Kind, Be Safe, Be Respectful."
The school's motto: "Be the best version you can be," is evident through programs like the Junior National Honor Society and student participation in National History Day competitions and science fairs.
Alimacani Elementary is less than five miles from the Atlantic Ocean and just over seven miles from downtown Jacksonville. This makes it a great location for many families who want to be close to the water and access plenty of other amenities.
It's also very close to the interstate highway system that runs through Florida and the rest of the country, so it would be easy for parents to commute to work each day without spending an eternity on the road.
The diversity at this school is very high, with only 7 percent white students, but 72 percent black and 17 percent Hispanic or Latino.
The student ratio at Alimacani Elementary is 16 students for every teacher, which means teachers can provide more personal attention to their students.
Students take part in community service projects throughout the year. They also can participate in the Spanish Club, where they learn about the music, food, dance, and art of different Spanish-speaking countries.
They also have a robotics club that teaches students real-world problem-solving skills using robots they build themselves.
Lake Lucina, located in Jacksonville, Florida, is a magnet elementary school that focuses on creating a strong sense of community among students. It offers a variety of programs, including bilingual classes and a Montessori-based education.
The magnet school Florida has an average class size of 21 and is part of the Duval County Public School district. The magnet program focuses on environmental science and energy conservation.
Lake Lucina is proud to be a Title I school, which means that it receives federal funding under the famous No Child Left Behind Act of 2001. This funding allows Lake Lucina to offer special programs such as reading labs, after-school tutoring, and extra attention for struggling students.
Students can access a wide range of technology tools for enhanced learning, including interactive whiteboards and computer labs.
Students at Lake Lucina participate in various extracurricular activities, from sports teams (volleyball, basketball, and track) to academic clubs (math club, robotics club, and culinary club). Safety Patrol members are responsible for maintaining order during lunchtime and recess periods.
Lake Lucina Elementary School has received an A rating from Florida for five years (2011 to 2016). The school received an A+ rating in 2017 and 2018.
The school serves 705 students in grades K-5. The student-to-teacher ratio is 12:1. The school has an average parent rating of 4 out of 5 stars.
Henry S. West Laboratory School
The Henry S. West Laboratory School is in Coral Gables. The school serves approximately 860 students and offers a variety of specialty programs, including a magnet program for the intellectually gifted, a dual language immersion program, an advanced placement program, and an arts integration program.
West Lab also has a variety of extracurricular activities such as student newspapers, movie nights, science fairs, and Lego robotics competitions. They do enrollments based on test scores and teacher recommendations.
The school's mission is to prepare its students for highly competitive academic environments while helping them develop strong social skills and self-confidence.
It strives to create an atmosphere where students can achieve their full potential by providing them with a challenging curriculum, advanced technology, and guidance from experienced teachers.
Pine View public school serves grades two through twelve and is located in Osprey, Florida. The National Association for Gifted Children has recognized the school as one of the nation's top 50 schools for gifted children.
This magnet school Florida boasts a variety of programs, such as advanced placement courses, honors courses, and a General Education Development (GED) program for students who have not finished their high school education.
Its overall student population is majority white, with a substantial minority population (more than 25%) of Asian students. The student body in this school has almost equal numbers of boys and girls.
Pine View School's student-to-teacher ratio is 12:1, slightly below the district average of 14:1. Tuition rates are $6,400 per year; that's well above the state average of $2,250.
In 2017, Pine View was ranked first within Florida and ninth nationally for high schools by Niche.com and fifth within Florida by U.S. News & World Report.
In 2016, Pine View was ranked fourth in Florida and sixth nationally by Niche.com and twelfth within Florida by U.S. News & World Report.
Sunset Elementary School is located in Miami, Florida, and serves grades pre-K through five. The school has a magnet program designed to meet the needs of students who are academically gifted and highly motivated learners.
Sunset Elementary School offers a variety of programs, including advanced placement classes, gifted education classes, and extracurricular activities such as drama, art, and music classes.
The magnet school Florida has a student-to-teacher ratio of 18:1. 91% of the students here identify themselves as Hispanic, 4% are white, and 2% are black or African American. The school has a diverse population, and all teachers are qualified to offer instruction at an advanced level.
The school's average state test scores are above the state average, and their SAT scores are nearly 75 points above the national average. This school is in North Miami Beach, Florida, part of the Miami-Dade County Public Schools district.
Orlando-Gifted Academy is an elementary school located in Orlando, Florida. The Orlando-Gifted Academy has the vision to become the center of excellence for gifted education in Central Florida. It seeks to be a model school that prepares children to become productive members of society.
The average student-to-teacher ratio at Orlando-Gifted Academy is 14:1, which is the 4th best among 78 elementary schools in the Orange County Public Schools District.
They provide a challenging academic program and promote critical thinking skills, creativity, and problem-solving. The student body at Orlando-Gifted Academy is about 54% male and 46% female, and the total minority enrollment is about 41%. Orlando-Gifted Academy has a proficiency test score (in mathematics and languages) of 72%.
The school offers an accelerated curriculum in most subjects, emphasizing STEM. OGA also has a strong music program. In addition to participating in chorus or band, students take classes in the history of music, theory, and composition.
Students participate in monthly assemblies, field trips, and science fairs. Orlando-Gifted Academy offers an Honors Program for students in the fourth through eighth grades.
Tarpon Springs Fundamental Elementary is a public elementary school located in Tarpon Springs, FL. It has 584 students in grades P.K., K-5, with a student-to-teacher ratio of 15 to 1.
Based on its high test performance, Tarpon Springs Fundamental Elementary School has an academic rating significantly above the average for Florida elementary schools. It is number 19 in the list of the best public elementary schools in Florida. Based on test scores, 74% of students are proficient in reading and 84% in math.
The tuition fee for this magnet school Florida is $7,400 per year. What sets it apart: TSFES is one of three fundamental schools offering a strong core curriculum emphasizing reading and writing. The school's magnet theme is a Marine Science and Technology Program, engaging students in hands-on science and technology activities.
The percentage of Tarpon Springs Fundamental Elementary School students on free and reduced lunch assistance (15%) is lower than the state average of 52%. This may prove that the area has a lower poverty level than the state average.
Dr. N. H. Jones Elementary School is a public school located in Ocala, FL. It has 496 students in grades P.K., K-5, with a student-to-teacher ratio of 17 to 1. Based on test scores, 62% of students are proficient in reading and 67% in math.
It has a diverse student population with roughly equal numbers of Hispanic and black students, with white students making up the rest of the student body. The average cost of tuition is $6,000 per year for all students.
The school offers more than just standard classes, with programs like the "magnet schools" program that emphasizes technology, science, engineering, and math (STEM) education and incorporates it throughout the entire curriculum to help boost learning.
This can be great for children who may have trouble focusing on just one subject at a time or are looking for more flexibility in their education experience.
What sets this school apart from other schools is its award-winning magnet programs: art, computer science, math & science academy (MSM), robotics engineering technology program (RETP), and many others!
They also have an after-school program called "Bridges," which gives students opportunities to learn about different cultures worldwide through music, dance, etc...
Jacksonville Beach Elementary School is part of the Duval County Public Schools System. This public magnet school offers a variety of academic programs for students. The school boasts that many of its teachers have advanced degrees.
It also has computer labs for all grade levels and offers its gifted program. Students can learn Spanish from kindergarten through fifth grade, unusual for elementary schools.
Jacksonville Beach Elementary School is 1% Hispanic, 6% African American, 93% White, 0% Native American, and 0% Asian/Pacific Islander.
The average annual cost of attendance at Jacksonville Beach Elementary School is $11,611, with tuition costing $8,800 annually and other expenses totaling $2,811 per year.
Jacksonville Beach Elementary School has an average proficiency test score (in mathematics and languages) of 92%, which is 37% higher than the Florida average.
Morikami Park Elementary School is in Delray Beach, Florida. The school teaches students straight from kindergarten through fifth grade. This public magnet school offers a variety of academic programs designed to help students achieve academically and socially.
Morikami Park Elementary School has approximately 795 students and serves grades K-5. Enrollment has increased from +0% to +5% over the last year.
The elementary school employs 34 teachers who have been with the school for four years. The teachers average eight years of experience in teaching. The school currently has one student for every 18 minutes of instruction time.
The school has an A rating from the Florida Department of Education and is highly rated by parents.
Morikami Park school offers a curriculum that focuses on environmental education and the Japanese language and culture. Students can participate in community service projects, such as collecting canned goods for the local food pantry or creating holiday cards for seniors.
Students can participate in Japanese language classes at the Morikami Museum and Japanese Gardens on weekends.
In a nutshell
The above-listed schools are perfect for kids who want an environment where they can learn and have fun!