Best Ways to File a VA Claim for Mesothelioma & Asbestos Exposure
Phil Ganz
/
8 Min Read
/
Apr 19, 2022
When you've been diagnosed with mesothelioma or asbestos-related cancer, filing a V.A. claim can be one of the first things on your mind. The Department of V.A. offers generous compensation packages to those who served in the military and were exposed to asbestos during their military service, making this type of cancer especially prevalent among veterans.
(Mar 30, 2023)
If you've been diagnosed with mesothelioma or asbestos-related lung cancer, you may be eligible to receive these disability benefits from the veterans' administration. However, it's often a lengthy process, and many people do not understand the right ways to file their V.A. claims. This guide will walk you through everything you need to know about mesothelioma and asbestos exposure and the best ways to file your V.A. claim and get what you deserve.
How to File a Mesothelioma and Asbestos VA Claim
For veterans who have been diagnosed with mesothelioma, filing a V.A. claim is the first step to getting compensation from the Veterans Administration (V.A.). The VA recognizes that certain veterans who served in the military during certain periods may have been exposed to asbestos on ships or other training facilities and barracks.
If you're unsure how to file the claim, it can seem like an intimidating procedure, but it doesn't have to be. The following are several efficient ways to help you get your benefits as quickly and painlessly as possible to focus on your health and recovering from your illness.
Understand how to Write the Claim
The first step in filing your claim is knowing how to write it. You will need to fill out Form 21-4138 Application for Compensation and Pension Benefits (sample here) and submit it with all supporting documentation. Once you have completed these steps, your application will be reviewed by a rating specialist who determines whether or not you are eligible for benefits.
The VA has strict criteria that must be met before approving your claim. You need to know what information and copies to include in your suit to prevent rejection. If you fail to incorporate all the required facts or what you submit is deemed inaccurate or fraudulent, your claim will likely be denied.
If you're denied benefits or if additional evidence is needed, your case may be assigned to a Veterans law judge (administrative judge) for further review. It's also important to take appropriate action when your claim is denied. If there's new evidence or other reasons for reconsideration, you can write a new suit and seek further assistance from your local V.A. facility.
Make sure you know exactly how your state and the nearest Veteran's Affairs facility handle the V.A. claims for mesothelioma and asbestos exposure before you get started. If you're unable to access any of these options, visit your local veterans' affairs office in person or contact them by phone at 1-800-827 -1000 (800 829 4833 for TTY).
Gather Medical Records
The Department of Veterans Affairs will want to see all medical records related to your asbestos exposure—any medical records that mention that you have been diagnosed with mesothelioma or another serious illness caused by asbestos. Bring copies with you to your appointment. If possible, bring hard documents instead of digital files in case you have trouble accessing them later.
It's important to know that it's not enough to show that you were exposed to asbestos while serving in the military. For a claim to be accepted, you need evidence that points to your asbestos exposure being responsible for your illness or disability. This means having an official statement from your doctor stating there's an established connection between your ailment or disability and your contact with asbestos during service.
Gather Your Service Records
The U.S. Department of Veterans Affairs requires military service members to submit copies of their service records with compensation claims. When filing an asbestos-related claim, you'll need to prove that you were exposed to asbestos during your time in service, whether overseas or in the country. That means gathering documents that list your duties or specialty when you served. This will prove asbestos exposure.
You'll also need documents that prove you're truly a veteran. These include D.D. Form 214 (Report of Separation), NGB Form 22 (Certificate of Release or Discharge from Active Duty), and other forms generated by your branch of service. You can get your military records from your department of service (Army, Navy, Air Force, Special Ops, or National Guard.
Work with a VA-accredited Claims Agent
When filing your claim, it's important to work with a VA-accredited claims agent. This will ensure you get all of your hard-earned benefits in full, on time, without any hassles, and minimize the chances of claim rejection. Agents are legally permitted and trained in filing compensation claims for veterans who have been diagnosed with mesothelioma and other asbestos-related diseases. They're familiar with all laws and rules surrounding compensation for mesothelioma patients and can walk you through every step of filing your claim.
They also know how to best present your case, which increases your chances of getting approved. Don't try to file a claim yourself—it's not worth risking missing out on thousands of dollars that could help pay your medical bills or other expenses related to treatment. Work with an accredited claims agent today. This ensures that your claims are filed in accordance with V.A. regulations and gives you peace of mind knowing your case is in good hands.
Note - You should be wary of the so-called experts claiming they can obtain higher payouts through V.A. claims. Some unaccredited third parties often charge hefty fees for their services which isn't worth it.
Use the Veterans Department at the Mesothelioma Center
You can also start your mesothelioma claim by contacting the Veterans Department at The Mesothelioma Center. This department is free for veterans and their family members dealing with mesothelioma cancer, and it doesn't work for the Department of Veteran Affairs or any government agency. They're there only for you. They aim to help you get through every step of your mesothelioma claim with confidence and understanding, from filing your first paperwork with V.A. to winning your claim and securing compensation for your injury.
With decades of experience working with veterans and their family members, they understand how much is at stake when filing an asbestos claim with V.A. They will take care of all personal and legal aspects, so you or a loved one doesn't have to stress over it. Your personal information will remain private and confidential, and they'll never sell or use your information for any purpose other than contacting you about your case.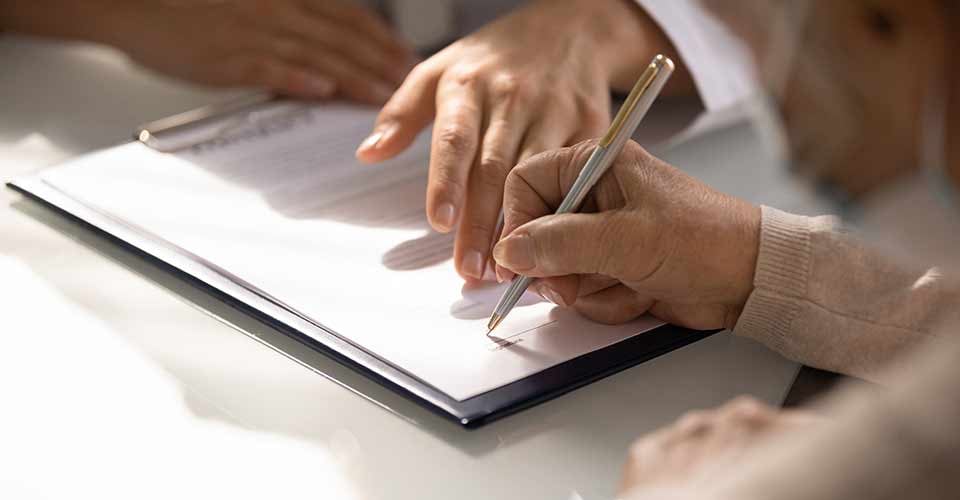 Asbestos-Related Diseases Recognized by the Veteran Affairs
Asbestos, or asbestos-related diseases, are severe and life-threatening diseases that have been linked to asbestos exposure, and their symptoms can develop years after the initial exposure occurred. Veterans exposed to this substance while in the military services should understand the common disease recognized by the V.A. and are eligible for disability compensation or V.A. health care. Below are the asbestos-related diseases recognized by the Department of Veteran Affairs:
Mesothelioma
Asbestosis
Lung cancer
Larynx cancer
Bronchus cancer
Pharynx cancer
Pleural plaques
Pleural effusion
Gastrointestinal tract cancer
Interstitial pulmonary fibrosis
Urogenital cancers (except prostate)
How to Diagnose Asbestos-Related Illnesses
Asbestos-related diseases aren't as common today as decades ago, but they're still an issue that people must be aware of. Asbestos fibers can be found in older homes and buildings and the workplace, putting those who may contact it at risk of developing an illness later on in life. If you or a loved one have developed a condition during or after military service, it's important to know if the disease was caused by exposure to asbestos.
After your exposure, symptoms may not appear for decades. If you're concerned about your health, it's always best to get checked out by a medical professional and keep track of your exposure history throughout your career. Generally, you should be tested if you have worked in certain areas or came in contact with particular products.
Working Areas
The VA provides a detailed list of occupations that are more likely to come into contact with asbestos. Asbestos-related diseases like mesothelioma often involve veterans who were exposed to asbestos in specific settings, including:
Mining
Shipyards
Milling
Carpentry
Construction
Demolition especially knocking down old buildings.
Products You May Have Worked with
Asbestos products can be found in various places, so it's important to consult your doctor if you suspect that you may have been exposed. Keep in mind that even if you've never worked with these products directly but have been around them long enough to develop symptoms, that could be enough evidence for a medical professional to diagnose you with an asbestos-related disease. Below are some of the common products that might have caused asbestos-related illnesses:
Roofing products
Flooring products
Cement sheet
Insulation products
Pipes and piping products
Clutch facings and brake linings, aka friction products
Reasons to File a Mesothelioma VA Claim
Unfortunately, many people fail to pursue V.A. compensation for mesothelioma because they believe the process is too difficult or time-consuming. But filing a claim isn't as complicated as you might think and can help you receive some much-needed financial support while undergoing treatment. While there are many reasons to file a V.A. claim, the following are three of the most important ones to consider today.
It's Free
Filing mesothelioma and asbestos-related cancer claim with Veterans Affairs is free of charge. There are also no unexpected costs associated with processing the full compensation. The only out-of-pocket expense that you might be responsible for is if you hire an attorney to help you file your V.A. claim or appeal your denial, which can cost from hundreds to thousands of dollars in legal fees.
You'll Receive Considerable Veterans Benefits
You'll receive veteran benefits that include V.A. disability compensation and V.A. health care. These benefits cover both respiratory and non-respiratory conditions related to exposure. You may also be eligible for vocational rehabilitation, mortgage protection, and burial expenses. Disability compensation is paid tax-free because it's a government benefit, so you won't have to count it as income on your taxes.
Once approved, you'll receive monthly disability compensation for as long as you live. If you die from your asbestos-related disease, your eligible dependents may be entitled to compensation. You may also qualify for a one-time settlement payment. The amount of V.A. disability compensation and settlement varies depending on whether there's an asbestos-related disease present in your body and its location. However, the monthly disability compensation for mesothelioma starts at $3,146 and increases depending on the number of your dependents.
The federal government's Department of Veterans Affairs has made it easier for veterans suffering from asbestos-related diseases, including mesothelioma, to receive healthcare services. The VA will also pay for some extra care veterans need with asbestos-related illnesses caused by military service. If you're diagnosed with mesothelioma, you should apply immediately to receive proper medical care and treatment.
When you get cancer from asbestos exposure, there's not much that doctors can do to make the treatment affordable. Thankfully, if you file an asbestos-related V.A. Claim for cancer, you have free health care for life through Veterans Affairs (V.A.).
Additional Types of V.A. Compensation
Did you know that the V.A. offers even more types of compensation than just disability compensation and V.A. health care? There are some other, less common types of V.A. compensation you may be eligible to receive. These include:
V.A. Dependency and Indemnity Compensation (DIC)
The VA Dependency and Indemnity Compensation (DIC) is a tax-free monetary benefit paid to the surviving spouses and dependent children when a service member dies due to military service. The surviving spouse can also receive benefits for being totally disabled due to an injury or disease incurred or aggravated during active duty. Dependents will continue to receive DIC until they reach age 18, marry, become self-supporting, or die. To qualify for DIC payments, you must have been legally married to and living with your spouse one year before death.
A spouse must file a DIC claim even if their deceased loved one benefited from the disability compensation for mesothelioma or other asbestos-related diseases before their death. A surviving dependent may still apply for DIC if a veteran wasn't receiving V.A. disability compensation. They must submit information and the necessary document proving the service-related asbestos exposure.
V.A. Aid and Attendance Benefits
In certain circumstances, you may be eligible for Aid and Attendance benefits, also known as Special Monthly Income. If you're a veteran, you'll receive these benefits if you're bedridden, housebound, or disabled to the extent that you require someone else's aid and attendance. Housebound means you can't leave your home without assistance from another person. Bedridden means you can't get out of bed without assistance from another person. This compensation is useful for veterans who need help with daily tasks like bathing, dressing, eating, or getting around inside their homes.
If you're a veteran's spouse or a parent caring for your loved one requiring substantial assistance, it's important to know that these additional financial benefits may be available. The VA Aid and Attendance compensation usually start from $250 to $650 a month. The amount depends on which aid and attendance the veteran requires.
Additional VA Programs and Benefits
In addition to all the above compensations, most veterans may also receive additional programs and benefits from the Department of Veterans Affairs. Some of these include:
Bottom Line
There are many ways to file a V.A. claim for mesothelioma and asbestos exposure and get the compensation you deserve to cover medical bills, lost wages, and pain and suffering. However, navigating the complex filing process and getting approval for this type of V.A. claim can be challenging without the right information and professional assistance. With that in mind, it's essential to research crucial details on how to file your claim and seek professional help when necessary.
Interested in learning about becoming a resident in Florida or moving there? Read more.