Discover and Grow: Glazer Children's Museum of Tampa FL
Phil Ganz
/
4 Min Read
/
Mar 15, 2022
As parents and educators, we are always trying to give our children the best possible opportunities and experiences to broaden their horizons and knowledge of the world around them. The good news is Glazer Children's Museum (GCM) of Tampa, Florida, offers multiple activities that appeal to children of all ages and interests.
(Mar 26, 2023)
You're sure to find something your youngsters and the entire family will enjoy. The museum provides hands-on and interactive exhibits that engage sightseers while learning about the world around them.
From learning about different cultures to visiting an art gallery or science lab, your children will never be bored at this exceptional children's museum. This post will highlight more intriguing things you need to know about The Glazer, including the fun things you can do with your children at this world-class museum. Keep reading to learn more about this groundbreaking museum in the Sunshine State.
What the Museum Has to Offer
The Glazer Children's Museum (GCM) is a nonprofit organization dedicated to inspiring children and families through dynamic, interactive educational experiences. This amazing museum offers free admission and free parking. The museum engages people of all ages in their outstanding exhibits, programs, and events that enrich their curiosity and promote their highest potential. GCM gives kids a place to play, explore, imagine, create, and be themselves!
The museum's vision is to provide an environment where all children are inspired to reach their full potential. GCM is a community place for adults and children to engage in creative play, cultural exploration, and innovative problem-solving. The museum has been a catalyst for creative placemaking since the1970s by engaging visitors with compelling programming, outstanding exhibits, and partnerships.
Things to Do At the GCM of Tampa FL
The mission of Glazer Children's Museum is to inspire children's learning through play by creating a hands-on environment where kids and families interact. Our innovative exhibits, engaging programming, and educational workshops will provide opportunities for all children—regardless of cultural background or economic circumstances—to expand their minds as they develop critical skills.
The GCM of Tampa, FL, has many things to offer visitors, including hands-on activities and interactive exhibits for all ages like an interactive family art gallery, art studio, music for all tastes, various science exhibits for both adults and children, including Dinosaur Exploration Station. Below are more special activities to do at Glazer Children's Museum:
Try various healthcare positions in Glazer St. Joseph's Children's Hospital.
Understand money inside out in the museum's Central Bank
Perform in the Glazer's Twinkle Stars Theater.
Make colors and sounds in the museum's Light Cloud.
Study the world around you in Glazer's Global Café
Ascend to the clouds in the Glazer Water's Journey
Learn where your food originates from in the Farm
Make and design pieces in Engineers' Workshop.
Tend to cuddly critters in the museum's Vet Clinic
Shamble and play in the museum's Tugboat Tots
Splash and survey in the museum's KidsPort
Visit a grocery shop in the museum's Publix.
Cook something tasty in their Pizza Place
Save the day in the museum's Firehouse.
Get inspired in the museum's Art Smart.
Construct new planets in Forts
In addition, monthly birthday parties are held for younger children, and families can also plan one-day field trips to enjoy some educational fun outside of regular business hours.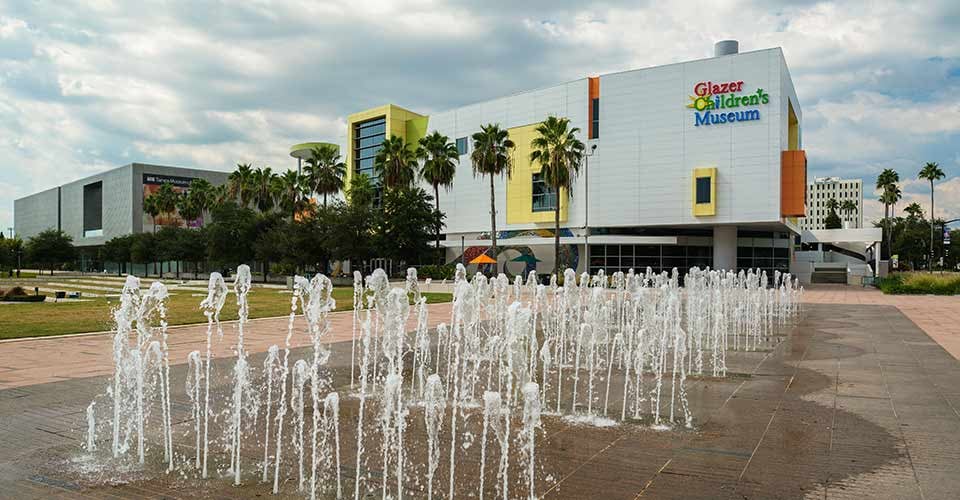 Benefits of Visiting Glazer Children's Museum
Children's museums are an excellent place to spend time with kids of all ages, but Glazer Children's Museum goes above and beyond most others. This incredible museum has plenty of activities to keep the whole family busy and entertained all day long. It's also welcoming to children of all ages, backgrounds, abilities, and interests.
Whether you're planning a vacation or just looking for something fun to do in Tampa, FL, here are the top reasons why visiting Glazer Children's Museum should be on your bucket list:
Play With Colors, Shapes, Sizes, and Balance
At the Glazer museums, creativity and imagination are open to all. Kids can play with colors, shapes, sizes, and balance by using their senses of sight, sound, touch, taste, and smell. They can improve their language skills by labeling everything they see. This is a fun activity for kids as they learn in an environment that supports learning. At this museum, it's more than just looking at things – it's interacting with them.
Kids Can Create Their Masterpiece
Kids will feel more at home in a place where they can make their own choices, such as a museum that lets visitors work together on large-scale art projects. If you visit Glazer Children's Museum, your kid will have a hand in creating some of its most popular features. With the museum's state-of-the-art creation station, your little one will take a blank canvas and transform it into an artwork. What's more, they'll be working with other children in a collaborative environment. This experience is sure to foster friendships as well as artistic development.
Meet Animals and Learn Animal Conservation
At Glazer, children can meet zookeepers and caretakers and ask questions about cuddly critters. Touch these creatures and feed them. Discover essential things about animal conservation. The kids will learn about each animal they encounter while walking around and what makes each species unique. Whether or not they're familiar with any of these creatures beforehand, kids leave with the deeper wisdom of animal conservation efforts.
Kids Can Improve their Language Development
Language development is one of a toddler's greatest achievements, but sometimes it's not easy for parents and children to communicate. At Glazer Children's Museum, visitors can talk with each other through open-ended art projects, musical activities, and interactive educational programs. Interacting with other children at play also allows toddlers to practice their speech skills by repeating words they hear. If you take your child here often enough, their language skills will blossom!
Learn Outstanding Historical Lessons You Won't Get in Schools
Kids love history. Going to Glazer Children's Museum is a fun and exciting way for children to learn about social, cultural, technological, and scientific developments throughout time. Historical field trips aren't something every child gets during their schooling, but they can learn a lot by visiting this museum.
Bottom Line
The Glazer Children's Museum of Tampa offers multiple fun and educational activities that the whole family can enjoy together. The museum features several floors filled with hands-on exhibits to keep your children entertained in a safe environment where they can explore the world around them in new and historical ways. Whether you're looking to spend an afternoon at the museum or you want to host an event there, there are plenty of opportunities available.
Interested in learning about becoming a resident in Florida or moving there? Read more.