District 7 Coast Guard Base - Military BAH
Phil Ganz
/
8 Min Read
/
Dec 09, 2022
Debunking the District 7 Coast Guard Base
District 7 Coast Guard Base is at the heart of most defensive operations in Florida. The Miami-based military unit has a broad jurisdiction. District 7 boasts a large fleet comprising high-speed boats and ships, which help it cover the over 1.8 square miles of water in its custody.
Through the years, this base has grown its capacity to handle the fight against drugs. Besides covering patrolling operations, District 7 service members also handle the illegal immigration issue. The troops must always be on the lookout for illegal immigrants and drug dealers looking to invade the USA.
To complete its operations seamlessly, District 7 runs five different group offices, four training bases, four air operation stations, and 20 stations for other missions.
The Coast Guard Base History
Initially, the government created the district organization system for the Lighthouse Service. An act of Congress on 7 June 1838 established six districts on the Atlantic Coast. By 1881, the number had increased to 12 districts that handled the small boat and administrative responsibilities.
The US Coast Guard later came to life in 1915 with 13 districts that were vital to the Navy during World War I and II. After the wars, the government created area commands that renamed the Atlantic and Pacific areas in 1973.
Through the years, the District 7 Coast Guard Base has consolidated its operations to create value for the US Coast Guard. The base's patrolling and training initiatives are essential in US navy operations.
You will likely stay off base when you receive your PCS orders to District 7. The available housing options mean you are more likely to leverage your District 7 Coast Guard Base - Military BAH during your stay. On-site accommodation is usually limited and set aside for superiors.
Military Basic Allowance for Housing
Basic Allowance for Housing (BAH) is a monthly allowance eligible service members receive from the government. Usually, the government will calculate your BAH based on your geographic location, dependency status, and pay grade.
Highly ranked service members tend to receive a larger allowance every month. Besides, having more service years under your belt makes you eligible for a larger allowance.
BAH rates are also higher for service members living in major metropolitan areas. Such regions have higher living costs, influencing the government's decision to offer higher loans.
Typically, the government sets rate charts yearly, meaning you must keep tabs on these rates frequently.
There are no restrictions on how much of your District 7 Coast Guard Base - Military BAH you spend. You could use the difference to cover your other expenses if you spend less on housing. On the other hand, you'll make up for any difference if your housing costs exceed your BAH rate.
Typically, BAH is available for qualified members stationed in areas where the government doesn't provide quarters. This monthly stipend helps service members keep up with housing costs.
How does BAH work?
The Department of Defense is usually responsible for setting BAH rates annually. Current rental rates in your area, average utility rates, and renter insurance costs often influence the rates. Remember that the rate depends on your duty location rather than your residence location.
You'll have higher BAH rates if you receive permanent change of station orders to go to expensive parts of the country. With higher rates, you'll have an easier time competing in more expensive markets.
Although these rates change annually, DOD has put in place rate protection to ensure your rate doesn't go down. However, if you change duty stations, you might not enjoy the benefits of rate protection. Also, a change in dependent status and a pay grade reduction will mean the protection will be inadequate.
With the rate protection, you'll receive a higher rate when District 7 Coast Guard Base - Military BAH rates go up. This protection ensures you won't get penalized if your area's housing costs decrease.
Types of BAH
There are diverse BAH types ideal for various housing situations among military service members. Under typical circumstances, you'll get BAH for your base location. You are entitled to specific BAH amounts if you reside separately from your dependents.
Typical BAH types include:
BAH with or Without Dependents
You will be eligible for the District 7 Coast Guard Base - Military BAH if you don't get government housing.
Partial BAH
If you live in the government quarters without dependents, you are entitled to a partial BAH.
BAH Reserve Component/Transit
Members in specific circumstances will enjoy this non-locality housing allowance. Reservists on active duty for 30 or fewer days are prime candidates for this allowance.
Members in transit from select areas where they didn't receive any BAH are also eligible for the BAH RC/T. The government doesn't consider your geographic location when setting this rate.
BAH-Differential
If the government assigns you to single-type quarters, you'll become eligible for the BAH-Differential. Also, this housing allowance targets service members whose allowance is due to the member's child support payment. However, if the monthly rate of the child support is less than BAH-Diff, the member won't be entitled to BAH-Diff.
The SECDEF determines BAH-Diff, usually equal to the difference between BAQ with dependents and BAQ without dependents. DOD publishes the allowance rate annually.
Utilizing BAH
As you try to make the most of your District 7 Coast Guard Base – Military BAH, ensure that you don't push it to the limit. If you don't have to deal with high housing costs, you could have part of the allowance left over. Use this extra amount to pay for utilities and other expenses. Remember that the funding might also fail to cover your entire mortgage payment.
Also, chances are that you will relocate during your time as an active-duty service member. Such changes would affect your BAH rate. If you relocate, you could turn around and sell or rent out the home. However, there are no guarantees.
If you use your allowance as part of your mortgage payments, you could gross up your entitlements revenue to purchase your dream home. For example, if you receive monthly entitlements worth $25,000, you could gross them up by 25%, which translates into a monthly qualifying income of $3,125.
Could you use District 7 Coast Guard Base - Military BAH to secure VA Loans?
Most active duty military members rely on military allowances as income sources when trying to secure their mortgages. The Basic Allowance for Housing could represent the most potent allowance.
BAH is suitable for anyone who's living off-post or off-base. Fortunately, the department of defense doesn't limit members to using the allowance to rent a house. This freedom means you could use your monthly allocation to qualify for a VA loan and purchase a home.
Subsequently, this allowance could cover your monthly mortgage payments. Most lenders will assess your Leave and Earnings Statements (LES) To ascertain that you'll continue to receive the allowance.
Before delving into homeownership, ensure that it works for you. Not every active duty military member will thrive when it comes to homeownership.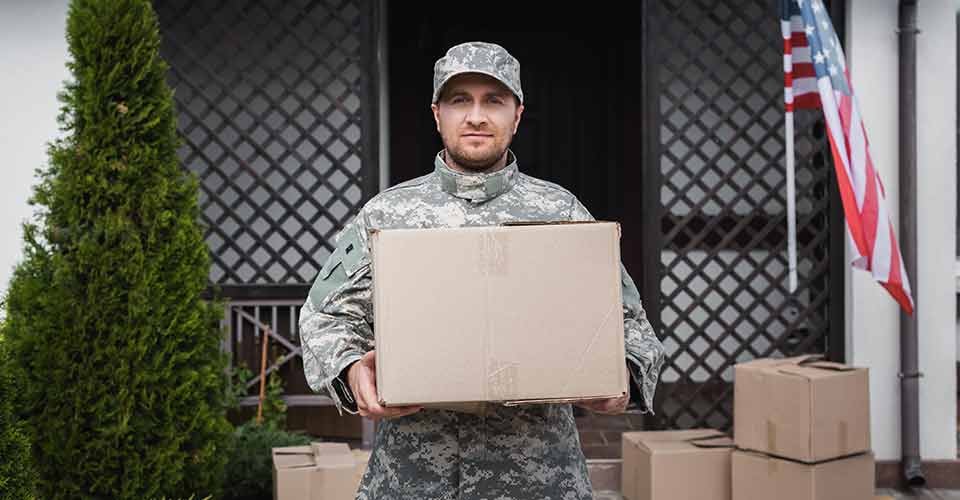 Should you consider Living off base?
Once you receive your Permanent Change of Station orders, one of the biggest concerns is where you should live. Most service members have to choose between renting, living on base, or living off base.
The last option is ideal in areas where there are no government quarters. Besides, living off base also means that you'll receive the basic allowance for housing to cover your housing costs.
So, what does living off base entail? First, living off base lets you get some distance from military life. While you spend some time away from military life, you could still participate in base activities.
Also, you can create meaningful relationships with people not affiliated with the military. Essentially, you get a chance to take a break from the hustles of the military setting.
Potential to Save
Living off base also comes with the advantage of cost savings. You could find a home within or under your house allowance. Remember to calculate your utilities as you search for homes in your area.
More Housing Options
If you choose to live off base, you can decide where you'll live. Besides, you can also find a home with amenities that suit your needs. You'll also find a broader range of houses to choose from. You could opt for apartments, condos, or single-family homes.
These diverse housing options come in different styles and have the desired amenities. You could have more bedrooms, an oversized garage, walk-in closets, or a private swimming pool.
Option to personalize your Home
Besides the diverse housing options, living off base also means that you could personalize your Home. Consider buying the Home to personalize it.
Add decorations as you please, or paint the house with your preferred colors. Multiple do-it-yourself projects let you create a home that resonates with your desires.
Invest in Real Estate
Living off base lets you explore the possibility of buying the Home. You could sell the Home or lease the property when you need to move. If you price the rent properly, it could cover your mortgage expenses.
Ensure that you have cash savings account in case the house stays vacant between renters. Remember to research your area's real estate value before trying your hand at real estate investment.
The House Hunting Process
Before you can start using your District 7 Coast Guard Base - Military BAH, you'll need to find your preferred house. Shopping for a home has multiple mixed reactions, especially when you need to buy.
As you embark on your house-hunting mission, these steps could help you rein in the emotions.
Set Realistic Goals
Create a vision for your dream home before you launch your hunt. However, remember that you'll likely move on from the base after a few years. Therefore, go for a house that meets your present needs.
Consider your family setup while setting your goals. You want to settle in a home that'll make life comfortable for your family.
Create a Budget
Your District 7 Coast Guard Base - Military BAH could come into play as you establish your budget. However, think beyond with your financial goals in mind. Ensure that you live within your means to avoid debt during your stay. Determine if you want to clear existing debt, create a savings account, or prepare for retirement.
Also, decide whether or not you want your utility costs to remain within the government allowance or if you won't mind paying some out of pocket. These options should ultimately guide your choice.
Establish a Search Filter
Once you begin your search, you'll be picky about which features appeal to you. Your budget can serve as an ideal accountability partner at this point. First, you'll want to determine your must-haves which will include:
Whether you prefer one-story or two-story houses.

How many bedrooms and bathrooms do you need.

How many storage and garage spaces do you need.

Whether you prefer open floor plans or more traditional home styles.
You could also consider other wish list items like bathroom upgrades, appliances, or specific finishes.
If you're diving into homeownership, you'll need to know everything about the area. If not, you'll still need some background information about the Coast Guard's surroundings. Working with an established real estate agent will help ease this step.
Touch base with the local police department to determine the security state of the neighborhoods. You'd also want to know the convenience of restaurants and shopping centers. An ideal home will offer options for the best stores in the area.
Be sure to consider proximity to the Coast Guard Base to ease your commute every workday. If you have children, you should scout the local schools to find the one best suited for your young ones.
Track your Favorite Homes
From your search, you'll find homes that catch your eye. Create a favorite listing that'll help you keep tabs on such homes. Review and revise this list while your hunt continues. You could also schedule open houses to get a closer look at your preferred Home. You'll discover flaws that online photos might hide.
After touring your preferred houses, review your notes and determine the features that impressed you the most. Use your preferences to narrow down the listing that would be the best fit for your family.
Which are the Best Neighborhoods near District 7 Coast Guard Base?
Where would you begin your search for a new home? Here are the top neighborhoods in the area. You won't regret using your District 7 Coast Guard Base - Military BAH in any of these neighborhoods.
Solitair Brickell Apartments
Find the perfect Home in this high-rise apartment complex blocks away from the District 7 Coast Guard Base. If you're looking for the ultimate luxurious escape, the penthouse units will deliver. Choose from the collection of studio apartments and 2-bedroom units.
Brickell Key Island
This triangular island offers quiet nights and enough beach space for service members residing in the upscale condominiums. You could dine locally or rent yachts during your stay on the island. Spend your weekends enjoying spectacular scenic views at Brickell Key Park. You'll also enjoy access to Coast Guard Base once you cross the Brickell Key Bridge.
West Miami
Are you looking for an affordable single-family home? West Miami is the perfect off-base option for military families of modest means. You should drive to the city's outskirts. Here, you'll find multiple starter homes rather than apartments and mega-mansions.
Little Cables
Military service members who prefer life away from the hustles of the city create their homes in Little Cables. This neighborhood offers a vast collection of rental homes that suit your family. Besides, you could buy one of the homes and venture into the real estate business when you need to leave.
Campden Brickell Apartments
Walk to work if you spend your District 7 Coast Guard Base - Military BAH here. These apartments offer comfort and convenience throughout your stay. The one to two-bedroom units are perfect for singles and small families.