Eglin Air Force Base - Military BAH
Phil Ganz
/
8 Min Read
/
Nov 22, 2022
The base is named in honor of Lt. Col. Frederick I. Eglin, who perished on January 1, 1937, after his aircraft slammed into Cheaha Mountain, Alabama.
Brief History
Eglin's history dates back to 1939 when Congress authorized the construction of a civilian flying field, the Works Progress Administration (WPA). The first aircraft landed at Eglin in 1940, and World War II began shortly after that.
1940S
In 1942, Eglin became part of the Army Air Forces School of Applied Tactics (AAFSAT) for advanced combat training and tactics development for fighters, bombers, and reconnaissance aircraft under simulated combat conditions.
During World War II, AAFSAT trained more than 17,000 pilots who received their wings here before going on to combat assignments worldwide.
1945 - Present
After World War II ended in 1945, AAFSAT was redesigned as the Air Proving Ground Command (APGC), later known as Armament Development Test Center (ADTC). APGC/ADTC continued its mission until 1958, when it was replaced by the Aerospace Research Pilot School (ARPS), which operated out of nearby Tyndall AFB until 1994. ARPS later moved to Edwards AFB, California, where it currently resides as an extension of NASA Dryden Flight Research Center.
Eglin then became home to Air Force Operational Test and Evaluation Center (AFOTEC), which conducts operational tests on new weapons systems and tactics before they are used in combat.
It also provides support services for all Air Force units testing new equipment at Eglin or other bases around the country.
Fun Fact
Did you know that Eglin Air Force Base is the world's most extensive Air Force base? It covers over 640 square miles and has more than 60 miles of shoreline along the Gulf of Mexico. The base is home to more than 30,000 military personnel and civilians.
Living off Base and the House-Hunting Process
The Eglin Air Force Base community is a small, tight-knit group. There are many things to do and see, but it is not a diverse community. Fort Walton Beach is a great place to live, but there are also many areas with little to no activity.
The process of buying a house off-base can be pretty stressful. Many regulations and restrictions make it difficult for military members and their families to buy homes in the area. Because of this, you may find yourself looking for houses outside the Eglin AFB area.
Living off-base has many benefits, including lower rent rates and larger houses with more land and privacy, but there are also some downsides.
If you want to live off base in Eglin Air Force Base, then here are some things you should know about the process. You'll need to factor in all costs associated with your move before making any decisions. This includes:
You'll need to pay movers, storage fees, and other associated charges.

Most landlords require a security deposit before you move in, ranging from $200 to $1,000 depending on factors such as credit history and criminal record. Some landlords may ask for more than one month's rent as well!

Utilities aren't included in rent prices, so budget for this monthly cost.

Apartment complexes may have specific eligibility requirements for applicants, such as income level or credit score, that must be met before applying.

Renters insurance is required by law in Florida and protects your personal belongings from theft or damage from natural disasters such as hurricanes.
Military Basic Allowance for Housing (BAH)
Eglin Air Force Base - Military BAH is one of several allowances the Department of Defense (DoD) provides to eligible military members.
The Military Basic Allowance for Housing (BAH) is a tax-free allowance in addition to your basic pay. It's calculated based on where you live and your rank, and it's meant to help offset some of the costs associated with housing.
This includes rent or mortgage payments, utilities, and other housing-related expenses such as furnishings and appliances.
The following are some of the factors that determine how much BAH you will receive:
Your Rank or Grade
The higher your rank, the more money you will receive. For example, your BAH is likely higher than a private first class if you are a second lieutenant.
However, if you are a captain and have been promoted from sergeant major (E-9) or sergeant (E-7), your BAH may be lower than that of an E-4 who has not been promoted.
Number of Dependents
This includes any child under 18 years old who lives with you and has been claimed as a dependent on your taxes; spouses are no longer considered dependents after marriage licenses expire but may still be eligible for BAH if they remain unmarried.
Your Service Branch
Your service branch determines the amount of BAH you receive. Each service branch has its own set of rules for determining BAH rates. The Army, Navy, Marines, and Coast Guard have their BAH rates.
For example, the Air Force uses a standard chart for all branches, including base pay and housing allowance amounts.
The Navy uses a separate chart for each grade and pay scale. This allows each service branch to determine who receives what amount of money based on their needs.
The Army, for example, has four tiers depending on where you live. The first tier is Hawaii, the most expensive location; the second tier is Washington, D.C., Maryland, and Virginia; the third tier is North Carolina, and the fourth is Oklahoma.
The Location of Your Permanent Duty Station (PDS)
The location of your permanent duty station (PDS). The cost of living at your PDS is one of the most significant factors determining how much BAH you will receive.
If you are stationed in an area like San Francisco or New York City, where housing is costly, you'll receive a higher BAH rate than someone stationed at an area like Little Rock AFB, Arkansas.
The BAH rates are also different for individuals who live in on-base quarters versus individuals who live off-base. Individuals who live off base are given higher BAH rates than those who live on base because they don't have access to the same level of services provided by the government.
Your Marital Status
If you are married, you're entitled to higher BAH amounts than single ones. If you're legally separated, your BAH may be reduced by half.
Whether or Not You Have Dependents
The more dependents you have, the more BAH you'll receive. This includes children, spouses/civil unions/domestic partners/registered same-sex marriages who qualify as dependents.
You can have up to four dependents in addition to yourself when calculating BAH amounts. These may include children under the age of 23 or other adults who live in your home. However, if any of these people have their income or resources, they will not count toward your total number of dependents.
This means that their income and resources could limit how much BAH is available for someone else who does not have any other income sources.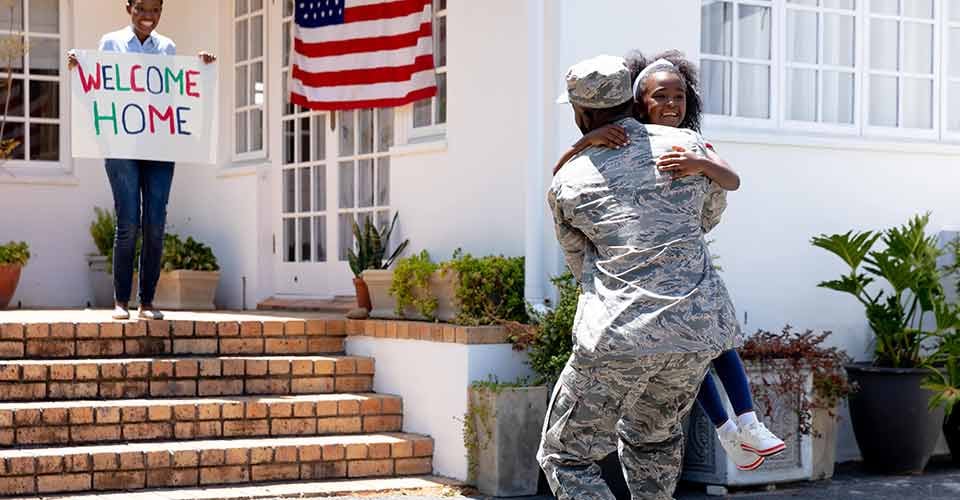 Types of BAH
There are two types of BAH - Overseas Housing Allowance (OHA) and In-the-States Housing Allowance (ISHA).
Overseas Housing Allowance (OHA) is paid when you are stationed outside the United States, including Alaska, Hawaii, Puerto Rico, Guam, and the Virgin Islands.
OHA pays a higher rate than ISHA because your living costs are higher in these areas. If you are married and have children, you will receive an additional amount called the Family Separation Allowance (FSA).
In-the-States Housing Allowance (ISHA) is paid when you are stationed inside the United States at a duty station where no designated OHA rate is established by law or regulation. This includes all stateside locations except for Alaska, Hawaii, Puerto Rico, Guam, and the Virgin Islands.
VA Home Loan Benefits
VA loans are a great benefit for military members and veterans alike. They offer several advantages, including:
No Down payment Required
You don't need to come up with a down payment when you purchase a home with a VA loan as long as you meet eligibility requirements. Veterans who qualify for 100 % financing can use the benefit to buy a home without putting any money down at closing.
If your credit score isn't high enough to get a 100 % VA loan, you may still be eligible for an amount equal to 25 % of the purchase price — but you'll still need to come up with funds for closing costs and prepaid items such as property taxes and insurance premiums.
Low-Interest Rate
The VA loan has an interest rate that is generally lower than those offered by conventional mortgages. The rate is determined based on the type of property you want to buy, your credit history, and other factors.
The rate also depends on how much money you borrow from the VA. If you're eligible for 100 % financing, your mortgage payment will include both principal and interest payments — no escrow account is needed!
Flexibility With Repayment Terms
VA loans offer flexible repayment terms of up to 25 years, which can be beneficial if you're not sure when you'll be able to pay off your mortgage or if you want to keep the same payment throughout the life of your loan (which may help maintain lower interest rates). You can also change the length of your loan at any time after closing.
Limited Closing Costs
The VA guarantees a mortgage loan, so lenders don't have to worry about whether they'll be paid back if you default. That means they don't have to charge you high fees when you apply for your mortgage or at closing.
No PMI With a VA Loan
One of the most significant advantages of a VA loan is eliminating the requirement for private mortgage insurance (PMI). If you default on your mortgage, PMI protects the lender from loss.
It's generally required if you put less than 20 percent down on your home purchase and your loan amount exceeds 80 percent of the property value.
VA Home Loans Have a Lifetime Guarantee
That means that if you receive the benefit, you can use it as many times as you want over your lifetime.
Basic Allowance for Housing and VA Loans
You can use your Eglin Air Force Base - Military BAH as income for VA loan qualification purposes if all of the following apply:
You're an active-duty service member or veteran who receives BAH directly from the government (or your spouse's employer).

Your loan won't be used to buy or refinance property outside the continental United States (OCONUS).

You're using an eligible VA loan program such as Home Loan Guaranty Insurance (HLGI) or Veterans Affairs.
If you have a VA home loan, your lender will use the Basic Allowance for Housing (BAH) to calculate the money you'll need to qualify for your loan. The VA loan program allows you to borrow up to $647,200 in 2022 for most U.S. counties, with no money down and no mortgage insurance.
The amount of BAH depends on where you live and whether you are married or single. For example, if you are married with two dependents and live in San Diego, California, your BAH would be $3,792 per month as of January 2022.
If your BAH is higher than the amount needed to cover your housing costs, then you can use the difference between them toward your monthly mortgage payment!
In addition, the BAH entitlement can be grossed up to purchase a house. For example, if your monthly entitlements are $2,500, it can be grossed up by 25 % resulting in a monthly qualifying income of $3,125. Such entitlements are only available to veterans, making taking a home mortgage genuinely advantageous.
Steps for Buying a Home with BAH and VA Loans
The United States Department of Veterans Affairs offers veterans and their families several benefits. One of these is the Basic Allowance for Housing (BAH). The Eglin Air Force Base - Military BAH allows you to pay less rent or mortgage payments when buying a home.
Here are the steps for buying a home with BAH:
Step 1 - Submit a VA Loan Pre-approval Application
You should apply for VA pre-approval before you begin your home search. You can do this by filling out the Application for Veterans Benefits, which can be found on the VA website.
The application is available at any VA regional office or veterans service center. Once you've completed the application and received an approval letter, you will be eligible to apply for a VA mortgage loan.
Once you know what kind of loan you qualify for, it's time to start looking at homes! Your lender will have lenders who specialize in helping veterans find homes that meet their needs.
They often have access to listings unavailable through other websites and will help you find your perfect home! Consider school districts, safety factors, and transportation options when choosing where to live.
Step 3 - Finalize the House Purchase Using the VA Loan
Once you have a contract to buy a home and have satisfied all the VA loan requirements, you're ready to close.
At closing, you will sign your mortgage note and other documents required by the lender and pay any fees associated with closing. The lender will order an appraisal and review it with you before closing.
If there are no problems, the lender will send funds directly to the seller's attorney or title company out of escrow after the title is transferred.
Step 4 - Pay Your Monthly Mortgage Payments With Your BAH
After you've acquired your home with a VA loan, you'll be able to use your (tax-free!) housing allowance to pay for your mortgage.
Conclusion
The Eglin Air Force Base - Military BAH provided to enlisted members and their families is a great way to get into a home or condo, with an interest rate below the standard home loan many banks offer.
That's why if you use a VA home loan and get a basic military allowance for housing (BAH), you can use that money to help reduce your mortgage payment.
If you're considering a VA loan for yourself or a loved one or want to make sure your loan is VA-approved, speak with an expert today.