Everything you Need to Know About Moving or Relocating to Pensacola
Phil Ganz
/
8 Min Read
/
Mar 25, 2022
The process of relocating to a new city can be understandably daunting. There are plenty of factors to consider such as climate, cost of living, employment opportunities, housing prices, and much more.
As you can imagine, working through all these details can be overwhelming, to say the least, and without knowing where to begin, you might end up feeling hopeless and lost.
If this is the situation you are currently in and you are trying to figure out whether relocating to Pensacola, Florida is the right move, you have come to the right place.
In this guide, we're going to look at the benefits of living in Pensacola as well as the city's attractions and things to do.
Hopefully, by the end of this post, you'll have a better idea of whether moving to Pensacola is the best decision for you. So, without further ado, let's jump right into it.
Benefits Of Living in Pensacola
Located in the County of Escambia in Florida state, Pensacola is a mid-sized city that is appreciated for its charm and laid-back living.
Whether you're thinking about purchasing your first home and starting a family or seeking the perfect retirement destination, Pensacola has everything you could want in a coastal community.
Here are some of the reasons why Pensacola is one of the best places to live in Florida.
Stunning Sandy Beaches
Pensacola is home to some of the most beautiful beaches in all of Florida and the entire nation. With glittering white sands and sparkling emerald waters, Pensacola beaches are certain to satisfy your craving for sun and sand. And the best part is that the beaches in this picturesque coastal city are not crowded with tourists, as is the case with other towns around the Gulf of Mexico.
Some of the top-rated beaches in Pensacola include:
Perdido Key Beach
Fort Pickens
Big Lagoon State Park
Opal Beach
Pensacola Beach
Year-Round Sunny Weather
Like other coastal cities in Florida, Pensacola experiences sub-tropical weather all-year-round with an average of 224 days of sun every day.
You can expect daytime temperatures of between 68 degrees for most of the year, with summer temperatures reaching 90 degrees.
Many families across the Gulf coast flock to Pensacola's beaches during the summer to enjoy the sun and sand before the Hurricane season begins in June.
Excellent Employment Opportunities
One of the most important factors to consider when choosing a place to live is the state of the job market. Fortunately, Pensacola with its small population of just over 54,000 offers plenty of employment opportunities for job seekers both in private enterprise and the civilian job market.
The Naval Air Station in Pensacola is the largest employer in the city, offering jobs for both skilled and unskilled workers. There are a plethora of positions for unskilled employees which provide them with an opportunity to develop their skills and a chance towards upward mobility.
Most of these positions do not require any formal training or prior work experience, which makes them perfect for ambitious blue-collar workers who are eager to get a foot into the job market and build successful well-paying careers.
There are also plenty of opportunities for individuals with formal education and certifications. If you hold a degree in engineering, medicine, law, or business, you should have an easy time getting a fantastic job in Pensacola.
Similarly, tradesmen such as carpenters, plumbers, construction workers, electricians, and other trained craftsmen are in high demand in this city. Therefore, your chances of securing a job in these sectors are also decent.
Attractive Housing Market
The real estate market in Pensacola offers some of the most attractive housing prices in the entire state of Florida. This makes it an attractive destination for young professionals who are just starting out on their careers and looking to purchase their first home.
The average cost of purchasing a home in Pensacola is about $220,742, which is significantly lower compared to other Florida cities like Sarasota, Jacksonville, Melbourne and Naples.
It is important to note that property prices in Pensacola may vary slightly from the aforementioned figure depending on the location where you choose to live. Nevertheless, you shouldn't have a problem finding excellent properties at the price point alluded to earlier.
Despite the low medium price of housing in Pensacola, FL, the real estate market in this city has been described as being "red hot".
Property prices are expected to increase in the next couple of years due to the demand for housing that has been created by the Pensacola Naval Air Station.
If you're looking to purchase a home in Pensacola on a limited budget, here are some neighborhoods you might want to consider:
Belmont-Devilliers
East Hill
North Hill
Warrington
Brownsville
Cordova Park
Beulah
Interested in relocating to Florida? Learn more here!
Access To Quality Healthcare
Whether you're moving to a new city with your family or seeking a retirement destination, you need to take into consideration the quality of healthcare that is available in your new home.
The good news is Pensacola offers excellent healthcare courtesy of its main hospital, West Florida Hospital. The facility has been ranked among the 100 best hospitals in the entire nation three times in a row.
Excellent School Districts
Like many other cities in Florida, Pensacola has an impressive public education system that scores above average on various metrics.
The city has a total of 27 public elementary, middle, and high schools, in addition to 32 private schools. Nine high schools in the Pensacola area are recognized by the U.S News and World Report's Best High School Rankings.
No State Income Tax in Florida
One of the most significant advantages of living in Florida is the absence of a state income tax. This allows you to keep a larger portion of your earnings.
Instead of a state tax, Florida collects income from the millions of tourists that visit the state each year through a 7% sales tax (state level) and a 5% tourist tax (county-level) on profits from rental properties and hotel stays of six months or less.
Once you become a Floridian, you will be grateful for the visitors since they pay your fair amount of state taxes.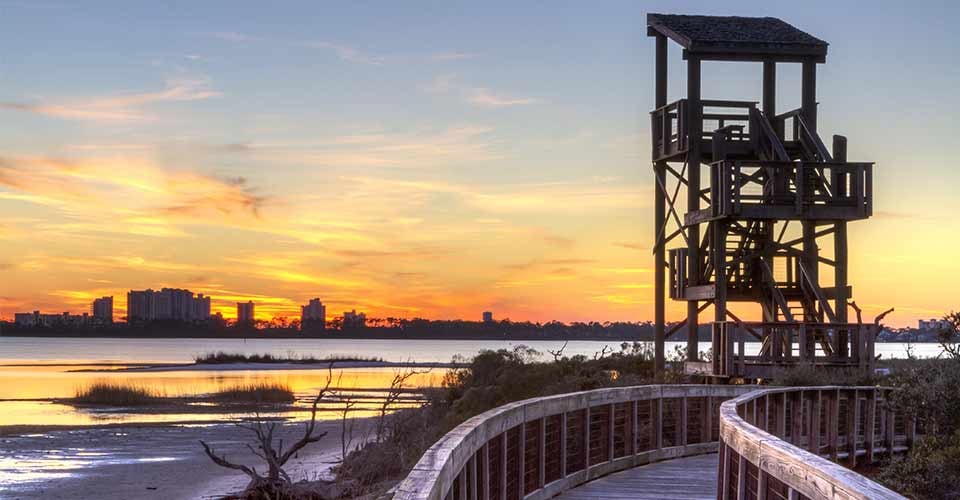 Top Attractions and Things To Do In Pensacola, Florida
Like most coastal communities in Florida, Pensacola is home to numerous beaches which attract thousands of tourists and local visitors every day. So, if you're looking for a great location to relax and unwind, you can be sure of a fantastic time at this coveted destination.
Apart from its glittering sandy beaches and sparkling clean ocean waters, there are plenty of other attractions when visiting Pensacola. Let us now have a look at some of the best places to visit and things to do in this PanHandle city.
The Pensacola Lighthouse and Museum
The Pensacola Lighthouse has been a well-known light for seafarers navigating the seas of the Gulf of Mexico in the northwest region of the Sunshine State since it was established in 1859.
The Pensacola Lighthouse and Museum is currently listed on the National Register of Historic Places and is a popular location for anyone seeking a local perspective on the city's nautical history, or who simply wants to burn some calories trekking to the top of this remarkable landmark.
The museum is open daily to both adults and children are welcome, although there is a height requirement of at least 44 inches for kids looking to climb to the top of the lighthouse.
National Naval Aviation Museum
Naval Air Station Pensacola is home to the world's largest naval museum, as well as one of Florida's most visited museums of any sort.
The National Naval Aviation Museum has more than 350,000 square feet of the exhibit area and more than 150 carefully restored combat aircraft whose involvement in two World Wars helped alter the course of history.
Many of these extraordinary crafts are the only ones still in existence, including the first plane to arrive at the South Pole and one that flew in WWII's dramatic Battle of Midway.
During your visit to the Naval Aviation Museum, you will not only get the chance to learn the history of these iconic planes but also the remarkable people who designed, built, and flew them.
You'll also get to take a trip back in time through historic artifacts including tools, machines, communication devices, and other memorabilia from the War era.
Fort Pickens
Fort Pickens, a feature of the Gulf Islands National Seashore, is both a remarkable historical relic and one of the top outdoor locations in the Pensacola region.
The fort, a powerful five-bastion construction, was built in 1834 to protect Pensacola Bay and was named for Andrew Pickens, a Revolutionary War officer.
During the Civil War, Union soldiers managed to keep possession of Fort Pickens while adjacent Fort Barrancas and Fort McRee fell into Confederate hands.
This unit comprises, in addition to Fort Pickens and other historic batteries, the largest campsite in the National Seashore, some beautiful swimming beaches and picnic areas, and the intriguing displays at the Fort Pickens Discovery Area.
Historic Visit to Fort Barrancas
Fort Barrancas, erected in 1844, is located in the Gulf Islands National Seashore and is one of three forts erected in the 1800s to guard the Pensacola naval outpost. The other two are the Spanish Battery and the Advanced Redoubt Grounds, all of which are open to visitors.
You'll be walking in the footsteps of the troops who were stationed here if you take the hiking paths that wind around the fort. Camouflaged artillery bunkers, subterranean tunnels, brick-fortified cannon positions, food storage rooms, ammo depots, troops' quarters, and other structures can be found.
And you'll be able to enjoy a luxury that the troops stationed here probably never had: you'll be able to eat a picnic on the quiet, green grounds.
Catch a Performance at Saenger Theater
Catch one of the singing, musical, orchestral, lecture, or dramatic presentations at "The Grand Dame of Palafox Street" for a night in the Roaring Twenties.
The Saenger Theatre opened in 1925, in the middle of the wealth and extravagance that preceded the Great Depression, and it hosted many of the world's finest entertainers.
The Saenger closed down fifty years later, after being utilized as a movie theater for years and falling into disrepair. It was then extensively renovated and expanded, and it reopened with the same magnificent atmosphere that it had in the past.
Today, it is once again a venue for world-famous performers. They can be seen at one of America's cultural treasures, and just outside the entrance, Palafox Street has some outstanding restaurants.
Pensacola Museum Of Fine Art
The Pensacola Museum of Art, formerly a prison, is today a center of beauty and education. In 1906, the structure was built in the Spanish Revival style and housed the city courtroom, police department, and shore patrol. Of course, times changed, and the Art Museum was established in 1954.
Instead of vertical bars, police uniforms, and chain clanging, it's now packed with works by famous masters such as Pablo Picasso, Thomas Hart Benton, Andy Warhol, Salvador Dali and Louis Comfort Tiffany in addition to amazing African art and glass art collections.
The museum also offers art lectures and seminars regularly for individuals interested in learning more about art.
Catch A Game At Admiral Fetterman Field
Admiral Fetterman Field, which faces the lovely Pensacola Bay, is a multi-use facility that includes a stadium, amphitheater, and waterfront park, so there's always something entertaining going on.
The majority of people are familiar with the field since it is the home of the Pensacola Blue Wahoos, the city's cherished baseball club. Grab some popcorn, take a seat behind home plate, and cheer on the Wahoos with other local fans.
You may also attend activities planned and hosted by the city of Pensacola. They offer kids' baseball clubs, for example, where youngsters can meet their favorite players and learn about the game's history. It isn't a terrible approach for your kids to learn more about this great Floridian tradition.
There are also plenty of other events hosted at Admiral Fetterman Field including concerts, summer festivals, and political rallies.
Gulf Breeze Zoo
The Gulf Breeze Zoo, nestled a few miles south of Pensacola, is home to numerous species of wildlife. It features an outstanding array of rare and exotic animals, including the elusive white rhinos and black spider monkeys.
There are several ways to engage with the Gulf Breeze Zoo's inhabitants.
The most basic is to walk along the raised boardwalks that allow you to view straight into the animal habitats. However, if you would like to be more hands-on, you can also visit the interactive feeding stations where you'll get the chance to hand-feed giraffes.
Other Gulf Breeze Zoo features include a petting zoo, a walk-through parakeet home, and a steam train that will take you on a tour of the grounds.
Explore the Outdoors At Adventures Unlimited
If you want to get outside and explore, Adventures Unlimited in Pensacola, FL is the place to go. Adventures Unlimited can also take you on guided day explorations or overnight river adventures. They also offer a resort where you can stay in real antique log cabins or a wooden schoolhouse converted into an inn.
You may also do like the old-timers did and camp out in the woods. Scavenger hunts through lovely nature paths are fun for youngsters, and adults will enjoy the fauna and colorful birds that live here.
On the Soaring Stream experience, you may zipline over five distinct streams, or on Taste of the Wild, you can enjoy seven different zipline sensations.
Wrapping Up
Pensacola is without a doubt one of the best locations to raise a family in the Sunshine State, with plenty of fantastic and inexpensive places to live, an excellent school district, and outstanding healthcare facilities.
The cost of living in this picturesque oceanside community is significantly lower compared to other communities around the Gulf of Mexico and there are plenty of employment opportunities for both skilled and unskilled workers.
Even so, Pensacola remains an easy-going, laid-back community with plenty of intriguing cultural and historical sites, museums, parks, and glimmering beaches.
So, if you are planning to move to the Sunshine State, rest assured you will find everything you need for a happy and comfortable lifestyle right here in Pensacola.