Exploring Universal Orlando Resort: Must Do's
Phil Ganz
/
4 Min Read
/
Feb 21, 2022
With 4 themed parks, two water parks and more than 25 themed hotels, Universal Orlando Resort is the holiday of a lifetime if you love all things Harry Potter, Marvel or Dr. Seuss. There are endless things to do at Universal Orlando Resort, and it can be hard to decide what to do first. It's hard enough to choose which parks to go to, but what rides should be at the top of your list?
(Mar 30, 2023)
The theme parks constantly change and add new experiences, so there is never a dull moment. You can spend one day or ten days and still love every minute.
If you're planning to visit in the next few months, here are some things you should consider before you head to the resort:
Purchase a Universal Orlando Resort vacation package directly through Universal.
Download the official Universal Orlando App.
Create a My Universal Photos account.
Use the Express Pass, skip the lines and save time!
Pack a camera to take lots of pictures!
Get there early and use the time to explore before the crowds arrive.
Harry Potter and the Forbidden Journey
The absolute must-do ride at Universal Studios is Harry Potter and The Forbidden Journey, located right in the middle of Hogwarts™ Castle. This ride takes you through scenes from the Harry Potter movies, swinging you back and forth along the way. It's an absolute thrill!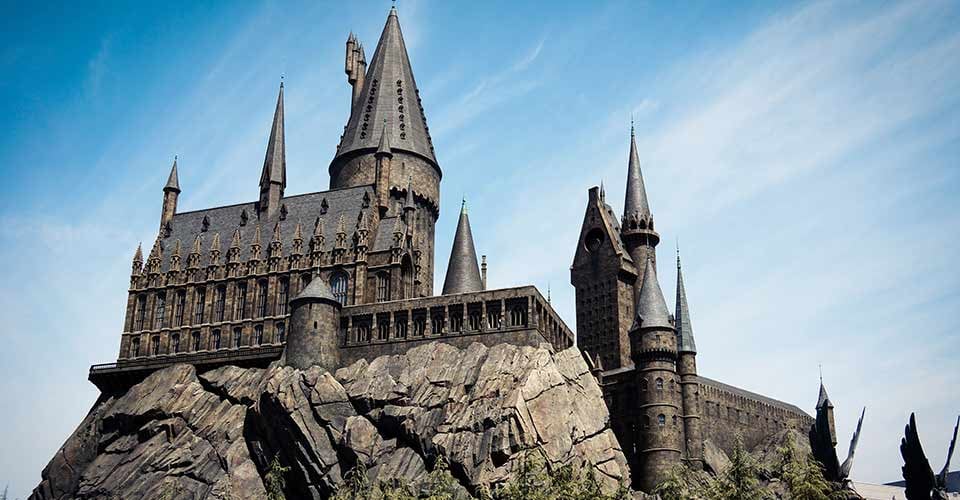 Ride the Hogwarts Express from Universal Studios to Islands of Adventure
You can purchase a Park-To-Park ticket which allows you to ride the Hogwarts Express from one park to another. Start at Kings Cross Station located in Diagon Alley (Hogsmeade Station is in Islands of Adventure). It's magical!
The Hogwarts Express takes you from King's Cross Station in London at Universal Studios Florida® to Hogsmeade™ Station at Islands of Adventure® and vice versa. You can purchase park-to-park tickets or annual passes for this adventure. The train ride is exciting, but it's even more fun when you have a "wizarding window" view!
Eat at the Three Broomsticks in Hogsmeade and the Leaky Cauldron in Diagon Alley
There are seven restaurants in The Wizarding World of Harry Potter. Both Hogsmeade (in Islands of Adventure) and Diagon Alley (in Universal Studios Florida) offers a counter service restaurant with an authentic menu inspired by the stories of J.K. Rowling's books and the films.
The restaurants offer traditional British food with a few twists, such as Fish & Chips and Shepherd's Pie. The atmosphere is highly detailed and makes you feel like you're dining at Hogwarts or inside Diagon Alley!
Hollywood Rip Ride Rockit
It's time to take your rock music to new heights with one of Universal Studios Florida's most thrilling attractions, Hollywood Rip Ride Rockit. This coaster sends riders soaring up to 65 miles per hour into tight turns and unexpected twists, all while rocking out to their very own playlist from over 30 songs.
After exiting the ride, riders also get to pick up their on-ride photo to capture their experience! This is a must-do for any thrill seeker visiting Universal Studios Florida!"
The Amazing Adventures of Spider-Man
This jaw-dropping adventure combines spectacular stunts and amazing special effects to create a thrilling theme park experience the whole family will enjoy. With a pair of 3-D glasses, you can't help but feel like you've just stepped into your favorite comic book.
Despicable Me Minion Mayhem
Join Gru, his girls and the impish Minions on a heartwarming and thrilling 3-D ride. This ride takes you through Gru's home before you've launched into an unforgettable adventure complete with dazzling visual effects and stunningly realistic 3-D imagery.
Race through New York Starring Jimmy Fallon
Race the streets of New York on the world's first flying theatre ride based on The Tonight Show, Starring Jimmy Fallon. Step inside the iconic 30 Rock building and take off into an adventure of a lifetime!
Fast & Furious - Supercharged
You're invited to a once-in-a-lifetime experience. Join the family in a full-throttle, high octane ride inspired by Universal Pictures' blockbuster Fast & Furious film series. Buckle up for some fun at Universal Studios Florida™!
Star Trek
Beam into an all-new adventure that takes you deeper into the Star Trek universe than ever before. Become part of the crew as you travel through space on an epic journey filled with high-speed action and mind-blowing 3D effects.
Flight of the Hippogriff™
Flight of the Hippogriff™ is a family-friendly rollercoaster located in The Wizarding World of Harry Potter™ - Hogsmeade™. It's one of our favorite rides at Universal Orlando Resort because it's fun and pretty mild so that you can ride with kids of any age.
Poseidon's Fury
This walkthrough attraction takes you through an ancient temple, where you learn about the legend of Poseidon and Demeter. The temple itself is a spectacular set filled with special effects that make this one of the most exciting experiences at Universal Orlando Resort. Poseidon's Fury opened in 1997 and has been scaring guests ever since.
Transformers™: The Ride-3D
Transformers™: The Ride-3D is one of Universal Orlando Resort's newest attractions in the Hollywood section of Universal Studios Florida. If you love action movies and thrill rides, this one is for you! It combines 3D HD media, flight simulation technology and 360-degree themed sets to put you right in the center of a battle between Autobots and Decepticons.
Revenge of the Mummy™ - The Ride
The Revenge of the Mummy™ - The Ride (located in Universal Studios, Florida) is based on the movie "The Mummy" and will take you on a thrilling journey through a lost tomb. Take caution, however, because the mummy is rumored to be lurking somewhere in the tomb!
You can expect many thrills on this ride, including sudden acceleration and unexpected turns that will leave you wondering what's coming next.
Shrek 4D
Shrek 4-D is one of my favorite movies, so I had to see this attraction. It's an animated short film that follows up on the first movie and has the same voice actors. There are also 3-D effects in the theater, including a moving seat, which adds to the experience.
Revenge of the Mummy
Revenge of the Mummy is another movie-themed roller coaster at Universal Studios Florida. The ride starts dark and slow as you walk through ancient artifacts, then it turns into a fast indoor roller coaster with plenty of twists and turns. The ride also includes 3-D effects and fireballs, along with many drop-offs. It's one of the more intense rides at Universal Orlando Resort,
Takeaway
Planning with these must-do's will help you get more out of your visit to Universal Orlando Resort.
Interested in learning about becoming a resident in Florida or moving there? Read more.