Fun For the Whole Family at Uncle Bernie's Amusement Park
Phil Ganz
/
3 Min Read
/
Apr 17, 2022
There are some things that you can't do in FL. You can't take the sun for granted, and you can't ignore the fantastic beaches. But you'll never forgive yourself if you don't head to Uncle Bernie's, located at 3291 West Sunrise Boulevard in Lauderhill, and enjoy a day at the best park around.
(Mar 31, 2023)
They have rides for everyone, toddlers and young kids, rebellious teenage teens, and even rides for young adults who are too old to be in amusement parks but just love riding roller coasters as much as they did when they were a kid.
The park has excellent food and fun games (like ring toss) with prizes that you can use on more games or buy a t-shirt. Not only do they have the most thrilling rides but a fantastic water park where you can start with the slow, gentle waters before moving on up to the fast-raging ones.
Fun for Kids and Adults
Kids can enjoy rides, carnival games, cotton candy, and all the other things that children love. Adults also have a full range of thrill rides, from roller coasters to "bungee" plunges and everything in between. Both sides of the park feature shopping and dining options and live entertainment throughout the day.
Tickets
Uncle Bernie's offers both single-day tickets and season pass at different prices. If you think you might come back more than once, consider buying a season pass at a discount so you can return as often as you like all summer long!
When to go
Uncle Bernie's Amusement Park is open daily (except Tuesdays) from 10 a.m. until 5 p.m., but we recommend you arrive as close to opening time as possible. This will allow you to avoid the worst crowds and enjoy cooler weather during the hottest summer months.
What to pack
Don't forget sunscreen, a hat, and comfortable shoes. Bring a backpack with snacks, bottled water, disposable cameras, money, and other essentials. Umbrellas are handy if it rains and can also provide shelter from the sun on hot days.
Roller Coasters
There are many roller coasters at Uncle Bernie's Amusement Park to keep you screaming for more.
With various heights, twists, and turns, it's impossible not to enjoy the roller coaster rides here.
The roller coasters are ranked on how high they are and how fast they go — so if you're a first-timer or just prefer short and sweet, they've got something for everyone.
The Big Thunder Coaster is one of the largest roller coasters in Florida and goes over 60 miles per hour. This coaster will keep you screaming for hours.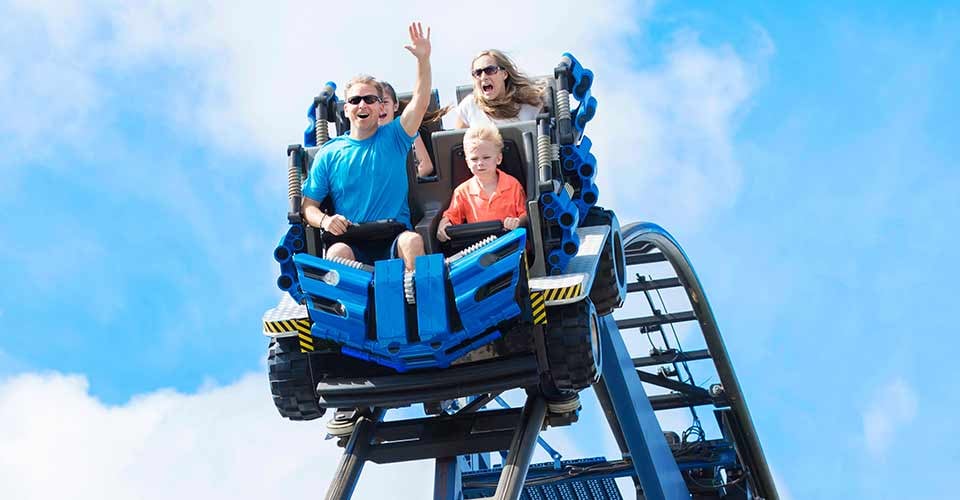 Water Park
If you want to get wet but don't want to worry about sunburn, then go early before they open.
They have a range of water slides that are suitable for all ages.
An example is the famous "Blue Wave" two stories high. For smaller children just learning how to swim, there are kiddie pools that are only one foot deep.
Their water park is open during certain times of the year, so please check their website for opening hours before your visit.
Loads of Fun Rides
Your entire family can enjoy loads of rides, from the classic merry-go-round to the newer "Tilt-A-Whirl."
And if you are feeling a bit more daring, try out one of our newest rides – The upside-down house.
Games Galore
Uncle Bernie's Amusement Park caters to all ages! The games range from fun animal games to win prizes to fun games for adults to win money!
And there is something for everyone in between. So come on down and start playing!
Sneaky Snacks
It wouldn't be an amusement park without snacks and food! Whether you want something sweet or even savory, Uncle Bernie's Amusement Park has it all.
They have a large food court with multiple snack bars and restaurants to choose from, so there will be something here for you to eat no matter what you want!
Grab a snack or a drink at the concession stand and keep your strength up for more fun in the sun. They serve ice cream, hot dogs, cotton candy, soft drinks, and more!
Arcade Games
Take advantage of Uncle Bernie's state-of-the-art arcade games and show off your video game skills.
Their arcade features old favorites like Pac-Man and new games that will challenge you for hours. These games are great for families or groups of friends. Go see if you can beat the high score!
Uncle Bernie's Amusement Park has a large arcade full of the latest games. Play against your friends in fast-paced racing action or show off your skill by shooting down aliens, zombies, and robots coming to invade the Earth.
The arcade also offers a selection of classic games and redemption prizes for kids to choose from at the end of their games. Uncle Bernie's also offers birthday packages with free tokens for the entire birthday party group.
Go-cart fun
Uncle Bernie's Amusement Park features two Go-Kart tracks, a Grand Prix style track for experienced drivers and a Kiddie Track for the little ones. Uncle Bernie's also features an arcade, bumper boats, and an 18 hole miniature golf course.
At first glance, the kiddie go-cart track looks like it could be a little boring — it's made up of only three curves and two straightaways. But once you get out there on the track, you will realize how wrong you were.
The kiddie go-carts pack a punch. They have working headlights and horn buttons, and they go pretty fast. It's easy to spin out if you are not much careful!
Final Thoughts
There's something for everyone to enjoy here, with a wide variety of rides, classic games, and entertainment, plus a full menu of delicious foods on site.
Uncle Bernie's Amusement Park features brand-new attractions that are sure to delight you and your family as well! With numerous rides for the youngest children and plenty to entertain the entire family, Uncle Bernie's Amusement Park is the ultimate destination to choose.
Interested in learning about becoming a resident in Florida or moving there? Read more.