Get to Know Chewbacca at Walt Disney World Stars Wars Launch Bay
Phil Ganz
/
3 Min Read
/
Mar 26, 2022
Guests who make a memorable trip to Launch Bay will have the opportunity to meet Chewbacca, role-play in intergalactic games, and receive a briefing from Chewbacca on the mission to defeat the Empire and more.
Star Wars Fan Bay
Everything about Walt Disney World's Star Wars Launch Bay is pretty neat. You'll find props and costumes from the films, concept art, interactive exhibits, special merchandise, and more.
But the favorite part? The meet and greets. Rather than posing with the furry hero of the Resistance in front of a green screen or backdrop that really has nothing to do with Star Wars (as you can do with many other characters throughout Walt Disney World), Chewie's meet and greet takes place in a set that looks like it belongs in the films. It's essentially his very own starship bridge — complete with plenty of levers and buttons to push to get his attention.
Chewbacca Key Facts
Chewbacca, who goes by "Chewie," was created for the movie "Star Wars: A New Hope." He is a Wookiee from the planet Kashyyk and a co-pilot of the Millennium Falcon.
Chewie does not wear shoes, and he enjoys collecting exotic weapons and rare relics from his travels. Chewbacca has a son named Lumpawaroo. His favorite food is Wookiee Cookies.
He was born on Kashyyk about 60 years before the Battle of Yavin, in "Star Wars: Episode IV A New Hope." Chewbacca has his own language called Shyriiwook, which sounds like a combination of growls, roars, and grunts.
Chewie is known for being loyal and brave in addition to being hairy. His blaster is a modified BlasTech Industries DL-44 heavy blaster pistol, which he carries as part of his bandolier when going into battles.
His name is derived from an Alaskan Eskimo word meaning "big bear." Chewbacca stands 7 feet tall and weighs 200 pounds.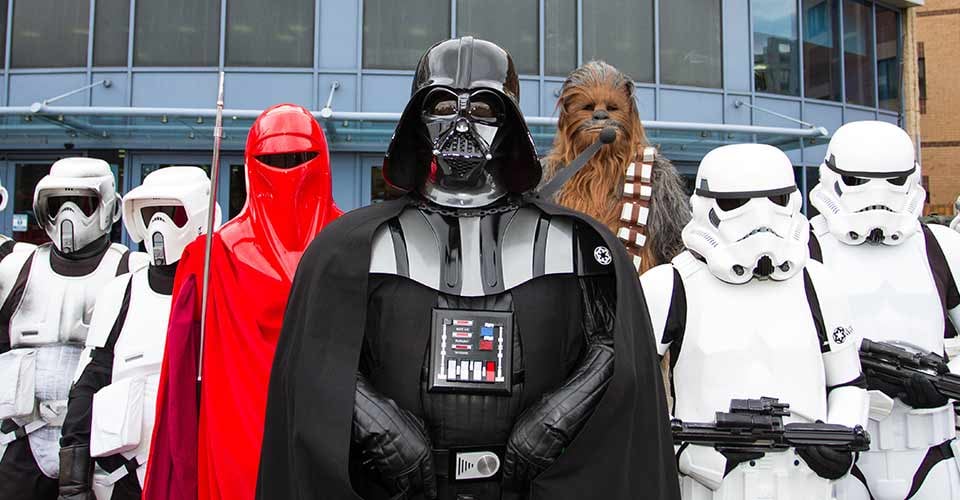 Tips for spending time with Chewbacca at Walt Disney World
If you're visiting Walt Disney World's Star Wars Launch Bay, here's what you can do to get face time with Chewbacca.
Know his location
Launch Bay is located in Animation Courtyard between Mickey Avenue and Pixar Place. It is located next door to the Mickey Mouse meet and greets. The front of the Launch Bay features a large storm trooper statue. There are photos for sale, souvenirs for sale, and places to play Star Wars video games.
Chewbacca is one of the three original characters (along with Darth Vader and Kylo Ren) from the movies that you can have your picture taken with a Star Wars Launch Bay.
Book in advance
The line for Chewbacca is long. Many people want to meet this furry guy from a galaxy far, far away.
The best way to avoid the line and make sure you spend time with him is to make a reservation.
You can do that through the My Disney Experience app. If for any reason you don't get your reservation, which happens often, go to guest services, and they can help you out.
Show up early, and stay late
The best way to experience Chewbacca at the Walt Disney World Stars Wars Launch Bay is to show up early and stay late at the Launch Bay.
The best way to maximize your time is to head directly there when the park opens. If you go right at opening, you will be able to walk right in and meet with the characters with little wait time. You will also have time to visit the stores and galleries before the crowds arrive.
If you arrive later in the day, expect long wait times. If you are visiting during peak times (holidays/weekends), there may be no fast passes available for this attraction, so make sure to go early.
Go on a day when it's not raining or hot out
This is a very important tip, as the stars of these films are all furry, and they get very hot in the Florida sun (and it's just not fun to be waiting in line in the rain). The Launch Bay is located inside of an air-conditioned building, so at least you will be comfortable while waiting in line.
Check out their website for all sorts of events that might be scheduled during your visit
They have scheduled appearances with Star Wars characters, special performances by their resident DJ, artist signings, and more. These events are often listed on the official Walt Disney World website, but you can also find them on the official Walt Disney World app (be sure to check both places to confirm times and locations).
Have an open itinerary
Plan your day around Chewbacca, but if there is an event going on nearby, try to time your visit so that you can watch some of it while waiting in line.
Grab a photo op ticket on your way in, then go grab a snack while you wait in line with the rest of the Chewbacca fans.
Chewbacca doesn't sign autographs, so only bring art supplies if you plan to sketch him instead of getting an autograph.
What Makes Chewbacca a Special Guest?
He's the only character at Walt Disney World that you can interact with on two levels. This is because Chewbacca is a part of the Imagineering team, which has always allowed visitors to interact with the characters.
Usually, the characters can only be seen and not interacted with, but at Launch Bay, guests can experience an up-close and personal meet-and-greet experience with Chewbacca.
But it doesn't stop there! Guests will also have access to a Chewbacca photo that mimics the actual scene from Star Wars Episode VI: Return of the Jedi as he and Han Solo (played by Harrison Ford) argue over who gets to sit in the pilot seat of the Millennium Falcon.
Takeaway
Stars Wars fans will be able to see and interact with the real Chewbacca at Walt Disney World. It's guaranteed to be an emotional moment as you take your picture with two of your childhood heroes.
Interested in learning about becoming a resident in Florida or moving there? Read more.