Go-Kart Tracks and Bumper Cars at Orlando's Magical Midway Thrill Park
Phil Ganz
/
3 Min Read
/
Mar 26, 2022
Located in Orlando, Florida, Magical Midway Thrill Park is a budget-friendly place to have some fun. Featuring a fast track, bumper boats, bumper cars, carousel, and two wooden elevated Go-Kart tracks, Magical Midway Thrill Park on International Drive is among Orlando's largest arcades with ready set fun.
(Mar 25, 2023)
Besides its fabulous attractions, Magical Midway Thrill Park hosts the largest Sling Shot and Starflyer in the world. It is also home to a jumping castle, character art, hair braiding, and bungee trampolines.
Every attraction at this amusement part is designed to give you endless hours of fun and thrill. So, if you are an adrenaline junkie, Orlando's Magical Midway Thrill Park should be your next destination.
Magical Midway Thrill Park ushers you into a whole new world of unique attractions for all ages. Here are some of the attractions that you should not miss out on while at the park:
Go-Kart Tracks and Bumper Cars
While at Orlando's Magical Midway Thrill Park, you can experience extreme bumper cars and Go-Kart tracks. These thrilling and fast tracks will certainly allow you to test your skills to the limit while whipping around corkscrew turns. They will also make you feel the jolts and adrenaline rush as you move at high speeds. Plus, you will have the thrill of driving yourself on "Alpine" or an "Avalanche".
The multi-level wooden tracks at this amusement park will have you and your family members spiraling up and down in a competitive race against other adrenaline junkies. The state-of-the-art karts will give you an edge over your immediate competitors, especially if you choose to be the driver.
If you believe in your driving skills and are daring enough to drive at more speed than usual, then a spin on the Junior Track will define your maneuverability. Otherwise, choosing to be a passenger will make you enjoy the ride in one of the dual rider karts.
The three Go-Kart Tracks at Magical Midway Thrill Park include:
Alpine - Suitable for elevated wooden track
Avalanche - Designed for elevated wooden track
Junio Track - Ideal for flat concrete track
Choose one of the three popular Go-Kart Tracks and have unforgettable fun all day long. However, keep in mind that Go-Kart and bumper drivers should be at least 12 years of age and 58 inches tall to be allowed on the extreme Go-Kart tracks.
Passengers need to be five years old and at least 36 inches tall. For you to drive along with a younger passenger, you need to be 16 years old and in possession of a valid driver's license.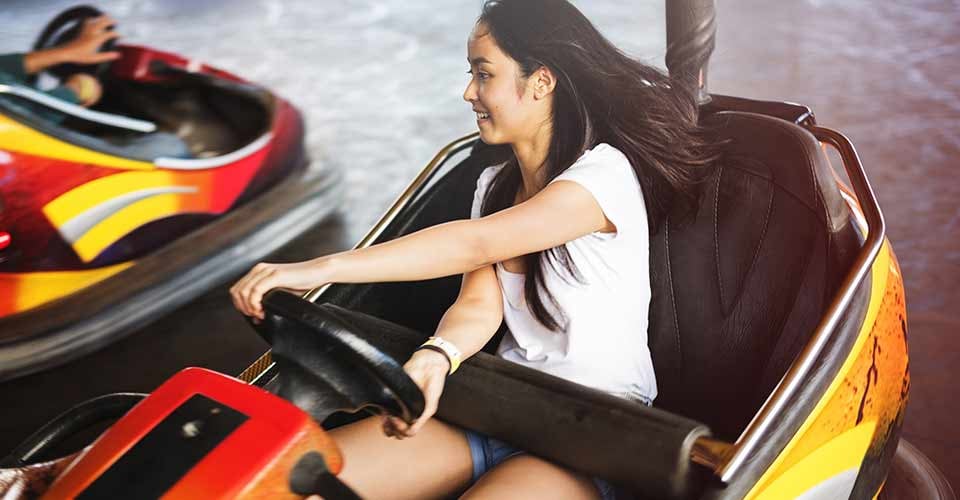 A Sling Shot Ride
You may try out your biking skills at the onsite Harley Davidson motorcycles, spend some time playing billiards or try your skills at air hockey. If you are not a fan of all these mentioned attractions, then you may shift your attention to the Sling Shot ride.
You may have tried out a slingshot ride elsewhere but you have not been anywhere closer to this one at Magical Midway Thrill Park. This particular slingshot is considered the largest globally and for a good reason.
Once you get settled in this sling short, you will find yourself at heights of about 400 feet above the ground. This is quite exciting, especially if it is your first time to experience such heights in just a few seconds.
The height requirement for a SlingShot ride at Orlando's Magical Midway Thrill Park is approximately 44 inches. The good news for everyone is that there is no set minimum age requirement. For enjoying a slingshot ride in this amusement park. This means you can take your kids to experience the ride of their lifetime on the Sling Shot.
The Starflyer
Besides the world's largest slingshot, Magical Midway Thrill Park prides itself with yet another unique attraction. As the name suggests, the Starflyer is indeed a star-shaped type of swing ride designed to swing you high above the ground. This attraction is definitely something memorable. You can have it recorded on a DVD to give you endless memories of your experience at the park.
Space Blast Tower
Another attraction that needs your bravery is the Space Blast Tower at Magical Midway Thrill Park. The Space Blast Tower gives you a wild ride that makes you experience some of the gravity trying to weigh you down.
All you can do is sit tight, cling onto your seat, and hold your breath as the Space Blast Tower take you up to a height of 180 feet. While at this height, you will momentarily enjoy the unfolding sight just before you start a gradual descent towards the ground.
The Arcade
For more fun and relaxation, you can visit the arcade. This attraction provides countless state-of-the-art games for both young individuals and adults. The games at the arcade include classics such as billiards, air hockey, and skee ball among others.
Your time at the arcade will help you escape reality in all types of fun games you can think of. Whether you are a dance phenomenon, a racecar driver, or a rock-band legend, the Magical Midway Thrill Park's arcade is a must-visit to compete and win numerous prizes. Visit the arcade with your family and friends and experience all fun throughout the day.
Other Amenities at Orlando's Magical Midway Thrill Park
In addition to Go-Kart Trucks, bumper cars, a slingshot ride, a Starflyer, the Space Blast Tower, and the arcade, this amusement park has plenty in store for you. You can grab a hand-tossed New York-style pizza at the onsite restaurant or enjoy a delicious treat from the ice cream parlor.
Parking admission is free of charge. You are only required to pay for attractions and rides you find appealing. Prices are reasonable and you can still buy armbands for 3 hours of unlimited Midway rides or Go-Kart Rides.
Final Thought
Magical Midway Thrill Park in Orlando is a perfect place to enjoy your weekend or holiday. The park features several attractions that appeal to the taste of both teens and older kids. Adult thrill-seekers can also find this amusement park worth spending their free time on.
Interested in learning about becoming a resident in Florida or moving there? Read more.