HFA Preferred First Mortgage : Understanding Your Options
Phil Ganz
/
8 Min Read
/
Apr 23, 2022
As housing costs continue to rise each year, the need for home financing assistance has never been greater than it is today. Fortunately, the number of affordable home financing products is ever-expanding to keep up with the needs of first-time and repeat homebuyers, particularly in the low to medium income bracket.
(Mar 27, 2023)
There are plenty of low-down-payment mortgage loan products today than at any other time in history. One of the most popular of these is the HFA Preferred Mortgage. In this guide, you will learn everything you need to know about this mortgage product, how it works, and the requirements for eligibility. By the end of this post, you should have a general idea of whether this is the right home financing option for you, or you're better off trying a different home financing program. So, without much ado, let's get right into it.
What are HFA Preferred Loan Programs?
HFA Preferred Loan programs are partnerships between the Housing Finance Authorities, Fannie Mae, and the organizations that regulate mortgages in the U.S. These programs are designed to provide home financing assistance to low and medium-income earners through affordable 30-year, fixed-rate conventional loans with low upfront payments and mortgage insurance (MI) premiums. Consequently, HFA Preferred loans allow prospective homebuyers to become homeowners without paying much money out of pocket.
Homebuyers who qualify for HFA Preferred loans in Florida are also automatically eligible for down payment assistance (DPA) through F.L. Housing's Second Mortgage. Through this program, they can receive home financing funding of up to $7500 through F.L. Assist. They can also qualify for DPA through the FL HLP Second Mortgage, which offers a variety of options, including funding of up to $10,000, a 3% fully amortizing mortgage, and a 15-year repayment term.
The HFA Preferred Fannie Mae loan is one of two conventional loans offered by the HFA program, the other being the HFA Advantage Freddie Mac loan. These programs offer fixed-rate loans with a minimum down payment of 3%. Like the Fannie Mae option, HFA Advantage loans can be combined with down payment, and closing costs assistance through a second mortgage from F.L. Assist or the FL HLP Second Mortage program.
Eligibility Requirements for FL HFA Preferred First Mortgage
Each state's housing finance authority has its own rules for qualifying for the HFA Preferred Fannie Mae program. For this reason, it is essential to be aware of the specific requirements that apply to borrowers in your state if you're contemplating using this type of mortgage.
With that being said, here are the minimum requirements that a borrower must satisfy to be considered eligible for an HFA Preferred loan in Florida:
For a borrower to qualify for the FL HFA Preferred Loan program, they (and any occupants in their household above the age of 18) must not have had an ownership interest in any primary residence in the three years leading up to the date of enlisting for the HFA Preferred First Mortgage program. However, there are two exceptions to this rule, namely:
Federally Designated Target Area Exception
Borrowers planning to purchase a home in a federally designated targeted area need not be first-time homebuyers to qualify for the FL HFA Preferred Loan program. The federal government recognizes regions needing further development support due to natural disasters or low economic progress. So prospective homebuyers seeking to purchase second homes in these regions can apply for home financing via the HFA Preferred First Mortgage program.
The state government frequently uses this provision to encourage more people to buy homes in specific areas. There are currently more than 30 counties in Florida classified as federally designated areas.
Veterans Exception
Veterans who served in the active military, navy, or air force who were discharged or released under honorable discharge do not need to be first-time homeowners to qualify for the FL HFA Preferred First Mortgage loan. They must, however, prove that they satisfy all of the other Mortgagor's Affidavit criteria.
2. Income Requirement
As highlighted earlier, HFA Preferred Fannie Mae loans facilitate housing finance for prospective homebuyers from low to medium-income households. For a borrower to be considered eligible for the HFA Preferred loan, their household income must not exceed the threshold set by the Florida Housing Finance Corporation. Therefore, this income limit requirement ensures that the people who most need home financing assistance can benefit from the HFA Preferred First Mortgage program.
It is worth noting that the income limit may vary depending on the area where you wish to purchase a home. As a general rule, the income limit in federally targeted areas tends to be higher than other regions.
3. Purchase Price Limit
This condition limits the agreed-upon purchase prices or the costs of available homes for sale. In other words, the FL HFA Preferred First Mortgage loan cannot be used to pay more than the set maximum amount for various types of property in all Florida counties.
The purchase price restriction typically varies based on the county in which the property is located. If you're planning to purchase a property in Alachua County, for instance, the purchase price limit for HFA Preferred loans is capped at $449,269, whereas in Baker county, the purchase price ceiling is $461,785.
4. FICO Requirements
To qualify for the HFA Preferred Fannie Mae First Mortgage, you must have a minimum FICO score of 640 and a DTI not less than 50%. The maximum loan-to-value (LTV) ratio for HFA Preferred loan products is 97 percent, with a maximum combined loan-to-value (CLTV) ratio of 105 percent. These ratios are used to assess the likelihood of defaulting on the loan. When more than one loan is used, the CLTV determines the amount of risk.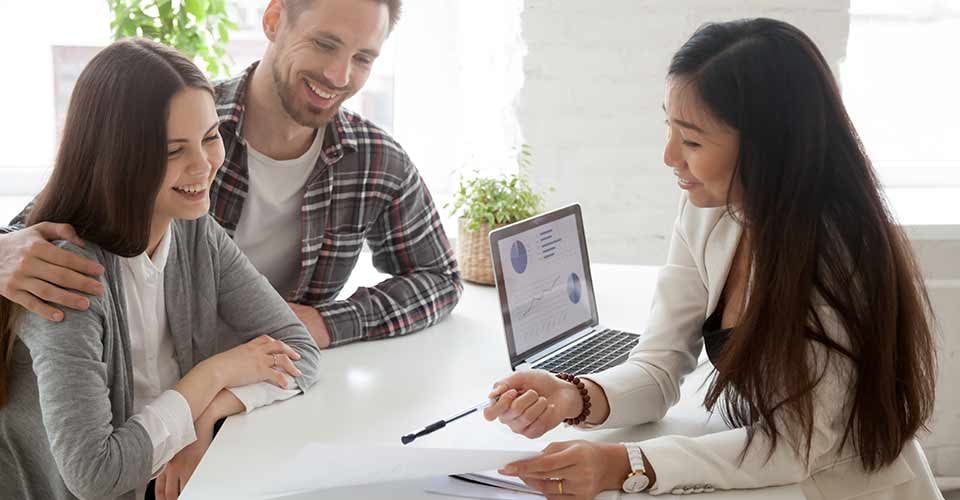 FL HFA Preferred First Mortgage Application Guidelines
In addition to meeting the aforementioned minimum eligibility requirements, a borrower must follow various other regulations and guidelines when seeking an HFA Preferred First Mortgage loan. These include:
Co-signing
Non-occupants are generally not permitted to co-sign an HFA Preferred loan on behalf of a borrower. Likewise, non-occupying co-borrowers are not allowed to sign, but anyone above the age of 18 who is an occupant in the house and is a co-borrower is permitted to do so. However, the non-purchasing spouse and any adult occupants listed on the deed must be first-time homebuyers.
Citizenship Guidelines
Borrowers must follow the Fannie Mae Government Sponsored Enterprise (GSE) citizenship guidelines and present documentation to support their citizenship. They must also demonstrate that they have the capacity and intention to live in the state of Florida permanently and lawfully.
Home Buyer Education (HBE)
The Florida HFA Preferred First Mortgage loan requires applicants to complete a pre-purchase homebuyer course that meets the standards set by the National Industry Standards for Homeownership Education and Counseling or the Housing and Urban Development Department (HUD).
The lender must offer this education course either directly or in collaboration with a mortgage insurance company. The validity of certificates of completion is two years from the date of completion. Post-closing education is considered unacceptable. However, the borrower is expected to move into the home within 60 days of closing.
It's worth noting that every occupant whose name appears on the deed is expected to take the pre-purchase homebuyer course unless they qualify for the veteran's exception or are buying a house in a Federally Targeted Area.
Property Types
There are various property kinds to pick from when applying for the FL HFA Preferred First Mortgage loan. Townhouses, 2-4 unit homes, condominiums, and modular housing are examples of attached/detached one-unit residences that can be purchased using this option. However, mobile homes and manufactured housing are not allowed.
Each of these property kinds has different LTV restrictions. The LTV for 2-4 unit residences cannot exceed 95%, and a 3% minimum borrower contribution is required. On the other hand, LTVs for condos might range from 95.01 percent to 97 percent if U.S. Bank approves them.
How To Apply For A FL HFA Preferred First Mortgage Loan
If you've weighed all the housing finance options and decided that an HFA Preferred loan is the right way to go, then the first thing you should do is check the HFA website and read the qualification requirements and other terms and conditions. This will help you gauge whether you may be eligible for the loan.
Next, contact the HFA to begin the loan application process. If the agent you are speaking to believes you meet the threshold for eligibility, they will send you the application forms for you to fill out. Once this is done, you will need to find a mortgage lender willing to advance you the loan. Remember, HFA Preferred loans are only offered through participating lenders that the HFA has approved. You can find the list of lenders on the HFA website.
To help you narrow down your selections, look at lender evaluations and testimonials. You can then proceed with preapproval and application and a homebuyer course if necessary. Prepare to submit all of your financial information, including paystubs and tax returns, when applying for an HFA Preferred First Mortgage loan.
What Housing Finance Assistance Can I Get With HFA Preferred Loans?
HFA Preferred First Mortgage programs offer a range of property financing options that you can leverage when purchasing your first home. While some HFA programs provide low-interest loans to cover some or all of the down payment, which you pay down alongside your primary mortgage, others provide forgivable loans, which allow you to skip costs and have the debt forgiven after a certain number of years.
Interestingly, HFA programs provide outright grants, which are practically endowments that never have to be repaid. Essentially, each HFA has its own rules for the down payment assistance it provides to eligible borrowers. Consequently, how much you get and if you're eligible will be determined by the generosity of your state or region.
For instance, Florida Housing's HFA First Mortgage offers three options for prospective homebuyers seeking down payment assistance. These are:
1. F.L. Assist
Borrowers who qualify for this program are eligible to receive a loan of up to $7500 at 0% interest. Eligible applicants are not required to pay a single cent until they move, sell or refinance the home after which they have to repay the loan in its entirety.
2. HFA Plus Second Mortgage
This second mortgage provides homebuyers with down payment and closing cost assistance loans with 0% interest. Borrowers are not required to make any monthly payments on this 5-year loan and 20% of the total amount is forgiven after every year. This means that after 5 years have elapsed, the borrower owes nothing.
Under this program, borrowers who meet the qualification requirements are eligible to receive a 15-year loan of up to $15,000 with a remarkable low-interest rate of only 3%. Borrowers are required to pay the loan monthly, but if they move, sell, or refinance the home, they must pay the remaining balance in full.
Benefits Of HFA Preferred First Mortgage Loans
As previously highlighted, HFA Preferred loans provide first-time homebuyers with a variety of home financing options to help them purchase their primary residence at an affordable price. This is a massive advantage for low and average-income earners who may not be able to make excessive down payments out-of-pocket.
However, with plenty of different home financing options in the market, you may be wondering why HFA Preferred loans are the right choice for you. Here are some of the benefits that you can enjoy by choosing to finance your home using an HFA preferred loan:
1. Incredibly Low Minimum Down Payment
HFA Preferred loans allow you to own a home without saving for years to raise a down payment. HFA programs offer 30-year fixed-rate conventional loans with a measly 3% down payment which is lower than FHA mortgage loans.
2. Low Monthly Mortgage Insurance Premiums
While borrowers of HFA Preferred Loans must pay monthly premiums, the amount is relatively low and is usually canceled once home equity reaches 20%. Home equity refers to the amount by which a home's market value exceeds the loan amount. So, for instance, if the value of your home is $400,000, you can stop paying mortgage insurance premiums once your loan reaches $320,000.
3. Automatic Eligibility For Down Payment and Closing Cost Assistance
As mentioned earlier, borrowers who qualify for the HFA Preferred First Mortgage are automatically eligible for down payment and closing cost assistance through a second loan. F.L. Housing provides this Second Mortgage through F.L. Assist and FL HLP Second Mortgage programs.
Downsides Of HFA Preferred First Mortgage Loan Programs
While HFA Preferred loans are some of the best home financing assistant products in the market, they are certainly not for everyone. Here are some of the downsides you may want to consider when contemplating applying for one.
1. Inconsistent Qualifications and Guidelines
Depending on what state you live in, the rules and regulations governing HFA Preferred First Mortgage loans may be different from those of FHA loans and HFA loans in other states. This means you need to dig deep to find out whether you meet all the minimum requirements and additional guidelines for qualification in your state.
2. Down Payment Assistance (DPA) Amount May Vary)
Each HFA sets its own threshold on the down payment assistance that eligible borrowers are entitled to receive. This means that some states may be more generous in the amount of down payment assistance they offer compared to others.
3. Only Limited To Low and Medium Income Earners
As mentioned before, HFAs set income limits for prospective homebuyers seeking to finance their primary residence using HFA Preferred loans. As such, high-income earners may not be eligible for home financing assistance under these programs.
A Final Word
When it comes to purchasing your first property, you need all the help you can get, including any financial aid you may qualify for. Thanks to the HFA Preferred Fannie Mae Program, you have the opportunity to become a homeowner without paying high down payment costs, but you will only need to make minimum premium payments over the mortgage term.
Interested in learning about becoming a resident in Florida or moving there? Read more.