Homes for Sale in Brickell - Miami, Florida
Phil Ganz
/
9 Min Read
/
Feb 10, 2023
Living in Brickell promises you good schools, safe neighborhoods, and the best place to raise your family. In this guide, you will learn everything you need to know about the homes for sale in Brickell, about living in this district, and the available home loans available to help you realize your homeownership dream.
Fun Things to Do in Brickell, Miami
Brickell might not be the first place that comes to mind when you think about a family-friendly destination because it's a famous business and financial district. But you will be glad to know that this neighborhood offers you many fun things to do with your family.
Kids Activities
There are so many fun things to do in Brickell with kids, and you won't be able to cover them in one weekend. There are endless adventures for your children, and they will love the experience.
Explore the Brickell City Centre
Don't miss the Brickell City Centre in your must-go list because the kids will enjoy exploring this mall. This center is home to CMX luxury movie theatre where they can catch a movie in a reclining chair, or play golf in the indoor mini golf.
As you tour the mall, you can pop into Nini & Loli toy store, Vila Kids, and Pandora, where you can buy toys for them.
Tour the Miami Children's Museum
The Miami Children's Museum aims to promote creativity and inspire your children to explore and learn as they play.
The museum is packed with fun activities that will wear them out, from creating their masterpieces at Sketch Aquarium and Music Makers Studio and All About Art, showcasing their science and math abilities at My Green Home and Construction Zone, to allowing their imagination run wild at Ocean Odyssey exhibitions and Castle of Dreams.
Ride the Metromover
Riding the Metromover may become a favorite activity for your kids and a great way to explore Miami. This free train has enormous windows and stops at popular spots such as the American Airlines Arena and Bayside Marketplace. The fun is in the journey, and the children will be glued to the windows as they marvel at the city sights.
Activities for Couples
Brickell is the perfect romantic getaway for couples to relax and reconnect in plush hotels, swoon-worthy bars, restaurants, scenic drives, or a morning stroll. Here are a couple of activities you can do in Brickell, Miami.
Catch a Romantic Movie at the CMX
Couples can watch a romantic movie at the CMX movie theatre at the Brickell Centre. Take the experience a notch higher by enjoying cocktails and dinner while enjoying your movie.
This good cinema theatre has comfy luxury leather seats, which you can recline. Watching a movie makes a sweet night for couples to reconnect.
Watch the Sunset at Brickell Key Park
Brickell Key Park is a lovely little park surrounded by Floridian palm trees and landscapers. Couples can come here and enjoy amazing views of the Brickell skyline, take a stroll together, sit down, and catch the sunset as you watch the boats float by.
Have a Cocktail at Sugar
Since Brickell is home to towering skyscrapers, it boasts the best rooftop bars in Miami with scenic views. Sugar is a hip and trendy bar where elegance meets a classic cocktail vibe.
This bar sits on the 40th floor and takes unwinding and happy hour to new levels. Couples can enjoy creative cocktails and tapas as they take in the Miami skyline at the rooftop garden and beautiful lounge.
Best Places to Live in Brickell, Miami
Brickell is the home to modern neighborhoods in Miami, including high-rise buildings with the best amenities towering over its skyline.
No matter which area homes for sale in Brickell are available, you will find numerous luxury condo buildings with unique architecture and amenities.
The following are the best places to live in Brickell, Miami.
Brickell Key
Brickell Key Miami is a paradise artificial island community at the mouth of the Miami River, providing a sense of exclusivity and privacy complemented with soothing breezes, relaxing vibes, and impressive skyline and water views.
This neighborhood mainly consists of luxury condo towers with resort-style amenities and an abundance of high-end features, such as concierge, spas, infinity poops, and valet parking. The median price of a home in Brickell Key is $650K.
South Brickell
Are you looking to escape the bustling life of Brickell? South Brickell offers you a peaceful lifestyle away from the financial district. This neighborhood is famous for its affluent bay-front condos built between the 1980s and 1990S. South Brickell still maintains its luxurious charm with proximity to shopping, dining, and entertainment spots.
Here you will mostly find older low-and-mid-rise buildings surrounded by upcoming modern condo developments, such as the Una Residences and St. Regus Brickell, which are lavish waterfront buildings. You will also find single-family homes with magnificent mansions dating back to the 1900s.
South Brickell is also home to the famous Millionaires' Row with iconic condos such as the Atlantis condominiums. The median asking home price in South Brickell is $747,000.
North Brickell
The North Brickell neighborhood is located in the financial district, with numerous housing options, including luxury waterfront and mixed-use condos, with the older buildings dating back to the 1970s.
This neighborhood is experiencing upcoming branded waterfront developments such as the Jade Brickell, 1100 Millecento, SLS Lux Brickell, and the Brickell Flatiron Building. The median home price range in North Brickell is $715K.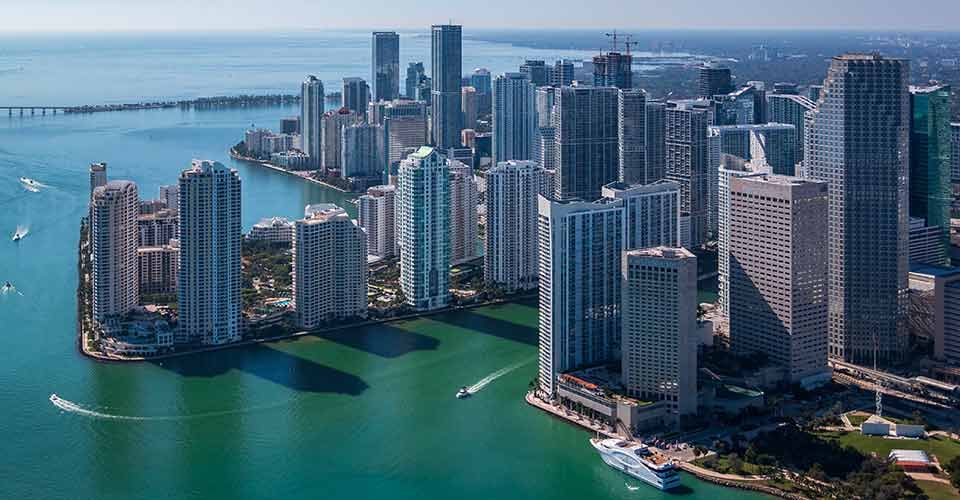 Top 5 Schools in Brickell, Miami
The Brickell neighborhood has some of the best public and private schools in Miami and falls under the Miami Dade School district, which is among the best in the country. So, you have many top-notch schools to choose from, including:
Brickell International Academy
Brickell International Academy tailors its programs to develop interactive thinking for kids between three months and eight years.
This school follows the VESS curriculum, a holistic program that uses research-based strategies to nurture critical thinking, emotional intelligence, a creative mindset, bilingualism, and art and music appreciation.
Ada Merritt K-8
Ada Merritt K-8 offers the International Baccalaureate Dual Language Programme from kindergarten to the eighth grade.
This program provides high-quality, challenging subjects and rigorous tests to encourage the students to be open-minded, principled, creative thinkers and risk-takers. Your child can also pursue proficiency in Spanish and Portuguese and have to sit for an advanced placement exam.
International Studies Charter School
International Studies Charter School is a high school that aims to offer multi-literate, multi-lingual, and multicultural education to prepare your child to be a thoughtful member of society.
This school offers Italian, French, and Spanish from the sixth to twelfth grades. Students in this school also participate in athletics to instill sportsmanship and teamwork.
Mater Academy East Charter
Mater Academy East Charter embraces innovative strategies by incorporating STEM into their curriculum to help its students to gain hands-on experience and further their understanding of core academic subjects.
This school focuses on the individual needs of each student, equipping them with the necessary skills to succeed in the modern world.
Young Women's Preparatory Academy
Young Women's Preparatory Academy educates and nurtures female students and aims to shape them into leaders. The school focuses on providing tailored learning through an advanced curriculum that stresses community engagement.
The students also go through advanced placement courses, which guide them to available career pathways, and they can earn credits for a science degree at Miami-Dade College.
Is Brickell Safe?
Besides Brickell being considered as the Financial District of Miami and it's home to many investment, banking, and financial institution.
This financial hub also hosts foreign consulates, adding to the diverse international flavor but also to the safety of the district. Most downtowns are usually rife with crime, but this is not the case with Brickell.
Brickell is one of the safest neighborhoods in Florida, and the crime rate in this district is 25% less than the U.S. average, and it has reported a 9% drop in crime rate in recent years.
Great Local Attractions in Brickell, Miami
Brickell, Miami, is known for its towering skyscrapers, luxury condos, vibrant nightlife, and trendy bars and restaurants. But did you know that this neighborhood has excellent attractions? Here are a few local attractions in Brickell.
Simpson Park Hammock
Simpson Park Hammock is a unique natural reserve tucked away from the Brickell business district. This park preserves the Brickell hardwood hammock, and it currently has more than 160 plant species, with 15 extinct species.
If you're looking for a quick and relaxing escape from the financial hub, this is the place to go for fresh air and a pick-me-up after a tiring day.
Brickell City Centre
You can't be in Brickell and miss visiting the stylish and luxurious Brickell City Centre. Nothing rivals this 500,000-square-foot dining and shopping destination filled with boutiques, entertainment spots, and high-end stores.
Here you will find stores of popular brands like Zara, Saks Fifth Avenue, CMX, and Sephora. You also can't go wrong with the dining options in this mall.
The Miami Circle National Historic Landmark
The Miami Circle National Historic Landmark is thought to be the only existing cut-in-rock prehistoric landmark in North America.
It is a perfect circle with a diameter of 38 feet and 24 holes dug into the limestone and tiny holes surrounding it. An excavation in the area uncovered several ancient artifacts, including human teeth, shell tools, and charcoal.
The Miami Circle Park is also the perfect spot to watch the boats as they float by as you bask in the Florida sun.
Why Brickell is a Good Place to Raise a Family
Brickell offers you the New York feel but with the Florida sunshine, and it's not surprising that many people are moving to this city. This city has it all, and here are some factors that make it a good place to raise your family.
Best Schools
Brickell is home to good public and private schools, such as the Southside Elementary School and International Studies Charter Middle School are excellent choices when you move to Brickell.
The highlight of schools in this city is that they are deeply rooted in the community and have a solid educational foundation.
Low Crime Rate
Brickell is among the safest Florida towns, with a crime rate 25% lower than the national average. This financial district is home to young professionals, families, and retirees thanks to its safe reputation.
It is also known as one of the places in Florida with the lowest crimes, as the crime figures have continued to decrease over the past years.
Efficient Public Transportation
This neighborhood has the best public transportation system in Miami, and you have several options to get around this town. Firstly, you have the Metromover, the top choice among the locals, and it guarantees you a free ride on three loop lines and has stops on several blocks.
Secondly, there is the Metrorail which you can connect via the Metromover, and you can use it to go to different parts of Miami. Lastly, the Miami Trolley is also a great way to move around Brickell.
Plenty of Parks
The perfect Florida sunshine is great for outdoor activities, and you can never miss out on spending time outside.
Luckily, Brickell has plenty of parks that make it a unique neighborhood. You have numerous options, including Southside Park, Brickell Key Park, Bayfront Park, and Simpson Park.
Convenience
Brickell is at the heart of Miami, so you can easily access different parts of the city with Metromover and Metrorail. You will be spoilt with abundant amenities and services at your fingertips.
Just as it's commonly referred to as the Manhattan of Miami, this neighborhood offers you the fast-paced lifestyle, ambition, and walkability of New York.
Employment Opportunities
Since Brickell is a significant financial district with many businesses and international banks stationed here, there are numerous employment opportunities in finance and other fields if you move here.
Chances are that if you're looking for a well-paying job in Miami, you will likely end up working in Brickell.
Want to Buy a Home in Brickell, Miami? Consider these Home Loans
Do you dream of buying a home in Brickell, Miami but are worried that your income is insufficient to support your options?
If this is your case, try a home loan program that helps you to qualify for the different homes for sale in Brickell and realize your dream of owning a home.
Here are some home loans that you can consider.
USDA
USDA home loans aim to help homebuyers in suburban and rural areas buy a home despite being unable to afford a down payment. With USDA financing, you don't require a downpayment.
It has low mortgage insurance and low-interest rates, thus saving you high costs. However, you must be a low to moderate-income earner to qualify.
The best part about USDA is that it has lower rates than government-backed financings like the VA and FHA and offers you 0.35 percent of the borrowed funds to cover your annual insurance premiums.
To qualify for this home loan, you must have a DTI of 43%, a credit score of at least 620, and sufficient income to make the monthly mortgage payments.
FHA
Do you have a low credit score that locks you out from applying for home financing? The good news is that the FHA loan program is available for homebuyers who don't qualify for conventional mortgages, have a low credit score, or don't have sufficient funds to cover their down payment.
This home loan offers you up to 96.5% of your home's value, but you must pay for mortgage insurance. To qualify for this home loan, you must have a credit score of at least 580; if your credit score is lower, you have to make a 10% down payment.
You also need a consistent income to pay off the mortgage, and most lenders will require you to pay mortgage insurance premiums to protect them if you default.
VA Home Loan
The VA home loan is designed for veterans and those serving in the military, qualified surviving spouses, and reservists to achieve their homeownership dream.
Since the Department of Veterans Affairs guarantees this loan, you don't need a down payment, but your credit score must be 620.
What's good about this home loan is that you receive 100% mortgage financing and have zero limits on first-time homeowners. That is not all. You don't have to pay for Private Mortgage Insurance, and you can apply for this loan several times, provided you are eligible.
Conventional Home Loan
Unlike FHA and VA loans, the government doesn't back conventional loans offered by a mortgage lender or Freddie Mac and Fannie Mae.
With the conventional home loan, your mortgage lender buys the home on your behalf, and you pay back the loan within 15 or 30 years with a fixed interest rate.
You must have a credit score of a minimum of 620, a DTI of 43%, and a 3% down payment to qualify for this home loan. This financing usually has a higher interest rate.
Conclusion
Homes for sale in Brickell offer a big-city feel in a very safe community. Living in this town offers you a mix of great neighborhoods, good schools, proximity to entertainment spots, and loads of fun activities for your entire family.
Brickell, Miami, has everything you need and is the perfect place to live and play. Enjoy what this city has to offer by buying a home here.