Homes for Sale in Coral Way - Miami, Florida
Phil Ganz
/
8 Min Read
/
Feb 08, 2023
Discover the top reasons to relocate to Miami and the best neighborhoods to buy homes for sale in Coral Way. Plus, we highlight the top recreation activities to explore in Coral way.
But First - Types of Loans Available for Homebuyers
Are you contemplating buying homes for sale in Coral Way, but you don't have ready cash? Here's some good news - You can apply for a mortgage to fund your housing budget.
Before then, you should understand the different types of loans available for prospective home buyers, so you find the perfect match for your needs.
Below are the common types of home loans and their benefits.
Government-insured Mortgages
The US Government is pivotal in facilitating home ownership by providing mortgage insurance to lenders.
Three leading agencies at the forefront of government-insured loans are:
The Federal Housing Administration (FHA)
The US Department of Veterans Affairs (VA)
The US Department of Agriculture (USDA)
Government-insured loans include;
FHA Mortgages
They're housing loans issued under the Federal Housing Administration (FHA). However, contrary to the expectation of prospective home buyers, the FHA doesn't give loans but provides mortgage insurance to cushion lenders against financial loss from loan default.
An FHA mortgage is the best option if you have a low down payment and a relatively lower credit score. You can qualify for the mortgage if you have a minimum credit score of 580 and 3.5% down payment. Similarly, a credit score of 500 and a 10% down payment also guarantees you an FHA loan.
Benefits of the FHA Mortgage:
Low down payment
Favorable lending rates compared to conventional mortgages
Lower credit score requirement
Lower mortgage insurance payment (MIP)
USDA Mortgage
Are you looking forward to buying a home in a rural or suburban neighborhood? Then the USDA mortgage is all you need.
The mortgage is similar to an FHA housing loan, except that the property you wish to buy must be within an area eligible for the loan.
The loan, backed by the US Department of Agriculture, is typically available for borrowers with low to middle income. Moreover, the mortgage has a relatively fair set of requirements, including the possibility of buying a home without down payment.
Benefits of USDA Mortgages:
Zero down payment
Financial assistance for the closing costs
Zero penalties for mortgage prepayment
Fair requirements for credit score and income limits
VA Mortgages
Are you a veteran or an active member of the United States military? A VA mortgage can help you buy your dream property at zero down payment.
Like other government-insured loans, the VA mortgage offers flexible borrowing options exclusively for military members and their families.
Benefits of the mortgage include:
Zero down payment
Zero private mortgage insurance is required
Zero prepayment penalty
Fair interest rates and credit score requirements
Conventional Mortgages
A conventional mortgage is the most common home loan for prospective buyers. However, unlike other loans, a traditional mortgage doesn't have government backing and is only available from approved lending institutions such as banks.
As a result, conventional mortgages have stringent lending requirements capped on interest rates, credit scores, and debt-to-income ratios (DTI).
For instance, your lender will require a minimum credit score of 620 and at least 3% upfront payment. In addition, you'll need private mortgage insurance (PMI) to cushion the lender against financial loss if you can't pay the loan.
Conventional mortgages are of two types;
Conforming Type - They conform to the lending standards and requirements outlined by the Federal Housing Finance Agency (FHFA).

Non-conforming Type - They don't conform to the FHFA standards but cater to the housing needs of prospective buyers with high-end credit profiles.
Coral Way, Florida - Brief History
Coral Way is one of the suburban towns in Miami, Florida. Currently, it is under the jurisdiction of Miami-Dade County, Florida.
The city borrows its name from Coral Way, an iconic road established in the 1920s. The road is a significant corridor connecting the cities of Miami and Coral Gables.
During its inception in 1922, the corridor was predominantly lined up with citrus fruits, but later, a road beautification program oversaw the planting of Banyan trees along the corridor. Currently, it is one of the most beautiful roads in South Florida.
Where To Stay in Coral Way, Florida
The corridor is a reasonably old dwelling characterized by antique homes. That doesn't mean you can't find affordable, ultra-modern homes for sale in Coral Way.
Here are the five best neighborhoods to find an apartment around Coral Way:
Coconut Grove
Coconut Grove is a high-end neighborhood near Biscayne Beach. If you love jogging or strolling, the great sidewalks will come in handy. In addition, the neighborhood has plenty of shops and malls to buy your households at fair prices.
Coconut Grove also has a large waterfront for outdoor recreation. Enjoy a fantastic view of the Atlantic Ocean from a hotel room or a backyard in a lavish apartment. Not to mention its proximity to downtown Miami this offers you an opportunity to explore the urban lifestyle.
Little Havana
Little Havana is a culturally endowed neighborhood around Coral Way. Its proximity to Cuba Island has opened the doors for Latin American cultural influence and a strong presence of Cuban natives. As a result, you'll find exclusive restaurants serving Cuban dishes, among them - La Granja Le Jeune, El Divino Restaurant, and Café Sabroso.
Little Havana is also close to the University of Miami, allowing your children access to quality education opportunities without hassle.
Downtown Miami
Downtown Miami is yet another suitable place to live within Coral Way. It features a fast-paced environment with endless destinations and fantastic shopping experiences. Besides shopping, downtown Miami is also ideal if you're looking for educational opportunities since it's only a few minutes drive from the University of Miami.
An iconic attraction in downtown Miami is the American Airlines Sports Arena, which hosts significant basketball teams, including the dreaded Miami Heat. You can find time during the weekends to watch a thrilling match with your family.
Edgewater
Edgewater is the preference of many home buyers looking for an artistic experience. A walk within the streets portrays art at its best because it won't be long before you spot street murals from renowned artists.
The Edgewater is also an excellent place to hang with friends off work due to the availability of top-rated restaurants and bars. Popular social joints within the neighborhood include Plant Miami, Rincon Escondido, and Basani's Pizzeria.
Wynwood
Wynwood is yet another artistic neighborhood with plenty of colorful murals. For instance, the Wynwood Walls feature impressive drawings, paintings, and colorful murals from freelance artists. The creative influence is attributable to a relatively younger population in terms of the town's demographics.
Wynwood is also a favorite destination for shopping lovers, as staying within the neighborhood guarantees access to pocket-friendly malls, clothing fashion stores, and other retail outlets.
And suppose you're looking for exclusive education for your kids, Wynwood is a good option since it is only half an hour's drive to Florida Atlantic University and the University of Miami.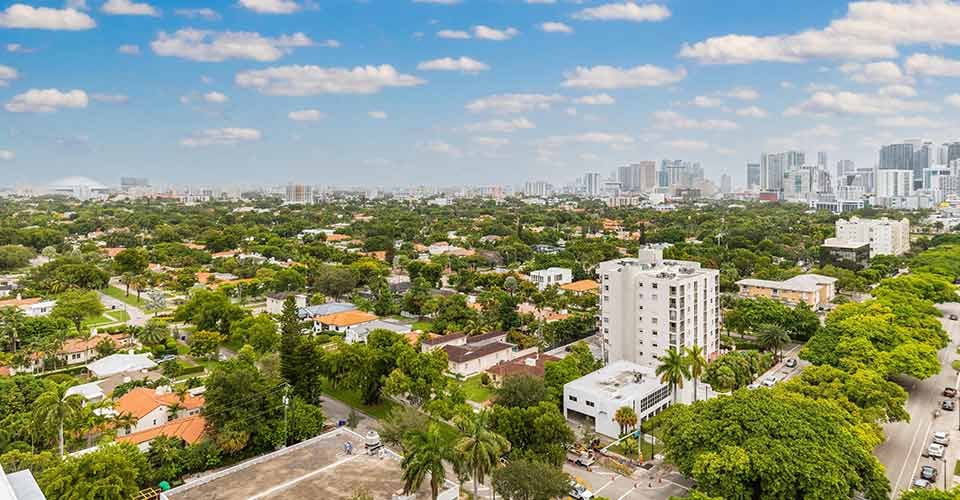 School Systems in Coral Way
The education system in Coral Way falls under the jurisdiction of the Miami-Dade County School District. The school district is the largest in Florida and fourth in the United States.
Since its inception in 1885, the Miami-Dade School District has been at the forefront of scaling the education standards in Coral Way.
The school district boasts about 334,261 students spread across 516 schools. Plenty of private schools are within reach if you want a customized education option for your kids.
Like other school districts, public schools are fully government-funded to provide quality education from kindergarten to Grade 12. Additionally, most schools within Coral Way boast exclusive features, including;
Cultural diversity in enrolment
Experienced teachers
Favorable student-to-teacher ratio
High test scores
Some top-rated schools within Coral Way include:
Coral Way K-8 Center
Coral Gables Preparatory Academy
Somerset High School
Merrick Educational Center
Biscayne Elementary
Is Coral Way an Ideal Place To Raise a Family?
Coral Way, Florida, is ideal for tranquility and ambiance within a suburban setting. It is, therefore, a perfect place to raise a family and enjoy Florida's best perks.
If you're skeptical about living in Coral Way, consider the following reasons:
Diverse Real Estate Options
The small town boasts many real estate options, including Spanish villas, single-family homes, mega mansions, and gated communities.
For instance, if you prefer a high-end lifestyle with some privacy, you can buy a lavish property in any gated community bordering the waterfronts and golf courses. You could also buy the sprawling condo residences or opt for the old ranch-style homes.
Cultural Diversity
As of the 2020 population census, Coral way had 55,951 inhabitants, consisting of Hispanic, African-Americans, Whites, and other races. As a result, it boasts an array of cultures drawn from different parts of the world.
The Cuban culture, particularly, has a strong influence in the town, as evidenced by restaurants serving Hispanic dishes. Top restaurants in Coral Way include El Rinconcito Latino, Leo's Pizza, and Pollo Tropical, among others.
Lower Crime Rate
Are you planning to buy the homes for sale in Coral Way? Don't worry about the crime rates since Coral Way is safer than the surrounding cities.
Residents generally consider the southeastern parts the safest in the city. And what's more, the town and its environs are under 24/ security surveillance by the local police.
Top Recreation Activities in Coral Way, Miami
The coral way is home to pristine beaches, shopping facilities, dining experiences, scenic attractions, and inspiring cultural experiences. Thus, living in one of the homes for sale in Coral way guarantees an array of activities regardless of your budget.
Below are the seven best local attractions and activities to do in the neighborhood.
Shopping at Merrick Park
Merrick Park is a choice destination for shopping enthusiasts in South Florida. You'll find reputable international retail brands like Gucci, and Tiffany & Co, among others.
The shopping park is the best place to be if you wish to buy a special gift for your loved ones or simply to do window shopping. Besides shopping, the park is home to fitness clubs and dining facilities to explore various cuisines.
Visiting the Coral Gables Merrick House
A visit to Coral Way is never complete without a sightseeing tour of the Coral Gables Merrick House. The Merrick House along the Coral Way corridor has been the city's icon since its construction in 1906.
The house derives its name from the Merrick family, instrumental in enacting the Coral Way and the Coral Gables City. The house is open for public viewing by travelers who wish to learn about ancient furniture, households, and artwork.
You can take advantage of the weekly tours to the site to learn about the rich history of South Florida alongside your family.
Learning Cultural Heritage at the Coral Gables Museum
The Coral Gables Museum is an ancient destination for a cultural experience in the city. Although it is located deep downtown, it is home to plenty of outdoor and indoor recreation experiences. For instance, you'll find a rich gallery of historical artifacts and artwork from top-rated ancient artists.
Not to mention the expansive outdoor space that hosts recreation opportunities as well. Here, you can ride a canoe or jump on a bike for a memorable weekend outing.
Watching Stage Shows at the Actor's Playhouse
The Actor's Playhouse has been a premier venue for various stage plays since 1988. Owing to its noble purpose, the stage play venue had a multimillion-dollar revamp incorporating high-end audio and lighting systems to enhance entertainment.
This is the place to be if you want the thrill of standup comedy, children-themed productions, and other stage dramas. However, to avoid inconvenience, it is advisable to check their website for the calendar of events, so you stay updated on any upcoming shows.
Watching Films at the Coral Gables Art Cinema
The Gables Art Cinema is one of the oldest hubs for watching films in Coral Gables. The best aspect of the boutique theater is that it specializes in local and international movies from ancient and contemporary themes.
It is a popular joint for movie enthusiasts due to its large screen, comfortable seats, and ultramodern air conditioning system. A stopover at the movie venue would be one of the ideal ways to unwind after a busy schedule at work.
Swimming in the Venetian Pool
If you fancy a deep dive into South Florida's ancient pools, consider the Venetian Pool. Since its construction in the early 1920s, the Venetian Pool has held the record for America's most extensive freshwater collection.
It is powered by an underground aquifer that pumps a massive three million liters of fresh water every moment.
Riding in the Coral Gables Trolley
Have you ever heard of the Coral Gables Trolley and wondered what it has in store? It is similar to your usual bus ride, except that you'll ride on a vintage bus.
And what's more, the trolley ride is usually free and has numerous stopovers at designated points. There can't be a better way to unwind with your family over the weekends other than the free trolley ride.
Living in Coral Way - Is It Worth Anything?
Homeownership is one of the most significant investments you'll ever make. For this reason, it is advisable to explore different options before settling on your preferred neighborhood.
With that in mind, if you're looking for an ideal location to buy a home, look no further than Coral Way, Miami, Florida. The town offers a suburban residential settlement and a wide variety of quiet neighborhoods at affordable rates.
In addition, the lower crime rates, an organized school district, cultural diversity, and endless recreation options make the town a perfect choice for home buying.
And if you're cash-starved, you can apply for a government-backed mortgage to help you cut down on your investment cost.
Contact an approved mortgage lender or real estate agent for advice on finding homes for sale in Coral Way, Miami.