Homes for Sale in Lake Como, Orlando
Phil Ganz
/
8 Min Read
/
Mar 11, 2023
Choose from classic contemporary homes that let you enjoy downtown Orlando fully. Homes for sale in Lake Como, Orlando, will impress thanks to their mature landscaping and proximity to vibrant districts. With generously-sized living spaces and abundant natural light, this Orlando neighborhood's houses offer good luxury.
Watch beautiful Florida sunsets from your home's comfort. Besides, you could settle in homes with open floor plans and spacious rooms. Enjoy easy access to the Hour Glass District, Thornton Park, and Milk District. The neighborhood's incredible dining and entertainment options will provide a seamless stay.
Head to the City Beautiful to find highly sought-after homes for sale in Lake Como, Orlando. Expect cozy ambiances and bright living spaces that highlight the massive homes.
Most houses have excellent back porches where you can recline and have fun all year. Make outdoor living a significant part of your stay, thanks to the well-kept backyards.
Lake Como, Orlando Overview
Homes for sale in Lake Como, Orlando, offer incredible water views of Lake Arnold. Find homes with designer kitchens, beautiful granite countertops, and top-quality solid wood cabinetry.
The friendly neighbors help you settle in with ease. Most of your neighbors will be white, making up 72% of the area's population. African-American and Hispanic individuals are the second-largest ethnic communities in the area. You might also have a few Asian neighbors upon settling in homes for sale in Lake Como, Orlando.
Presently, the neighborhood's median home value stands at $328,366.
How to Move to Lake Como, Orlando
Many prospective homebuyers keen on moving to Lake Como, Orlando, don't have the cash to purchase a home outrightly. Expensive houses have forced many would-be homebuyers to shelve their dream of becoming homeowners.
Mortgage loans can help you ease into homeownership. Getting approved for available mortgage options increases your chances of purchasing homes for sale in Lake Como, Orlando. Here's an overview of the best mortgage options you could leverage.
The self-sufficient Federal Housing Administration offers cheap, affordable, accessible loans to help prospective homebuyers purchase their dream homes. With the FHA, lenders face minimal liability if you default.
FHA loans are ideal for individuals with difficulty securing financing from conventional lenders. If you have a low credit score, a modest income, or a bad credit history, this loan option will serve you suitably.
First-time homeowners typically leverage these loans because of the lenient credit requirements. However, you can still qualify for the loan if you're not a first-time homeowner. FHA loans are available in different forms depending on your plans.
The basic home purchase loan is a fixed-rate mortgage that often runs for 30 years. You can also leverage the standard refinance loan to shorten your mortgage terms or get lower rates. The cash-out refinancing program allows you to borrow money against your home equity.
Lenders require you to meet specific conditions and requirements before approving your loan. The top requirements for qualifying for FHA loans include the following:
A credit score of atleast 500.

A down payment of atleast 3.5% if you'll pay private mortgage insurance.

A debt-to-income ratio of at least 43%.

An appraisal that indicates your home meets minimum property standards.
The US Department of Veteran Affairs set up VA loans to simplify the mortgage acquisition process for veterans and service members. VA loans' zero down payment requirement makes them appealing to many eligible members. Besides, these loans don't require private mortgage insurance fees.
Credit unions, banks, and mortgage companies offer these loans. Reservists, active-duty service members, and national guard members can qualify for this loan if they:
Complete 90 days of wartime service.

Serve continuously on active duty for 24 months.

Complete a 181-day active duty service before receiving a hardship discharge.

Complete at least 20 months in a 2-year enlistment.
Spouses of veterans who died while on active duty also qualify for this loan. Lenders usually charge relatively low-interest rates thanks to the government backing that reduces their risk exposure.
Unlike government-insured loans, conventional loans usually attract higher interest rates. These rates often depend on your loan term, loan amount, rate type, and present economic conditions. Most lenders will offer fixed-interest-rate loans at a 15 or 30-year payback period.
Loan approval often hinges upon your credit rating. With a higher credit score, you can expect a loan with better terms. Most lenders require a credit score of at least 620. Your debt-to-income ratio also influences loan approval. A high DTI ratio above 50% might indicate that you can't meet your financial obligations aptly.
Adding a mortgage to an already high DTI may strain your budget. Most lenders will only approve your loan if your DTI is below 43%.
You can purchase a house with only a 3% downpayment with conventional loans. However, expect to pay private mortgage insurance that accompanies your regular mortgage payments. Depositing a 20% upfront payment decreases your monthly payments and helps you avoid PMI.
Before applying for conventional loans, you can better your financial profile by fixing your credit or working to boost your monthly income.
Also, consider repaying your debt and saving as much as possible for the down payment. Prepare proof of income documentation, including pay stubs, federal tax returns, W-2 forms, and documents proving alimony or additional income.
The US Department of Agriculture created USDA mortgages to facilitate homeownership in rural settings. Before qualifying for this loan, you must be from qualifying locations and meet the USDA income limits. Besides, the USDA loan is available for permanent US residents, US citizens, and foreign nationals.
Low-to-moderate earners can own their homes with USDA loans. Most lenders consider your qualifying income, eligibility income, and adjusted eligibility income before approving the loan. Also, expect your lender to scrutinize your current debt obligations and future home payments against your income.
Your eligibility income will comprise the payments of everyone in your household. USDA considers your household's median income rather than an applicant's income.
Are you looking to settle in high-end areas of Lake Como, Orlando? Non-conforming Jumbo loans can be decisive. These loans are ideal for borrowers looking to purchase high-end luxury homes. Also, you can use the loan amount to buy multifamily residences.
Given the high risks involved, lenders require that you pay larger down payments before approving your loan.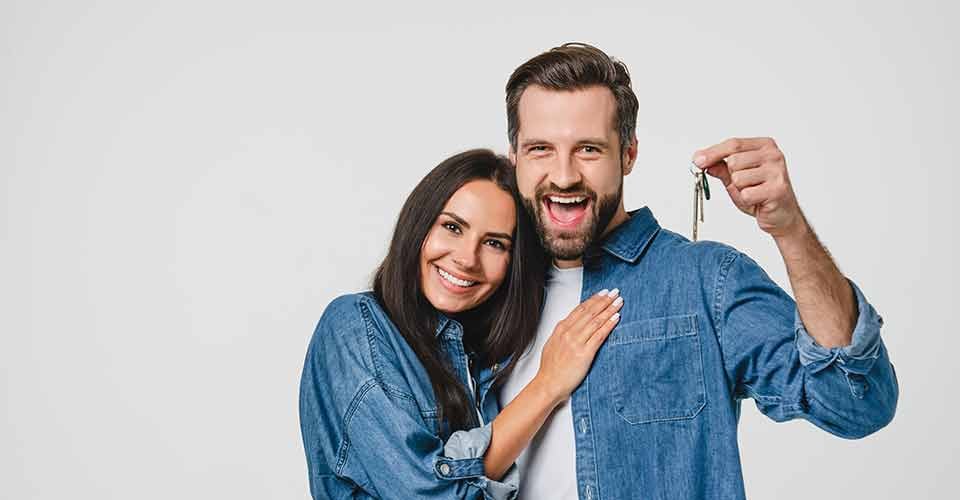 Do you qualify for the Hometown Heroes Program?
Many community workers need help keeping up with the soaring housing costs. Often the salaries of these workers fall well below what they require to purchase a home in Florida.
Fortunately, eligible community workers can leverage the Florida Hometown Heroes Program to ease into homeownership. Eligible full-time workforce, employed by a Florida-based employer are all eligible for this timely program.
First-time homebuyers looking to buy a primary residence where they work and serve receive down payment and closing cost assistance through this program.
Eligible borrowers can get up to 5% of the first mortgage loan amount as assistance. Also, the aid is available as a non-amortizing, 30-year deferred second mortgage.
Remember that the second mortgage is not forgivable. You'll have to pay fully if you sell the property or refinance the first mortgage. The second mortgage also becomes payable in case of a deed transfer or if you cease occupying the property as your primary residence.
You'll also get a lower first mortgage rate and unique benefits as you continue serving. The Hometown Heroes Program provides lower rates on the FHA, VA, Freddie Mac, or Fannie Mae first mortgage. Expect reduced upfront fees upon qualifying for this mortgage.
Applicants must satisfy specific requirements to be considered eligible for a first mortgage. The top qualifying requirements include the following:
Credit Requirements - A good credit score is essential when applying for mortgages, as lenders need assurance that you can repay your loan. Your credit score requirement will depend on the mortgage you use in this program. Clearing your credit card debts, avoiding new loans, and paying your bills on time are effective strategies for improving your credit score.

Specific Income Limits - Borrowers require that you meet FL Housing's qualifying income requirements. Besides, the income limit also includes a cap that ensures low and medium-income access to this mortgage assistance rightfully. Different income types will influence your qualifying income, including VA payments, social security income, dividends, overtime earnings, earnings from self-employment, and alimony and child support payments.

DTI Requirements - You must also satisfy specific DTI requirements to qualify for the particular DTI requirements. Your debt-to-income ratio determines whether or not you can take on additional debt.
The Hometown Heroes Program offers a much-needed reprieve for Florida's community workers. This mortgage program ensures that these workers live in safe and sustainable environments.
Best Schools in Lake Como, Orlando
Your children will get the best education once you settle in homes for sale in Lake Como, Orlando. Laureate Park Elementary School, Audubon Park School, and Trinity Preparatory School are all ideal options for your children.
Elementary Schools
Laureate Park Elementary School is a highly-rated elementary school that offers adequate preparation for children starting their academic journey.
The school's diverse population ensures your children can start interacting with people of various racial backgrounds at an early stage.
Alternatively, you could take your kids to the Hope Charter School. With a student-teacher ratio of 16 to 1, this highly-rated public school ensures your kids receive personalized learning experiences.
Middle Schools
Homes for sale in Lake Como, Orlando, offer quick access to the Audubon Park School. This highly-rated school increases your child's English and Math proficiency.
The top-rated Cornerstone Charter Academy also provides the perfect preparation for high school. Parents agree that teachers offer engaging lessons and genuinely care about the student's welfare.
High Schools
Do you want to get the most out of your teenage kids? Lake Como's top-rated high schools can help you achieve more than you can imagine. For example, the Cornerstone Charter Academy High School helps your young ones perfect specific skills while having fun and making friends.
The learning conditions in this charter school reduce the likelihood of bullying. The positive atmosphere, attentive teachers, and diverse learning opportunities offer the best preparation for your young ones.
Attractions near Lake Como, Orlando
Homes for sale in Lake Como, Orlando, offer quick access to numerous parks and playgrounds. Your kids can relish lots of fun in the Orlando Festival Park, Pool, and the City of Orlando Parks Division. Kids and adults enjoy impressive recreational facilities here.
Get ready for refreshing picnics under the shade in the summer months. Alternatively, you could take on the trails over the weekend. Here are some of the best attractions near homes for sale in Lake Como, Orlando.
Welaka State Forest
Enjoy quiet, peaceful trails as you enjoy this impressive State Park. See beautiful butterflies and listen to birds as you traverse the trails.
Go off the beaten path and enjoy nature at the State Forest. The wildlife observation tower and excellent hiking trails often exceed expectations. Head to the spring at the trail's end to catch glimpses of beautiful fish.
Visit the Log Cabin Farm, Vineyard & Winery
Ten acres of commercial Muscadine grapes occupy the fertile land at this historic Log Cabin Farm. This family-owned farm produces quality wine in Florida. Bring your kids and leashed pets to this impressive farm.
Salt Springs Observation Trail
Enjoy a nature overload whenever you spend time at Salt Springs. The one-mile hike will take you through the oak hammock, floodplain forest, and oak scrub. The trail leads you to an observation platform overlooking the Salt Springs Run.
Fantastic flora and fauna brighten the way as you head toward the water. Enjoy a change of scenery on an alternate trail on your route back. This reasonably easy trail is ideal for creating memories with your family.
Palatka Golf Club
An authentic golfing experience awaits you at the quaint downtown Palatka. This vintage course sits just over the expansive waters of the St. Johns River. Donald Ross designed this golf club in a natural, clutter-free environment.
The holes wrap the tranquil woods while tumbling over sandy ridges. Golfing enthusiasts can enjoy endless thrills on the quick and enjoyable course. This fun course is light on your wallet and promises a pleasant day.
Tug of War Charters
Go out with Captain Randy to enjoy an incredible fishing expedition away from the homes for sale in Lake Como, Orlando.
The experienced captain will take you to the best spots, ensuring you catch giant fish even on slow days. Enjoy lots of fun while catching fish. Book early to enjoy the best tides and bites.
Ravine Gardens State Park
Visit this park to behold two ravines 120 feet deep with steep banks. Underground water cuts into the bank and carries sand and soil to the St.Johns River. The original landscaping of the park exists as an extensive trail system and formal gardens.
Pedestrians, cyclists, and wheelchairs can access the Ravine Loop with ease. Visit the park during the azalea season to enjoy the garden's peak flowering period. Spend time with your family on the numerous picnic sites with tables and grills.
Riverfront Park
Step away from homes for sale in Lake Como, Orlando, to explore this beautiful park on the St. John River. Walk along the water and head to the launch to see the metal "FISH." The park's playground has numerous amenities that your kids will love.
The submarines, clock towers, fountains, and memorials serve as bonuses. You'll fall in love with the boardwalk by the river that lets you catch glimpses of a pretty fountain and marina. Grab your lunch and relax under a big shade tree with your family. See beautiful sunsets at this spacious park.
Top Restaurants near Homes for Sale in Lake Como, Orlando
Lake Como, Orlando, is awash with dining options you could consider. Foxtail Coffee Co, the Spork Cafe, and Barnie's Coffee & Tea Company are impeccable coffee shops. Head to Zaza New Cuban Diner or Dixie Dharma for a relaxed weekend brunch. You could also catch up with friends at Pom Pom's Teahouse & Sandwicheria.
Satisfy your sweet tooth cravings at Valhalla Bakery. Your kids can also enjoy tasty desserts at Se7en Bites Bake Shop or Market on South. Do you fancy some tacos? Place your order at Taqueria Ameca or Jimmy Hula's Downtown Orlando. You'll also enjoy tacos at Freddy's Frozen Custard & Steakburgers.
Families looking for fun dine-in experiences near homes for sale in Lake Como, Orlando, go to Itsa Chicken or Kabooki Sushi. Get the best burgers from Koning restaurants International or El Arepaso de Orlando.