Homes for Sale in Mid-Beach - Miami, Florida
Phil Ganz
/
9 Min Read
/
Feb 13, 2023
This article will give you insights on, among other things, the school systems in Mid-Beach, and the local attractions in the area, and we will let you know why Mid Beach is an excellent place to raise your family.
We also let you know how you can still acquire a home in Mid-Beach even with inadequate funds.
Things to do in Mid-Beach, Florida
Do you enjoy unwinding at the beach, where the cool ocean breeze helps you relax? Do you want regular date nights with your spouse? Do you enjoy exploring and going for hikes? Mid-Beach has many fun activities to offer the world that are bound to leave you and your family relaxed and happy.
Here are some of the activities you can engage in while living in Mid-Beach.
Eating - When it comes to dining, Mid-Beach is one of the finest spots for food and entertainment in Miami. You cannot have a day under the sun and not work up a good appetite. Mid-Beach boasts trendy new hotels to live in and the best places to sit and enjoy a sumptuous meal. From Italian to Japanese delicacies, Mid-Beach promises to delight your taste buds and leave your tummy full.

Go to the beach - Mid-Beach's three miles of golden sand and Atlantic surf are a must-experience. The beach is clean and well-maintained, so you can enjoy swimming, surging, kayaking, and fishing. The water is warm and clear, with a great view of the Atlantic Ocean. The beach has various shade options if you want to spend time under the sun without getting burned by UV rays. You can also rent chairs and umbrellas from the beach.

Shopping - Mid-Beach has trendy boutiques bound to expand your style and closet. Mid-Beach boutiques are famed for having luxurious goods, including women's fashion accessories, home decor, international labels, emerging designers, and many more. Its youthful and unique fashion accessories appeal to those who want to stay up-to-date with fashion trends. Vogue Magazine has hailed Mid-Beach as the newest design destination in Miami.

Enjoy the Mid-Beach nightlife - When the night owls, it's your time to shine. If you like the party world, the nightlife in Mid-Beach is as loud and vibrant as it is memorable. Its vast arrays of bars and clubs make it a world-class nightlife destination. It has top dance clubs, cocktail lounges, and dive bars. Its cool and calm perfect combination ensures that visitors and locals living in Mid-Beach have 24/7 access to the party life.

Go exploring - Imagine taking a quiet and rejuvenating walk surrounded by 21st century architecture that you can study and learn about. The southern part of Mid-Beach became a surreal place to explore after the Faena District was established in 2020. The 43,000-square-foot area hosts the Faena House Condos, the Faena Theatre for performing arts, the Faena Hotel Miami Beach, and the Faena Bazaar Shopping Centre.
The Best Areas to live in Mid-Beach, Florida
When choosing a place to live, everyone prioritizes their needs and would like them met. For example, if you have a family, you want a home with enough room to raise your children. You also consider the safety of the place and the availability of necessary amenities such as good schools, good transport, and shopping centers.
With a population of 9,794 people, Mid-Beach has safe neighborhoods that will be ideal for purchasing your home. Some of the best places to own a home in Mid-Beach, Florida, include:
Faena District, Miami Beach, FL
Collins Avenue, Miami Beach, FL
43rd Street, Miami Beach, FL
Prairie Ave, Miami Beach, FL
Alton Road, Miami Beach, FL
Indian Creek Drive, Miami Beach, FL
Pine Tree Drive, Miami Beach, FL
Fairway Drive, Miami Beach, FL
Also referred to as the Millionaire's Row, Mid-Beach's real estate takes the form of high-end condominium units. Builders of homes in the area invested over $1 billion to build Mid-Beach. The average price of a house in Mid-Beach is currently $639,000.
Buying a home in Mid-Beach is worth the price as its optimum location makes it ideal for people looking to escape the busy city life.
Local Attractions in Mid-Beach, Miami
Mid-Beach is an expansive stretch of Miami Beach between South Beach and North Beach. It hosts some of the glitziest hotels, beach resorts, and cultural centers. Be it a recreation place for your children or a place for you to unwind, the attractions in Mid-Beach have got you covered.
Below we dive into the most attractive places that Mid Beach has for you.
Miami Beach Boardwalk
The Miami Beach Boardwalk extends seven miles from Indian Beach Park to Nikki Beach in the South. On one end, you get to enjoy the fantastic scenic view of the Atlantic Ocean, and on the other end, you get an idea of the lavish Miami Beach architecture and parks.
If you enjoy a good morning run, the Miami Beach Boardwalk is the ideal running route in the early morning when it is much cooler.
Fontainebleau
The Fontainebleau is one of Mid-beach, Miami's most architecturally significant hotels. Its marble bowtie tile floors and cascading chandeliers in its 17,000-square-foot lobby give the hotel a mid-century glamour.
It is home to LIV, one of the most famous clubs in Miami, with its lineup of stars from Justin Beiber to Skrillex to David Guetta. You must go to Fontainebleau and enjoy the sumptuous meals at the Scarpetta by Scott Conant, Hakkasan, and Stripsteak.
India Beach Park
Do you enjoy watching the sunset and its beautiful rays disappear from the earth's horizon? Indian beach Park is the place for you to visit. The evenings are so colorful at India Beach Park that you will not want to look away.
It's quiet atmosphere gives you a place to escape the loud city life. The coastal park is also perfect for canoe and kayak launching.
With its convenient location and the few visitors, India Beach Park is a family-friendly place you can visit for a day to soak up the sun and unwind as a family.
Miami Children's Museum
Miami Children's Museum is ideal for your children to foster a love for learning and realize their most significant potential.
The museum offers exhibit programs and learning materials related to arts, culture, and community to enable your children to nurture their artistic talent.
Wynwood Walls
A collection of giant wall murals covering six buildings, Wynwood Walls, has become a framed canvas from artists worldwide.
This open-air art gallery has art everywhere you turn, making it a hot spot for artists looking for inspiration. Wynwood is unique and creative, as murals of the Dalai Lama, graffiti quotes, and well-crafted sculptures surround it.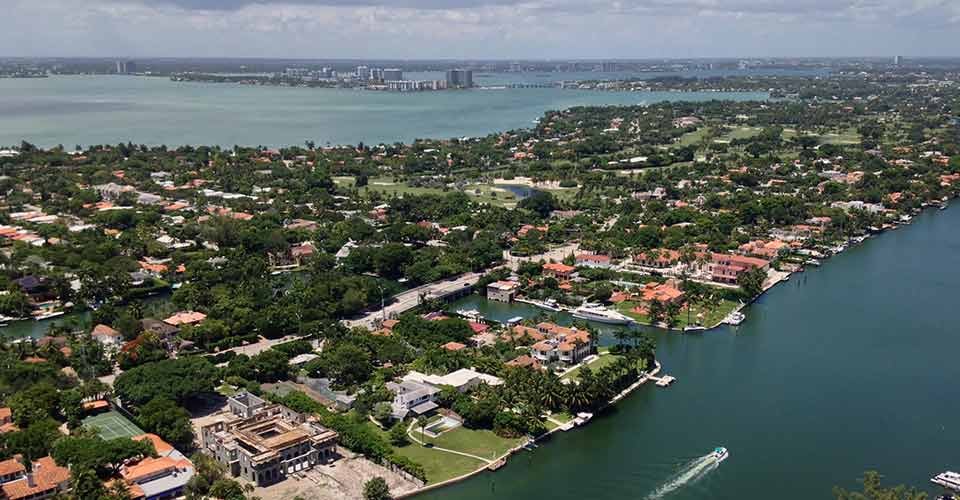 School Systems in Mid-Beach, Florida
When choosing a place to buy your home, one of the factors you consider is the education your child will get. You want your children to get the best quality education while avoiding the long school transport hours. Mid-Beach has some of the best private and public schools in safe neighborhoods.
Let's look at some of the public schools in Mid-Beach, Florida.
Mater Academy at Mount Sinai - Located at 4300 Alton Road, Mater Academy at Mount Sinai is one of the best schools to take your child from Kindergarten to Grade 5. The school has a minority enrollment rate of 83%, making it multicultural, with most of its students being Hispanic. The school is ranked among the top 5% of all the 3,638 schools with high test scores in Math proficiency and reading proficiency.

Miami Beach Nautilus Middle School - Miami Beach Nautilus Middle School hosts over 1000 students in grades 6 -8 and is among Florida's top 50% well-performing schools. It has a teacher-student ratio of 23:1, with 47 teachers and two counselors. If you want your child to get high proficiency in Math and Reading, the Miami Beach Nautillus Middle School is the institution for you.

Ruth K Broad Day Harbor K-8 Center - If there is a school that takes time to understand your child's different capabilities and characteristics, it is Ruth K Broad Day Harbor. The institution provides an education program that is suited to the needs of every child in the institution. Compared to other schools across Florida, Ruth K Broad Day Harbor performs better in Mathematics and reading.

Miami Beach Senior High School - Located on Prairie Avenue in Mid-Beach, Miami Beach Senior High School is a magnet school that attracts students from different groups and has a minority student enrollment rate of 74%. In addition, the institution has been recognized as an International Baccalaureate World School, allowing a group of its students to attend a program that will enable them to graduate with a special diploma after two years.
If you have extra income, taking your children to a private institution will give them access to quality education and better school facilities. Mid-Beach has some well-performing private schools that will be suitable for your children, including:
The Montessori Academy at St. John's - The school's waterfront t location gives your children a calm and peaceful place to play and learn. With a population of 97 students between the ages of 12 months to grade 5, the school focuses on establishing fundamental habits, skills, and ideas in your children that will guarantee a lifetime of creative thinking and learning for the children.

Landow Yeshiva/Lubavitch Educational Center - Are you Jewish? Would you like your children to learn about the culture of the Jews? Landow Yeshiva/lubavitch Educational Center is an institution that will equip your child with knowledge and awareness of the Jewish heritage. The school aims to make Jewish and general studies available to all children while allowing them also to realize their academic and personal potential.

St. Patrick School - With a population of 296 students, St Patrick School takes up the responsibility of empowering students with academic and Christian knowledge.It gives children the platform to discover and develop their God-given talents.

Fisher Island Day School - This is an institution that prepares the way for your children to be responsible citizens and to get academic excellence that will get them into competitive high schools. In addition, the school creates a safe environment for your children to recognize their strengths and engage with developmentally appropriate learning materials.
Crime/Safety Rate in Mid-Beach, Miami
Crime rates are very low in Mid-Beach compared to other cities across America. This is because crime rates tend not to be higher than those seen nationwide because of local law enforcement efforts on behalf of citizens living in this area.
The police to people ratio in Miami is 4.7 for every 1000 people putting it above the average ratio in the rest of the United States of 2.2 officers per 1000 people.
The presence of many police officers in Miami results from the high rate of criminal violence in the area. There is a report of 750 violent crimes for every 100,000 people.
In addition, property crimes are also relatively high in Miami, prompting the need for adequate police presence. The safest neighborhoods in Miami Beach include Fisher Island, Nautilus, Bayshore, and Biscayne Point.
Why Mid-Beach is an excellent place to raise your family
Mid-Beach is an ideal place to set up your family for several reasons:
Cool-weather - Mid-Beach allows you and your family to lead a relaxed lifestyle while enjoying the tropical climate.

Rich cultural heritage - Mid-Beach is a vibrant cultural hot spot between North Beach and South Beach. Your family will also be surrounded by state-of-the-art architectural beauty evidenced by the art deco buildings and modern luxury condominiums.

Educational opportunities - Mid-Beach has public and private schools that will provide your children with access to quality education.

Family-friendly neighborhoods - Mid Beach has quiet and great single-family homes close to the beach, golf courses, and parks making it an ideal location for your family. If you have a young family, it is encouraging to know that most of the streets in the neighborhoods are relatively quiet.
Types of Loans You Can Get in Mid Beach, Miami, Florida
You do not have to give up your dream of owning your home due to inadequate funds. There are a variety of loans available to help you finance your Mid Beach home, including:
Federal Housing Administration (FHA) Loans
The FHA Home Loan Program is backed by the U.S. Department of Housing and Urban Development (HUD), which means that it offers lower down payments than other types of mortgages but does require borrowers to make monthly mortgage payments for 15 years after closing on their homes or until they sell them.
The FHA loans have competitive interest rates and need you to have a FICO credit score of 580 to get the maximum 96.5% FHA loan.
Borrowers with credit scores of below 580 may qualify for low-interest rates allowing them to access funds through their lender while still paying off principal over time instead having all original principal paid off upfront in one lump sum payment over 14 years.
USDA Rural Development Loan Program
This program offers loans with no down payment required. The United States Department of Agriculture provides these loans to help individuals get loans in rural and suburban areas.
However, these loans come with higher interest rates due to increased risk associated with rural properties being located away from large urban areas with greater demand for housing inventory primarily due to population growth within cities and higher demand for housing outside city limits.
VA Loan
The United States Department of Veteran Affairs guarantees VA loans. With VA loans, you can get a loan without a down payment and with looser credit standards.
Jumbo Loans
A jumbo loan is a mortgage plan outside the Federal Housing Finance Agency limits and is designed to purchase high-end luxury properties and homes.
To get a jumbo loan, you need to have a FICO credit score of at least 700 or higher and a down payment of at least 10 percent of the purchase price.
Conventional Loans
Conventional loans are not backed by the federal government and can be in two forms, conforming and non-conforming loans. The conforming loans adhere to the standards set by the Federal Housing Financial Agency.
In contrast, the non-conforming loans do not meet the standards set by the Federal Housing Finance Agency and deal with borrowers who want to purchase more expensive homes.
Fixed-rate Mortgages
Fixed-rate mortgages maintain the same interest rate throughout the lifetime of your loan. This means that monthly mortgage payments remain the same. The loan terms can be for 15 years or 30 years.
When you know the types of loans available for you, now you can focus on getting the mortgage lender whose terms will fit your finances. This will set you on your way to purchasing one of the homes for sale in Mid-Beach, Florida.