Homes for Sale in West Colonial, Orlando
Phil Ganz
/
8 Min Read
/
Mar 13, 2023
Homes for sale in West Colonial, Orlando, offer you a chance to live in a prospering community. This guide highlights what it would be like to live in this neighborhood.
West Colonial, Orlando Overview
Suppose you are a real estate investor or aspire to live in an area with commercial and residential growth potential.
In that case, West Colonial is a suitable place for you and your family. After all, the neighborhood is marked by the City of Orlando as an Opportunity Zone.
It has numerous housing opportunities, making it ideal for aspiring homebuyers.
What Makes West Colonial Unique?
Currently, West Colonial is home to over 4,700 residents. Most are liberals and claim the neighborhood has an urban-suburban mixed feel. Even though over half of the residents are renters, a large percentage are shifting into homeownership thanks to the numerous home loan options and competitive housing rates.
What makes West Colonial unique is its low cost of living. The area ranks among the top ten neighborhoods with the most affordable lifestyle and quality of life in Orlando. Housing is relatively inexpensive, and groceries are reasonably priced.
What Type of People Reside in West Colonial?
West Colonial has several parks and playgrounds, creating an excellent family setting for picnics and get-togethers. The area has several family homes, which explains why it has a mix of young and old families.
It is also an ideal neighborhood to retire in because of the low cost of living. You don't need to struggle to buy groceries and other essentials. Besides, Florida has no income tax, and West Colonial is an Opportunity Zone with numerous chances to invest your retirement savings.
West Colonial's vibrant nightlife attracts young people, as implied by the high number of residents aged 25 to 34. With this in mind, you should expect to find a diverse mix of people of all ages when you move to this neighborhood.
Ethnic Composition of West Colonial
West Colonial is renowned for its ethnic and cultural diversity. The neighborhood attracts residents from all racial backgrounds, primarily African Americans, followed by Hispanics. Whites are third on the list, followed by multiracial Americans, Asians, and Native Americans.
Buying a home for sale in West Colonial, a racially diverse community has several benefits. You will learn to appreciate other racial and cultural backgrounds.
You and your kids will also learn to cooperate with neighbors from different ethnicities more effectively, making your West Colonial safer, liveable, and more comfortable for all residents.
The Average Home Price in West Colonial
West Colonial is an Opportunity Zone, meaning housing prices are more competitive and affordable than in other parts of Orange County.
The median home price is $155,267, lower than the national average of $244,900. The low prices explain why homes for sale in West Colonial are in great demand among aspiring homebuyers.
West Colonial Neighborhood Character
West Colonial residents are liberal-leaning and open to opposing views and perspectives. The neighborhood has numerous mixed-use commercial and residential development projects that define its character.
If you're into sports, buying a home for sale in West Colonial is logical. After all, most residents are sport-lovers. The neighborhood is home to the Camping World Stadium, highlighting the community's love for sports.
How to Move to West Colonial, Orlando
Buying a home for sale in West Colonial, Orlando, is now more affordable than ever. The emergence of various credit options has made it easier for aspiring homebuyers to purchase property without straining their finances. Even better, you might be eligible for a loan even if you have a less favorable credit history.
Here is a list of loan options for your new home in West Colonial, Orlando:
FHA Loans
An FHA loan is a government-backed mortgage issued to borrowers with challenges securing traditional mortgages. The Federal Housing Administration has helped millions become homeowners by providing mortgage insurance on loans. The guarantee allows FHA-approved lenders to issue loans with more favorable terms.
Unlike traditional mortgages that require 20% of the home value as a down payment, FHA loans demand 3.5%-10%. This low requirement makes FHA loans accessible to first-time homebuyers. Successful applicants must pay Mortgage Insurance Premiums once they get the loan.
VA Loans
A VA loan is a home financing option issued by the Veterans Affairs department to eligible active-duty military personnel, Veterans, and their surviving spouses. This military benefit allows you to buy, build, or improve your primary residence with no down payment required.
Even though the loan is for active and retired military officers and sometimes their spouses, not every personnel qualifies. The lender requires a Certificate of Eligibility (CoE) from the borrower to evaluate their eligibility. The document shows your service history, aiding the lender in determining if you qualify for the loan.
Conventional Mortgage
A conventional mortgage is a traditional home loan issued to borrowers by private commercial institutions such as banks, mortgage companies, and credit unions.
The mortgages do not have federal insurance, making the application process more robust, given the monetary risks involved. Qualifying for a loan can be difficult if your credit score is less than stellar.
Borrowers must meet stringent requirements set by the lender. You must pay a 20% down payment before securing the mortgage.
Once you get the loan, you must pay Mortgage Insurance Premiums with your monthly payments. The only reprieve is that the interest rates are lower since applicants pay a substantial amount as a down payment.
USDA Loans
The primary objective of the US Department of Agriculture is to help improve livelihoods in rural and semi-rural areas through various programs. A USDA loan is a zero-down payment credit option that allows you to buy a modern house in a developing region of the country.
Then again, applicants do not require cash reserves to qualify for the loan, making it affordable for aspiring homebuyers with limited financial resources.
Even though the loan is for rural development, some homes for sale in West Colonial might qualify for USDA loans since the neighborhood is a marked Opportunity Zone. You can buy your primary residence in West Colonial using a USDA loan with no down payment required.
Jumbo Loans
Jumbo loans are exclusive mortgages issued by private commercial lenders to borrowers who intend to purchase luxury homes whose value a traditional loan cannot meet.
These loans do not conform to the guidelines and limits set by Federal Housing Finance Agencies such as Freddie Mac and Fanny Mae, allowing you to borrow substantial amounts.
Since much money is involved, jumbo loans have stringent eligibility requirements. You must have a high FICO credit score and an impressive DTI ratio. It also requires considerable cash reserves to cover the first 6 to 12 monthly payments.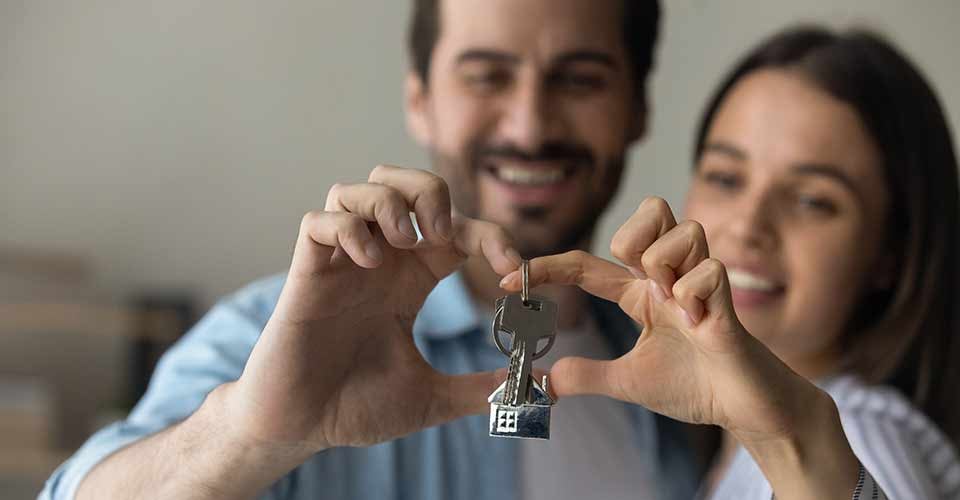 How to Find Out If You Qualify for the Hometown Heroes Program
If you are a community worker in Florida, you might be eligible for the Florida Hometown Heroes. This program offers a lower first mortgage to borrowers currently serving their communities and those who have served their country.
The primary objective of this housing program is to assist frontline workers in settling the required down payment and closing costs when buying a house.
Eligible frontline community workers include:
Healthcare professionals
Law enforcers
Educators
Firefighters
Childcare employees
Activity-duty and retired military officers
How the Florida Hometown Heroes Program Can Help You Purchase a Home
The Florida Hometown Heroes Program provides 5% of the first mortgage (maximum of $25,000) in down payment and closing cost assistance.
Since you no longer have to pay a down payment or closing costs, your homeownership journey will become smoother and more affordable.
The program reduces upfront costs, making buying a home in West Colonial, Orlando, easier. Moreover, you are eligible for property tax exemptions once you secure this zero-interest loan.
Qualifying for the Florida Hometown Heroes Program
Although the Florida Hometown Heroes Program is exclusive to frontline community workers, you must meet various requirements for financial assistance.
First, the program is for first-time buyers purchasing a primary residence. Your middle FICO score should be at least 640, with a debt-to-income ratio of 45%.
It also has purchase and income limits. Orange county has an income and purchase price limit of $124,350. The disbursed amount becomes repayable when you sell, refinance, transfer the deed or vacate the primary residence.
Best Schools in West Colonial, Orlando
When looking for homes for sale in West Colonial, Orlando, you must consider the quality of education, especially if you have kids. Fortunately, West Colonial has something special for everyone, from elementary to high school. The quality of education is similarly above average.
Here is a list of the top schools in West Colonial, Orlando:
Orlando Science High Charter School - Orlando Science Middle/High School ranks as one of Florida's best charter high schools. The institution is renowned for its excellent academics and effective college prep programs. Its focus on STEM has made it popular with parents, given that the world is shifting towards science and technology.

Bridge to Independence Private School - If you want less-populated schools for your child, consider Bridge to Independence. This private school has only 89 students in grades K-9. The student-teacher ratio is 12:1, lower than the national average, ensuring your kid gets personalized attention in the classroom.

Laureate Park Elementary School - Thanks to its effective educational programs, Laureate Park Elementary is the best school in West Colonial to take your kids to. The school has 893 in grades PK and K-5, and a student-teacher ratio of only 14:1. Over 82% of the learners are adept in math and 78% in reading. The teachers go above and beyond to ensure students graduate and join high school.

Cornerstone Charter Academy High School - If academic performance is anything to go by, most public schools in West Colonial outperform the public ones. Cornerstone Charter Academy is a brilliant example of a school of academic excellence. The school has over 500 students in grades 8-12. Even though the student-teacher ratio is 24:1, all learners get the attention they need. What makes this school unique is its effective college prep programs.
Other suitable schools that serve West Colonial include:
Hope Charter School
Windermere High School
Audubon Park School
Trinity Preparatory School
The First Academy
West Colonial, Orlando Safety Rating
According to stats, West Colonial is safer than 12 percent of other cities in Florida. It has a low crime rate, with the most reported crime being theft. The neighborhood has no safety issues, and the Orlando Police Department often patrols the area to ensure the safety of residents.
Despite the low crime levels, some parts of West Colonial remain underdeveloped. These areas do not have well-lit streets, and residents tend to avoid these parts. Fortunately, most home listings are in well-developed areas with good lighting and paved walkways.
West Colonial Careers and Salary
West Colonial is an Opportunity Zone, meaning the neighborhood has a growing economy with significant room for improvement. The City of Orlando has offered investors various incentives, including tax cuts, to spur economic growth in the region.
Besides, it has multiple economic programs, including the Orlando Enhancement District Program and the HUBZone Program, creating numerous job opportunities for residents.
The Most Popular Job in West Colonial - is in the retail automotive industry. Most residents are self-employed entrepreneurs selling replacement automotive parts and accessories. Other attractive jobs are in auto dealerships since the neighborhood has several outlets.

West Colonial Average Salary - The average salary in West Colonial largely depends on one's profession. Nevertheless, the median household income is $29,611. Even though this salary is lower than the national average, many families live comfortably since West Colonial has one of the lowest costs of living in Orlando.

Highest Paying Job in West Colonial - Most residents in West Colonial are auto dealers and retailers. The highest amount they make depends on the profits they get per year. Nevertheless, most car dealers average about $60,000 annually.
Top Attractions and Restaurants in West Colonial, Orlando
West Colonial is a neighborhood renowned for its parks, open green spaces, recreation centers, and eateries. Some of the best places to visit include:
Camping World Stadium - Once you move to West Colonial, there's no better place to start your tour than the Camping World Stadium. Whether a sports enthusiast or a passive fan, you won't get enough of this location. The stadium hosts various sporting and entertainment events throughout the year. It has enclosed concourses, ensuring you enjoy your day come rain or shine.

Rock Lake Park Neighborhood Center - Rock Lake Park is another recreational center worth visiting. The neighborhood center is open from Monday to Friday, and it offers various programs, including a Recreation Summer Camp, School Vacation Days Camp, and an After School Program. Other enrichment activities include tennis, basketball, and junior counseling for teens.

DoveCote Restaurant - The DoveCote Restaurant is the perfect eatery for all your dining needs. It is open throughout the week, providing various hot and fresh meals. Even though DoveCote is an American restaurant, it offers the finest French-inspired dishes. After a hearty meal, you can order handcrafted cocktails and wines to quench your thirst as you enjoy the ambient atmosphere.

Caribbean One Stop - Not many restaurants offer delicious Caribbean entrees like Caribbean One Stop. You can get the best Jamaican dishes at this counter service, from soups to main meals to desserts. Since dining space might be an issue, many prefer to order takeaways.

Olive Garden Italian Restaurant - Olive Garden is a family-friendly restaurant that serves delicious Italian cuisine and dishes. Menu items range from classic pasta and salads to the more intriguing toasted ravioli and fried mozzarella. The food is always fresh and tasty, ensuring a fine-dining experience whenever you drop by.
Get a Loan For Your Dream Home for Sale in West Colonial, Orlando
West Colonial, Orlando is a marked Opportunity Zone with numerous affordable housing developments. As the neighborhood grows, residents enjoy various incentives and tax exemptions.
You, too, can become a part of this thriving community. You only need a loan to purchase your dream home for sale in West Colonial, Orlando.