Island H2O Water Park: Orlando's Most Technologically Advanced Amusement Center
Phil Ganz
/
3 Min Read
/
Apr 10, 2022
Whether you're looking for a quiet day in the sun or a wild ride in the Florida sunshine, you'll find what you're looking for here. Let's take a closer look at the tech-themed delights on offer.
What to Look Forward To
There's no shortage of thrills here, no matter what your speed is. Some must-see attractions include:
Live Streaming - Your followers won't miss a step. This is the only looping waterslide in the world, offering 360-degree video recording all along the ride, making sure you can take your whole audience with you.

Hashtag Heights - This is a high-flying boomerang slide with some of the steepest drops to be found anywhere. Capture your weightless moments and #Shareyourexperience with all your friends.

Profile Plunge - Family fun doesn't get any better than the Profile Plunge. Plunging drops and exhilarating speeds are the order of the day here, with unexpected turns, wall sweeps, and sudden drops adding plenty of thrills to the experience. Don't miss out on this one.

Drop Down - As you await the breathtaking vertical drop you're about to take, you'll understand why the Drop Down is one of the park's main attractions. Capture the moment and head back up for another go. You won't get enough of this ride.

Follow Me Falls - This tummy-dropping ride will see you drop from up high to the bottom of the well and immediately scale back up on the opposing vertical, where you'll experience moments of sheer delirium before falling back down to earth. You'll wish you could stay there forever, but you can always go for another ride.

The Downloader - Choose your soundtrack as you spin your world around on The Downloader. This centrifugal sphere features a customizable audio-visual playlist option for maximum levels of fun.

Selfie Shack - Visit the selfie shack for a moment and capture the smiles! This is a dedicated camera area where you can stage your group photos before resuming the fun around the park.

Virtual Village - This is a play area for younger visitors, where they can play and interact in real-time.

Cabanas - If you're hoping to have some privacy for your party as you enjoy your time in the Florida sunshine, hiring a cabana will be the way to go. These luxurious units come in various sizes and configurations, including the Cabana suite, Standard, Adult, and Ultimate. Just be sure to make your reservation at least one day before you intend to visit, and confirm availability from their operating calendar here.
There are plenty of other attractions for you to enjoy at the park, including Reply Racers, Reload Rapids, Level Up, Pelican's Paradise, Candy Stripe Cove, Chat Creek, Private Domain, and more. Whatever you're into, there'll be something for you.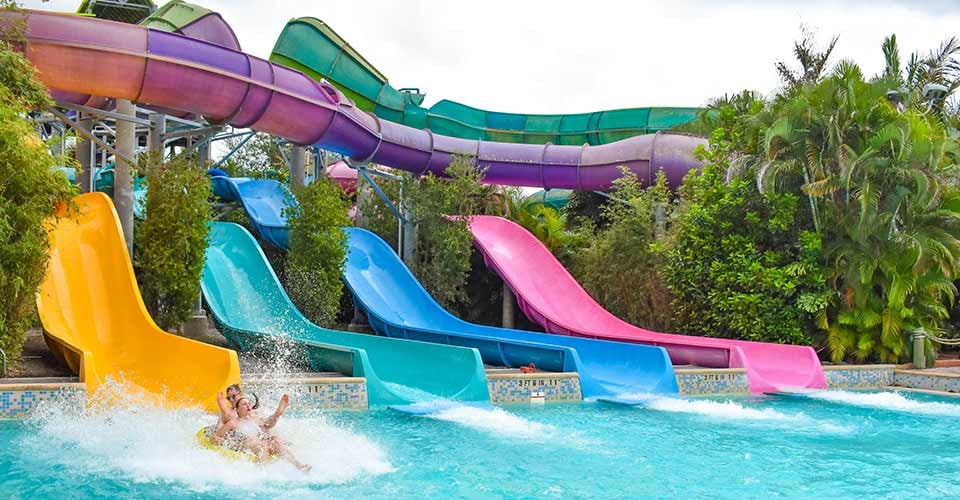 Some Common Queries
Here are a couple of the most common questions visitors have when considering a visit to Island H2O:
Locker Rentals - You can get a locker (various sizes are available) where all your valuables can be safely stored for the duration of your visit

Safety - The safety of your group will be ensured by the park's StarGuard Elite certified lifeguards. Even so, it's vital that visitors with minors in their party keep an eye on them. All relevant ride safety rules are posted prominently at each slide and attraction, so be sure to observe them. You also have the option of putting on lifejackets to boost safety.

Parking - Parking your car will cost you $10 for the day, but buses carrying more than 15 passengers will not have to pay any charges. Visitors with Select Season Passes will also have free parking.

Bad Weather - Even should it rain, most attractions will remain open for visitors. Should conditions reach a point where attractions need to be shut down for more than 2 hours at a stretch, visitors will be eligible for Sunshine Tickets, tokens redeemable for return visits. There are a couple of technicalities here, but Florida sunshine makes there rare occurrences.

Bringing your own food - Unfortunately, you won't be allowed to come in with a picnic basket unless it's for specific medical needs or for a baby in your party. Coolers and water bottles also have certain specifications as pertains to their sizes and refilling stations.

In case of separation and lost items - There is a Guest Service building in the park where any missing item should be returned. This is an essential place for all visitors to be familiar with. Parents and guardians should familiarize the younger members of their party with this location to serve as a rendezvous in case of separation. In any case, you are always welcome to approach any team member you see around for help in locating any member of your party you're looking for.

Where to Eat - All the fun to be had will need some fortification, and Island H2O doesn't let us down in this regard. There are plenty of options for bites, snacks, meals, and drinks. You can check out Megabytes and Apps & Eats for all foods and beverages or the Tag Shack if you're hankering for some more 'adult' beverages.

Getting there - The park's address is 3230 Inspiration Drive, Kissimmee, FL 34747. For precise directions, simply click here for Google map coordinates.
Last Word
Sunset Walk, the brains behind Island H2O, wanted to create the waterpark version of the Internet-of-Things, and they did it masterfully. Note that all the attractions are fully interactive and centered around social media. Before your arrival, be sure to download the Island H2O Water Park app from the Apple app store or Google Play for a seamless entry process and overall experience at the park. Give yourself and your loved ones the experience of a lifetime and share it with the whole world. You'll be glad that you did.
Interested in learning about becoming a resident in Florida or moving there? Read more.