Kissimmee's Oldtown Slingshot: The Ultimate Catapult
Phil Ganz
/
4 Min Read
/
Apr 10, 2022
"Get In, Sit Back, Stop Talking, and Hold On" as you ride the incredibly exhilarating Slingshot, Vomatron, or Go Kart rides at Indy Speedway in Panama City Beach. The sky is not the limit.
Old Town Sling Shot & Vomatron, which debuted in April 2001, is a fun theme park that promises a good time to everyone. Their thrilling activities and rides will undoubtedly have your heart racing.
(Mar 31, 2023)
The slingshot ride is an exciting experience not for the faint of heart. The Vomatron, a massive propeller-like ride with seats on the ends, is equally hilarious. Aside from that, the park features trampolines, which are a big hit with the kids. Old Town Sling Shot & Vomatron provides something for everyone, allowing you to spend quality time with loved ones.
Overview
This cutting-edge Slingshot amusement ride is undoubtedly one of the most thrilling vertical amusement attractions on the market today. Passengers in slingshots are launched over 100 m at more than 160 kilometers per hour. Other versions with a passenger capacity of roughly 240 people per hour are offered.
The Slingshot machine is propelled by a revolutionary spring propulsion unit with 720 carefully constructed springs rather than bungee cords or rubber ropes.
The Slingshot may be tailored to cause the least amount of interruption to existing venues. It comprises tower designs that take up only a few square meters of land and use high gondola loading docks in confined quarters.
The Vomatron
The Vomatron is propelled by six massive electric motors (the world's first), rotating the mammoth 200-foot arm at over 70 mph. The capsules are thrown into violent rotations, exerting up to 5g of force on their unfortunate occupants. Then, just when you thought it was finished... They spin it backward with the same level of agony as before.
Hours of operation & location
Mon, 12:00 p.m. - 12:00 a.m. ( the next day)
Tuesday, 12:00 p.m. - 12:00 a.m. ( the next day)
Wed, 12:00 p.m. - 12:00 a.m. ( the next day)
Thursday , 12:00 p.m. - 12:00 a.m. ( the next day)
On Friday, 12:00 p.m. - 12:00 a.m. ( the next day)
Sat, 11:00 AM - 1:00 AM (the Next day)
Sun, 11:00 AM - 1:00 AM (the Next day)
Old Town Kissimmee - Things to do
Ride on the Ferris Wheel
Who can say no to a ride on a one-of-a-kind carousel? One of the favorite activities to do at Old Town Kissimmee is riding the Old Town Ferris Wheel. You'll get panoramic views of Kissimmee that go as far as the eye can see from one of the 18 colorful gondolas.
Each gondola can accommodate six individuals, allowing the entire family to ride alongside each other over Highway 192. Remember to wave to the folks below 85 feet up in the air!
Nighttime makes the Old Town Ferris Wheel even more spectacular, with over 6,000 LED lights dazzling the Kissimmee sky.
Saturday Classic Car Show
The crowds get pumped every Saturday at 1 p.m. for a procession of show-quality vehicles from before 1983. There are historic street rods, hot rods, antiques on display, live music, and a welcoming atmosphere.
The vehicles begin their cruise around 8.30 p.m., so don't leave until you've seen them in action — the whole family will agree that it's one of the most acceptable activities to do in Kissimmee.
Muscle Car Cruise & Show
The Muscle Car Cruise & Show is another of the top things to do in Old Town Kissimmee since it is unlike anything else. Every Friday night, witness a procession of high-performance engines with a lot of horsepowers, complete with songs and lots of family entertainment.
The Friday Muscle Car Show begins at 3 p.m., with show-quality power and factory-performance automobiles from 1964 as the requirements. There are also newer gems from 1983 and before. Don't go too early; the cruise begins at 8:30 p.m. and is open to all registered vehicles.
Mortem Manor
If you're traveling with children, this is one of the creepiest attractions in Old Town Kissimmee. Please send them to Mortem Manor, the only haunted house in the area open year-round. They'll shriek their way through two whole levels of jump scares and eerie thrills, and you'll do the same.
Mortem Manor, dubbed one of America's top haunted homes, employs real ruthless actors, animatronics, and cutting-edge special effects to terrify you crazy.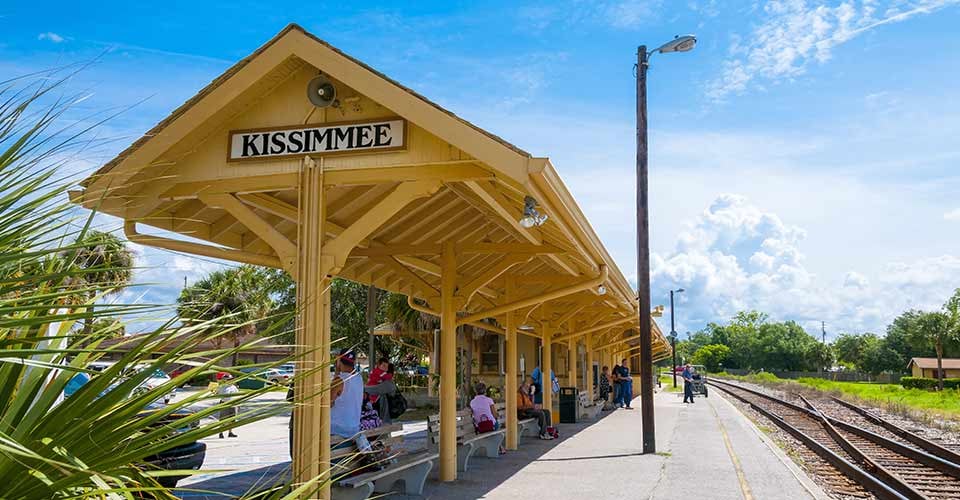 Hotels in the proximity of Oldtown Slingshot, Florida
Maingate East Comfort Suites
Comfort Suites® Maingate East hotel in Orlando, Florida, offers spacious rooms in a convenient spot near popular Orlando attractions. Their welcoming hotel in Kissimmee provides easy access to Walt Disney World's fun and excitement—They're just 2 miles from Magic Kingdom and Epcot—as well as other major theme parks. The Kissimmee International Airport is also close by.
The Rodeway Inn®
The Rodeway Inn® provides an excellent value for a simple stay. These guest rooms offer a haven for you to rest your head before facing the challenges of the day. If you're planning a trip to Disney World while staying at our Kissimmee hotel, you've come to the perfect spot.
They provide Disneyland shuttle service to its customers, making it easy for you to go to the park and spend your day. Please stop by their on-site shop before you leave to fill up on refreshments for the day.
Quality Inn
2934 Polynesian Isle Blvd., Kissimmee, FL 34746, US. 1.22 miles from the destination
This Quality Inn® hotel is where you can receive your money's worth near major Kissimmee attractions. You'll find pleasant service and value-added facilities at our conveniently situated hotel. They are committed to creating an excellent travel experience for their customers.
Each morning, you'll wake up to a beautiful, complimentary breakfast after a comfortable night in your cozy guest room.
Econo Lodge Inn & Suites Maingate Central
Situated at 4669 W Irlo Bronson Highway. Kissimmee, FL 34746. 3.10 miles from the destination
Econo Lodge Inn & Suites® Maingate Central offers a convenient stopover in Kissimmee. The hotel provides all of the essentials for tourists at an affordable price. They are committed to providing a hassle-free travel experience for their customers.
You'll be minutes away from major local attractions, including the Disneyland Resort and Sea World, at our easy-to-find hotel. You'll love its accessibility to Kissimmee Gateway Airport if you're traveling into Kissimmee.
Tips for Touring Kissimmee's Old Town
Is entry into Old Town Kissimmee free?
It is entirely free to walk about Old Town Kissimmee. You will, however, have to pay to ride any of the attractions or savor any of the attractions in this old antique town! In Old Town Kissimmee, there are over 70 stores and restaurants and several family-friendly attractions. Despite your budget, it's worth taking a look inside.
When is the ideal time to go to Kissimmee's Old Town?
The most significant time to explore Old Town Kissimmee is in the winter, as there is little rain, plenty of sunshine, and pleasant temperatures. During December, January, and February, the average seasonal temperature is approximately 74°F, with typical lows of 50 to 51°F.
If you want to witness a car cruise, the ideal season to travel Old Town Kissimmee will be in the late afternoon on Friday and Saturday. Every Friday at 8:30 p.m., the Muscle Car Show begins. Every Saturday at 8.30 p.m., the Saturday Night Classic Car Cruise begins.
Is parking available in Old Town Kissimmee?
There is plenty of free parking available in Old Town Kissimmee. Drive up and watch out for a parking spot. There is also a nearby paid parking lot that provides additional parking.
Interested in learning about becoming a resident in Florida or moving there? Read more.