Learn Why People Decide to Relocate from Westchester to Orlando, Florida for Remote Work
Phil Ganz
/
8 Min Read
/
Jul 16, 2022
Home to dozens of world-renowned attractions and theme parks, Orlando, Florida, is one of the largest metropolitan areas in the United States. Besides being the fastest-growing city in Florida, it has the second-fastest growth rate and offers its residents a nice mix of suburban and urban living.
(Mar 30, 2023)
With an ever-growing population of over 250,000, remote workers are arriving in Orlando from Westchester to take advantage of all it offers, from lower taxes, cheaper housing, and a strong job market to its diverse culture and higher education. And while this region is mainly known for its entertainment and hospitality industry, it's also rapidly becoming a popular hub for exposes, trade shows, and conferences.
If you have younger kids and you're looking for a new exciting place to call home, and if entertainment, sunshine, and a thriving economy sound perfect, relocating to Orlando may be just what you need.
Read on to learn more about why most remote workers relocate from Westchester to Orlando.
A Little History About Orlando, Florida
Orlando is home to about 285,000 people and is the most visited city in the United States. Aside from being the fourth largest city in Florida, it ranks among the best vacation spots in the state.
Orlando is known for Universal Studios and Disney World, which attract about 60 million visitors every year. You can also hit the shopping scene, golf courses, and a growing nightlife. While you may not be beachside in Orlando, there are 100 lakes to visit, and you're only a few minutes away from the Space Coast.
Orlando is a popular choice for entertainers and hospitality professionals looking for film production work and theme parks. Plus, you pick aviation, manufacturing, warehousing, technology, aerospace, and more.
The city first rose to modern prominence when it became Florida's hub of the citrus industry in 1875. However, many farmers gave up on their ruined crops in 1894 and moved south after a catastrophic freeze. Later, the region became a popular resort between World War I and the Spanish-American War and eventually boomed when Walt Disney World was launched in 1971.
Reasons to Move to Orlando
Here are 11 reasons to relocate from Westchester to Orlando.
Real Estate is Booming
Orlando is among the fastest-growing regions in the United States. If you're contemplating moving from Westchester to Orlando, you might consider moving to Sanford. This is an Orlando-area suburb situated north of Downtown Orlando and quickly accessible through I-4, an essential roadway that links Central Florida from coast to coast.
Located along the St. John's River, Sanford offers a vibrant downtown community and unique shopping opportunities. New construction in the region allows for more affordable real estate and housing than in most areas of Central Florida.
This suburb boasts nearly 20,000 apartments and homes: half of them rented and half-owned. 70% have 2-3 bedrooms, 50% are considered single-family, and over 12% have more than 4 bedrooms, making it much easier to find a home for your family.
Great Year-round Weather
Generally, the weather in Orlando, FL, is a significant draw if you can embrace central Florida's hot and humid summers. Known for its hot and sunny summers and mild winters, you'll have a love-hate relationship with Orlando's mother nature.
While this area's seasons tend to blend, you'll experience an annual rainy period that will need the use of an umbrella and a rain jacket. During June through September, expect afternoon rain showers and thunderstorms. With temperatures of about 90°C, the humidity here is sure to pack a punch. Orlando has an average of 105 days experiencing 90-degree weather, so that the rain will be a wonderful reprieve from the scorching heat.
If you don't like bundling up in the cold and you're sick of shoveling snow, you'll enjoy Orlando's subtropical climate. The conditions are favorable for outdoor activities like swimming, golfing, and diving in lakes. You also have the option of ice skating on the beautiful streets during winter.
Affordable Cost of Living
While Orlando's real estate is in demand, it's a surprisingly inexpensive place. The cost of living is 3% lower than the Florida average and 2% below the national average. A typical worker in Orlando makes about $85,000 a year, an excellent and liveable salary. Compared to other cities, such as Miami, the lower cost of living here attracts many residents. Best of all, when you retire, you'll be exempted from paying taxes on Social Security retirement benefits, pension income, and income from most other retirement benefits.
Moving to Orlando means saving some bucks on taxes. Like in other cities in Florida, Orlando residents don't pay sales income tax or personal income tax. Add to that the city's relatively low sales tax rate of 6.5%, and it's easy to understand why so many remote workers are moving here.
Job Market
Ranking among the top three cities for job seekers, Orlando is the perfect place to be if you're looking for a job. Although the service industry may be the largest industry hiring, there's no shortage of job opportunities. There's been a recent decrease in unemployment and increased jobs in The Sunshine State, offering you ample opportunities to find a job when you move to Orlando.
The most recent measurement of the unemployment rate in Orlando placed it at just 2.9% compared to the national rate of 3.6%. Most of the jobs here, as expected, lie in the hospitality industry. With major companies in the city, such as UCF, the Golf Channel, JetBlue, Electronic Arts (best-known for EA sports), and Walt Disney World Resort, Orlando provides tremendous opportunities for job seekers willing to put in the work.
Home to multiple Fortune 500 businesses, Orlando has been ranked the 7th most growing city regarding job opportunities. If you're looking for a higher than minimum wage job, there are other industries and options to explore, ranging from construction to technology. If you're interested in the health sector, AdventHealth Orlando and Orlando Health are renowned hospitals to work for near Lake Nona and Downtown Orlando.
Reasonably Priced Real Estate
According to Numbeo, the cost of a four-person family to live in Orlando is about $3,390 a month (excluding housing). On the other hand, the cost for a single person to live here is about $958 (excluding accommodation).
Want a more thorough breakdown of the real estate prices in Orlando and the cost of living here? Expatistan is a perfect site that will give you an extensive list of costs like clothing, groceries, health care, and everything else you can think of. When it comes to renting, houses range from about $1,200 to $1,400, depending on what part of the city you choose.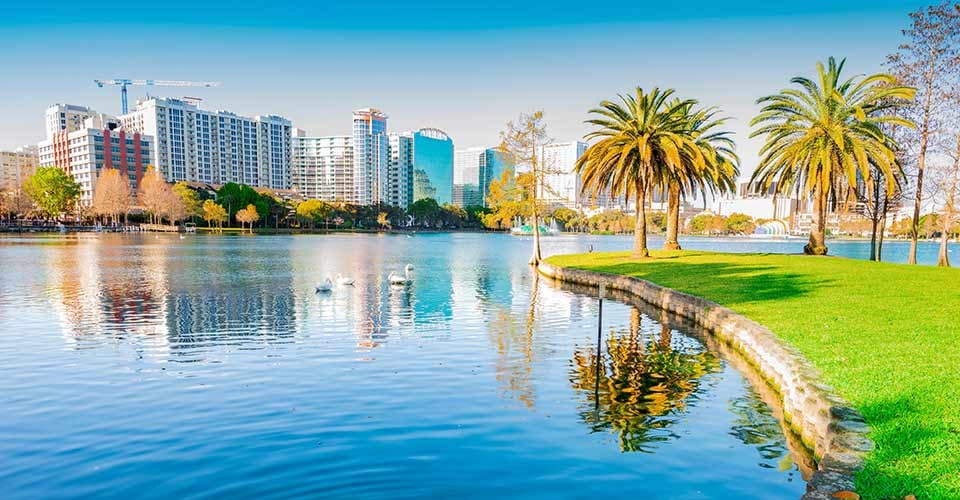 Lots of Recreational Opportunities
Did you know that almost the entire city of San Fransisco can fit in Walt Disney World Resort? Well, that's how high Orlando has invested in the entertainment industry. Most notable for being the city of theme parks, relocating to Orlando means having easy access to some of the world's most popular tourist destinations and attractions.
Universal Orlando, Walt Disney World, Discovery Cove, LEGO land, and Seaworld are all located in Orlando. While living near these parks might seem hectic, you'll have an advantage over other people when it comes to buying the tickets.
Since these mega theme parks want to attract as many people as possible, especially when there are fewer tourists, most offer insane discounts to residents, so if you want to make the most of these resident discounts, ensure you check with the park website to buy the tickets and start planning for your day trip.
If theme parks aren't your thing, there's still something to do in Orlando. Whether you're a young professional or moving with your family, there are always things to do and events to attend that will make your impending move from Westchester to Orlando more exciting.
Without spending too much and traveling too far, experience all that this great city has to offer outside of theme parks. Some of the fun events and destinations include:
The Orlando Science Center - This state-of-the-art museum gives you the chance to learn everything about science and technology through hands-on learning and discovery.

Orlando Film Festival - The Orlando Film Festival gives independent filmmakers a platform to showcase their work. It brings in over 1,000 entries from independent filmmakers worldwide.

The Orlando Museum of Art - Founded in 1924, the Orlando Museum of Art is a perfect place to admire beautiful exhibits and works of art. Check their website to enjoy free admissions on special days.
Art & Culture
Another reason to consider your relocation to Orlando is all the fantastic things you can do while staying there. Whether it's nightlife, shopping, dining, or physical sites, there's always something new to do in Orlando.
The city is also home to countless art galleries, music venues, cinemas, and performing art centers. Take the mix of spectacular museums, world-class entertainment, legendary theme parks, and blockbuster rides and attractions; it would take about 67 days to visit all the fun places in Orlando.
Generally, few destinations in Florida and the entire world come close to beating Orlando's incredible year-round recreational offerings. There are many rivers and lake springs for water skiing, fishing, boating, and swimming. Plus, you'll find over 170 golf courses, 21 fitness trails for walking, blading, or biking, and 800 tennis courts.
Tech & Business Hub
Besides the hospitality industry, Orlando is rapidly becoming a hub for new technology and a popular place for trade, business, and industry conferences. Its universities and colleges boast some of the best MBA programs in the US and are home to one of the biggest technology-focused meetups. Orlando has even increased the likelihood of being a hub for driverless vehicles, also known as automated, self-driving automobiles.
Co-working spaces are scattered all over Downtown Orlando, popular among startups. What's more, the Orlando Public Library has the Melrose Center and a co-working type of space that features:
Video studio
Editing rooms
Work stations
Photography studio
Sound booths
Maker lab
These are open to area residents and outside visitors at a low cost. With all these working stations, it's clear why most remote workers are relocating from Westchester to Orlando to take advantage of its access to capital, affordability, and available tech talent pools.
Quality Education
The Orlando area is highly praised for its top-rated school system. Home to multiple world-class school districts, your school-aged kids will be offered the best education in the country. The Seminole County Public School System is one of the finest public schools in Orlando, which teaches about 66,000 students and currently holds a 1 to 14 teacher to student ratio.
With over 60% of students knowledgeable in math and reading, your kids will excel both outside and inside the classroom. The Orange County Public School is another system in the area that educates over 200,000 students. With over 200 public schools in the area alone, have your ideal choice of high, middle, and elementary school.
Before finding a home in Orlando, it's wise to research schools beforehand and settle for a neighborhood near the schools you'd like your children to attend. Keep in mind that the city also has many highly rated private schools that can give your kids the quality education they so deserve.
For individuals interested in higher education opportunities, Orlando has got you covered. You can opt for the University of Central Florida, which happens to be the 2nd largest university in the US. This public research university can accommodate about 72,000 students and offers over 200 different degree programs.
Alternatively, if you're interested in joining a state university at half the charges, consider checking out Valencia College. Valencia College is currently offering high school students a dual enrollment program that will allow them to take classes and earn college credit. This program enables students enrolled to earn both a college degree and a high school diploma at the same time. Offering over 120 programs, you can apply for a course here and earn a four or two-year degree.
One of the many advantages of relocating to Orlando for work is having access to world-class higher education institutions. Since there are 40 universities and public colleges in Florida, you can take advantage of your in-state tuition status. Whether you're seeking a college or a K-12 education, please visit the Florida Department of Education site for more information on scholarships and school districts.
Family-Friendly Neighborhoods
It's hard to beat Orlando if you're looking for family-friendly places to relocate with your family. It boasts neighborhoods designed with kids in mind and is home to one of America's most famous theme parks.
Most of the neighborhoods here have schools and amenities that appeal to young families. So, moving to Orlando will help your children avoid having a boring childhood.
Major Travel Hub
Whether you want to travel for business or entertainment, Orlando is a perfect place to move. It has 3 airports: Orlando Executive Airport, Orlando Sanford International Airport, and Orlando International Airport. Amtrak currently has train lines passing through Orlando, and Virgin Trains is outstretching its super-fast train line to the Orlando International Airport.
They expect to transport up to 6.6 million passengers between Orlando and Miami a year. You'll also have access to SunRail, which travels between Sanford and South Florida. Some bus lines pass through Orlando, going up and down the East Coast, and other bus lines transport passengers between South Florida and Orlando.
Municipal bus lines run throughout the city, and in some areas, passengers enjoy free shuttle rides between different segments of Orlando. Additionally, the city's central location gives it access to ports and cruise lines on East and West Coasts within a few hours' drive. Most of the cruise lines offer shuttles between Port Canaveral and Orlando.
Closing Thoughts
Famous for its tourist attractions, warm climate, and beautiful scenery, it's no surprise why Orlando is getting thousands of new residents each year.
Based on everything the city offers, it's worth moving from Westchester to Orlando. Whether you're a remote worker looking for job opportunities or an ideal city to call home, you'll find everything you need here.