Local's Guide To Living In Tampa Bay: Things You Need To Know
Phil Ganz
/
9 Min Read
/
Mar 20, 2022
The Tampa Bay area is larger than you think
If you live or work in Tampa Bay, chances are good you've been asked this question before: "Where do you live?" Those who ask probably expect to hear the name of a city — Clearwater, St. Petersburg, Tampa — when in fact, many of us either live in an unincorporated part of the county or one of its many smaller cities and towns.
It's not just about the beaches
Tampa Bay may be home to some of the best beaches in the world (we're looking at you, Clearwater Beach), but that doesn't mean there isn't plenty to see and do inland as well. Depending on where you live, there are parks and nature preserves, shopping centers, and golf courses — all within easy driving distance of the coast. (And if you want to stay closer to your neighborhood, many communities have their own recreation offerings as well.)
Recreation is everywhere
The answer is yes if you are wondering, "Should I move to Tampa?" There are tons of golf courses (check them out here). There are state parks for hiking and biking, plus a national park for camping and bird watching (here's the full list). There are also tons of public pools that are open year-round (click here for those).
Then there are all the parks with playgrounds and sports fields — like Curtis Hixon Waterfront Park or your neighborhood park.
Tampa Bay is more walkable than you think
Yes, many of the neighborhoods are sprawling and car-centric. But there are also a ton of walkable areas, especially in Tampa.
Downtown Tampa is a thriving business hub that also hosts events year-round. You'll find a ton of restaurants, shops, museums, theaters, and more at your fingertips in downtown St. Pete, too. Other areas like Seminole Heights, Hyde Park, South Tampa, and Ybor City have their own distinct personalities and plenty of things to do on foot as well.
There are more neighborhoods to know
Not everyone lives near the water (or in an HOA), but that's not necessarily a bad thing! Like any big city, Tampa Bay has its own unique set of neighborhoods with special vibes worth exploring. A few to start with: Old Northeast in St. Pete; Channelside and Ballast Point in Tampa; Gulfport and Kenneth City on the Pinellas side; and Riverview and Brandon on the Hillsborough side.
Check out the local food scene and breweries
Tampa Bay has a lot of great restaurants, from barbecue to fusion cuisine. And don't forget about the craft breweries. The local beer scene is thriving, with new breweries opening every week.
Transportation could be better
Public transportation? Not so much. A new light rail system is in development, but that's still a few years away.
It's not just public transit that's lacking; even driving around town can be rough. Traffic can get bad at times, especially during rush hour, and there are many potholes on the roads (the Florida sun and heavy rains take their toll).
Should I move to Tampa? Where Should I Live?
There are several great neighborhoods in Tampa Bay that are worth checking out! Here's our list of the top places to look for an apartment:
Ybor City - This historic area was once home to cigar rollers and is now one of Tampa's hippest areas

Downtown St. Pete - St. Petersburg's downtown has plenty of restaurants and nightlife options.

Channelside District - This waterfront district has some of Tampa's best nightlife spots (and it's only steps away from the cruise ship terminal).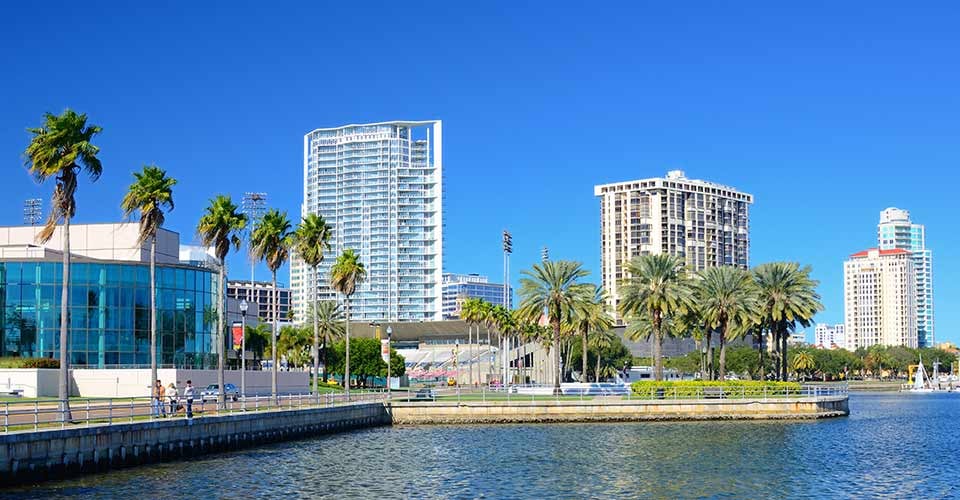 Getting around town
Tampa Bay is a large metro area. If you're looking to get to/from Tampa, St. Pete, and Clearwater, there are various transportation options available.
Metro Bus System – The Hillsborough Area Regional Transit, or HART, will help you get around town for about $2 per ride. You can also purchase an unlimited-use one-day pass for $4 or a monthly pass for $70.

Suncoast Express – This express bus service from Pasco County Public Transportation takes you to all the major hospitals in Tampa and St. Pete, as well as Tampa International Airport. A one-way trip costs $3.50, and discounts are available for students, seniors, and people with disabilities.

Amtrak – If you're looking to travel outside of the area, Amtrak can get you where you need to go via its Auto Train Service or Silver Star train routes (which depart from Largo). Prices vary depending on when you book and which service you choose.
Should I move to Tampa? What is beach life like?
Tampa Bay has some of the most beautiful beaches in Florida. When looking for things to do in Tampa Bay, consider going out on the water and exploring these stunning beaches. From Clearwater Beach to Honeymoon Island, there is something for everyone regarding Florida beach life!
Places to see manatees in the wild
You can spot them from the boardwalks of Apollo Beach, but if you want to get up close and personal with these gentle giants, head over to Crystal River on Florida's Nature Coast. Here you'll be able to swim right alongside them. The best time to go is when they congregate around warm water springs in the winter.
Should I move to Tampa for retail therapy?
If you're looking for a bit of retail therapy, then head over to St Petersburg's Sundial Plaza on 2nd and Central Avenue. Pop into the local boutiques and one-of-a-kind stores or grab some lunch at one of their restaurants. There is also a movie theater nearby, so if you're in the mood for a flick, it's all in one place!
Tampa Bay has some of the most beautiful sunsets around
The Tampa Bay Area is known for its beautiful beaches and even more beautiful sunsets. We have countless spots along the water where you can sit and watch the sunset, but here are a few of our favorites: Picnic Island Beach, Sunset Beach, Dunedin Marina, Curtis, and Hixon Park.
Should I move to Tampa despite sharks?
Yes, there are sharks in our waters.
Blacktip sharks migrate through Florida's coastal waters each winter. While they aren't aggressive, they are large and can be dangerous if provoked by splashing or feeding fish near swimmers. That's why it's important to always swim in designated areas at our beaches and never feed fish in the water from the beach or boats and docks.
It never really gets cold in Tampa Bay
It rarely gets above 90 degrees, but it's common to get a few days in the winter where the temperature dips below freezing. If you're new to Florida, be sure to stock up on extra blankets and coats.
Tampa Bay is the Lightning's town
Hockey is a big deal around here. The Tampa Bay Lightning has provided plenty of excitement over the years, including a Stanley Cup championship in 2004. The Bolts play at Amalie Arena downtown.
The Tampa Bay school system
The Tampa Bay school system has many schools to choose from that are better than some places in the country! If you're looking for an affordable place to live with high-quality public schools, then Tampa Bay is the place for you.
The teacher/student ratio is one of the best in the country. With over 900 students per teacher (as of 2011), there are plenty of educators available to help your child succeed academically.
The Florida Department of Education provides a guide on evaluating local schools. This report compares test scores and other data between Florida and other states districts.
The National Assessment (NAEP) measures academic achievement across various grade levels and subjects. It shows that Tampa Bay has been above average in math, reading, science, and social studies since 2003.
Best places to eat
For breakfast or a quick lunch or dinner, try one of our many diners. A good local favorite is Kelly's Chic-A-Boom Room in Dunedin. They have fantastic burgers and fries, but my favorite is their Cuban sandwich. It's messy and delicious! Kelly's Chic-A-Boom Room also has live music at night until 1:00 am (which is late for locals)!
Try Datz or Datz Dough on South Howard Avenue in Tampa if you're looking for seafood. Try their fried calamari and their shrimp salad sandwich! Their desserts are decadent as well! If you're looking for more upscale dining with an amazing view, try Rusty Pelican on Davis Island in Tampa Bay.
Should I move to Tampa? Are the people friendly?
Yes. The locals are super nice around here.
If you're a transplant to Tampa Bay, you may be taking a minute to figure out the scene. But you'll find the locals are super nice, especially around here. You can't go wrong with a good conversation starter like "Where did you move from?" or "What's your favorite place to eat?"
Best places to go out in Tampa Bay
So, you want to hang out in Tampa Bay for the night. Well, there are plenty of great places to go and people to meet. Whether you're looking for an adventure or a season pass to your favorite place, the area has got what you're looking for.
1. The Blue Martini
The Blue Martini is a martini bar that serves martinis in more than 50 flavors. With daily happy hours and live music and DJs, you can stop by before dinner or stay late into the night.
2. The Bricks of Ybor
This is a gastropub with a large outdoor patio. There are more than 40 craft beers on draft, including some local brews, plus plenty of TVs to watch your favorite sports team.
3. The Hub
The Hub is an old-school sports bar with a huge beer list and various food options, from pizza to seafood to sandwiches.
4. Ferg's Life
Ferg's Live is the sports bar adjacent to Tropicana Field packed during Rays games. But even if there's not a game going on, you can still stop by for drinks and food.
5. Gaspar's Grotto
Gaspar's Grotto is one of Tampa's oldest bars, and it's known for its pirate-themed decor. This Tampa staple has three floors of bars and two stages for concerts.
6. Fly Bar and Restaurant
Fly Bar and Restaurant feature live music every weeknight, then DJs on the weekend. There are multiple rooms set up, so there's something for everyone here — whether you want to dance or chill out on the patio with a snack from their menu of American fare.
The best places to take visitors in Tampa
Tampa Bay is full of things to do and see - from historic landmarks and museums to shopping centers and malls. There's always something going on in Tampa Bay. If you're visiting family or friends who are new to the area and you're looking for some great things to do with them while they're here, check out our list of great activities below!
1. Florida Holocaust Museum
The Florida Holocaust Museum is dedicated to teaching members of all races and cultures about the atrocities of the Holocaust. There is a permanent collection and special exhibits that change throughout the year. It is located on 5th Avenue in St. Petersburg, Florida.
2. Tampa Bay History Center
The Tampa Bay History Center is located on Bayshore Boulevard in Tampa, Florida. It focuses on the history of Florida and has a permanent collection as well as special exhibits that change throughout the year. The center includes three floors of exhibits, a museum store, and a cafe.
3. Henry B. Plant Museum
The Henry B. Plant Museum is located on the University of Tampa's campus within the historic Tampa Bay Hotel building. The museum has a permanent collection and special exhibits that change throughout the year.
The building was built in 1891 by railroad magnate Henry B. Plant and served as an exclusive resort until it became a college campus in 1933. Highlights include original furnishings, Tiffany glass, and 19th-century art objects.
4. Leepa-Rattner Museum of Art
The Leepa-Rattner Museum of Art offers a wide variety of art, including pieces from Dr. Allen Leepa and his wife, Ruth. It's located on the Tarpon Springs campus of St. Petersburg College.
5. Big Cat Rescue
Located in Tampa, Florida, Big Cat Rescue is one of the world's largest accredited sanctuaries for exotic cats. The sanctuary houses about 100 big cats, with about half that number being tigers.
6. Museum of Fine Arts
The Museum of Fine Arts in St. Petersburg, Florida, collects 19th and 20th century American and European art. It was founded in 1965, and its permanent collection includes more than 20,000 works spanning 2000 years.
Theme parks
Tampa Bay is in a league of its own when it comes to theme parks. With more than 20 different parks and attractions, the area offers some of the best family fun in Florida at every price point. Examples include:
1. Busch Gardens Tampa Bay
Busch Gardens is a theme park that takes you on a journey around the globe. From the architecture and food in its African-themed area to its roller coasters, Busch Gardens has given the city of Tampa a long list of reasons to love it.
The thrill rides at Busch Gardens are some of the best in America, and we could see it opening an entirely new area dedicated to thrilling rides similar to how Universal has done with The Wizarding World of Harry Potter. There are also plenty of things to do with kids in Stanleyville, like getting wet on the Stanley Falls Flume Ride and seeing dozens of exotic animals in the Nairobi area.
2. Disney's Animal Kingdom
The largest theme park by size at Walt Disney World Resort, Disney's Animal Kingdom is home to Pandora - The World of Avatar, a must-see area for any Avatar fan or anyone who likes incredible attractions.
Also on our list of things not to miss is Kilimanjaro Safaris. This ride takes you into an expansive savanna where you'll see dozens of animals in their natural habitat. It's also one of the best places for families at Walt Disney World Resort, with numerous shows and rides.
The best festivals and events you can't miss
Tampa Bay has a rich history of hosting festivals and events. The area's diversity is reflected in the wide range of offerings, from the Gasparilla Pirate Festival to the Tampa Bay Margarita Festival to the St. Pete Beach Seafood & Music Festival.
1. Dunedin Wines the Blues
Wine, blues, and good times. The annual festival has featured such acts as Kenny Wayne Shepherd, Tab Benoit, and Tommy Castro. Some of the best blues acts in the country will perform while blues fans sip wine and dine on food from local restaurants and food trucks. Vendors will offer crafts and jewelry.
2. Tampa Bay Margarita Festival
What could be better than a sunny Saturday afternoon with a cold margarita in hand? Enjoy tasting samples of 100 different tequila, margaritas, and beer. Activities include a beach volleyball tournament, mechanical bull rides, and live entertainment on two stages.
3. Ales and Trails
As a warm-up for this year's Tampa Bay Beer Week (March 4-12), the Seminole Heights Bike Club hosts Ales & Trails, its annual bike ride through Seminole Heights that concludes at Southern Brewing & Winemaking. Riders can enjoy live music, craft beer specials, and local food trucks. Entry fees are $5-$10; proceeds benefit Friends of the Riverwalk and Tampa Bay Bicycle Club.
If you are considering moving to Tampa, Florida, for retirement or any other reason, we hope that this guide helps you to evaluate Tampa from a broader perspective.
Interested in learning about becoming a resident in Florida or moving there? Read more.