Mortgage Search in Miami-Dade County Florida: The Ultimate Guide
Phil Ganz
/
8 Min Read
/
May 04, 2022
Miami-Dade County, Florida, has loads to offer. There are hundreds of reasons why people love moving to the area, from picturesque beaches to bustling urban centers, to historic landmarks, and so much more. This article explores everything you need to know for a successful mortgage search in Miami Dade.
(Mar 31, 2023)
Why Miami Dade Mortgage Market is Booming
Miami is one of the hottest real estate markets in the U.S., and for a good reason. More people are moving to Miami than leaving, which is expected to continue.
A 2018 analysis from the Florida International University Metropolitan Center indicates that Miami's population could swell by 1 million people by 2030.
Millennials are a huge group of first-time homebuyers in Miami
Millennials are doing the most mortgage search in Miami Dade. They are starting families and entering the housing market, driving demand for housing.
Although many millennials are renting longer than previous generations due to student loan debt and delayed marriage, they now make up the largest group of buyers in the market today.
According to a recent report from Zillow, 41 percent of all mortgage applications taken during 2016 were from millennial first-time homebuyers, who are attracted to Miami's vibrant culture and sunny weather.
The Miami Dade real estate market is very resilient in economic downturns.
Historically, Miami's real estate market has been resilient to economic downturns, again the case during the 2008 recession. The city's economy grew by more than 15 percent during the downturn, and home prices remained relatively stable. They have steadily appreciated it since 2012.
Homeownership is more affordable than renting, and average apartment rents have increased by more than 14 percent year over year.
Since 2009, average rents in Miami have increased by almost 20 percent, while incomes have only increased by approximately 15 percent. This has made rentals less affordable for many residents. This could further increase demand for homeownership as more people can qualify for mortgages now that home prices are leveling off.
Foreign buyers are entering the market
Canada, Brazil, and Venezuela have the most common countries of origin for these buyers. In 2015, however, China had the most significant impact on the Miami real estate market. A report by the National Association of Realtors found that Chinese buyers were responsible for a whopping 35% of all foreign home purchases in the U.S.
And for first-time homebuyers from China, Miami was their destination of choice. The Asian country is still one of the largest sources of foreign investment in Miami real estate this year.
Warm weather
With its gorgeous beaches and sunny days all year round, Miami Dade is the perfect place to live if you love the outdoors. There are countless things to do in Miami Dade County, from swimming in the ocean to going on nature walks along with one of our many hiking trails.
You'll find plenty to do in Miami Dade County, from playing on the beach or visiting art museums. Plus no state income tax! Everyone wants that.
High-end, beautiful homes
With its gorgeous beaches and sunny days all year round, Miami Dade is an excellent place for anyone who loves the outdoors.
There are countless things to do in Miami Dade County, including swimming in the ocean or going on nature walks along with one of our many hiking trails. Plus, there's no state income tax, so everyone wants that!
Booming Businesses
If you're looking for a job or career opportunities, look no further than Miami Dade County. Many businesses and corporations are always looking for new talent like yourself!
With so many booming businesses wanting to call Miami Dade County home, it's no wonder that the area around the county is considered one of the best places to live and work.
Disney, Apple, Uber, and Lyft, are just some of the major companies that have recently announced that they want to build new locations in Florida. You'll find many job opportunities in Miami Dade County due to its growing business community.
Miami Dade is a cultural center boasting world-class museums and theatres
The Frost Art Museum, which houses a collection of over 6,000 works from artists like Pablo Picasso and Frida Kahlo; the Adrienne Arsht Center for the Performing Arts; and The Bass Museum of Art are just some of the cultural attractions you can experience here.
Miami Dade County has more than one area with a metropolitan feel, each offering its unique attractions.
Are you thinking of moving to the Miami area?
The metropolitan feel
There's a reason why Miami Dade County is one of the hottest locations for vacationers and new residents alike. This beautiful metropolitan area has more than one city with a cosmopolitan feel, each offering its unique attractions.
In addition, Miami Dade County is the location of various schools and higher learning institutions, including Florida International University (FIU) and Florida Memorial University (FMU).
Many people live and work in Miami Dade County with different backgrounds, experiences, and interests. Whether you enjoy playing on the beach or visiting art museums, you'll find plenty to do in Miami Dade County.
Schools and institutions of higher learning
You will find many schools and institutions of higher learning throughout Miami Dade County, so you'll always have access to a solid education if you're starting a family here.
Miami-Dade College offers two-year programs and technical training courses, while Florida International University offers four-year bachelor's degrees, master's degrees, and even doctoral programs.
The University of Miami and the Florida International University are in Miami Dade County. This county is home to various schools, from elementary to college level, so you can ensure that your children will get the best education possible. In addition, many of the colleges in Miami Dade County are nationally renowned. If your child decides they want to stay local for college, there are plenty of options.
No state income tax
If you're moving to Florida with an eye on saving money, it's essential to know that Florida has no state income tax, so your paycheck will go further here than it would if you lived in another state.
When you compare the cost of living in Miami-Dade County versus other parts of Florida, such as Orlando or the Tampa Bay Area, many people find that it's cheaper!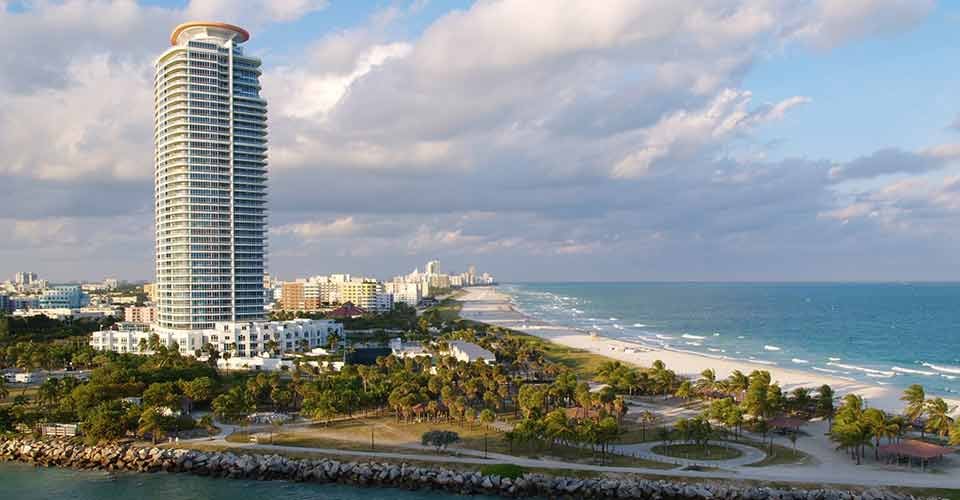 Tips to Remember for Successful Mortgage Search in Miami-Dade County, Florida
Do you want to find the best mortgage deals for your home in Miami Dade? Follow this guide to get started.
Go directly to the source, not the agent or broker
As a first-time homebuyer, you might have the temptation to trust the experience of your real estate agent. After all, they've probably bought and sold many homes in their career.
However, one important thing to remember about real estate agents is earning a commission from selling homes. It's in their best interest for the sale to go through. Furthermore, they may not know enough about mortgages and financing to provide you with sound advice.
If you want the best mortgage rates in Miami-Dade, don't take any shortcuts or rely on someone else to find them for you. Don't be afraid to ask questions when shopping around for mortgages! Go directly to the source and talk with mortgage lenders yourself.
The last thing you want is to buy a house with a hefty monthly mortgage payment that eats away at your limited budget month after month. It will cause unnecessary stress and anxiety during what should be an exciting time in your life as you make this new purchase!
Go with a local lender
When looking for a mortgage in Miami-Dade, you should ensure the lender is local. This is because local lenders have lower rates and will be more likely to approve your loan. These loans are also more likely to have excellent customer service.
The lender will want to keep customers happy so they can recommend them to others. A good reputation means that more people will be willing to work with them in the future, thus increasing their customer base and revenue streams.
When seeking out mortgages, you'll want someone knowledgeable about the area that you're buying in. This can help ensure that your home appraisal comes back at a fair market value, so there's less risk of having an overage on closing costs or other fees.
A mortgage is a big deal, so you must know you're getting the best deal possible—and this means shopping around at as many different lenders as you can.
Leverage technology to compare interest rates and fees between different lenders. Consider multiple types of lenders, such as banks, credit unions, and mortgage brokers.
You can also ask for referrals from friends and family who've recently bought homes in Miami-Dade County. Finally, if you have any unique circumstances (such as low credit), look for lenders who specialize in your particular situation.
It's important to get at least two or three quotes to know if you're getting a competitive rate and fee quote based on your credit score, income, etc.
Consider your lifestyle when doing a Mortgage search in Miami Dade
You've probably already done this, but it's worth repeating: Think about the lifestyle you want to live. Knowing that you don't want to get tied down in a house for too long or that you want your purchase to be an investment with a good payoff will help narrow your search for the right mortgage.
Other questions you should ask yourself include:
How much can I afford?

How long do I plan to stay?

Do I have a large down payment?

How much do I want to spend on a house?

Am I planning to buy furniture and appliances or renovate any part of the home after purchase?

Am I planning on buying a car or other major appliance in the next few years?

If so, how will this affect my budget, and how much can I afford on monthly payments for each item/mortgage/car loan, etc.?

If two people purchase a home together, how important is it that we share finances, and what is our best approach if we decide not to share finances?
Note - whether married or unmarried, couples often choose not to combine their finances because they feel their income levels and spending habits are very different. It would help to discuss this decision before applying for a mortgage together.
Compare rates and fees
If you don't have the time, patience, or motivation to shop around for the best rates and fees, you can always hire a loan officer or mortgage broker to do that legwork for you.
A licensed loan officer typically works for a specific lender but has access to dozens of other companies. It's their job to find you the best product given your needs at any given time. They will also be able to pull your credit before sending in your application and potentially damage it, which is essential when shopping for mortgages.
Ask about rebates, discounts, and other ways to lower out-of-pocket costs
Getting a mortgage is usually the most expensive financial transaction of your life. There are, however, ways to cut costs. It starts by making sure you ask about the following:
Closing cost discounts or rebates
If you want to lower your out-of-pocket costs at closing, it's worth discussing options with your lender. Some lenders will offer cashback at the conclusion or a rebate of other lender fees, such as origination fees.
Lender credits are also possible if you choose to pay a higher interest rate than what is currently offered.
An origination credit
Lenders can sometimes reduce your origination fee for a higher interest rate on the mortgage loan they provide you.
This can be beneficial if you plan to pay off the loan quickly and don't need to worry about paying extra interest down the road.
Third-party lender fee reductions
A typical origination fee is 1 percent of the total loan amount, which translates to $1,000 on a $100,000 mortgage and $2,000 on a $200,000 loan.
You can try negotiating to have the fee reduced or eliminated. The lender might be more willing to lower fees in markets where they are trying to win your business. Or they may be helpful to negotiate if you offer a significant down payment that reduces their risk of loss.
Mortgage rate buy-downs
The simplest way to reduce your mortgage rates is with a buy-down. A buy-down works like this: You pay a fee upfront to have your lender offer you a lower interest rate for the first few years of your loan term.
For example, if you have a 30-year mortgage, you might only get the lower rate for the first three years before it returns to normal.
The longer your buy down lasts, the more expensive it will be—so if you can afford an extended period at the lower rate, then the higher price tag is worth it.
Understand your credit score
Your mortgage lender will probably perform credit checks when you apply for a specific type of loan. This can cause your score to go down. However, there is a difference between mortgages with hard and soft checks.
Hard mortgage credit checks - It's called a hard check when a mortgage involves an inquiry that temporarily lowers your credit score. Hard inquiries stay on your report for two years and make up 10 percent of your overall credit score. They trigger rate shopping and can lower your score by two points if you have one inquiry or five points if you have multiple inquiries within 45 days.

Soft mortgage credit checks - When a mortgage only does what's known as a soft pull on your credit report, it doesn't affect your credit score because the company doesn't trigger the rate shopping mechanism that causes temporary reductions in scores. These are typically done when you need pre-approval for an adjustable-rate or fixed-rate FHA loan.
Get help navigating the mortgage process
Getting a mortgage is usually a complex process, and it's not uncommon for people to have questions or require assistance. You can be sure that your lender will be more than happy to answer any questions you might have about your loan, but it may not always be clear which option is best for you.
Many people prefer to get help from an expert in situations like this. For example, a financial advisor can guide you through the steps of buying a home according to your specific circumstances. If you've been thinking about buying a home but aren't sure where to start, speaking with an advisor could help put things in perspective and make certain aspects of the process less confusing.