Muggle Must Knows for Florida's Wizarding World of Harry Potter
Phil Ganz
/
4 Min Read
/
Mar 07, 2022
One of the top attractions in Florida is Harry Potter's Wizarding World. This attraction, which is housed within two parks, Universal Islands of Adventures and Universal Studios Florida, transports visitors into the world of Harry Potter, complete with magical castles, Hogsmeade village, magic wands, deep underground rides in Diagon Alley, and much more.
(Mar 25, 2023)
If you're looking for a short introduction to this location for your next family outing, here it is:
About
Phase one of Wizarding World of Harry Potter Orlando opened in 2020 after licensing deals between Warner Bros and Universal Studios and more than two years of construction. The area is based on the fan-favorite Harry Potter media franchise, with elements adapted from both the films and J. K. Rowling's series of novels.
The area's signature ride is Harry Potter and the Forbidden Journey. It takes you into Harry Potter's magical world. It's located inside a replica of the Hogwarts School of Witchcraft and Wizardry.
This resort section also boasts the Flight of the Hippogriff, a family-friendly roller coaster. Previously, there were two inverted roller coasters known as Dragon Challenge. But in 2019, the challenge was eliminated when the roller coasters were replaced. In addition, the area has been recreated as Hogsmeade; many of the restaurants and shops featured in the books can be found here. These include Honeydukes, Hog's head, Zonko's Joke Shop, Ollivanders wand shop, and the Three Broomsticks Restaurant.
The second phase spreads the resort into the nearby Universal Studios Florida theme park. Here you'll find the Harry Potter and the Escape from Gringotts ride inspired by Gringotts Bank, the magical bank in the books and movies of Harry Potter. Also included here are attractions such as Diagon Alley and London.
A fully-functional Hogwarts Express takes you from Universal Studios Florida to Universal Islands of Adventures, allowing you to see the two lands.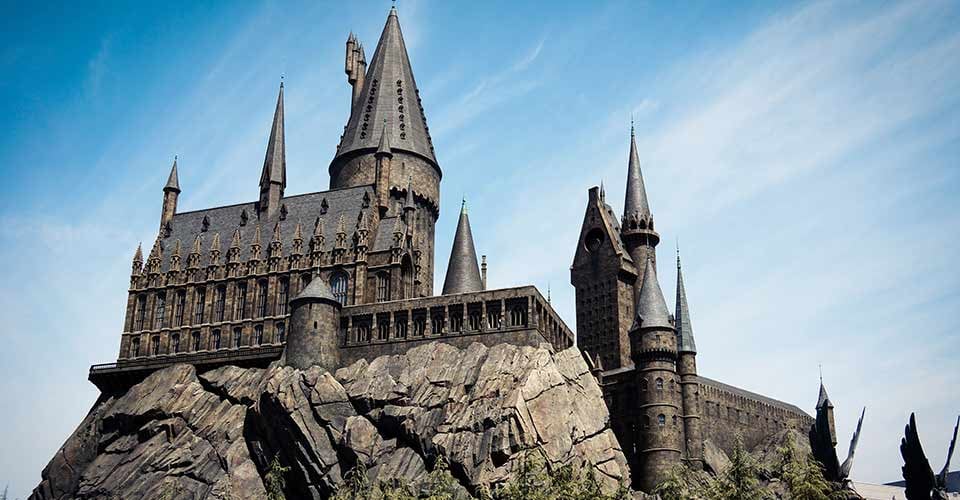 Insider Tips for The Best Experience at The Resort
For a magical experience at the Wizarding World resort, most travelers agree on the following tips:
Get Park-to-Park Tickets
Because Hogwarts and Diagon Alley are in different lands, park-to-park tickets allow you to easily travel back and forth between the two and enjoy what they have to offer. Many visitors recommend purchasing 2 Day Park-to-Park tickets to have ample time to explore Hogsmeade and Diagon Valley and board the Hogwarts Express. Furthermore, your deal gets better if you stay longer.
Have A Chat with The Knight Bus Conductor
Outside of the Diagon Alley at Universal Studios, Florida's London waterfront section is where your adventure begins. Please spend some time here chatting with the Knight Bus conductor and his trusted companion, Dre Head, an actual shrunken skull that communicates with guests. They make jokes while also providing valuable insider information.
Get Early-Access
This resort is among the most popular globally and fills up quickly in the afternoon. So, get an early start to avoid crowds at the rides and take advantage of fantastic photo opportunities. There are resorts nearby where you can stay. Some even include fast passes. They cost a bit more per night, but it's worth it. Although the parks open at 9 AM, you can explore Diagon Alley and Hogsmeade as early as 8 AM with an early start pass. You can also stay at the universal hotel and enjoy Universal's Early Park Admission perk.
Have A Plan
This resort has a lot to offer, but the attractions can get crowded, so make a plan. Your best bet is to visit Hogsmeade first thing in the morning. It is located within Islands of Adventure Park and features a variety of shops, restaurants, and rides.
A small stage is located nearby Hogwarts Castle, where you can watch the Frog Choir and the Triwizard Spirit Rally several times per day. It isn't a huge area and can become crowded as the day progresses. If it becomes too crowded, head to Diagon Alley with plans to come back later in the evening.
Diagon Alley's entrance is tucked behind a façade on the London waterfront, just beyond Leicester Square Station. You can watch and photograph a fire-breathing dragon, be entertained by Celestina Warbeck and the Banshees, or listen to the tales of Beedle the Bard. There are also gift shops and a ride called Harry Potter and the Escape from Gringotts.
Get Some Gringotts Cash
If you want to buy stuff in the Wizardry World, you'll need Gringotts money, so you should visit Gringotts Money Exchange to convert your muggle money. The goblin at the money exchange can answer any question you have.
Where To Buy Needed Merchandise
There are shops on both lands. In Hogsmeade, Honeydukes sells candy and other treats, Ollivanders Wand Shop is for wands, Dervish and Banges is where you can get brooms, Hogwarts clothing, Golden Snitches, and accessories. There's also an Owl Post for mailing letters with spooky Hogwarts stamps to your friends.
In Diagon Alley, you can shop for portions, bombastic bombs, and other naughty prank items at Weasleys' Wizard Wheezes. Mugs, glassware, and other souvenirs can be found at Wiseacre's Wizarding Equipment.
Enjoy Rides
Because the resort has only five rides, it's relatively easy to enjoy them all. In Diagon Alley, there's Harry Potter and the Escape from Gringotts, followed by the Hogwarts Express, Flight of the Hippogriff, and Hagrid's Magical Creature Motorcycle Adventure in Hogsmeade.
Also available are indoor rides, such as "Forbidden Journey," located within Hogwarts Castle, as well as "Escape from Gringotts," in Diagon Alley. Due to crowds, you may have to wait up to 30 minutes in line for these rides. However, as the lines wind their way through Gringotts and Hogwarts, you'll be treated to incredible photo opportunities, animated goblins, and even Harry Potter characters.
There Are Only Two Restaurants in The Resort
The two phases of the park each have one restaurant. In Diagon Alley, you can eat at the Leaky Cauldron, while in Hogsmeade, there's the Three Broomsticks plus Hog's Head Pub. the menu is traditionally British, and the prices are reasonable. A fun atmosphere permeates the environment. Additionally, there are several stands selling drinks all over the resort.
Consider A Sunset Visit
Although early entry is preferable, Hogsmeade and Diagon Alley are also magical at night. As the sun sets beyond the horizon, the silhouettes of the park structures make for some fantastic photo opportunities. Plus, as people are in a rush to go home, you'll have the entire park to explore yourself.
Wrap-Up
It's all about having a plan and knowing which tickets to buy for a fun day out in Florida's wizarding world. There's a lot here to make your child believe in magic if they don't already. Be sure to buy an interactive wand and watch everyone's face brighten from the magical effects.