NAS Panama City Navy Base - Military BAH
Phil Ganz
/
8 Min Read
/
Dec 11, 2022
We've also included sections describing the NSA Panama City Navy Base and the best neighborhoods near this facility. Without further ado, let's dive in.
Welcome to NSA Panama City
NSA PC is a US Navy military shore installation based in Bay County, Florida, approximately 8 miles from Panama City. This facility is home to numerous tenant commands, including The Coast Guard Station Panama City and The Center for Explosive Ordinance Disposal & Diving.
Originally called the US Navy Mine Countermeasures Station, NSA PC was established in July 1954. Its primary objective was improving defenses against sea mines.
Over the ensuing decades, the facility has had several other names, including the US Naval Mine Defense Laboratory, the Naval Coastal Systems Laboratory, and the Naval Coastal Systems Center. In 2003, it officially reorganized under CNIC (Commander, Navy Installations Command) and acquired its current name - Naval Support Activity Panama City.
NSA PC has many duties. These include providing the Fleet & Family with operational support and defending and securing critical infrastructure. Also, it employs 400+ military and civilian personnel.
An Overview of Military BAH
Basic Allowance for Housing is a stipend received by eligible service members on permanent duty within any of the 50 US states who don't live in furnished government housing. Remember, as a member of the naval service or any other US military branch; you can live in government-owned quarters furnished with amenities like water, light, and heat.
That said, you can live off base, in a rented apartment, or your own home. Doing that qualifies you for BAH, whose sole purpose is to help you offset the cost of housing.
Now, a brief history of the Basic Allowance for Housing program. BAH was introduced in January 1998 as a replacement for Basic Allowance for Quarters (BAQ) and Variable Housing Allowance (VHA) programs. Since it started, BAH rates have increased yearly, with 2021's spike hitting a whopping 2.90%.
Popular Military BAH Categories
Depending on various factors, military members often receive the following types of allowances:
BAH With/Without Dependents
Some service members have dependents, and the government is aware of that. For that reason, officials base your BAH rate on your dependents.
By dependents, we mean family members like a spouse or child under the age of 21. These two groups are entitled to a dependency status. But your dependent may also be a minor whom you have guardianship or legal custody, an incapacitated adult with qualifying medical records, or any other family member who gets half of their income from you.
With dependents, you'll likely receive a higher allowance than a member without since you have to provide for your loved ones. But your BAH rate will be the same, despite the number of people you support.
Additionally, if your spouse is also a service member, only one of you will receive the "with-dependents" rate. The other will have to do with the "without-dependents" rate.
Partial BAH
Partial BAH is a stipend offered to military members who live in government quarters without dependents.
Living in a government-provided home comes with its advantages. First, the Department of Defense manages the property, so you don't have to worry about extensive projects like kitchen renovations, roof replacement, and HVAC servicing.
The good news is you can live in government quarters and receive Partial BAH. The bad news is the allowance you receive will be less than what you get for the average BAH stipend, and you can only use it to offset a few incidental expenses.
BAH Differential
BAH Differential (BAH-Diff) is an allowance offered to military service members who reside in single-type quarters and are eligible for housing allowance simply because they pay child support.
Remember, becoming a service member doesn't mean you can avoid paying child support. The opposite is true. Federal law requires active members and veterans to ensure their custodial and non-custodial kids receive adequate support from them.
The bottom line is that if you are a custodial parent or pay child support, you are likely eligible for BAH Differential.
BAH Reserve Component/ Transit
BAH Reserve Component/ Transit (BAH RC/T), known as BAH non-locality, BAH Transit, or BAH Reserve in some regions, is a particular category whose rate isn't affected by duty location.
BAH RC/T is primarily awarded to military service members on transit from one permanent station to another. It kicks in when you leave your current station and your locality allowance for housing stops, but before you check into your new military base and start receiving locality housing allowance again.
How to Use Your BAH Stipend
Most service members use BAH to cover rent, and rightly so. In a country where nearly 50% of workers can't afford to rent a one-bedroom apartment, a stipend like Basic Allowance for Housing is a godsend. With it, you can pay for a good home and avoid homelessness.
But many members don't know that their BAH can help them buy property.
By now, you've likely heard of VA loans. Allow us to refresh your memory. VA loans are federal-backed mortgages that help service members buy quality homes. In 2020, lenders awarded over 1.2 million VA-backed home loans to eligible applicants.
If you plan to get a VA home loan soon, here's some good news - your Basic Allowance for Housing can help you qualify.
Regarding mortgages, VA-approved lenders count a military allowance like BAH as adequate income. That means your allowance is highly likely to boost your bargaining power. And the pros compound considering that lenders know you can use your BAH stipend to meet mortgage payment obligations. The process is simple:
Step 1 - Apply for a VA mortgage loan.

Step 2 - Get pre-approval.

Step 3 - Hunt for a home.

Step 4 - Use your VA loan to buy the home.

Step 5 - Use your Basic Allowance for Housing to cover monthly mortgage payments.
The VA Home Loan program allows approved lenders to gross your income by 25% using a non-taxable income like BAH. So, for every $1,000, your gross income increases by $250.
Grossing up is highly beneficial because it boosts your monthly income figure and lowers the debt-to-income (DTI) ratio. And you need a 41% DTI or lower to get a good VA home loan.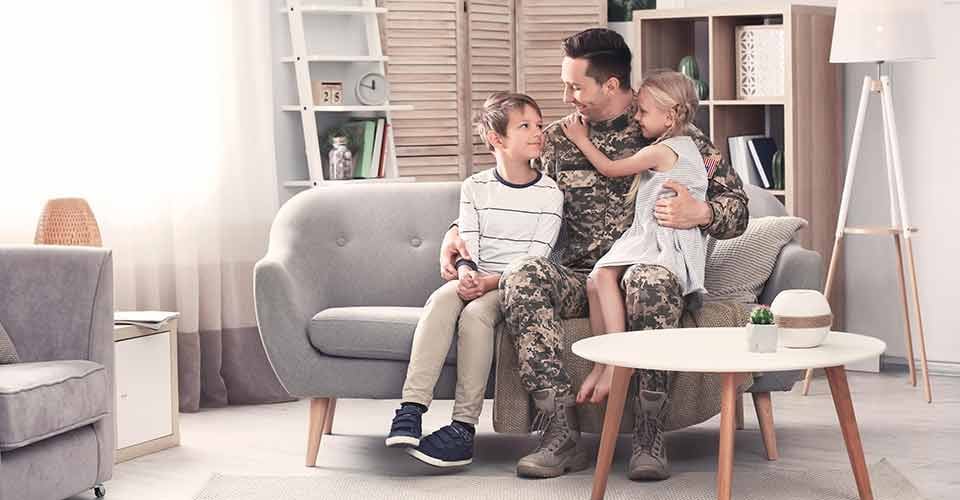 Factors That Determine Your BAH Rate
The Basic Allowance for Housing you are eligible for depends on the following:
Dependency status
As mentioned, depending on whether or not you have dependents, you can receive with-dependents rates or without-dependents rates.
Generally, BAH with-dependent rates are higher than without-dependent rates. If you have a spouse and kids, they are entitled to dependency status. But for other family members, including a minor sibling, parent, or parent-in-law, you must complete the required forms and submit the necessary documents. Check out this guide on making a relative a military dependent for more information.
Keep in mind that family size does not influence your BAH. So, don't be disappointed if your colleague with fewer dependents gets the same allowance as you.
Duty Station Location
Most service members become surprised when they realize their BAH is lower or higher than colleagues in other cities. Allow us to explain why that often happens.
Rental markets often vary from city to city. For instance, people in Panama City pay an average rent of around $1,400 for an apartment. On the other hand, residents of Long Island City, NY, dish out approximately $3,300 on average for a studio.
Since BAH is supposed to help service members cover housing expenses in different duty locations, it has to factor in the typical rental costs in every area. That way, no recipient ends up with a stipend that is too low to help them afford accommodation or unreasonably high.
Is Living off Base a Good Idea?
When you join a military facility, you can choose to live on base or join the local community outside the military base.
Although finding accommodations within your duty station puts you close to work and may help you save money, living outside a military facility is a better idea for the following reasons:
Freedom
Living off base affords more freedom than residing within a military facility.
Freedom in this context first involves visitors. The rules don't necessarily bar other people from visiting you. That said, your guests can't just come over whenever they want. Before entering a military facility, they must undergo a background check and bring all necessary documents. Plus, they can't live with you if they are not your dependents or spouse.
The other aspect is the freedom to do whatever you want with your home. When living off base, you can undertake projects like redecoration, provided your landlord has given their go-ahead. And if we are talking about your home, you can even change aspects like landscaping or roofing without any hassles.
But living in the base comes with stricter rules. For instance, you can paint your room, but you'll have to restore its original status when moving out.
Housing allowance
Admittedly, living on base doesn't automatically disqualify you from getting a housing allowance. Remember Partial BAH? As discussed, you can get this stipend while residing in government-provided housing, provided you don't have dependents.
With the above in mind, you can't compare the amount you'll get from Partial BAH with the allowance you can expect when living off base because the latter is much higher. Additionally, living on the military base makes your paycheck more susceptible to BAH deductions.
To summarize, living off base allows you to enjoy a higher BAH and avoid deductions.
Cultural immersion
Most communities near military facilities contain people from all walks of life. For instance, Panama City, within easy reach from NSA PC, is home to many ethnic groups, including Hispanics and African Americans.
By living off base, you and your loved ones interact with other community members and experience different cultures. That enhances your self-awareness and helps you develop a more tolerant, fair-minded attitude.
Living off base also instills cultural awareness in your kids. When you raise your young ones in a community with different people and personalities, they learn to accept differences and shun negative stereotypes as early as possible.
On the other hand, there's only so much they can learn when their life revolves around a single military community on base.
Housing options
Housing options can be limited on base. For instance, in the Naval Support Activity facility in Panama City, members are only allowed to choose a home from the available 2–4-bedroom single-family residences and townhomes.
But there's a broader range of off-base housing options available for grabs. For example, you can find condos, single-family homes, serviced apartments, and semi-detached houses in Panama City alone. Moreover, they come in different shapes and designs, so you don't have to make do with only four white walls.
And the best thing about having access to many housing options is you can choose something that suits your needs and allows you to save some money from your BAH.
Tips for Picking the Best Off-Base Housing
The following tips will ensure you have a good home off base:
Look for a neighborhood with less commute time to make getting to and from work more manageable.

Try finding a military-friendly community that'll make you and your loved ones feel welcome.

Scrutinize contacts to ensure the rules and regulations are friendly for military personnel.

If you want a sound, long-term investment, consider buying a home rather than renting an apartment.
Which are the Best Towns and Cities Near NSA PC Navy Base?
Here are the top 5 towns and cities near Naval Support Activity Panama City:
Panama City
Located approximately 8 miles from NSA PC, Panama City is Bay County's county seat. By 2021, it had 34,045 residents.
Panama City is popularly known as an all-year hotspot for people who love fishing, sports, and arts. Most importantly, it offers residents affordable housing and a family-friendly ambiance ideal for people with kids.
Callaway
Callaway is a city located in Bay County. It's home to nearly 13,000 people, with a racial composition consisting of diverse groups, including Caucasians and people of color.
If you want to live in an area where most residents own their homes and there are plenty of above-average public schools, check out this city. The distance from NSA PC to Callaway is approximately 15 miles.
Springfield
The distance from Springfield to Naval Support Activity Panama City is around 11 miles. So, you can drive from Springfield to the navy base in 20 minutes or less.
Springfield city is in Bay County. In 2021, its population was 8,025. Most people here own their homes, making it a perfect neighborhood if you plan to buy a property and raise a family near your duty station.
Alys Beach
Do you love beaches? If yes, consider finding a home in Alys Beach, located approximately 19 miles from NSA Panama City.
Alys Beach is enchanting, with pristine white sands, gorgeous homes, and iconic palm-lined driveways. Admittedly, properties are pretty pricey here. But if you can afford it, Alys Beach will provide all the private luxury you need.
Rosemary Beach
Rosemary Beach is a small, quaint town with friendly locals and a closely-knit community. If you always picture living in a place with small-town vibes, a peaceful ambiance, and beautiful sandy beaches, check out Rosemary.
The best part is Rosemary Beach is around 18 miles from Naval Support Activity Panama City and has boutiques, galleries, and shopping centers galore.
Key Takeaways
A Basic Allowance for Housing is an indispensable stipend for military members, primarily when covering housing expenses. Also, living off base has many perks, including optimum freedom and uncapped housing options. Here's a recap of what you've learned so far.
Our article has also introduced factors determining your BAH rate, tips for picking off-base housing, and the best areas near NSA PC. The ball is now in your court. Hopefully, you'll use the information provided to make a good decision and live a splendid life as a military member working at Naval Support Activity Panama City.