New Homes for Sale Near Naval Hospital Jacksonville Navy Base | Florida
Phil Ganz
/
8 Min Read
/
Dec 12, 2022
About Naval Hospital Jacksonville Navy Base
Naval Hospital Jacksonville Navy Base is a healthcare facility that serves active-duty and retired military personnel. This hospital treats marines and sailors at the Navy base and deploys medical personnel with active-duty Marine Corps and Navy units to aid ongoing operations.
As a holistic health and wellness facility, they are more equipped than emergency rooms to provide same-day urgent care at home and abroad.
Location
Naval Hospital Jacksonville lies close to the Jacksonville Naval Air Station in Jacksonville's Duval County. This medical facility sits on Florida's northeastern corner on the banks of the St. Johns River and forms part of the Navy Air Station's internal infrastructure.
History
While the military initially built the facility to provide inpatient care for military personnel, it has now become a facility for families and retired service members. Its construction started in early 1941 and opened on July 1, under the command of Captain Lester Pratt. As a result of World War II, this facility was able to expand its capacity to 1000 beds.
1943 saw 50 Women Accepted for Volunteer Emergency Service reporting to the hospital for training so that male Hospital Corpsmen could deploy to the front. On Dec. 11, 1944, the facility opened its doors to family members and delivered the first baby the following day.
The hospital housed 27 former POWs in the 1970s, and 22 sailors injured in an explosion aboard the USS Bonefish were treated here in 1988. Not forgetting the 12 Seabees were treated here for injuries sustained in Iraq in 2004.
The hospital has a proud tradition of providing healthcare around the globe and at home. For more than 70 years, the facility has provided healthcare, prepared warfighters to deploy, and trained clinicians to save lives. A typical day at NH Jacksonville includes 1,850 medical visits, 173 dental visits, 11 inpatient admissions, 15 surgeries, 3,991 laboratory tests, 3,026 prescriptions, and 2 to 3 deliveries.
Specialty
The Naval Hospital Jacksonville is the fourth largest and arguably the most important medical facility operated by the United States Navy. It provides care to more than 400,000 service members and their dependents in a year, with 10,000 undergoing further treatment there.
With such a high patient care volume, Naval Hospital is one of the busiest medical facilities in the country, providing an extensive range of services.
This facility can handle every aspect of medicine, from preventative care to trauma surgery. Naval Hospital Jacksonville provides family care, dental care, obstetrics, gynecology, oncology, trauma, surgery, and mental health care.
Additionally, it is a member of the TRICARE Network, a primary insurance provider for military personnel and retirees. Because of this, it often accepts former service members and retired medical personnel.
What It's Like to Live Off a Military Base?
As you prepare to move to Naval Hospital Jacksonville Navy Base for your next assignment, your first and most significant decision will be whether or not to live on base.
While both options have pros and cons, the benefits of living off a military base will help you decide the best option for you.
Choose your home improvements
Renting or buying a house in an area of your choice is possible when you live off base.
If you live off base, you can make improvements to your home as you please, as opposed to living on a base where you must maintain the house as you got it, and even though you can paint your walls, you must paint them back to their original color when you leave.
There is no on-base schedule
You won't have to worry about the constant activity on base when you live off the military base. For instance, some bases close a gate that is usually open on weekends and open a different one during the week.
Or the station may undergo an exercise requiring residents to take a detour. Living off-base means you're not too concerned about the on-base schedule.
Long waiting lists
It is not uncommon for bases to have a waiting list for military housing, which can last from a month to a year. Therefore, when you first arrive at your station, you may need to live off-base as you wait for on-base housing.
Sometimes, waiting on the waiting list for extended periods may not be an option that some families are willing to take. A long waiting list means your family will have to wait longer to settle down in your new base.
Save your BAH
If you choose to live off base, the government usually offers you a nontaxable Basic Allowance for Housing as part of your compensation.
Ultimately, BAH ensures you receive the support they need for living expenses. If you find a house that is less than what you receive as BAH, you can save some money.
Maintaining a work-life balance
Having a home off base allows your family to escape military life if they don't want to live in the thick of it. You want to leave the job at the base and take a break from it.
Your family may prefer being closer to your civilian friends, and living on base immerses your family in military life, which may be something they don't want.
Avoid pet disputes
If you're planning to move with a furry friend, then living off-base may be the right option. Most military bases consider some dog breeds, such as Pitbulls, Rottweilers, and Chows, as a safety hazard and may be banned in some bases.
Save yourself the hassle of figuring out which military base accepts your dog and look for a home off-base.
Choose convenience
Undoubtedly, living on base has benefits but has its share of inconveniences. For frequent visitors, not military family members with ID cards, obtaining passes for everyone is part of living on base.
Although most bases feature at least one 24-hour gate, some gates close early or don't open on holidays, making it difficult to leave the base regularly. Living off base gives you and your guests more access to your house.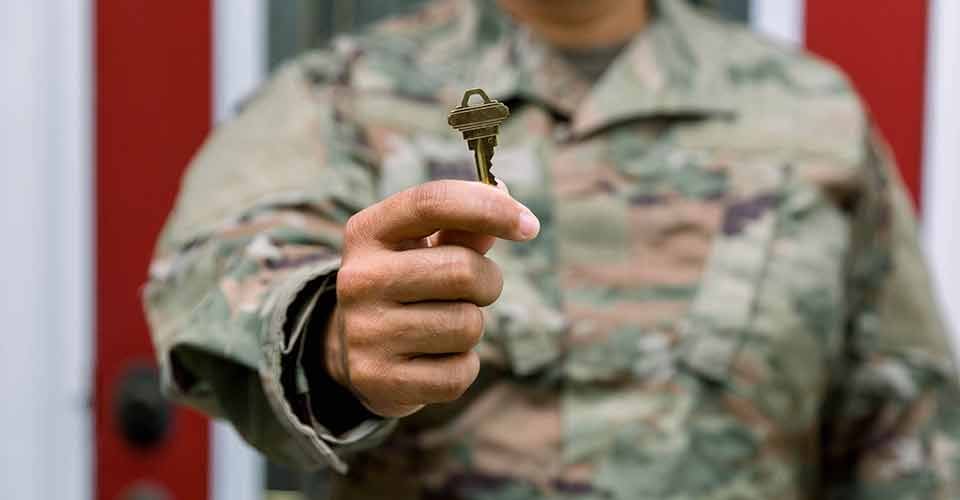 Schools Near Naval Hospital Jacksonville Navy Base
When you have children and are looking for new homes for sale near Naval Hospital Jacksonville Navy Base, it's also essential to know the nearby schools.
Duval county has among the nation's best public schools and is home to some of Florida's finest institutions:
Childtime of Jacksonville
Childtime of Jacksonville follows the Reggio Emilia approach to provide various programs to help children develop their minds, learning abilities, and personalities. This daycare caters to both infants and children of school age.
They also foster secure relationships between the children and respectful adults beyond the four corners of the classroom.
Kids World Academy
Kids World Academy adheres to high learning standards regulated by approved curriculums.
The infants to 2-year-olds receive the foundations for Success curriculum, and early learning programs for three to four-year-olds are offered.
They also provide before and after-school programs, transportation, summer, and food programs.
Rattles to Tassels Learning Center
This center offers daycare and preschool programs for children of all ages. Additionally, they cater to children with special needs.
The children learn in a comfortable and safe environment, and their learning structure incorporates fun and play around their emotional, physical, and social development.
Jacksonville Beach Elementary School
Jacksonville Beach Elementary School is one of Jacksonville Beach's top public magnet schools.
The school focuses on providing all students with a challenging and enriching education, encouraging them to discover, explore, and develop their minds.
There are 598 elementary school students and a student-to-teacher ratio of 17 to 1.
John Stockton Elementary School
John Stockton Elementary School lies in the heart of Jacksonville, Florida, and offers PK5 to 453 students. The student-teacher ratio of 15: 1 is better than that of the district.
It also caters to 18 students from socially disadvantaged backgrounds. The school has 30 full-time teachers and a full-time school adviser.
Chets Creek Elementary School
Chets Creek Elementary School is a public school that offers K5 and has 1,211 students, with a teacher-to-student ratio of 15: 1. The school serves 39 socially disadvantaged students. It has two full-time counselors and 80 full-time teachers.
Darnell Cookman Middle
Darnell Cookman offers rigorous courses that help students to succeed in college. They offer free Advanced Placement tests, and AP test scores can count toward college credits, depending on the college.
It also offers dual enrollment, which means students can simultaneously attend high school and college. There are 1,150 students attending grades 6-12, and the student-to-teacher ratio is 20:1.
Fruit Cove Middle School
Fruit Cove aims to develop good character and a passion for lifelong learning in all sixth through eighth-grade students, so they become knowledgeable and caring contributors to society. It has 1,216 students with a student-to-teacher ratio of 20 to 1.
The academics are engaging, and the teachers are passionate about giving their students the best chance to succeed.
James Weldon Johnson College Preparatory
James Weldon Middle School empowers students by cultivating a passion for history, a sense of community, and an appreciation for diversity in a global society.
The advanced classes and rigorous coursework prepare our students to excel in middle school, high school, and college. It has 1,017 students with a student-to-teacher ratio of 24 to 1.
Paxon School
Paxon School is one of four schools in Duval County that offer the International Baccalaureate program, with the most robust science and math Advanced Placement programs in Florida.
The school provides incredible opportunities for the city's brightest young minds to thrive and succeed. It has 1,376 students with a student-to-teacher Ratio of 20 to 1.
Stanton College Preparatory
Stanton College Preparatory School is a prestigious institution that provides both International Baccalaureate and Advanced Placement. There are 1,539 students enrolled in grades 9-12, with a student-to-teacher ratio of 20:1.
Sandalwood High School
The Southern Association of Colleges and Schools accredits Sandalwood High School. The school offers a wide range of extracurricular activities, including 80 clubs.
It also provides fine arts, IT, AVID, and other specialized programs. The pupils in grades 9-12 make up 2,841 with a 24-to-1 student-teacher ratio.
Top 5 Communities Near Naval Hospital Jacksonville Navy Base
The communities near Naval Hospital Jacksonville Navy Base offer you a suburban lifestyle and one of the best places to enjoy the outdoors and beautiful views.
Consider moving to the following neighborhoods.
San Jose Forest Neighborhood
The San Jose Forest Neighborhood is adjacent to the naval base on the eastern bank of the St. Johns River. The commute to the naval base will take twenty minutes if you live in this neighborhood because you must drive south around the river to get to the bridge.
This area is home to many ranch-style, brick-built, southern-style mansions, single-story homes, and Mediterranean-style villas.
This community offers a mix of medium-sized homes with three or fewer bedrooms and larger homes with five or more. Most of the homes in this neighborhood are owner-occupied; therefore, it is difficult to find a rental home here. Most homes in this neighborhood are owner-occupied, and the median price for buying a home is $520K.
Beauclerc Gardens
Beauclerc Gardens is a short commute from the naval base, with expensive riverfront properties and lavish estates. You won't miss modest homes in the area, though many are used for recreation.
Some parts of the neighborhood feature an overhanging canopy, providing shaded pathways for residents to drive and walk under, with tree branches interlocking high above the roadway on opposite sides.
The variety of architectural styles stems from the builders who have built homes over the years. Most homes feature brick construction with well-kept lawns and colorful flower gardens, which blend well with the area's abundant trees.
The median home price in Beauclerc Gardens is $375,240, though riverfront properties may be three times as expensive, especially during high season.
Ortega Neighborhoods
The Ortega neighborhoods extend north of Venetia after passing through the naval base, and it's a cluster of neighborhoods just north of Venetia. In this neighborhood, you will find mansions, estates, and luxury homes built before 1940.
This community is the place for you if you are interested in flying small planes due to its proximity to the Herlong Recreational Airport.
Most of these homes have a unique historical flavor, with some having five bedrooms and others having two or three, built during the housing boom after WW II.
The area has many brick constructions, single-story ranch-style homes, southern-style homes, and two-story Mediterranean villas, with a median home price of $520,177, higher than other Florida neighborhoods.
Venetia Neighborhood
The Venetia neighborhood has the advantage of being very close to the naval base, and It is located next to the naval base to the north. Most homes in this area are ranch-style, brick one-story bungalows and tract homes built in the 1950s and 1960s. You won't also miss small apartment buildings.
The unique feature of this neighborhood is that it has a water inlet that comes off the river, which forms a protected yacht basin. As a result, this community has many homes with yachts docked at the piers. The median price for homes in Venetia is $299,743.
Wesconnett
The Wesconnettis 15 minutes drive from the Naval Hospital Jacksonville base. The neighborhood mainly consists of medium-sized three-bedroom homes, mobile homes, and tiny single-family houses. A mixture of owners and renters occupy most of the residential real estate, with many homes vacant year-round.
If new housing has been built in a neighborhood and has not been occupied, it indicates a weak housing market. Due to this, it's no surprise that the median real estate price in Wesconnett is $183,268.
Conclusion
Relocating can be challenging, but this guide offers a starting point for setting up your new home at Naval Hospital Jacksonville Navy Base. Enjoy your new adventure in one of the neighborhoods near the Naval Hospital, and you will find a home you will love.