NS Mayport Navy Base - Military BAH
Phil Ganz
/
8 Min Read
/
Nov 27, 2022
The air facility, named in honor of Admiral David Lamar Macdonald, boasts an 8000 feet (2400 meters) runway that can accommodate any aircraft in the inventory of the U.S. Department of Defense. NS Mayport's harbor, on the other hand, is large enough to host up to 35 warships. The base is also home to the Navy's 4th fleet, which was reactivated in 2008 since being deactivated in 1950.
A Brief History Of NS Mayport Navy Base
NS Mayport Navy Base is situated at the mouth of St. John's River, a landing dock for ships since the 16th century. The British seized the area during the American War of Independence and used it as a staging base for their naval operations against the American revolutionaries.
Throughout the American civil war, the area was largely unaffected by the conflict. It wasn't until 1938 that the NS Mayport Navy Base was officially opened during the build-up to the Second World War. After the war, NS Mayport was decommissioned and made into a boot camp. However, as Cold War tensions rose in the late 1940s, the base was reactivated as an Outlying Field, and expansion projects began in earnest in the 1950s.
Some of the most significant moments in NS Mayport's illustrious history include the recovery of astronauts from the Gemini space mission and the enforcement of the Cuban Quarantine during the Cuban Missile Crisis in 1962. Ships from NS Mayport also participated in Operation Desert Shield and Desert storm during the Yugoslav Wars in the 1990s.
NS Mayport Navy Base currently hosts six frigates, four cruisers, and four destroyers at its harbor.
NS Mayport Navy Base - Who Can Qualify For BAH?
Three main categories of active duty service members may be eligible for BAH. These are:
Single and senior enlisted officers.

Married service members who don't live on-base.

Service members of any rank who have to live off-base due to a shortage of housing on-base.
The amount you receive depends on several factors, including your rank, location, pay grade, and family status (whether or not you have dependents). If you belong to any of these categories, you will receive a payment to cater for your housing when government housing isn't available. The BAH has also adjusted annually for the cost of living, so the amount you receive may vary yearly.
It's worth bearing in mind that you don't necessarily have to use your BAH stipend on housing. In other words, if you spend a minimal amount of your stipend on housing, you can use the remaining balance to pay for other expenses or put it into savings. On the other hand, if you spend more than you receive on your BAH on housing, you'll have to pay for the balance out of pocket.
It's also important to keep in mind that since the BAH is tax-free, you don't have to report it when filing your annual taxes.
NS Mayport Navy Base - Getting a VA Loan With Basic Allowance For Housing (BAH)
If you're an active duty service member looking to purchase a home through a VA loan, you can leverage your basic allowance for housing (BAH). BAH is a non-taxable monthly housing stipend paid out by the U.S. military to qualified service personnel.
Since not all military service members qualify for on-base housing, the BAH provides a mechanism for these individuals to access quality housing off-base.
How To Qualify For A VA Loan Using BAH
As highlighted earlier, BAH doesn't necessarily have to be used for renting a house off-base. If you qualify for this stipend, you can use it with a VA loan to purchase a home. Since the BAH is a government-provided payment, mortgage lenders consider it an income source similar to a regular salary. You can use this allowance as an active duty service member to qualify for a VA loan.
Like other mortgage lenders, VA lenders have a minimum debt-to-income ratio threshold that applicants must meet to qualify for the loan. Consequently, VA lenders consider BAH a source of income that helps keep an applicant's debt-to-income ratio down.
BAH Loan Benefits
If you're an active duty service member looking to leverage your housing allowance to purchase a home, there are two ways to stand to benefit.
First, your BAH stipend will likely cover your entire monthly payment on your mortgage, in which case you won't have to make any payments out of pocket. Likewise, receiving this housing allowance provides you with the income you can use to qualify for a VA loan.
NS Mayport Navy Base - How Much BAH Can I Qualify For?
Now that you understand the basics of the BAH stipend, you're probably wondering how much you're eligible to receive every month. The truth is that the amount you receive can vary based on several factors.
As mentioned earlier, the BAH amount is primarily determined by your military rank and family status. It is also adjusted depending on considerations related to the cost of living. For instance, if you're stationed in Florida, where the cost of housing is high, your monthly BAH payment is likely to be much higher compared to a service member of similar rank and family status living outside Grand Forks Air Force Base in North Dakota.
Similarly, the VA loan program knows that property prices vary throughout the country. For this reason, the program sets varying loan limits based on geographical location. In other words, your BAH will most likely cover your monthly mortgage payments regardless of where you intend to purchase a home. Consequently, if you're planning to use BAH to apply for a VA loan, you'll notice that these two housing finance assistance options go hand in hand.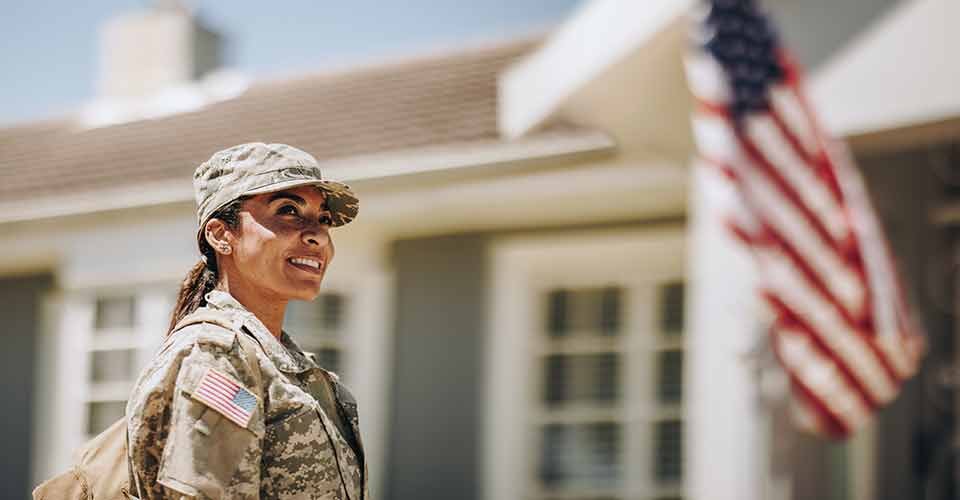 NS Mayport Navy Base - Buying A Home Using Your BAH
While purchasing a home using a BAH and VA loan can vary depending on your situation, several steps are universal. Here is a simple guide on what you can expect when buying a home through this option:
Get Pre-Approval for a VA Loan
The first thing you need to do when purchasing a home using a BAH is to find a VA lender you'd like to borrow a loan from and make an application for pre-approval.
You'll need to submit your financial documentation so that your prospective lender can determine whether the BAH amount you receive every month qualifies you for a mortgage.
Shop For A Home
Once you've obtained pre-approval from your mortgage lender, the next thing you'll need to do is find a home that you'd like to buy. Some factors that you might want to consider when shopping for a home include the quality of the school district (if you have children) and your expected commute time to your place of work.
You may want to consider enlisting the help of a realtor to help you shop around for a home. Alternatively, you can get recommendations from friends and family or look up listings on the internet. Once you find a home that suits you, read the purchase agreement carefully before appending your signature.
Close On The Home
Once you've been pre-approved by your mortgage underwriter and signed a purchase agreement with your seller, all that's left is to close on your home and finish the move-in process.
At this stage of the process, your home will undergo appraisal and inspection, and your lender will complete the approval of the mortgage. You'll then sign the closing documents, and the home's ownership transfer will be officially complete.
Use Your BAH to Pay Your Monthly Mortgage Obligations
After completing the purchase, you can use your housing allowance to pay the mortgage. As indicated earlier, the BAH is tax-free and covers your monthly mortgage payments. As such, you don't have to worry about diving into your pockets to make mortgage payments.
NS Mayport Navy Base - What's It Like Living Off-Base?
Although your duties as an active duty service member remain the same regardless of where you're housed, the experience of living off-base can be drastically different from that of living on-base.
Service members on base typically enjoy the tight-knit community that naturally develops from living in a military environment with all its cultures and traditions. As a result, they can develop close bonds and camaraderie with other individuals and families in their community.
While living off-base can make you feel less connected to the military community, it affords you greater autonomy, particularly when you're off-duty. On the other hand, service members living off-base commute to work every day, just anyone working in a different profession, and return home during the evening. This means they interact more with the civilian world than military members living on base.
Benefits and Downsides of Living Off-Base
While living off-base certainly has its appeal, it also comes with its fair share of downsides you need to be aware of.
Perks Of Living Off-Base
It offers a Sense of Normalcy For Your Loved Ones - Living off-base allows you to enjoy some distance from military life every day, which can be very healthy if you have a family. It allows you to build relationships with your loved ones and friends who may not be in the military, thus enabling you to enjoy a more civilian-like lifestyle.

It provides a Wide Range of Housing Options to Choose From - When living on base, you typically don't have much choice regarding your house since the military allocates you whatever housing is available. By contrast, living off-base allows you to choose what part of town you want to live in and the type of house you'd like to live in.

Offers You The Option To Buy a Home - Whereas it's not possible to buy into military housing when living on base, life off-base offers you the opportunity to purchase a home through affordable VA loans, which you can then pay down using your BAH.
Drawbacks of Living Off-Base
High Housing Costs - Depending on the type of house you rent and the area you rent, your BAH may not be enough to cover your rent. You'll have to top up the remaining amount out of pocket. By contrast, life on base means your housing cost is completely covered.

Lots Of Bills - Whereas living on-base guarantees that all your necessities are covered, living in off-base housing means that you have to pay your monthly utility bills yourself. As you can imagine, this can be pretty costly in the long run, especially when paired with high rent.

Longer Commute to Work - When you live on base, you're essentially living at your place of work and don't have to hassle every day to get to your station. By contrast, living off-base requires that your commute to and from work every day, which, depending on the distance, can be time-consuming and an added expense.
Tips To Consider When Choosing Off-Base Housing
If you're moving to NS Mayport Navy Base and have the option of living off-base, here are a few recommendations to consider:
Choose A Neighborhood That Minimizes Your Commute Time
As an active duty service member living off base, commute time is essential when deciding where to live. For this reason, map out the distance and travel time from your neighborhood to the base.
You should also consider contingencies like traffic, which may increase the travel time. Ultimately, choosing a neighborhood close to your base will help you cut down on commute time and save you money on gas.
Connect With Military-Friendly Communities
Living off-base provides a bit of distance from the military environment, giving you a sense of autonomy and a much more typical lifestyle. However, the downside is that it can also make you feel disconnected from the military community on base.
To compensate for this, you might consider finding military communities near your base to connect with. This will allow you to enjoy freedom while remaining connected to the military lifestyle.
Consider Purchasing A House Instead Of Renting One
While off-base military service members usually prefer to rent a house when stationed at a base due to the expectation of future transfers, buying a home can be a better idea for you.
Purchasing a home is often more cost-effective than renting since you can leverage VA loans, which require no down payment. In addition to this, monthly mortgage payments are often lower compared to the price of rent, although this may depend on where you live.
Buying a home is also a significant investment since you can profit by selling the home in the future when you get transferred. Alternatively, you can rent the home for some passive income.
NS Mayport Navy Base - Wrapping Up
Living off-base as an active-duty military member can be a wonderful experience as long as you know the right moves to make. While the BAH is meant to provide you with access to quality housing off-post, you don't need to spend hundreds or thousands of dollars on rent.
The better option would be to leverage this robust allowance to purchase a home through a VA loan. You get to enjoy 100% home financing with this mortgage option, and you can comfortably pay down the loan using your military housing stipend.