Orlando Watersports Complex: The Number 1 Wakeboard Park
Phil Ganz
/
4 Min Read
/
Mar 29, 2022
Orlando Watersports Complex has been voted the world's number one wakeboard park by Wakeboarder Magazine. OWC's wakesurf park and wakeskate facility are both second-to-none in Central Florida. The Complex features two parks in one location and two for one pricing. The area is a must for amateur and professional riders of all ages.
(Mar 27, 2023)
The Orlando Watersports Complex is located at 8615 Florida Rock Rd, Orlando, FL. The facilities include a half-pipe and multiple rails so that you can ride all season long.
The Complex is a great place for all ages. The whole family can enjoy this place with their kids. If you want to spend a day in the sun, then this place will be perfect for you. You can go on a cruise or enjoy some water activities like kayaking and boating.
There are many things to do for adults as well, such as swimming and water skiing. If you want to enjoy your time with your friends and family, then this will be a great place to visit. You can have some fun while enjoying the beautiful scenery of the area.
The History of This Awesome Facility
Orlando Watersports Complex was founded in 1999 by investors who envisioned an amazing, fun, and challenging water park that would be open year-round and at any time of day. He also wanted this facility to be challenging for even the most experienced riders worldwide.
Since then, Orlando Watersports Complex has become home to some of the most talented riders from all over the globe. These riders include Harley Clifford, Bob Soven and Steel Lafferty, all-pro wakeboarders.
Lakes
Orlando Water Sports Complex has four lakes available for you to use. Two of them have sliders and kickers in them, so you can jump and do tricks if you want. The other two lakes are made for practicing. You can practice the basics here before heading out to the trick lakes. This way you won't embarrass yourself, and everyone will be happier because of it!
Lessons
They offer lessons at this location! With each lesson comes an instructor who will help you learn fast and become better at wakeboarding in general. They also have several different lesson packages available, so you can choose the one that meets your needs the most! You can even get one that includes video analysis so you can see what you're doing right or wrong while out there on your board behind the boat.
The Pros of Renting Equipment from Here
The Orlando Watersports Complex was made for one thing. Wakeboarding! They have everything you need, from a pro shop to a bar to multiple systems 2.0. What is system 2.0? It's a cable park with an overhead cable system that pulls you through the water instead of being towed behind a boat.
It's easy to rent equipment here. Just show up with your swimsuit, goggles and sunscreen, and they'll provide the rest! They'll also give you some basic instructions on using their equipment if you're not sure what to do with it all (although it's always wise to get more advanced instruction before trying anything new).
If you are a beginner, you should probably bring a friend who knows the ropes. This is especially important if you don't already have your wakeboard. If you do bring your wakeboard, make sure to get some lessons from the staff before you go out on your own.
What to Do Before You Go
Make sure to reserve a wakeboard or other equipment online in advance. You can also sign up for a class if you want to learn how to wakeboard or just improve your skills. Otherwise, all that's left to do is pack your bags and get ready for an awesome day at the park!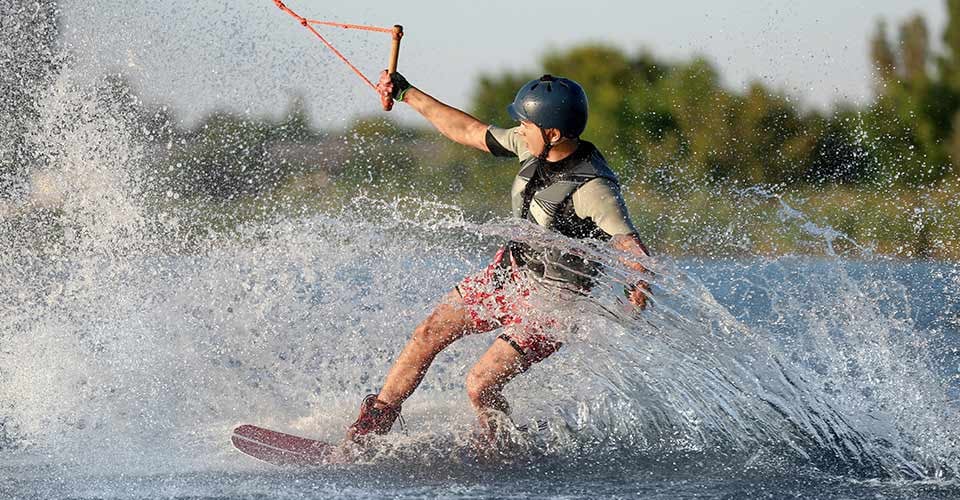 What to Do After you Arrive
Once you get there, check in with the staff and let them know what skill level you are at. You'll also want to pick out your board and bindings if you haven't done so already. If it's your first time there, they can advise on what boards and bindings will be best for you based on your height and weight.
Cable
Riders are pulled through a 5-point course at a speed of 25mph, and riders can reach speeds over 40mph and heights up to 35ft! Our cable park is excellent for all skill levels, from beginner to pro.
Water skiing
Most people are familiar with this classic sport, but they may not know all the different variations. At OWC, they offer traditional two-skis-and-a-handle water skiing and slalom and trick skiing.
Wakeskating
Wakeskating is a bit like wakeboarding, except you don't have any bindings — you're just standing on the board, which makes it a little easier to perform tricks.
OWC has a small area dedicated to wakeskating where they can set the speed and wake height just right for people who are new to the sport. You can head out onto the main lake with their larger wakeboard boats when you get the hang of it.
Kneeboarding
A kneeboard is a smaller, more compact version of the standard wakeboarding. It is relatively easier to get the hang of kneeboarding since the rider is strapped into their board and pulled behind a boat rather than having to stand up.
At Orlando Watersports Complex, you can expect:
15 minutes of kneeboarding instruction
30 minutes behind their wakeboarding Boat
30 minutes of free ride time
Boat
The park offers the best wake in the industry for wakeboarding and wakesurfing. The Orlando Watersports Complex has been said to have the best wakeboard coaches globally. These coaches are some of the most experienced in their field, with some having competed professionally.
Wakesurfing
Surf without a wave? Why not—this is wakesurfing, and you can enjoy the sport at Orlando Watersports Complex.
Instead of being towed behind a boat like traditional water skiing or wakeboarding, surfers are pulled slowly by specialized boats that produce huge waves without speed. Surfers can also generate their waves if they can't get to a lake or ocean.
Tubing
Tubing is another popular activity at Orlando Watersports Complex. The lagoon provides an excellent opportunity for tubing, as it is smooth and far enough away from the other activities, so you won't have to worry about bumping into other watercraft. There are even two double tubes if you want to bring along a friend or family member.
Aquapark
The OWC Aquapark is a fun floating obstacle course, complete with trampolines, monkey bars, slides, swings, and more! It's perfect for all ages and skill levels and is great for birthday parties or just a day out on the lake with friends!
Wrapping Up
We think that Orlando Watersports Complex is worth a visit. We recommend it as the best place for wakeboarding in the region. This is due to its impressive collection of rides, top-notch service from friendly employees, and more. If you're looking for an exciting day of fun on the water, visit this park.
Interested in learning about becoming a resident in Florida or moving there? Read more.