PCS to NAS Whiting Field Navy Base | Florida
Phil Ganz
/
8 Min Read
/
Dec 12, 2022
What Is a Permanent Change of Station (PCS) in the Military?
You just got your PCS to NAS Whiting Field Navy Base! For military personnel, a PCS refers to a Permanent Change of Station. A PCS move is when you get orders to transfer from one duty station to another. Military families regularly move as part of their PCS, which can be stressful and exhausting. But the good news is that the military will take care of your relocation, easing the financial burden.
Generally, any military move begins with orders specifying your rank, assignment, training, and next duty station to provide DOD experts with the information they need to determine the details of your move. If you receive a PCS order, you will be assigned to a specific site for at least 20 weeks, either for training or assignment, which comes with a complete household move.
Usually, a service member knows when their current orders end, and you can know when you will receive their next orders. The problem is that so many factors come into play, which is always different. Sometimes you may be required to complete military school before receiving orders, or there may be last-minute changes to the orders. Once in a while, you may also choose to extend your orders by more years.
With all these in mind, predicting your next PCS move is challenging, and in most cases, you will receive an assignment notification. The PCS orders will provide details on your next base station and reporting date. However, nothing is cast in stone at this point, and your PCS is only official once you receive orders. So, it's a good idea to begin planning your move once you receive the notification but keep an open mind for any changes.
What Does PCS Move Entail?
A PCS order usually involves moving the entire family, although you may be assigned to an unaccompanied duty station if a base is unsuitable for families. PCS military moves are expensive, so it's a welcome relief that the government covers most of the costs.
There are two types of PCS moves:
CONUS
A CONUS refers to a PCS move in the Continental United States and is the most common type of relocation. The government usually assigns a contract carrier to handle CONUS, and you have two options:
The military handles the packing and moving for you
When you receive the PCS orders, you can let a Transportation Service Provider (TSP) pack and move you to your new station. Allowing the military to handle the TSP is easy as you conveniently schedule your move by submitting your request to the United States Transportation Command. The government will pick a date and ensure the shipping of your items to your new location.
Notably, these shipments have weight restrictions based on your rank, and you are limited in what you can ship. Some shipments, such as pets, will be at your expense.
Personally procured move (PPM)
If you want to handle packing and moving, you opt for a personally procured move. In this case, the government will reimburse you 95% of what a TSP might charge for handling your move.
Weight determines this allowance, and you can keep the difference if you pay less than what the military would charge. Another advantage of a PPM is the flexibility of the moving schedule and the freedom to choose your moving date.
OCONUS
Military personnel moving overseas falls under the OCONUS category. Your belongings may have administrative weight restrictions depending on where you're going. Fortunately, if your weight is restricted, you can store your goods in the continental U.S. as part of your regular allowance.
A move outside the country may also be subject to restrictions on items, such as the host country not permitting firearms or alcohol imports. With a CONUS move, you can ship your privately owned vehicle to your new home at government expense.
The House Hunting Process for Military Families
A PCS to NAS Whiting Field Navy Base can be overwhelming. Not only does it involve adapting to change, but the timeline doesn't allow for delays. It doesn't matter if you have orders months in advance or little notice; finding a house can be challenging.
But here's the house-hunting process to make your relocation easier:
Work with a Budget
Undoubtedly, a PCS move will affect your finances, and the first step is evaluating your finances and coming up with a budget that estimates the price range of houses you can afford. The moving process involves making many deposits, and one way to help you stay on top of your budget is getting a VA home loan.
A VA Loan is likely the right option if you plan to buy a home in your new location. It offers you the most competitive rate and requires no down payment. VA loans offer many benefits, one of which is that it provides 100% financing, which means you don't have to make any down payment or pay any additional insurance premiums on your home.
Put Your Needs Forward
Military families are no strangers to moving, but house hunting is an exciting experience. To keep the home-buying process as simple as possible, determine what you need and want from your potential new home. Even though the military may have set your new location, you have control over your wish list.
Understanding your lifestyle preferences will give you a better idea of what kind of home is right for your family and help you have a more pleasant home-hunting experience. At the same time, keep in mind your budget, which determines the features and amenities you can afford. You will save time and ensure you find the perfect home if you have a list of non-negotiables before you start house-hunting.
Consult Real Estate Agents
Real estate agents are industry experts who can guide you through the constantly changing housing market. They know your new area and can help you negotiate a good deal and choose a neighborhood that meets your family's needs. Hiring a real estate agent makes home-buying more manageable, especially for long-distance moves.
It can be challenging to navigate a PCS, and consulting a real estate agent makes the process easier by handling the logistics so you can focus on the rest of the move.
Involve Your Kids in the Process
For many military families, PCSs are inevitable, but moving doesn't have to be a stressful experience. Military kids move frequently, and it may be frustrating to be uprooted from their homes, start a new school, and make new friends, especially if they want a sense of stability. Include your children in the moving process to make the transition easier.
If you plan, communicate openly, and remain optimistic, you can help your children adjust to a new environment. Even if your kids don't have specific home preferences, consider choosing a house near parks, schools, and child-friendly facilities. Your kids will appreciate being within walking distance of recreational facilities, a great way to keep them entertained and make new friends.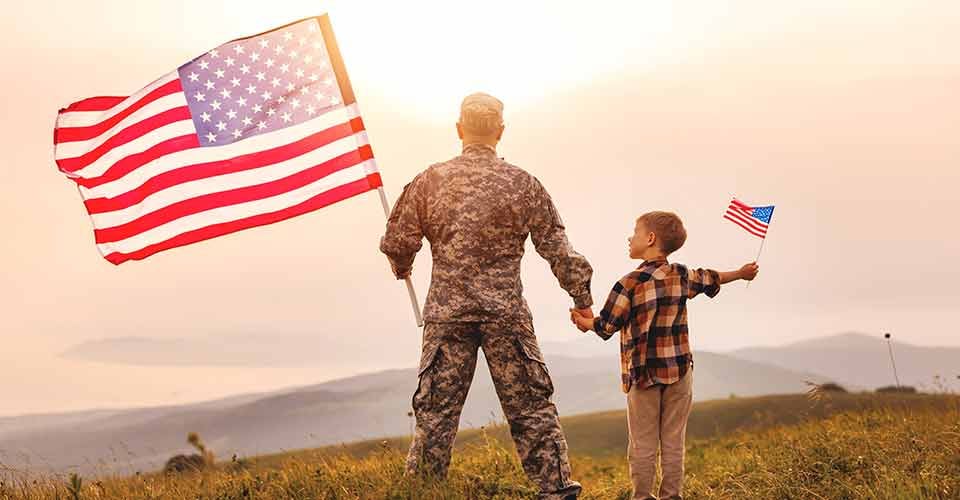 The Benefits of Living Off Base
It doesn't matter how often you've moved from one home to another; a PCS move is daunting. When it comes to living on base, many factors are beyond your control, particularly if your base has a long waiting list.
Considering the short timeline for PCS moving, off-base living is the best choice. Here are more reasons why you should consider living off base:
Easy access for your visitors
If you frequently host, living on base means getting entry base passes each time you have a visitor, picking them up at the gate, and staying with them while they are in the base.
Living off base makes visits from friends and family much more convenient. You won't have to worry about getting entry passes for your guests or escorting them around. Your visitors can come and go as they please.
Easy to separate work from home
Living off base offers you a chance to get away from the work environment and away from your coworkers. You have time to decompress and unwind after a long day at work.
Living a few feet from your colleagues creates an intimate group of people who know everything about you, including your daily schedule. Getting off base gives you much more privacy, regardless of your rank.
Rental income
When you buy a home, you can use your BAH to cover your mortgage, and you can turn the house into a rental property when it's time to move to your new station.
The rental income can also help in covering your mortgage but put some cash aside for repairs and when the house is vacant between renters.
But first, research the value of real estate near NAS Whiting Field Navy Base to ensure a return on your investment.
Much more variety
With off-base living, you have a more excellent selection of houses to choose from, unlike the boring white walls of most military housing.
There are condos, apartments, and single-family homes available, and you can select the neighborhood closest to the base gate or the style you prefer.
Fewer moves
As a military member, your housing on base depends on your rank and the size of your family. That means you may have to move every time you go up a position or when you have more children.
That's a lot of extra moves you have to pay for. If you live off base, you don't have to move until you receive your PCS orders.
Save your housing allowance
When you live off base, you can save some of your housing allowances by renting an apartment or home for less than you receive in BAH.
You can also opt to cost-share the rent with a roommate and save the rest. Living off base gives you control over the money you spend on rent and other expenses.
More amenities
You can afford your dream home with your BAH when living off base. You can get walk-in closets, extra bedrooms, air conditioning and heating, a spacious garage, or anything on your wish list.
You can also personalize your home with decorations and landscaping when you own your own home. Most of these amenities are unavailable in base housing.
Connect more with your civilian life
Almost everyone on base knows what it's like to live in the military, and you may forget how to relate to civilians outside the gates.
Living off-base makes it easy to maintain relationships off-base by getting involved in the community you're living in as you build new friendships with your neighbors.
5 Best Places to Live Near NAS Whiting Field Navy Base
After receiving orders on your PCS to NAS Whiting Field Navy Base, the first task on your PCS checklist is finding a place to live.
Looking for a home near the base is convenient, and the following are the best neighborhoods to live near NAS Whiting Field Navy Base:
Point Baker
Point Baker is a suburban community located in Milton, seven minutes from NAS Whiting Field Navy Base. Here you will get medium-sized three and four-bedroom homes, single-family homes, and two-bedrooms and studio apartments.
Owner-occupied residential properties dominate the market with lots of amenities. The median rental price in Point Baker is $1,622, lower than most neighborhoods in Florida.
Milton West
Located just 13 minutes from NAS Whiting Field Navy Base, Milton West lies a short drive outside Pensacola. While it is a relatively small town, Milton West is growing rapidly, and the housing market is booming.
You can get anything from three or four-bedroom homes to spacious four or more bedrooms, small apartment buildings, and single-family homes.
The Milton West neighborhood is worth highlighting because of its outstanding features, and the median rental price in the area is $1,911.
Wallace
Wallace is the best place to call home if you're looking for a rural feel. Enjoy rural living with medium-sized three or four-bedroom homes, expansive four or more bedrooms for large families, small apartments, and single-family homes.
Most homes here are owner-occupied, and you will enjoy proximity to the base, which is just 30 minutes away. Wallace's average rental price is $1,727.
Pace
Pace is a suburban community just east of Pensacola and 22 minutes from the NAS Whiting Field Navy Base. This area offers many excellent schools and cheaper and safer housing options.
Most residential properties are owner-occupied, and the Pace neighborhood is home to several newly built houses. Here you will get three or four-bedroom medium-sized homes to five-bedroom or more single-family homes. Pace has an average rental price of $1,848.
Chumuckla
Living in Chumuckla offers a unique blend of suburban and rural living, with most residents owning their homes. Located 23 minutes from NAS Whiting Field Navy Base, the Chumuckla neighborhood offers three- and four-bedroom houses to multi-bedroom and mobile homes.
The area is also home to many other families, making it easy to meet, socialize and create a strong sense of community. The current median rental price in Chumuckla is $1,209.
Received a PCS Order? Don't Worry
PCS orders are part of military life, and there is no need to panic if you have received a moving order. Relocating has become more accessible nowadays, mainly if your new station is in Florida. When military families receive PCS orders, securing the funds to relocate is their greatest challenge.
Luckily, the government covers almost all the costs of PCS military moves, and you can also apply for a VA loan to purchase your dream home as you shift to NAS Whiting Field Navy Base. Take advantage of your PCS, enjoy your move, and make your dream of owning a home a reality.