PCS to Naval Air Warfare Center Navy Base | Florida
Phil Ganz
/
8 Min Read
/
Dec 11, 2022
If you receive a PCS to Naval Air Warfare Center Navy Base Florida, this guide will help you remember the essential things and create a plan for a stress-free PCS move.
The Basics of a Permanent Change of Station
To fully prepare for your PCS orders, you need a clear idea of the process. In this PCS to Naval Air Warfare Center Navy Base Florida, you will get an overview of the process and what to do to ensure you leave nothing to chance and are cost-effective in your move.
PCS is an acronym for Permanent Change of Station. A PCS assigns, details, or transfers a service member or entire unit to a different duty station. A PCS is a long-term assignment where you will perform your military service from a new location. It differs from a temporary duty (TDY) assignment since it lasts two to four years. Military sources describe it as any assignment lasting over 20 weeks.
Because many PCS orders are issued simultaneously, the offices responsible for facilitating your move are pressed for time and attention.
Therefore, filling in your requests as early as you give them enough time to attend to you and ensure a seamless move. Further, it allows you to make the first bookings and use the best resources, for instance, moving companies.
Without wasting time, do the following;
Schedule an appointment with the transportation office to obtain information and file the necessary paperwork in case you are a first-timer, are retiring, or are separating.

Make another appointment with your present installation's finance office to get help with your relocation entitlements and figuring out a budget for your move.

Remember that your account will expire after 35 days of non-use. Therefore, you must re-register your account whenever you get your PCS orders.

Collect all the necessary information to plan and facilitate your move ASAP. Whether you are using the transportation office or DPS, you will need the following:

Estimates of the shipping weights.

Pick-up and delivery dates, along with the respective locations.

A list of specialty items.

A Pro-Gear list and weight estimates for the service member and their spouse.

A moving company of your choice.
As you wait for your appointments, you can collect estimates of resources and items you need and what the military usually provides. Doing this will help you spot shortfalls, adjust or find solutions, and ask informed questions.
Useful resources;
You should use DOD calculators to establish your expected weight allowance, relocation entitlements, and items you are allowed. However, confirm the figures with your financial or transport office.

Visit PlanMyMove and obtain a customized PCS checklist tailored to your type of PCS move and family circumstances. Every PCS move is unique, so this tool is highly beneficial.
Advantages of Living Off-base
One of the first decisions you will make once you get your PCS to Naval Air Warfare Center Navy Base Florida is whether you will live on base or off it. There are apparent conveniences that come with staying inside the base.
For instance, you live so close to work, and you have no issues with security. However, you lose the advantage of the flexibility that comes with living off base.
For example, with off-base living, you have much freedom in your landscape, yard work, and decorations. Secondly, you can have any number of visitors visiting your home anytime you prefer without worrying about checks and passes at the gate. There is also the advantage of running a home business should you or your spouse want to pursue one.
You also have no restrictions on the number and kind of pets you keep. Each family is restricted to two pet animals at the base, and some dog breeds classified as dangerous are prohibited. Further, you should consider the commute distance of your spouse and the distance to school for your children. The base may appear closer to you but not convenient for your spouse or children.
Further advantages of living off base are that you have plenty of choices for the kind of home you want. More importantly, you can choose a home within your budget for rent or invest in the long term by purchasing the home.
House Hunting Tips When You Get PCS to Naval Air Warfare Center Navy Base Florida
A PCS essentially involves two parts. The processing of the orders and arranging for your move, and part two, finding a new home. The latter part requires even more time to ensure you get a comfortable home fitting your budget and your family's needs.
Here are the main house-hunting tips to use once you get a PCS to Naval Air Warfare Center Navy Base Florida:
Conduct a Pre-PCS house hunting trip
A pre-PCS trip helps you remove the unknown. If you have a spouse, it is a good idea to go with them. It will help you learn about the neighborhoods, identify realtors to work with, the amenities, and the general outlook of the new place so you will not be making decisions out of guesswork.
Identify your needs
It is crucial to determine what you are looking for early on as it saves you time moving across many houses. It also helps you make quick decisions and know what your priority is and what is a deal breaker. It will also help your realtors know which properties to look for best fit your best.
Work with an expert
Planning for a PCS to Naval Air Warfare Center Navy Base Florida is already stressful, even with the resources the military avails you.
Thus, you should not do house hunting alone, especially with your limited time. Use real estate agents who understand the local market, have better leads and can cover a wider area than you ever can.
Have a budget
A budget also helps you narrow your search, and one resource to use is getting pre-approved for a mortgage.
It does not mean you have to go ahead and take the mortgage, but it shows you the house you can comfortably afford, and a pre-approval letter helps move your offer ahead of others.
Widen your search beyond listings
After getting a PCS to Naval Air Warfare Center Navy Base Florida, the best way to find the best home is to go beyond the property listings to the general neighborhood.
Consider the cost of living, the quality of schools, the available amenities, and crime rates, among other things.
Make use of your time allowance
You are usually given several days off to help you plan and move into your new home. Maximize this time and use most of it in your house hunting.
It will allow you to view many properties arrange for inspections, and evaluate whether they meet your needs. It increases your chances of finding the perfect home.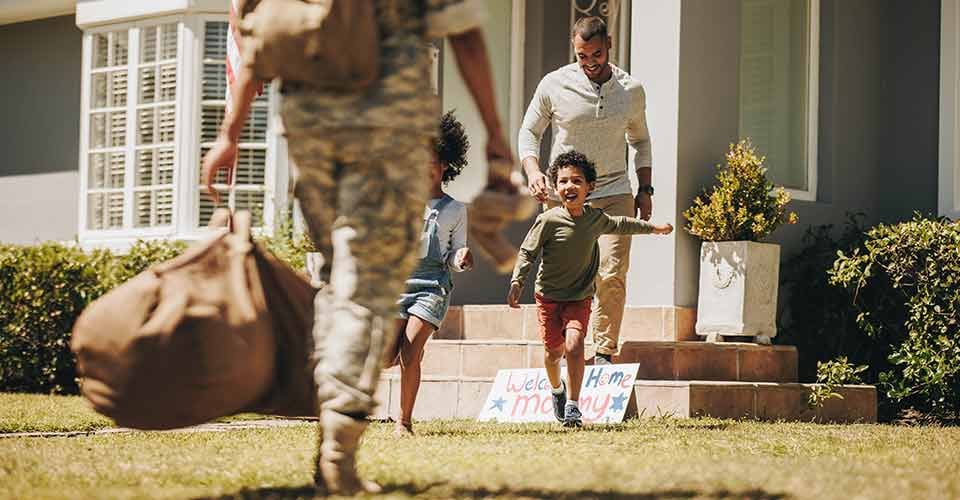 Five Best Places to Live Around the Naval Air Warfare Center Navy Base in Florida
One of the advantages of the PCS to Naval Air Warfare Center Navy Base Florida is the plenty of options of neighborhoods you can call home.
The location of the base on St Johns places it within reach of several thriving and hospitable communities. The top ones include;
San Jose Forest
The San Jose Forest, like the base, is also located on the St. Johns River. It is on the eastern bank just across the base. It makes for a 20-minute commute to the base from San Jose Forest. The neighborhood has been around for a while, with half of the homes built by 1969.
There is a range of home types and sizes from medium-sized two or three-bedroomed homes to large-sized five-bedroomed homes or more. Styles include brick construction, single-story homes, ranch styles, southern-styled mansions, Mediterranean-style villas with two stories, and much more.
The median price for a home in this neighborhood is $384,362, while the average rent is $1,118. That median price is among the highest in Florida. The neighborhood, however, makes up for that with its attractions and range of amenities.
You have access to a large shopping area at St. Johns Center and are within driving distance of a clubhouse at Top Golf. Your kids can have a racing adventure at the Autobahn Indoor Speedway racing go-karts. More fun with games and trampolines can be found at the Flight Fit N Fun amusement center.
Beauclerc Gardens
This neighborhood is south of San Jose Forest, east of the naval base. Its southern end borders the I-295, the road you use to get across the river to the base, a very short commute. Beauclerc Gardens is also a well-established community, with most construction completed by 1999.
The home styles range from lavish and modest ones, with riverfront homes having piers going up to the deep waters. Modest homes make for excellent recreational use, while those at the riverfront with piers can often support boats' mooring. Their location impacts the cost of the houses on the river.
The median price for homes in the neighborhood is $375,240 though houses at the riverfront can go up to triple that amount. The median rent is $1,481 though it can rise during the peak tourist seasons, so that may not be a good time to look for houses in the area.
Most of the neighborhood's fun activities are river-based, so it is a perfect place for someone interested in water-related projects. Besides the river, Elizabeth Wolfe Park is a prominent attraction providing the center for picnics, jogging, and biking trails.
Venetia
Venetia is located very close to the military base, and it is one of the places you should look for when your get your PCS to Naval Air Warfare Center Navy Base Florida orders.
It is located on the southern side of Venice City in Florida but borders the naval base to the north. Several homes we constructed by the 1960s, and the theme, as the name suggests, is from Venice, Italy, and has plenty of Mediterranean influences.
Venetia comprises four deed-restricted subdivisions sprawling across 300 acres of property surrounded by wetlands, wildlife, preserves, and lakes. The subdivisions are Venetia One, which consists of single-family homes, Villa Vivaci and Villa Paradiso have maintenance-free villas; and Casa DiAmico, which has maintenance-free condominiums.
You will find all kinds of house styles, from tract and brick one-story to ranch-style homes. The median price for a house in Venetia is $299,743, and the median rent is $1,224. Free lots are also available for new development, which go from $130,000.
The neighborhood offers various amenities, including a clubhouse, a modern fitness center, basketball and tennis courts, waterfalls, and plenty of green areas.
Venetia is only 10 minutes away from the beautiful beaches in downtown Venice. Other comforts you can easily access are a Walmart outlet, grocery stores, the Outback steakhouse, cafes, and bookstores.
Green Cove Springs
According to recent data, Green Cove Springs is located in Clay County, Florida, and the community has just under 6,000 people. It gets its name from a section of the St. Johns River on which it is built. The trees in the section are evergreen, from which the green cove name originates.
Green Cove provides a fantastic community where you can live as you work at the base. Houses for sale in the neighborhood start at $284,000 for a 3-bedroom residence with two baths. Apartments and other rental properties are also available with rent starting from $540 monthly for a 1-bedroom unit with one bath.
This affordability makes Green Cove one of the first places to look should you get PCS to Naval Air Warfare Center Navy Base Florida orders.
There is also temporary lodging at local hotels like the Sleep Inn and Suites or the Green Cove Springs Inn. Nightly rates start at $7, and there are also complimentary breakfasts and high-speed internet.
One of the town's highlights is the Gustafson's Farm dairy. The largest dairy farm in the Southeast US is in private hands.
Orange Park, Florida
Orange Park is a Jacksonville suburb with a present population of 9,000 people. It is one of the nearest neighborhoods to the base, just five miles away.
It provides a tranquil community for anyone who wants to stay off base but for whom a short commute to work is paramount. It gets its name from the fruit industry that once the area until the Great Freeze of 1894 devastated most of the orchids, they never fully recovered.
House prices in the neighborhood begin at $155,000 for a 3-bedroom residence with two baths. Rental properties like apartments are also presented with rates for a one-bedroom unit with one bath starting at $599 monthly.
Neighborhood attractions include golf clubs at the Eagle Harbor Golf Club, the Fleming Island Golf club, and the Country Club of Orange Park. The Black Creek Trail is another attraction perfect for biking and supports other activities like fishing, picnics, and inland skating.
You can also attend the Orange Park Community Theater and The Clark House Park for family-oriented activities.
Conclusion
Getting your PCS orders is to be expected for anyone in a career in the military. Whether you have had a couple of PCS orders before or this is your first time, taking a moment to process and prepare is wise. You will need to develop a plan for your PCS to Naval Air Warfare Center Navy Base Florida that covers all aspects.
Get all the benefits you are entitled to, and the time you will need to find a new place to call home. In choosing your home, your plan should include a budget, your needs, and what is essential to your family.
It is also crucial that you make travel arrangements early and sort out any utility bills. All this work will be time demanding, so it helps to get the help of an expert in searching for the ideal home, at least in shortlisting the favorites, which you can then view and choose your best choice.