Pier Family Fun at Daytona Boardwalk Amusements
Phil Ganz
/
4 Min Read
/
Apr 02, 2022
Mark your vacation calendar, head down to Daytona Beach, Florida, and visit the stunning Daytona Beach Boardwalk. Ideally, whether you are looking for a family fun day experience, a wild night out with live music and cocktails with your colleagues, or a romantic getaway with a perfect sunset view with your partner, then the Daytona Boardwalk is the place to be!
(Mar 30, 2023)
A premier unwinding spot with an assortment of allures and fun activities, the Daytona Beach Boardwalk and Pier cements its place as a suitable getaway spot. Featuring gift shops, Ocean Walk shops, restaurants, snack bars, and enticing allures such as the Daytona Beach Bandshell and a model arcade featuring the ever-popular video game and Skee Ball, it is undoubtedly a pearl worth visiting.
Better yet, you can enjoy an assortment of delicacies, snacks, and drinks, including fried seafood, ice cream, and a wide array of drink options, and when the sun finally comes down, you would expect everything to come to a standstill, but not at the Boardwalk. After the day's hustles and bustles, you can stick around in the evening for a fun display of free fireworks show complete with street performers and thrill rides.
A visit to the Daytona Boardwalk and Pier is just the perfect definition of memorable! But what makes this area so popular? Here is everything you should know about the Daytona Beach Boardwalk and Pier.
About Boardwalk Amusement Area and Pier
Location - Daytona Beach, FL
Ideal For - infants, little kids, teens, and adults alike
The famous Daytona Beach Boardwalk is an assortment of multiple family-operated ventures, including Mardi Gras Fun Center, Lisa's Gift Shop, Joyland Amusement Center, and Pizza King - all situated within the beach! This famous spot is located adjacent to the beach, opening you to stunning views of the soothing Atlantic Ocean waters and an extensive list of activities you can delight in all year round.
This Florida spot is packed with a myriad of arcade games, carnival rides, in addition to free fireworks and concerts and cool kids' treats like fudge or ice cream at the historic oceanfront in the Daytona entertainment zone.
The 754-ft Daytona Pier is a modern fun spot reopened in 2012, after a massive renovation, defines a classic dining and fishing spot. It is surrounded by numerous allures, including the Daytona Lagoon, situated in the northern part just across the street from the Ocean Walk Shoppes and Boardwalk for a soothing and entertaining aquatic adventure and family fun.
What's more, south of Boardwalk, you can also spot the massive sky-high thrill rides. Add this to the unlimited access of street performance shows, and you have a charming chill spot for both you and your family in Florida.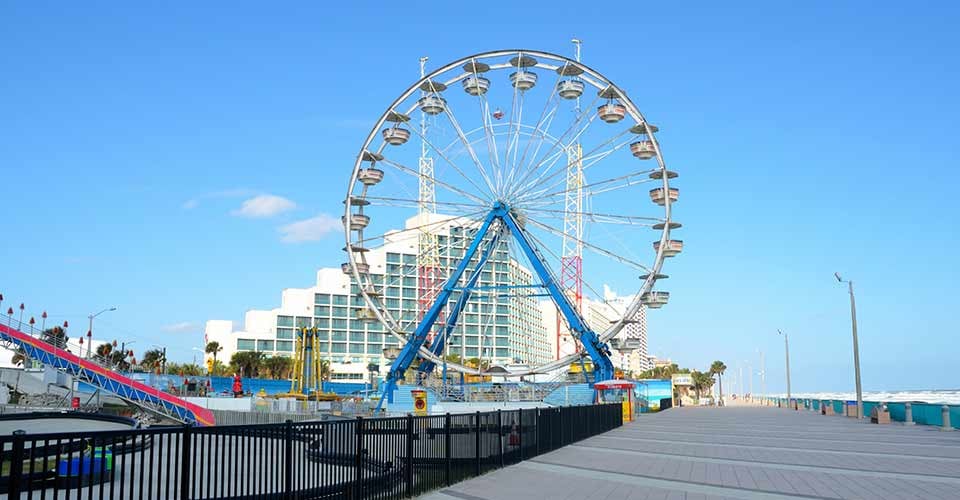 What Are The Fun Things To Do In Daytona Beach?
The Daytona Beach is an exclusive family fun spot for all the thrills and chills of an all-year entertainment spree. From stunning coastlines, amusement parks, and famous sporting events, you're sure to have loads of fun! Among others, here are some of the most exciting things you can do while here:
Festival Mood Anyone?
As you already know by now, Daytona Beach is Florida's festival capital, and it is easy to see why! In Daytona Beach, fall is incredibly the most famous festival season. During the festivals, you can check in the Biketoberfest, Daytona Blues Festival, and the Daytona Beach Film Festival, among many more! Ideally, Speedweek also occurs during February each year, another Must-Attend for every racing fan!
Need for Speed Experience Courtesy Of the Daytona International Speedway
Daytona Beach is an iconic sport for racing! With the famous Daytona International Speedway, you have unlimited access to numerous racing championships and events, with numerous racing legends kick-starting their professional careers here.
Currently, the International Speedway underwent various renovations completed in 2016, opening fans to modern and classic premium experiences and amenities. So, if you are looking for a fun way to spend your afternoon while at Daytona, then you should definitely add this to your bucket list!
Stroll along the Daytona Beach Boardwalk and Pier
There's just something incredible about the simple walks along an American beach boardwalk and pier that captivates everyone that visits Daytona Beach. What's more, the Daytona Beach Boardwalk and Pier offers an exclusive food and fun package to give you an unmatched afternoon experience!
Essentially, the Boardwalk and pier within Daytona Beach are ideal for families since they feature multiple amusement rides for the kids and the entire family to delight in! Better yet, once you are exhausted from the unlimited fun (if it's possible), grab yourself a bite and enjoy the incredibly stunning coastal views!
Test Your Chills & Thrills!
Daytona Beach is the place to be for a thrilling experience in the exciting attractions and rides. While here, you can enjoy adventurous racing along with the Sand Blaster roller coaster along the famous Daytona Boardwalk and pier in the International Daytona Speedway. What's more, you can also engage in some paddle boarding and zip lining in the expansive Daytona Beach.
Summer-time Beach Experience!
Finally, you can have fun at the expansive 23-mile Daytona Beach region, offering an ideal chill spot for you! While here, you have access to numerous beach volleyball courses, jungle gyms, and splash parks for an all-inclusive entertainment experience for the entire family.
The Daytona Beach sand is reasonably compact and facilitates smooth bike riding along with it, offering an unmatched experience for cyclists and fitness enthusiasts. Furthermore, while in the waters, there's also a wide array of activities for the entire family to delight in, including surfing, kayaking, and paddleboarding, to mention a few!
Opening times & Ticket Prices
The Daytona Boardwalk is usually open at 9:00 am each morning and operates throughout the year. However, the closing times vary but typically start at 11:00 pm, depending on business and weather.
During the summer, you can enjoy rides among other outdoor activities or enjoy some fun at the various gift shops, snack bars, and two-modern arcades. Alternatively, at nighttime, from Memorial Day to Labor Day, you can enjoy street performers and fireworks displays on Saturday (during summer) and 7:15 pm concerts.
Each ticket price represents different rides and activities-although; it also depends on a single or family package.
Travel Tip - Visit the Daytona Boardwalk between 4 pm and 8 pm.
Conclusion
Ideally, the Boardwalk and Pier Amusement Area within Daytona Beach is an exclusive fun-filled adventure spot combining many family-operated ventures. Rightfully labeled a premier entertainment Daytona Beach hub, it's no longer surprising that it even features a massive Ferris wheel! So, if you are looking for unlimited family fun and thrilling activities, then you can never go wrong at the Daytona Boardwalk and Pier.
Whether it's for the multiple attraction and games or a lovely wine and dining experience, there's so much to enjoy at Daytona Beach. Have Fun!
Interested in learning about becoming a resident in Florida or moving there? Read more.