Sam's Fun City: Pensacola's Only Amusement and Waterpark
Phil Ganz
/
4 Min Read
/
Apr 03, 2022
If you're looking for the perfect family fun weekend, there's no better way to spend your time than at Sam's Fun City in Pensacola, Florida. The amusement and waterpark have been one of the top tourist attractions in this area for over 25 years, and they're not slowing down any time soon.
(Mar 30, 2023)
Sam's Fun City boasts all the amenities that any family or group of friends would need to have a fun and relaxing time in Pensacola - including an interactive splash pad, children's activities, indoor arcade, restaurants, gift shops, and more. This article will provide you with intriguing details on this beautiful amusement and waterpark, from the rides to the games and more. So, read on to discover more about Pensacola's only amusement and waterpark.
A Brief Overview of Sam's Fun City
Sam's Fun City is located at 6709 Pensacola Blvd, Pensacola, FL 32505, United States. It's approximately a 15-minute drive from downtown Pensacola. Generally, the park is easily accessible from anywhere in Pensacola.
It doesn't get any easier than that. When you arrive at Sam's Fun City, plenty of signs guide you to every attraction. Amusement and Waterpark Sam's Fun City is open every day throughout the year (please refer to their website for exact hours). You can get your tickets early beforehand or at their front desk when you arrive.
Pensacola's warm year-round weather, beautiful beaches, restaurants, and historic downtown make it a great place to visit any time of year. The most popular times to stop by Sam's Fun City are during the holiday seasons. They host a wide range of special events during school vacations to keep people of all ages entertained. You can also plan your trip around major special events to Pensacola, like Mardi Gras in February or Blue Angels Homecoming in September.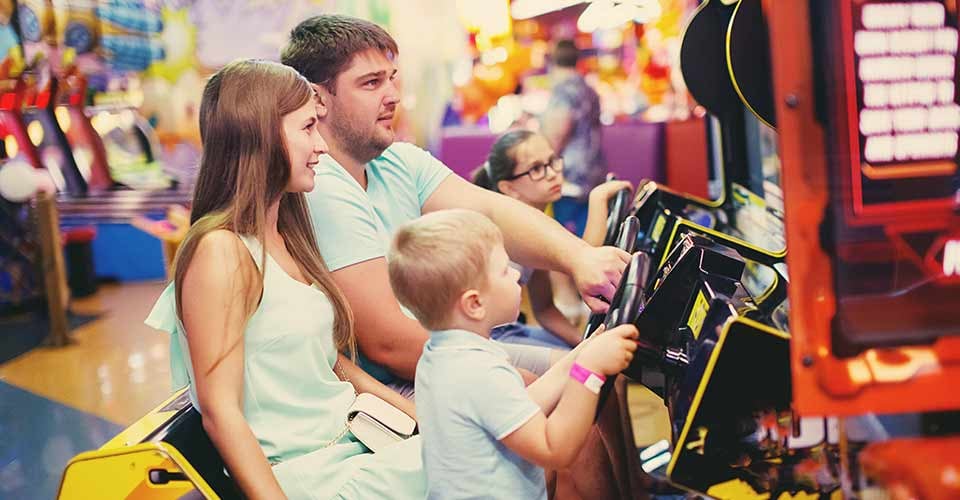 Rides and Attractions at Sam's Fun City
Sam's Fun City, Pensacola's only amusement and waterpark has everything you could want to make your vacation fun and exciting. With more than 17 rides and attractions, Sam's Fun City offers plenty of ways to have fun with your family and friends. From the thrilling roller coaster, the Tornado, to all-time favorites like the arcade and batting cages, you'll find something to enjoy at this family-friendly establishment.
Whether you're searching for a classic roller coaster or something more exciting like our drop ride or 3D simulator, there's always unlimited fun at Sam's Fun City. Here are the best rides and attractions at this family-friendly amusement park.
1. Go-Karts
A staple of amusement parks, go-karts at Sam's Fun City are a perfect family activity. With kiddie ones for small kids up to big-kid ones that keep adults entertained, there is no need to fight over who goes first. If you or someone in your group isn't feeling up to trying extreme rides, you can head over to Sam's Fun City's Go-Karts instead. These kiddie cars put a twist on traditional driving. The track winds around the park and offers gorgeous views of Pensacola along the way.
2. Roller Coaster
The roller coaster at Sam's Fun City is fun for all ages. This is a great ride to go on if you like being thrown around from steep drops, loops, high speeds, tight curves—all your favorite roller coaster elements combined into one great attraction. While it may not be suitable for younger kids, those looking for an exciting adventure will love it.
3. Water Parks
Splash City Adventure is one of our most popular water park attractions at Sam's Fun City. It offers a unique experience featuring waterfalls, geysers, streams, an elaborate new ride system with special vehicles, interactive elements, and effects.
Guests may choose their interesting adventure as they move through different scenes on their rafts—and more multiple animatronic animals are ready to interact with you along the way. This attraction is also available as a seasonal ride in their indoor water park.
Additionally, you can visit the park's "endless river," commonly known as the lazy river, but not just any lazy river. The water is heated to body temperature for maximum comfort as you glide down it. If you want even more fun, hit up a play pool. It's full of squishy matting that you can jump on or dive into—and when you need a break from bouncing around, there are beach chairs nearby so you can rest while relaxing in a warm breeze.
4. Kid-Friendly Three-Story Play Zone
The Play Zone is a fantastic place for parents to relax while their kids burn off energy. Kids can climb, crawl, jump, and explore in the park's 3-story Play Zone—filled with ball pits, slides, tunnels, obstacles, bridges, and more. You'll have so much fun you won't even notice how many calories you burned.
5. Arcade
Visitors to Sam's Fun City can find various arcade games, both video, and non-video, most of which require a little bit of skill to complete. You can head over to their enormous arcade, where you'll find arcade machines of all shapes and sizes.
Whether you are interested in playing pinball, air hockey, or basketball, they have something for everyone. And if competitive gaming is more your thing, the park has classic arcade games like Pac-Man that allow you to challenge friends to a high score competition.
6. Mini Golf
Mini golf at Sam's Fun City is a great activity for family outings and can also be enjoyed by friends meeting up on a leisurely weekend day. Their miniature golf courses have a jungle theme with challenging and fun holes.
7. Sightseeing Tours
Sam's Fun City offers sightseeing tours by bus or boat, along with transportation services to most major attractions in the city. Most of their sightseeing tours include a guide conveyance to stop in the popular historic Belmont-Devilliers area.
Their vehicles are modern and luxurious, perfect for families traveling together. You can also choose to explore independently for a couple of hours or get on and off with your group for a more guided tour experience. These kinds of tours are perfect for history buffs, who can ride from stop to stop learning about their city.
Bottom Line
There are many fun places to go and things to do in Pensacola, but Sam's Fun City is where you can have the time of your life. Pensacola's only amusement and waterpark have become a favorite destination for visitors and locals alike. Whether you're looking for great family fun or want to relax and enjoy some time in the sun, the park has everything you need to create memories that will last forever.
Interested in learning about becoming a resident in Florida or moving there? Read more.