St. Petersburg, Florida Mortgage Lending: Rates, Process, and Best Practices
Phil Ganz
/
8 Min Read
/
May 07, 2022
Boasting fantastic weather all year round, a competitive real estate market, and plenty of attractions, St. Petersburg is undoubtedly one of the best cities to live in Florida. Since its incorporation in 1892, St. Petersburg, FL has grown from a small community of 300 residents to a bustling metropolis of over 263 000 residents, making it the 5th most populous city in the Sunshine State.
(Mar 25, 2023)
Like many Florida cities, St. Petersburg is a popular destination for retirees, young professionals, and families thanks to its affordable cost of living, high healthcare quality, and a plethora of social amenities. The city also offers plenty of housing options, with the cost of both homeownership and renting falling below the national median.
Suppose you're considering settling in St. Petersburg, Florida. In that case, you'll be pleased to know that there are plenty of mortgage products you can leverage to make your dream of homeownership in this picturesque city a reality. Read about mortgage loans, rates, and more in St. Petersburg, FL.
St. Petersburg, Florida First Time Homebuyer Mortgage Loans
As highlighted at the outset, there are various mortgage loan products that you may qualify for when purchasing a home in St. Petersburg, FL. Whether or not you are eligible for these loans will depend on your income, credit, and the market value of the home you intend to purchase.
The most common loans available to prospective homeowners in St. Petersburg, Florida are:
FHA loans are mortgage products insured by the Federal Housing Authority (FHA) and issued by an FHA-approved bank or lender. Since government agencies back FHA loans, lenders of these mortgages are usually willing to offer favorable terms to borrowers.
FHA loans are desirable for first-time homebuyers because they require a low down payment (3.5% of the purchase price), offer lower interest rates than conventional loans, and have flexible credit requirements.
You can qualify for an FHA first-time homebuyer mortgage with a minimum credit score of 500. However, it is worth noting that if your FICO score falls below 580, you'll need to make a down payment of at least 10% of the value of the property you intend to purchase.
If your credit score is less than 580, it's recommended that you work on improving it before applying for an FHA loan. Not only will you be eligible for a reduced down payment, but depending on your lender, you may also be able to qualify for lower interest rates.
To be considered eligible for this mortgage, you also need to have a debt-to-income (DTI) ratio of at least 43%, although some lenders will offer these mortgages to borrowers with a DTI of up to 53%.
It is worth bearing in mind that FHA mortgage loans can only be used to purchase primary residences. In other words, you can't borrow an FHA loan to buy a commercial property. You'll also need to meet the income limit requirements in your county to be considered eligible for an FHA loan.
VA loans are mortgages insured by the United States Department of Veterans Affairs and granted by a commercial lender such as a bank, credit union, or mortgage firm. You must be a veteran or active-duty military personnel to be considered eligible for this loan.
VA loans are among the best home financing loans available in St. Petersburg, FL, since they don't require a down payment. The Department of Veterans Affairs insures these loans means that if the borrower defaults on payments, the government will return the lender a portion of the amount. This assurance lowers the risk for lenders, allowing them to provide more attractive terms and eliminating the need for a down payment.
To qualify for a VA loan, you must prove that:
You're a veteran or active duty military member who satisfies the minimum length-of-service requirement, or; you are the spouse of a service member who died due to service-related disability or the spouse of a service member who is missing in action or a prisoner of war.

You meet the income and credit requirements of your lender.

The property you intend to purchase will be your primary residence
The average VA loan maximum for a single-family house in a typical U.S. county is $647,200 as of 2022, although it may reach $970,800 in high-cost locations. With that being said, you can still qualify for a VA loan even if the property price exceeds the county limit, but you'll need to make a down payment.
USDA loans, often known as rural development loans, help citizens in suburban and rural regions attain homeownership. Since they generally have low-interest rates, 0% down payment, and carry an annual fee instead of mortgage insurance, these loans are often less expensive than FHA or conventional loans.
As a general rule, USDA loans are designed especially for low-to-medium income earners. For this reason, these loans have income limits which put a cap on the earnings an applicant must receive to be considered eligible. Incidentally, the income limit may vary based on the geographical location of purchasing a home.
St. Petersburg, Florida Purchase Assistance Program
If you are buying a home inside the municipal boundaries of St. Petersburg, FL, you may be eligible for financial aid of up to $60,000 through the city's Purchase Assistance Program. However, your total annual household income must not exceed the maximum yearly income limit set by the United States Department of Housing and Urban Development (HUD), as adjusted for the number of occupants residing within the dwelling, whether related to you or not.
Annual income is computed by summing all sources of income from all the occupants of a household over the age of 18 who are presently residing in the home or who will be residing in the home within a year. Some of the sources of income that are factored in this calculation include salary, child support, alimony payments, social security, dividends, pensions, public assistance, rental income, and income from any other source.
Eligibility Requirements
To qualify for St. Petersburg, FL Purchase Assistance Program, you must meet the following primary conditions:
Buy a modest home unit inside the city's municipal limits with a sales price of not more than $311,980.

Contribute 1% of the sales price to the transaction, including out-of-pocket fees like as earnest money, credit report, appraisal, and property inspection.

Get the property inspected by a certified home inspector to confirm that it meets the City's Quality Housing Standards and that any flaws are corrected before closing.

Participate in a first-time homebuyer course and obtain a certificate of completion from a HUD-approved housing counseling agency.

Prove the capacity to maintain homeownership with enough residual income to cover both expected and unexpected costs.

Demonstrate that you have enough money and assets to buy the house.

Secure a principal mortgage loan with a repayment schedule that is reasonable over the loan's duration.

Maintain principal residence status in the unit for the duration of the Purchase Assistance subordinate mortgage or until the loan is paid off. At this point, the mortgage loan will be completed.

Apply for and secure approval for a homestead exemption upon acquiring the property.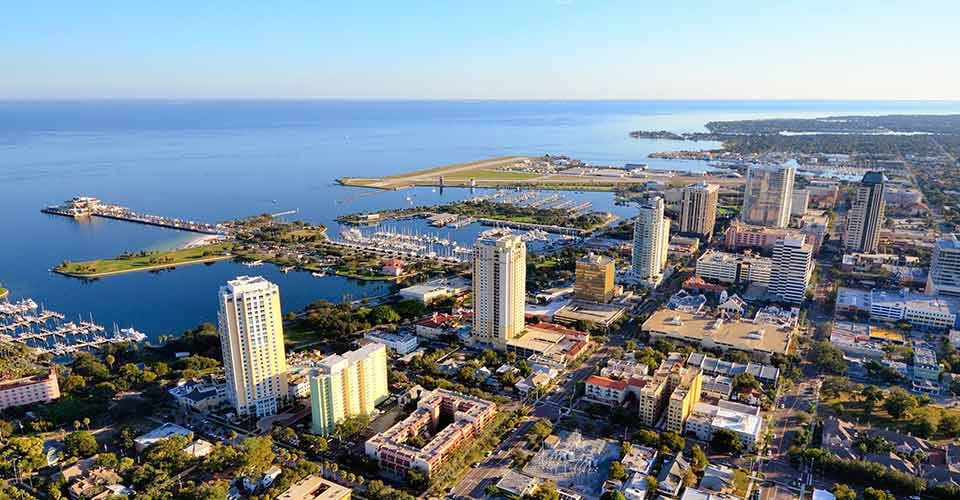 Why You Should Buy a Home in St. Petersburg, Florida
St. Petersburg is a spectacular city that offers plenty of opportunities to visitors and tourists alike. From its year-round tropical climate and sandy beaches to its highly rated educational and health facilities, St. Petersburg stands out as an ideal location for settling for both working professionals and retirees.
If you are planning to purchase a home in this sunny city, here are some of the things you can hope to enjoy:
Affordable Cost Of Living
Despite its proximity to the coastline with a plethora of natural attractions and recreational opportunities, St. Petersburg remains one of the least expensive cities to live in Florida. The average cost of living is 7% lower than the national average, making life in St Pete significantly affordable compared to other American cities. The best part is that you won't need to pay income tax.
One of the most significant advantages of living in the neighborhood is the availability of affordable housing. A typical home in this city costs about 29% less than the national average. The area's median home price is roughly $245k, with a monthly rent of $769. Another critical advantage of St. Petersburg is its massive sustainable transit system. Even with electric buses, the charges are just 6% more than the national average. With that being said, you might want to consider getting a car to avoid long-distance walks during the blistering Florida summer months.
While the cost of healthcare in Florida is generally higher than in other states, St. Pete's healthcare is 2% less expensive than the national average, with each doctor's visit averaging about $108.83.
Pleasant Weather Throughout The Year
St. Petersburg weather is relatively stable. There are 361 days of sunlight every year, which means you won't have to worry about it raining on your beach day.
Warm summers and mild winters characterize the climate of this coastal city. Summers are hot, with temperatures reaching the low 90s at their hottest. Winter temperatures rarely fall below 50 degrees, so you'll never have to cope with snowfall.
Although St. Pete's weather is usually bright, Florida summers are prone to heavy rainfall, particularly during hurricane season. So, be sure to carry an umbrella whenever you step out during July and August.
Dynamic Job Market
St. Petersburg is one of the best cities to live and work in Florida and the United States, with an unemployment rate of 4.6 percent. The city's employment market is projected to grow by 42% in the following ten years. St. Petersburg job market is considered the best out of all Florida cities, so rest assured your career will thrive once you settle here.
Some of the top industries in St. Pete are data analytics, financial services, and healthcare, with the most prominent employers including Tech Data, Raymond James, Wellcare Health Plans, Kindred Hospital, and Tampa General Hospital.
Access To Spectacular Beaches
St. Petersburg is famed for its gorgeous clear seas and glistening sand beaches, which stretch for 35 miles. St. Pete Beach is regarded as one of the best beaches in the country, attracting thousands of visitors each year. The beach, which is located on a barrier island west of the city, is dotted with boutique shops, restaurants, and plenty of watersports for the whole family. Three beaches in St. Petersburg have been featured on Tripadvisor's list of the best beaches in the United States.
Another local and visitor favorite is Clearwater Beach, known for its dazzling white sugar sand beaches and crystal clear green seas. Spending a day at this beautiful beach is a must-do on anyone's bucket list. You'll almost certainly see dolphins and catch some of the most spectacular sunset views. You can also visit the Sand beaches a stone's throw away from Clearwater Beach. Here you can relax and enjoy the breathtaking sights and sounds of the Gulf of Mexico.
Plenty Of Outdoor Activities
Keeping active and experiencing the greater outdoors is a must if you live in St. Petersburg. On days when you're not at the beach, you can visit one of the city's 150 parks. There are numerous trails and routes in each park for activities, whether walking, jogging, or running with your dog.
Bike riding is also a popular sport in St. Pete's community, thanks to the over 40 miles of trails designed for bicycling. In addition, the city has built more than 130 kilometers of bike lanes to encourage locals to spend time outside. You will also find a burgeoning kayaking and paddleboarding scene with plenty of water trails and mangroves to explore in St. Pete.
How many homes Can You Afford In St Petersburg, Florida?
As previously highlighted, the cost of living in St. Petersburg, Florida, is significantly lower than both the state and national average. This makes it one of the most affordable cities to live in Florida and the entire country. It is important to be aware of the kind of mortgage you can afford if you decide to settle here. After all, you don't want to overstretch your budget and end up broke before you've even settled into your new home.
You can use a mortgage calculator to determine how much mortgage you can afford in St. Petersburg. However, there are a few factors you need to consider first. These include:
Income
Your income is one of the main factors mortgage lenders will look at when determining your eligibility for certain mortgage products. It also sets a baseline of the amount you can pay every month.
As a general rule, the property you can afford should not be priced higher than three times your annual income. In other words, if you earn $80,000, you should aim for a home that costs about $240,000, which is roughly the average price of a single-family home in St. Pete's.
Debt-to-Income Ratio
The debt-to-income ratio (DTI) is the percentage of your monthly gross income toward paying down your obligations. It's computed by multiplying your monthly debts by your monthly pretax, or gross income, minus monthly expenses like food, utilities, transportation, and health insurance.
Keeping your DTI low by reducing your debt and increasing your income can improve your chances of securing larger mortgages.
Property Taxes
In addition to having some of the most affordable homes in Florida, St. Petersburg, FL, also has some of the lowest property taxes in the Sunshine State and the entire country.
Property taxes in this city are charged at 0.937%, whereas the state average is 0.980% and the national average is 1.080%. This means you will pay lower monthly mortgage rates on your home in St. Pete than on a similar priced property in a different city or state.
Wrapping Up
St. Petersburg is not only one of the most beautiful cities in Florida but also one of the most affordable to live in. With most properties priced considerably lower than the state's median, most people find this bustling city a great location to settle in, whether they are starting their careers or retiring.
There are also plenty of mortgage options to take advantage of, including the Purchase Assistance Program, which makes homeownership in St. Petersburg more attainable than ever.