Swimming With Dolphins at Orlando's Discovery Cove
Phil Ganz
/
4 Min Read
/
Feb 24, 2022
The park is designed for exploration, offering activities that range from swimming with dolphins to snorkeling among thousands of tropical fish and colorful coral reefs.
Discovery Cove Fun Facts
The park is divided into two parts: the first part includes animal encounters and swims with dolphins, while the second part lets guests snorkel among tropical fish. Here are some of the facts that make up one of the magical experiences you can have at Discovery Cove:
Dolphin encounters daily: 100+
Dolphins can live to be 55-60 years old
The average age of The Grand Reef's resident dolphins: 20 years old
Total number of animals at Grand Reef: 10,000
Number of fish, shark and ray species: 125
Bird species: 250
Swim with Dolphins
One of the most magical attractions at Discovery Cove is the Dolphin Swim Experience. It's the only place in Orlando where guests can swim with dolphins.
The park has six different dolphin habitats, each with a maximum capacity of 12 guests. If a family of four wants to swim with dolphins together, they have to book that entire habitat for themselves.
The experience starts with a 30-minute orientation and then two hours of swimming with dolphins. Each habitat has two trainers to assist guests during their time in the water.
They want to make sure everyone has an opportunity to be safe and comfortable while they're swimming.
Kiss a Dolphin? Why Not?
Located adjacent to SeaWorld Orlando and Aquatica, SeaWorld's Waterpark™, Discovery Cove is an all inclusive resort where guests can enjoy a one-of-a-kind chance to canoodle with dolphins and even take selfies.
The sun is shining bright, the water is crystal clear, and the dolphins are waiting for you at Discovery Cove in Orlando. This adventure park lets you get up close and personal with dolphins, tropical fish, and beautiful birds.
When you arrive, a park guide greets you and hands over your gear for the day: towels, a snorkel (and mask if needed), fins, a wetsuit, sunscreen and a locker. You can upgrade your package to include unlimited food and drinks at the park.
Snorkel with tropical fish at Orlando's Discovery Cove
Snorkeling is a great way to explore the wonders of the underwater world. If you've ever wanted to swim with the fishes, Florida's Discovery Cove is the place to do it. You can wade into a coral reef at this Orlando park among tropical fish and other sea creatures.
You can see colorful fish, coral, and other marine life through special goggles without getting your head wet. At Discovery Cove, you can snorkel among hundreds of tropical fish as they glide over reefs and through rocky caves.
Each morning, rays are fed, and guests can watch as they swim up to the surface for their morning meal. Visitors also can hand-feed the rays when they're on the sandbar in The Grand Reef experience.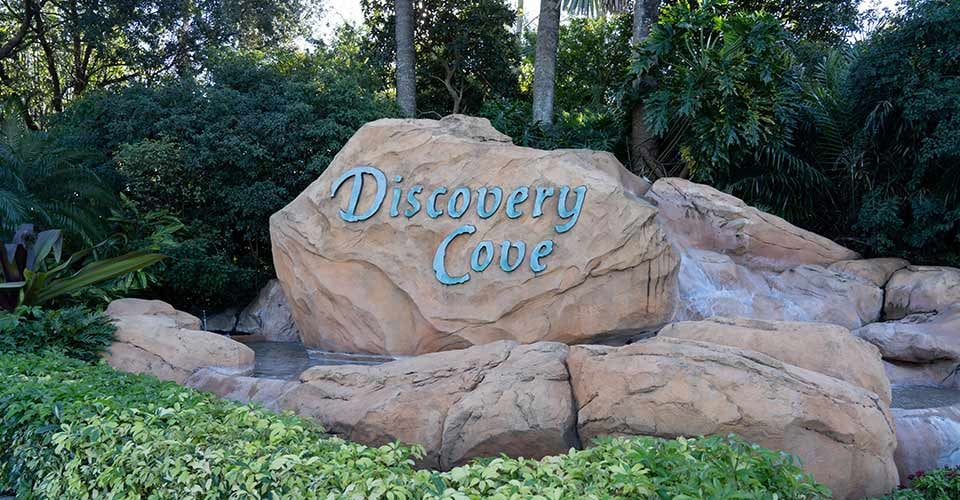 Other Activities Include a Visit to the Aviary
A visit to the Aviary at Orlando's Discovery Cove makes for a fun family day out. Children and adults alike will have great fun getting up close and personal with some of nature's most beautiful birds.
The Aviary is home to over 250 exotic bird species, including parrots, flamingos, hornbills, cranes, macaws and toucans. Visitors must enter the Aviary via a tunnel lined with tropical plants.
The tunnel opens into a large flight cage that contains many of the birds housed in the Aviary. The bird species found here are varied and include scarlet macaws, palm cockatoos, blue-crowned pigeons, white-crested laughing thrushes and red-billed hornbills.
The birds are so tame that they will fly right on your shoulders or perch on your arms if you hold out your hand!
Limitless Possibilities
There are many family-friendly activities in Orlando. The area is known for its theme parks and kid-friendly attractions, but there's more to do than just Disney World.
You can't go wrong with a classic Florida activity like visiting the beach. Even if you're not staying right on the coast, you can still experience all the fun of a day at the beach during your Orlando vacation. Family-friendly parks such as Discovery Cove offer access to their own private beaches and water parks.
What to Expect
The park will arrange everything you need for an unforgettable day of swimming and snorkeling – all you have to do is show up.
All guests are fitted with wristbands that indicate their ability to swim, ensuring pool safety.
The dolphin encounter begins with a brief orientation session before visitors enter the water.
Swimmers are paired in groups of three, and each has a trainer assigned to them for the 30-minute experience.
Generally, the dolphins swim around their human counterparts in the lagoon and perform some tricks.
The dolphins enjoy interacting with humans, but there are strict rules about treating them.
Visitors are invited to touch the dolphins and kiss and hug them if they want to, but trainers intervene if swimmers exhibit inappropriate behavior.
Food and Drinks
The fun in the Florida sun isn't complete without a taste of some of the region's best cuisine. At Discovery Cove, you can explore all of Orlando's culinary offerings, from fresh seafood to sweet treats. We've rounded up our favorite food and drink options at Discovery Cove so you can savor every mouth-watering moment.
A variety of dining options are available throughout your day at Discovery Cove.
The Grand Reef Area Restaurant - In the heart of The Grand Reef, you will find this casual restaurant featuring a variety of salads, sandwiches and snacks, and beer and wine.

Aviary Area Café - Located in Serenity Bay (the Aviary), this café offers guests a variety of fresh salads, sandwiches and snacks, as well as beer and wine.

The Laguna Grill Restaurant - Located in the main area of Discovery Cove, The Laguna Grill offers guests a variety of fresh salads, sandwiches, burgers and hot dogs, as well as beer and wine.

Snacks - Fresh fruit will be provided to all guests upon arrival at the park. Guests should consume all food immediately after opening due to warm temperatures.
Discovery Cove also offers complimentary gear and gear storage, so overnight bags aren't necessary.
Takeaway
You'll leave Discovery Cove feeling like you've experienced something truly once-in-a-lifetime.
Interested in learning about becoming a resident in Florida or moving there? Read more.