Tampa's Lowry Park Zoo: Home to Over 1,300 Animals
Phil Ganz
/
3 Min Read
/
Feb 19, 2022
As far as wildlife parks and conservation areas go, ZooTampa at Lowry Park ranks among the best. It was started up in the 1930s through a public-private partnership agreement between the University of Tampa and the City of Tampa and has steadily grown to become a modern, premier attraction that is a family-friendly favorite with the public.
(Mar 30, 2023)
It became what we know today after extensive renovations and expansion in the late 80s. Voted the Number One Family-Friendly Zoo in the United States by Parents Magazine back in 2009, it has continued, since then, to grow in popularity and the variety of attractions it has on offer.
What to Expect
Spread out across 63 acres of pristine, well-maintained tropical garden setting that hosts a plethora of exhibitions and facilities, ZooTampa offers great entertainment for the whole family in addition to being highly educational for all visitors. You can look forward to plenty of recreational activities, close animal encounters, as well as interesting seasonal exhibits and events.
Here's a look at some of the various exhibits open to the public:
Florida Wildlife Center
This exhibit stretches for more than half a mile and is dedicated to showcasing the wildlife species that populate Central and North America. Visitors can look forward to observing and interacting with species such as the American Alligator, North American Black Bear, Red Wolves, Alligator Snapping Turtles, Indian Manatees, False Gharials, Striped Skunks, and more.
There are plenty of reptiles and amphibian attractions to be found in the aquatic center and Discovery center as well, including copperheads, rattlesnakes, eastern coral snakes, toads, frogs, sharks, seahorses, eels, and more.
Asian Gardens
This is one of the zoo's oldest attractions, also referred to as the Asian domain, before its renovation and renaming in 2007. The exhibit is popular with visitors for its wide and eclectic collection of exotic wildlife, which include Malayan tigers, Binturongs, Lowland anoa, the babirusa, Indian rhinoceros, Malayan tapir, the Visayan warty pig, Komodo dragons, sun bears, giant Asian pond turtles, bleeding-heart doves, mandarin ducks, and plenty more. The section's pagoda designs go a long way to add an authentic Asian atmosphere to the exhibit.
Wallaroo Station
This section is designed to give visitors a feel of what it's like to live on the Australian continent. It features some of the most distinctive and intriguing examples of native Australian wildlife to be found in captivity anywhere in the world, including yellow-footed rock wallabies, emus, Australian singing dogs, cockatoo parrots, flying fox bats, koalas, and more.
'The Billabong' is another favorite attraction for younger visitors, as this splash play area provides a good change of pace for family parties.
Safari Africa
For a taste of Africa, ZooTampa invites you to visit its Safari Exhibit, which features a tram ride that will take you along acacia-shaded paths through the section. Safari Arica plays host to various creatures native to the African continent, including such superstar attractions such as the African bush elephant, Hartmann's mountain zebra, Reticulated giraffe, Martial eagles, Pats monkeys, African penguins, southern white rhinoceros, East African crowned crane, meerkats, duikers, and more.
The Ituri section is a relatively new addition to the section that mimics a washed-out river bank, showcasing species such as pygmy hippopotamuses, shoebill storks, greater flamingos, saddle-billed storks, Aldabra tortoises, Galapagos giant tortoises, and such.
Primate World
If you're looking for anything to do with primates, then this section will have everything you could hope for and more. It is designed as a series of rocky interconnected waterways and waterfalls to simulate the section's inhabitants natural settings.
These stunning settings serve as a backdrop for the zoo's assortment of Bornean orangutans, chimpanzees, siamang gibbons, ring-tailed lemurs, mandrills, golden lion tamarins, Angolan black-and-white colobus monkeys, and more.
Main Aviary
Should you be more interested in winged creatures, the aviary will make you feel right at home with its broad selection of birds. Be careful not to miss it, however, as it's rather hidden by the plants and bushes that grow so vigorously around its entrance, which is located right near the zoo's entrance.
Once inside, you'll encounter waterfowl and free-flight birds such as red-legged seriemas, great hornbills, African openbill storks, white-faced whistling ducks, Raggiana Birds-of-Paradise, Andean condors, toco toucans, scarlet ibises, boat-billed herons, bald eagles, Eurasian eagle owls, and more.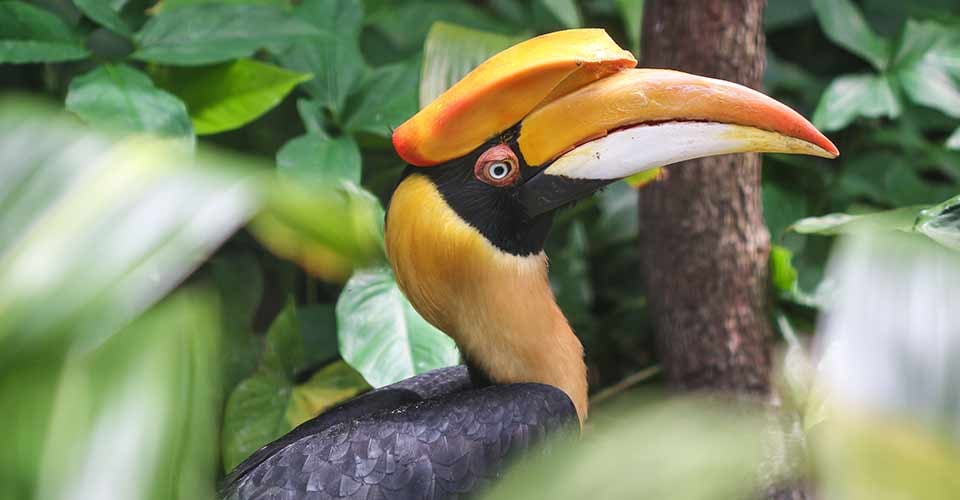 Rides
There are plenty more reasons to visit ZooTampa aside from the wildlife there. School groups and family parties will love the assortment of rides and attractions to be enjoyed there. There's a children's train ride known as the 'Overland Express,' a kid's roller coaster known as the Tasmanian Tiger Family Coaster, a Jungle Carousel, a chute shoot named 'Roaring Springs,' as well as a carousel ride known as 'Boomer's Flyin' Bananas.'
Visitor and Animal Safety During COVID
In line with the latest guidelines from health authorities, ZooTampa has made efforts to prioritize everyone's health and safety during these difficult pandemic times. This is to keep visitors, workers, and wildlife in the park safe. They have enhanced their sanitation and cleaning protocols.
While individual visitors will be asked to ensure they take precautionary measures of their initiative, the zoo promises to play its part in keeping their public areas as safe and secure as possible. They have comprehensive guidelines for social distancing and face mask measures, as you can find outlined on the ZooTampa visitor help desk here.
Final Thoughts
Formerly known as Lowry Park Zoological Garden or Lowry Park Zoo, ZooTampa at Lowry Park is a great place to spend the day with your family or an educational school trip. Aside from providing an awesome learning experience for all visitors, ZooTampa's mission is to help conserve the species under its care by rescuing, rehabilitating, and providing research opportunities for wildlife experts.
With over 1,300 animals under the zoo's care, you can be confident that you'll find something to take your breath away every time you pass through their doors. Make it a priority to visit them next time you're in Tampa, Florida. You won't regret it.
Interested in learning about becoming a resident in Florida or moving there? Read more.