The biggest, Wettest, Most Thrilling Water Slides at Rapids Waterpark
Phil Ganz
/
3 Min Read
/
Mar 21, 2022
Can you even imagine what it'll be like to go down a water slide over 100 feet long? Or dive ten stories into a pool of water? Or get blasted with tons of water while in a giant bucket? These are just some of the possibilities when you explore the thrilling slides of Rapids Waterpark.
The Taipan
The Taipan is our fastest water slide, with a top speed of over 40 miles per hour. This slide has a double-dip drop and a high-speed serpentine finish that will thrill your whole group.
The ride is not just fast. However, the splash area at the bottom of this slide is enormous. Riders on the Taipan generally come out soaking wet, especially since they've been sitting in cold water while waiting their turn. This ride also has an optional loop that riders can take at the end if they want to get even wetter or feel extra adventurous!
The Black Thunder
You'll be in for a surprise during your trip down the Black Thunder water slide. This mysterious ride might seem like it ends after the first half, but you'll be blasted through another round of twists and turns before you reach the bottom!
The Dragon's Den
If you love dark, enclosed water slides, then this ride is perfect for you. The Dragon's Den is one of our most thrilling slides and features steep drops in total darkness. You'll have to board this ride to find out what surprises are waiting for you inside!
The Thunderdome
The Thunderdome is Rapids Waterpark's newest attraction, and it doesn't disappoint. This thrilling, multi-person water slide features several twists and turns that riders can experience individually or together. Try it out with a group of friends or family members to see if you can make it through without getting separated from the pack!
The Big Thunder
The Big Thunder is the perfect combination of thrill and relaxation. Guests will feel like they're floating on a cloud as they glide down this enclosed slide. Some parts are dark, some are light, while others feature a blur of colors. In the end, you can take a breather in one of the many wading pools along the paths of Rapids Waterpark.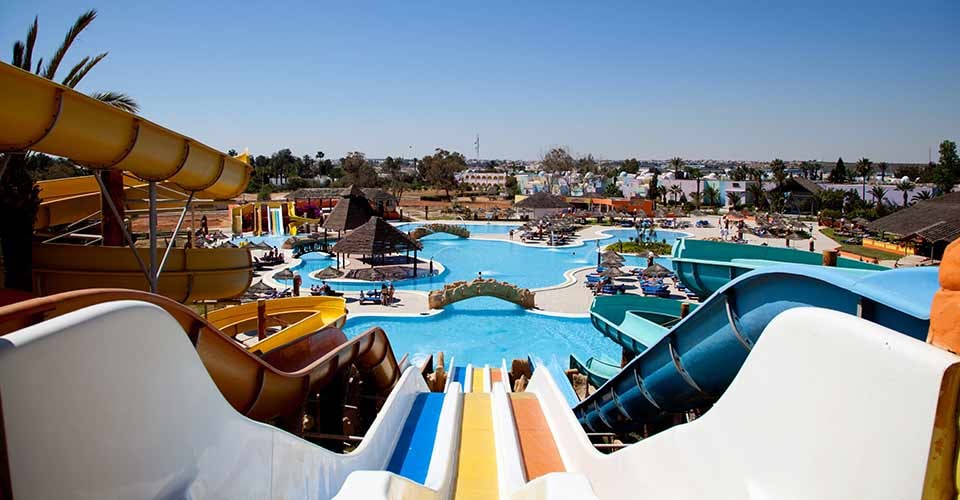 The Big Surf
Catch some waves at The Big Surf! This 25,000 square foot wave pool will have you splashing around for hours. It's the closest thing to being at the beach without actually being there! Feel the surge of water rushing towards you and ride the waves just like you would if you were in the ocean or at a lake. You can take turns running into each other or just float on your back and relax. Whatever it is that floats your boat, you'll find it here!
Kowabunga Racer
This racing water slide is perfect for anyone looking for a little friendly competition during their time at Rapids Waterpark. You'll race down three different slides, each one featuring curves and turns that propel you forward toward the finish line at an incredible speed. This South Florida water park attraction is sure to provide hours of entertainment, whether you're participating in the race or making bets on who will win each round.
Brain Drain
Ride the Brain Drain and experience the sensation of zero gravity as you become weightless for one thrilling second. You will exit the Brain Drain at speeds of 50 mph traveling through three 360-degree loops!
Flowrider
This attraction is great for all ages! Learn how to surf and boogie board on the Flowrider! Prepare to get wet in this amazing attraction that provides the ultimate surfing experience.
Pirates Plunge
A family raft ride that takes you on a twisting, turning adventure through an exciting pirate ship filled with surprises around every corner. Take a deep breath. Hold on tight. And prepare for the most thrilling water coaster ride of your life!
Baby Blue
A family raft ride that takes you on a twisting, turning adventure through an exciting pirate ship filled with surprises around every corner. Take a deep breath. Hold on tight. And prepare for the most thrilling water coaster ride of your life!
Big Red
As you can tell by the name, this slide is big. Big Red stands 60 feet tall and features dual curving slides that allow riders to reach an exhilarating speed of 25 mph before splashing down into a pool below. If you're looking for one of the most thrilling slides at Rapids Water Park, this is it!
Body Blaster
Are you ready for the ultimate thrill ride? Riders take their seats inside an enclosed tube and speed down a completely dark tunnel before being blasted out into a giant splash pool. You don't know when or where you'll splashdown! The Body Blaster is one of our biggest crowd-pleasers at Rapids Water Park.
Riptide Raftin
This slide is perfect for families or groups who want to experience the thrills together. Riders climb into a tube together and speed down 300 feet of twists and turns before splashing down into a shallow pool below. It's one of our most popular slides in the park!
Tubin Tornadoes
As you can tell from its name, Tubin Tornadoes is all about twists, turns, and fast-moving tunnels. This is one of our tallest (and scariest) water slides because it's 100 feet high! You'll go down a steep drop into what feels like a never-ending series of loops. It's not just one tornado; it's three!
This ride is not recommended for little ones; only those who are 48 inches or taller can ride it.
Whether you're a thrill-seeker or an adrenaline junky, there's a water slide at Rapids Waterpark for you, as listed above. With all that being said, you will want to stop back regularly as we check in to see what is new at Rapids Waterpark and find out which water slides are the most popular and most thrilling.
Interested in learning about becoming a resident in Florida or moving there? Read more.