The Contemporary Art Museum of Tampa, Florida
Phil Ganz
/
4 Min Read
/
Feb 28, 2022
The Contemporary Art Museum (CAM) of Tampa, located in the heart of downtown Tampa, Florida, is one of the largest museums in the state and one of the most visited art museums in the southeast United States. The museum hosts exhibitions throughout the year, including local and national artists.
(Mar 30, 2023)
In addition to their impressive art collection, they also have fun events and workshops suitable for all ages.
Since its opening in 1989, the Contemporary Art Museum of Tampa has become the premier museum in the greater Tampa Bay area for contemporary art. The museum is hailed as one of the top art venues in the state and has already seen more than 5,000 visitors since it opened its doors for the public. The museum has a modern design, beautiful lighting, and amazing art in every room. It's truly an incredible experience from start to finish. Read on the find out more interesting things about this museum in the Sunshine State.
Why Is It So Popular?
The museum's popularity stems from its unique building design—it's partially constructed underground and includes lots of open green space. The museum has evolved from a small, local gallery to an internationally renowned institution dedicated to displaying provocative and important contemporary art. Combined with a commitment to showcasing local and international artists, it creates a unique experience for worldwide visitors.
They're also known for collecting, preserving, and presenting significant and innovative exhibitions of contemporary art from around the world. They curate and manage a permanent collection of over 1,000 objects ranging from drawings and paintings to sculptures and photography. The museum's collection boasts over 1,000 pieces of art from renowned artists from around the world, including Paul Jenkins, Dominique Laubavie, Tracy Emin, Edouard Duval-Carrie, Michael Richards, Wangechi Mutu, Bill Viola, Purvis Young, among others.
In addition to exhibitions and events, CAM's facilities are open for public use. The museum's two-level facility offers 12 galleries, a 400-seat auditorium, a research library and art conservation laboratory, over ten classrooms, an outdoor sculpture garden, a gift shop, and a café.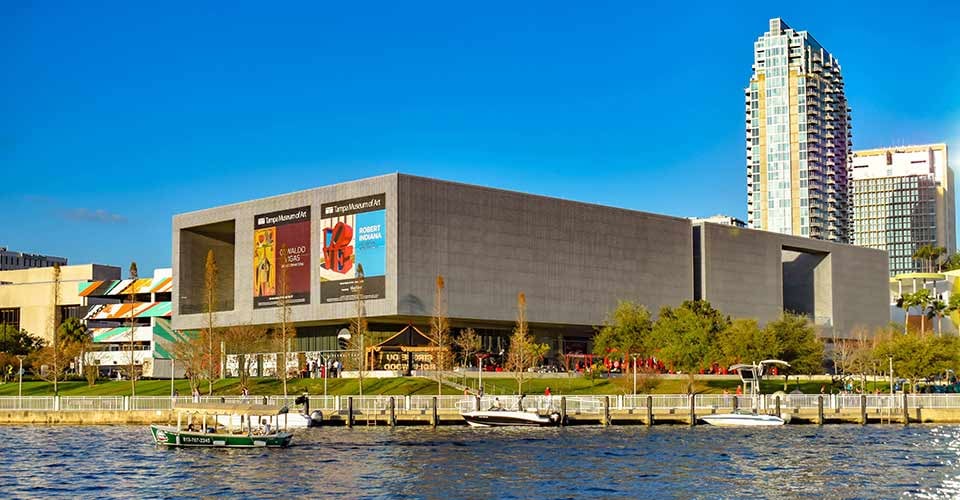 Famous Contemporary Art Pieces to See
With several main galleries, each with its unique atmosphere, the museum has seen some interesting and entertaining exhibits over the years that have gained national attention in the media and art community alike. Each gallery showcases its vibrant collection of works from both well-known artists as well as up-and-coming hopefuls, so no matter what your taste in art may be, there's sure to be something for you.
The museum hosts an extensive collection of various types of art from the past two centuries, including well-known paintings, sculptures, mixed media, and more. If you're heading to Tampa on vacation or are just visiting the area, be sure to check out the following famous pieces:
The Exhibition Verde
The Exhibition Verde, popularly known as Verde: Poetics of Shade, features five local artists including, Shannon Elyse Curry, Kendra Frorup, Nneka Jones, Jodi Minnis, and Princess Smith. The artwork speaks to growth, expansion, timeless artistic expression, feminine energy, artistic contributions. They represent the community through divergence and shared experiences in visual art. Some of the mediums in the Exhibition Verde include:
Painting
Ceramics
Sculpture
Embroidery on canvas
From America's Heartland to an International Journey by Paul Jenkins
Paul Jenkins is best known for his Mona Lisa-Esque oil paintings, typically featuring a young woman staring into a mirror. While Jenkins' art is immediately identifiable, he doesn't stick with a single style. This is a piece made up of images that have been glued together in different configurations, creating fascinating shapes and patterns. The exhibition demonstrates how Jenkins' creative techniques and imagery helped modify the post-war painting.
The Monroe Family Collection of Florida Outsider Art
One of the exemplary pieces on display is The Monroe Family Collection of Florida Outsider Art. Gary Monroe established a foundation that would hold a collection dedicated to recognizing and promoting Florida's rich heritage of self-taught artists. Monroe has acquired over a thousand pieces, including artwork by Eddy Mumma, Frank Ritchie, Ruby Williams, and Jesse Aaron. This particular exhibition includes 86 paintings and objects by Floridian self-taught artists.
Herstory
Herstory, the Stories of Ancient Heroines and Everyday Women, is an exhibition by the Contemporary Art Museum of Tampa to celebrate the 100th anniversary of women's suffrage. This piece presents a series of exhibits focused on displaying women's achievements in art. You'll find objects that speak to the women's role in the ancient world, myths, and stories from Amazon Warriors, to Aphrodite and Athena to the everyday woman. This could be about goddesses, mythological characters, heroines, and regular women.
Highlights from the Karam Collection
The highlights from the Karam collection, housed in Florida and acquired by Dr. Farid Karam and his wife Jehhane in 1998, are a significant component of The Contemporary Art Museum's collection. The exhibition features objects ranging from the Bronze Age to the ancient Islamic period, originating from ancient Egypt, Syria, Greece, Phoenicia, and the entire Arab world. The stone, metal, ceramic, and glass artifacts include cosmetics and medical implements, figurines, oil lamps, sculptures, and utility vessels.
Air Fer Mer By Dominique Labauvie
The Air Fer Mer by Dominique Labauvie (French, b. 1948) focuses on combining languages (his native French and English) with an image in his amazing architectonic steel sculptures. Four of Dominique's sculptures conform to the Tampa skyline and Hillsborough River in this ideal setting.
The Classical World
With items spanning from as early as 3000 B.C, The Classical World displays fascinating masterful pieces. The exhibitions showcase Roman, Greece, and Etruscan artwork and artifacts from the museum's popular antiquities collections. Even though you might not be able to read them all (many aren't in English), you don't really need a translation guide—stop by and immerse yourself in these timeless works created by talented artists of long ago.
Bottom Line
The Contemporary Art Museum of Tampa, Florida (CAM) offers multiple exhibits throughout the year, showcasing an array of stunning works from both local and international artists. The museum is considered one of the top art galleries in the Sunshine State and has received a significant number of visitors since the day it was opened for public visits.
It's already become one of the most popular museums in Florida and will be playing host to many exciting events in the coming months. Whether you're planning to visit the city or an out-of-town visitor who can't wait to explore the city's top attractions, this is the place to be.
Interested in learning about becoming a resident in Florida or moving there? Read more.