The Different Types of Insurance That Are Needed When Purchasing a Home
Phil Ganz
/
4 Min Read
/
May 11, 2022
It is critical to have the appropriate insurance when purchasing a home. Many people don't even realize what is required and what is optional. This article shares an in-depth guide to help you understand the different insurance types needed when purchasing a home.
(Mar 31, 2023)
Homeowners insurance
Homeowners' insurance covers the structure of the house and its contents. The cost depends on factors like how far away your home is from a fire hydrant or how close it is to an area that tends to flood frequently.
You can choose between a replacement-cost policy, which will cover all expenses related to damages, and an actual cash value policy, which will only compensate for what you actually paid for something plus its depreciation (how much its value has decreased over time).
What does homeowners insurance cover?
The most basic policy covers losses from fire, windstorms, and other disasters that affect an entire neighborhood. Floods and earthquakes usually aren't covered under basic policies, but you can buy separate riders to cover those kinds of losses.
Homeowner policies are designed to help you rebuild or repair your home and replace personal property if it is damaged or destroyed by a covered disaster, such as fire or windstorm.
It also covers liability, which is your legal responsibility to other people for bodily injury or property damage. Liability coverage policies protect you from lawsuits resulting from accidents on your property.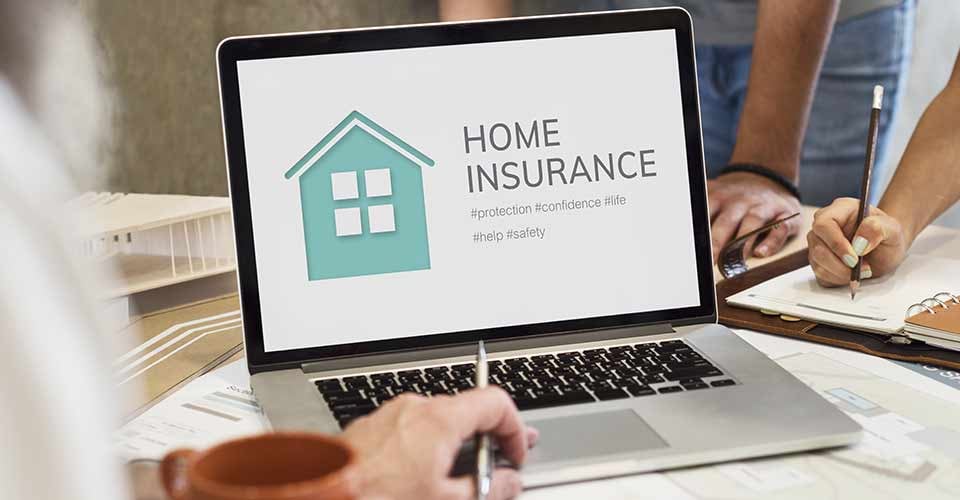 Private mortgage insurance (PMI)
You will have to pay private mortgage insurance if you put less than 20 percent down on purchasing a home. PMI protects the lender if you default on your mortgage; it reimburses them for whatever they lose after reselling your home and paying off the rest of what you owe on loan.
It allows them to recover some of their losses if something happens and they have to foreclose on your home. The insurer will pay off the balance of your loan if that happens so that the bank can still get paid back for whatever money is owed.
If your loan-to-value ratio ever drops below 80%, though, you'll be able to cancel the policy.
Title insurance
This policy protects you against financial losses from mistakes made during the title search and recording process. Title companies sell policies that protect a homebuyer's legal rights to property ownership. Title insurance covers loss or damage to property caused by defects in title or someone else's failure to maintain or repair the property, or it may provide coverage in case the owner wants to sell but can't because someone else has an interest in keeping her from doing so, such as an unpaid lien or past due taxes.
Common types of title problems include
Secret Spouses - These spouses may be unknown to the seller and therefore not disclosed on the deed. The spouse could be deceased or otherwise not part of the deal but entitled to a share of proceeds from a sale.

Undisclosed Heirs - The seller is unaware that he has family members who may have rights to his property or money from its sale. This is another reason for using a title company that does title searches before listing your property with them.

Human Errors - These can be anything from misspelled names to bad recording of documents that can lead to costly mistakes by buyers, sellers, banks, and other lenders, in addition to confusion in legal cases.

Forgery and fraud - Forged signatures and documents are unfortunately common. Title companies use sophisticated methods to check for fraud, but they aren't perfect, and mistakes do happen. In addition, unscrupulous people may try to sell your property with forged documents or fake titles.

Undisclosed mortgage liens - It's widespread for property owners to take out loans without telling their lender about other mortgages on their property. It's also quite common for this information to remain hidden until long after you've purchased the house and paid off the loan.
Title insurance can protect you from these kinds of risks, but only if you have it before closing. If you don't, then you're at risk of losing your entire investment when problems arise after closing.
Legal liability insurance
This type of insurance protects a homeowner if they are sued because of injuries caused by the homeowner's negligence or if someone is injured on the owners property. This is an essential type of insurance because lawsuits can be costly, and homeowners should protect themselves from such lawsuits.
Legal liability insurance for homeowners is relatively inexpensive when compared to the amount of money that legal action could cost you in time and money.
The cost of legal liability insurance for homeowners will depend on the type of coverage provided, the deductible that accompanies each policy, and the cost of defending yourself in court should you become involved in a lawsuit.
For example, say you have children who like to ride their bicycles up and down the curb every day. One day, one of them accidentally runs into a neighbor while riding. The neighbor sues you and wins a judgment of $15,000 in damages. Since you were careless in allowing your child to ride his bike outside unsupervised, you would be held legally liable for the payment of the award.
Legal liability insurance will cover the cost of any legal fees, settlements, and court judgments made against you due to an incident on your property.
Flood insurance
This type of insurance protects a homeowner if their house is damaged by flooding. In some areas, this type of insurance is required by law to receive a mortgage loan on a home.
The National Flood Insurance Program (NFIP) offers several different policies to help protect buildings in flood zones.
Flooding from a broken pipe or sump pump failure is not covered under a standard flood policy. Your policy will only cover flooding from rising water outside of your property, so make sure your home is elevated above the 100-year flood line on your property deed.
Check with your lender or bank to determine whether you're required to have flood insurance and what kind of policy they need you to have.
Earthquake insurance
This type of insurance protects homeowners if their house is damaged by an earthquake, either natural or manufactured. Earthquake coverage differs from basic homeowners' insurance in that it covers damage caused by shaking and shifting ground, not just fire or wind damage. It also provides more protection than basic homeowners' policies.
The Federal Emergency Management Agency (FEMA) recommends getting earthquake coverage if you live in an area with a high risk of earthquakes or if you own certain types of buildings, such as unreinforced masonry.
Wrap-up
It is easy for a homeowner to get caught up in the excitement. It is, however, important that the home buyer does not neglect to have all the necessary insurance coverage in place before they close on a home. Otherwise, they may regret their decision if something unforeseen happens.