The Magic of Orlando's Walt Disney World
Phil Ganz
/
4 Min Read
/
Feb 20, 2022
Walt Disney World is absolutely among the most magical places on earth, and you'll have a blast no matter what you do. It attracts over 52 million people every year, making it roughly twice as popular as New York City. It's the only place in the world you can see Mickey Mouse and your favorite Disney characters interacting with visitors.
(Mar 25, 2023)
The awe-inspiring Walt Disney theme parks
The first reason to visit Walt Disney World is the four theme parks that make up the resort. Each park has its own distinct character and special features.
Magic Kingdom is the original Disney theme park, which opened in 1971. It's based on Disneyland in Anaheim, California, with many of the same attractions and some unique rides. The iconic Cinderella Castle is located at the end of Main Street U.S.A., and it's here that you'll find classics such as Peter Pan's Flight and Ariel's Grotto, along with several other attractions geared toward young children.
Epcot - EPCOT is home to Future World and World Showcase. It offers high-tech attractions such as Soarin' Around the World and Test Track Presented by Chevrolet. In contrast, the latter presents a snapshot of 11 different countries worldwide, including France, China, Japan and Norway.

Hollywood Studios - As its name implies, Hollywood Studios pays homage to show business — both classic movies from yesteryear and today's new blockbusters. Rides here include The Twilight Zone's Tower of Terror drop tower attraction, Toy Story Mania 3D shooting ride and Star Tours motion.

Animal Kingdom - This is the largest single Disney theme park globally. The park features a full day's worth of attractions, entertainment, dining, and shopping. In addition to traditional theme park attractions, the park is home to live shows and animal exhibits. The park is also home to the Festival of the Lion King, one of Walt Disney World's most popular stage shows.

Typhoon Lagoon Water Park - This is a water adventure theme park featuring attractions for the whole family. Visiting Typhoon Lagoon is a great way to spend a hot summer day in Florida with waves up to six feet high at the Surf Pool, Crush' n' Gusher water coaster, and Castaway Creek lazy river.

Blizzard Beach Water Park - Another Walt Disney park that offers thrilling water slides and surf simulators, including Summit Plummet and Slush Gusher, plus a lazy river and kid's play area for those wanting to relax.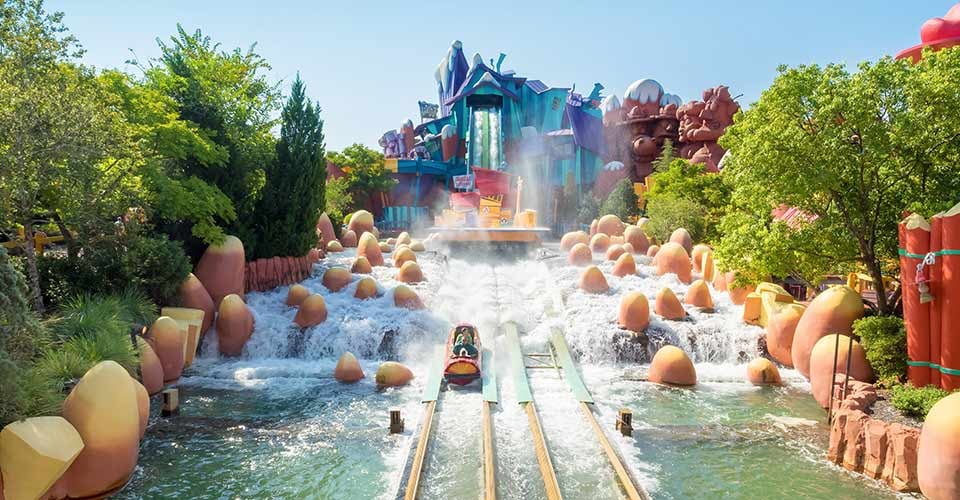 Disney World rides
The rides are one of the most exciting parts of Disney! With more than 50 thrilling experiences across six Walt Disney World Resort parks, there's something for every guest from young children to thrill-seekers of all ages.
The Disney Skyliner
The newly constructed cable car system allows guests to ride in pods above the park to view like no other. The Skyliner gives you a bird's eye view of Walt Disney World's offers while traveling between several popular destinations, including Epcot and Hollywood Studios.
The Magic of Orlando's Walt Disney Things to Do
Make a reservation at Cinderella's Royal Table - Cinderella Castle is inarguably the centrepiece of Magic Kingdom, and it's more than just a beautiful building. It also houses an exceptional restaurant inside. To eat there, you need to make a reservation about 180 days in advance (yes, seriously!) for breakfast or dinner.

Walk down Main Street, U.S.A - You enter Magic Kingdom through Main Street, U.S.A., and it's an experience everyone should have at least once in their life. Walk slowly down the street, taking in the window displays and shops on either side — there's history everywhere you look!

See the castle light up at night - Sure, the castle at Magic Kingdom is breathtaking during the day, but its magic truly comes alive at night when it's lit up in all of its glory. It's a stunning sight for people of all ages.

Visit the many stores of Downtown Disney - Downtown Disney is full of fun shops, including The Cookie Barrel, which just recently opened and sells cookies by the pound. They're delicious and huge, like the size of your face!

Catch the Festival of Fantasy Parade daily - The Festival of Fantasy Parade features Disney characters like Mickey and Minnie Mouse, Tinkerbell and more, and beautiful floats with intricate detailing. It's an absolute must-see if you're visiting Magic Kingdom. The parade takes place daily and starts around 3 p.m., so plan accordingly!

Visit the Animal Kingdom's Tree of Life - The Tree of Life stands 145-foot-tall as a sculpture at Disney's Animal Kingdom park. Its trunk, branches and roots are artificial, but its "bark" includes more than 300 animal carvings. After dark, it comes to life with a dazzling light show while a narrator tells stories of the natural world.

Have a drink at Trader Sam's Grog Grotto - Tucked inside the Polynesian Village Resort, this tiki bar has become a favorite among Disney World fans. In addition to tropical drinks and snacks, guests can enjoy watching whimsical special effects triggered by their orders — for example, when you order the Nautilus (a Navy Grog cocktail), you might see a shipwreck on the wall behind the bar.

Learn to draw Disney characters - Start off with a drawing class at Animation Academy in Hollywood Studios. You'll learn to draw Mickey Mouse or another character from an instructor (often a college student studying animation) who will work with you throughout the class. Bonus points if you wear one of those awesome Mickey ears with your name on it. You'll be able to take your drawing home with you to show off!

Eat breakfast in Cinderella Castle, then meet the princesses - This is a great way to see some princesses without waiting in line at their parks (although we do love meeting them). You'll enjoy a hearty breakfast while interacting with Cinderella and other princesses as they come around to say hello, then have time to explore Fantasyland afterward.

Boat Ride to the Magic Kingdom - You can take a boat from the Grand Floridian to the Magic Kingdom and not pay for parking or transportation costs. The ship is terrific because you can sit back, relax, enjoy the sights and not worry about traffic. (Disney transportation is free when you stay at a Disney resort.

Ride Big Thunder - Big Thunder is a great ride for all ages; it has a 40-inch height requirement and is safe for most to enjoy together. Even if you don't like fast rides, this roller coaster may be one you'll want to try. The ride is three minutes long but is more adventurous than being on an out-of-control runaway train.
Takeaway
So much fun awaits you at The Magic of Orlando's Walt Disney World!
Interested in learning about becoming a resident in Florida or moving there? Read more.