The Straz Center for the Performing Arts: Artistic and Musical Events for the Public
Phil Ganz
/
3 Min Read
/
Feb 20, 2022
His donation was the largest any cultural establishment in the city has ever received. The center is one of Tampa's most popular attractions, often cited as the city's cultural gem.
This center is located along the east bank of the Hillsborough River in downtown Tampa on a site measuring 36,000 square meters. The performing arts complex includes five theaters, a performance hall, shop outlets, eating establishments, and meeting rooms.
History
The center is constructed on a former gravel lot. The Straz was developed over 30 years ago and cost $48 million. An effort to build a music hall started over 40 years ago when Tampa Mayor Nick Nuccio formed the first committee. Although the project failed, it was put on hold until 1979; this time, a new mayor began exploring two possible locations in the city center for this project. Martinez formed a new committee in 1980 to plan and raise funds for the music hall.
A study by Artec Consultants, published in 1981, determined the need and desire of a performing arts center in the Tampa community. In the following years, construction, organizing, and fundraising happened, and finally, the project opened on September 12, 1987, as the Tampa Bay Performing Arts Center.
Over 500,000 patrons attended six hundred musicals at the center during its first season. As a result of the center's success, the Tampa community rallied to support the new endeavor. Later in 2009, the David A. Straz Jr. Foundation donated a large sum to facilitate the center's programs and operations, and it changed its name to David A. Straz Jr. Center aka the Straz or the Straz Center) in honor of this donation.
As part of its extensive renovations in 2018, the Straz Center added new wooden floors as well as modern LED lighting and upgraded dressing rooms.
Since its inception, the center has hosted Florida's longest-running production, "Forever Plaid," as well as world-renowned acts such as Jerry Seinfeld, whose shows took place in Morsani Hall. Jerry's show was the facility's biggest hit when it debuted. Another surprising fact about the center is that "Alice in Wonderland: A Musical Adventure" premiered here in 2005 before it debuted on Broadway six years later.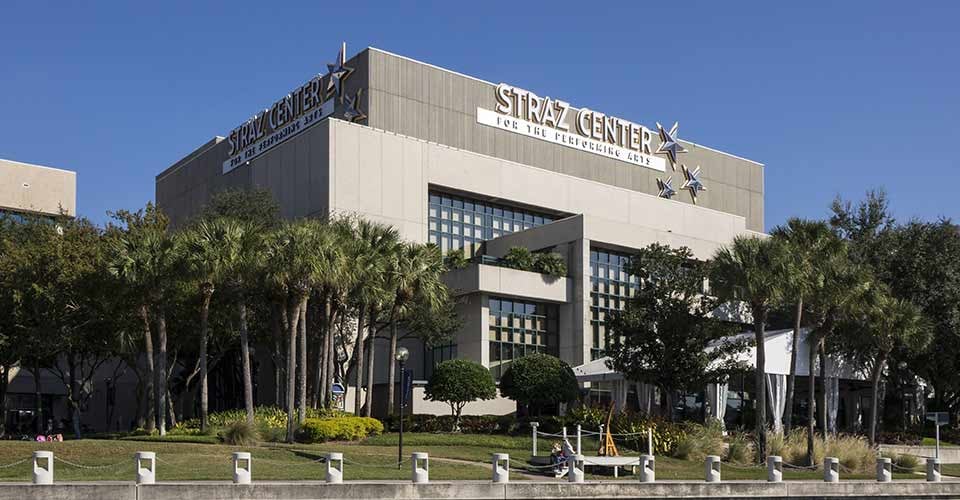 What are the current shows coming to Straz?
The 335,000square-foot complex serves as a center for various Broadway and local musicals, performances, events, and concerts. This year., some fantastic shows are coming to the center.
This year, you can see some of the following shows at the center:
The Prom - From February 15, 2022 to February 20, 2022, This joyful Broadway hit combines witty lyrics with wildly energetic music, a clever book, and witty tunes that will restore your faith in musical comedy. According to New York Magazine, it is smart and thoughtful. It was nominated for a Drama Desk Award in 2019. The plot revolves around a group of Broadway stars whose aim is to change the world, and there's a love uniting them all.

Frozen - From Mar 23rd to April 3, you can catch Frozen from the producer who brought you Aladdin and the Lion King

My Fair Lady - From April 26 to May 1, you can enjoy a showcase of My Fair Lady, a story about Eliza Doolittle, a Cockney florist, and Henry Higgins, an English professor who wants to turn her into what he calls a "proper lady." It includes hits like "The Rain in Spain," "Wouldn't It Be Loverly," "On the Street Where You Live," and "I Could Have Danced All Night."

The Band's Visit - from the 4th to the 8th of May, get swept off your feet by this intriguing tale, set in an isolated town, where a group of musicians shows up unexpectedly. As if by magic, the band energizes the town with beautiful music filling the air.

Pretty Woman - this show will run from May 17 to the 22nd and is a story about Vivian Ward, an independent, sexually liberated lady enlisted by a wealthy businessman, Edward Lewis, for various social and business affairs, during which a romance burgeons between them

Hamilton - Finally, the hit show Hamilton arrives in November, starting on the 15th of the month to December 11.
In addition to Broadway hits, the center offers community outreach initiatives for artists and musicians to present original shows and skits. Additionally, kids' art camps are available for free in the summer to teach students about the arts.
Does the Straz have a dress code?
The Straz Center serves a diverse community and encourages people to wear whatever clothing they find comfortable. An evening gown or tuxedo is not necessary for an evening at the musical hall, but if you want, you can show up in formal dressing.
What is the parking and dining situation like?
The Straz Center recommends that all guests make parking arrangements in advance and utilize prepaid parking arrangements if they are available. Prepaid parking assures you a parking space at a location of your choice and is sold depending on the show you want to see. Parking is also available at the Anchor Garage, Royal Regional Lot, Tampa Bay Times Garage, and TECO North Lot. Alternatively, you could leave your car at home and take an Uber, Lyft, or taxi ride.
You can make reservations with the on-site restaurants or dine off-site for dining.
Wrap-up
The Straz Center is a fantastic place for catching shows. From Broadway's finest to unique skits from locals, come for the seduction, the joy, and the comedy. In 2009, the center launched a new program called the "Broadway Genesis Project," which features world premiere performances of plays and musicals that may eventually make their way to Broadway. Bring your entire family to make memories together!
Interested in learning about becoming a resident in Florida or moving there? Read more.