The Thrilling Time at Daytona Beach Zipline Adventure
Phil Ganz
/
4 Min Read
/
Apr 03, 2022
There's a ziplining adventure up in the trees of Tuscawilla Park if you've ever wanted to go ziplining in Daytona Beach! This aerial adventure includes several challenges and zip lines and offers a bird's-eye view of the land below, as well as a chance to see plants and animals you won't find on the ground.
(Mar 26, 2023)
You can go with your family or friends because it accommodates a range of body types and heights from 54" to 6'8".
Overview
Treetop adventure comes to Daytona Beach with Zoom Air. Three different air adventures are set up in the Tuscawilla Park trees, each with its own set of games and obstacles, such as unique bridges, dancing logs, tightropes, Tarzan swings, and, of course, ZIP LINES! Enjoy the ride as you navigate nearly 40 challenges and ten zip lines high above the forest in Tuscawilla Park.
The courses are designed to blend in with the surroundings, drawing inspiration from the trees and the natural contour of the landscape and flora. It's a fun and exciting adventure for people of all ages who are tall enough. It only takes about three hours to complete.
Where Do You Start?
The staff will greet you at the harness house building and help you sign in and get into your harness. They will then lead you to the instructional area, where they will demonstrate how to stay safe while on the courses. After you've completed the demo safely, you'll move on to Course 1 as the staff remains on the ground to keep an eye on you and answer any questions you may have as you go.
Course 1
The first course begins about 15 feet above the ground and swings about 30 feet high. It comprises four zip lines and ten challenges. Some obstacles include the wobbly steps, swinging bridge, and tight wire. There's a 300-foot zip line on this course. But overall, this course is shorter and less intense than Course 2. most people get used to the first zipline quickly because it's easier.
However, the last three ziplines span 200 feet and begin 25 feet above the ground. After completing the first course, you head back down and take a short breather before proceeding to the next one. Bottled water and chips are available at $1.
Course 2
Are you up for a real test? Then, in Course 2, choose the difficult route and overcome the most complex challenges. Whichever route you take, you're sure to have a fantastic day up in the trees! The course begins 20 feet above the ground and swings up to 45 feet. It has about 30 elements, including six zip lines. the longest zip lines here span 500 feet
Courses 1 and 2 will take you about 2.5 hours in total. Alternatively, the Big Zip Combo combines courses 1 and 2 into one convenient package.
Big Zip Combo
You'll begin on Course 1, where you'll scale a forest canopy while navigating ten challenges and four thrilling zip lines! Then you will take on Course 2, in which the elements get higher, tougher, and thrilling. Course 2's Big Zip section will throw you nine challenges and five zip lines; these are the best damn zip lines the park has to offer, swinging 45 feet high and spanning 500 feet.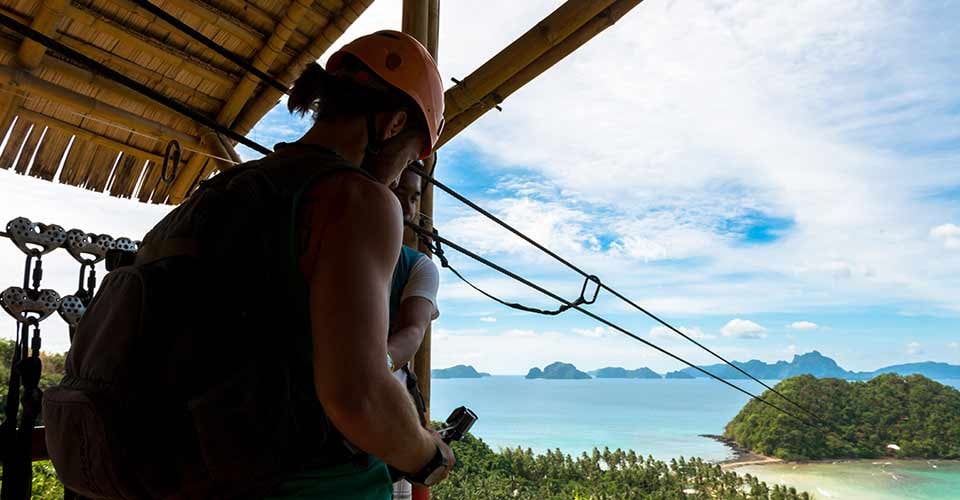 What Is the Height and Age Requirement?
You must be at least eight years old and at least 54 inches tall in shoes. Children under the age of 12 must be accompanied by their parents or guardians at all times, both on and off the course. Minors under the age of 17 require a parent or guardian signed release form. Print and fill out the form ahead of time and give them to your children to take to the park.
At What Time Should You Arrive?
To complete waivers and get set, arrive 15 minutes in advance. You might be pushed to the next free time slot if you do not arrive early and get ready.
What Happens in the Case of Bad Weather?
The Zipline is still operational in the rain, but if there is lightning, you must exit and wait until the storm has passed before returning to where you were.
However, if they close due to inclement weather, there will be no refunds, rainchecks, or reschedules to complete the course you had scheduled.
Is it OK to take pictures?
Yes, you can snap cool pictures while swinging, climbing, balancing, and ziplining from tree to tree using a hands-free photography device. You can also use your hands when standing on a platform.
What are the Height Requirements?
The minimum height requirement is 54 inches, and the maximum height requirement is 6'8".
What Is The Maximum Weight Limit?
A maximum weight of 275 pounds is allowed, and you must be able to fit into the harnesses properly. They usually fit a waist of 48 inches and a high of 26 inches.
However, if you are pregnant, you are not permitted to participate in courses.
What Should You Pack?
Remember to pack a camera, sunscreen, smartphone, drinks/snacks, and closed-toe shoes like those used for hiking or running. Crocs or flip-flops aren't allowed. You can rent closed-toe shoes for $5 if you don't have any.
When it comes to clothing, shorts are acceptable, but knee-length ones are best. A comfortable sports outfit is another option.
The park sells drinking water for $1. There is also a donut shop across the street, and you can smell the sweet aroma while up the trees
At What Time Does It Open?
Except for Christmas and Thanksgiving, Zoom Air operates from 9 in the morning, if the weather permits.
Wrap-Up: Enjoy A Treetop Adventure With Your Family And Friends At Daytona Beach Zipline Adventure
This easily accessible park offers aerial adventure courses seamlessly integrated into its landscape, flora, and fauna. Swing above the land below while navigating tight wires, dancing logs, suspended disks, and rope bridges. As you tackle challenging treetop activities such as ziplining, you will feel your heart racing. It is also a chance to view the disc golf course from a different perspective while observing plants and animals only found this high in the park.
This is a fun adventure to take on with your family, friends, or co-workers and build that team spirit. Special discounts are available for high school students, school faculties, first responders, and military members. Party packages for birthdays, bachelor's or bachelorettes, are available too.
Interested in learning about becoming a resident in Florida or moving there? Read more.