The Top Tips to Invest in Real Estate as a Nurse
Phil Ganz
/
8 Min Read
/
May 19, 2022
We have covered everything about real estate investing, from the reasons to choose this investment type, the various options available, and the tips to guide you throughout the real estate investing journey.
Why Real Estate?
As a busy healthcare professional looking for a way to secure a better financial future, not many investment options offer as much flexibility as real estate. Managing a rental property is hectic, but the goodness is that you don't have to do it yourself. You can hire some real estate professionals to do all the heavy lifting.
Besides having the option to outsource most of the management work, here are the other reasons why real estate could be a great investment choice for you.
It's an excellent long-term investment strategy – real estate appreciates with time and can make for a good passive income source to fund your retirement days.

You'll get some tax benefits – some of the expenses you can write off include mortgage interests paid on the loan, maintenance expenses, origination fees paid on the loan, real estate taxes, HOA dues, depreciation, etc.

You can use your investment to fund other expenses – when you buy a property and work on settling the mortgage, you build equity. The latter is the difference between the current home value and what you owe the mortgage lender. You can use your home equity to secure another loan to cover any expense.

You can boost the home's value – unlike other investment options like stock or bonds, where you have limited control; real estate gives you some form of flexibility as far as your finances are concerned. For instance, you can renovate your home or make energy-efficient upgrades and significantly increase its value.
If you are convinced that real estate is something for you, you want to start on the right footing. Below, we've rounded up some real estate investing tips for your convenience. It's worth noting that real estate investing has its challenges, so you want to stick with a true and tested strategy that will guarantee success.
Know What You Want
As a nurse with a great and perhaps fulfilling career, you want to consider your goals and ambitions before getting into real estate. It would be best to consider the time you'll put into managing or overseeing your real estate properties while also attending to your day-to-day care duties. This is a great balancing act that draws on passion, strategy, and discipline to ensure success.
Once you have identified your reasons for investing in real estate, you want to be straightforward about your goals and expectations. Hiring a property manager will be your top priority if you don't have the time to keep up with demanding tenants. Similarly, you want to decide whether you'll specialize in commercial or residential properties. Both these options have their pros and cons.
For instance, commercial properties require more capital, but they return more revenue with minimum work. On the other hand, it's easier to invest in residential properties, and you can find a great market regardless of the country, state, or region you are located. You still need to sit down and explore your options while factoring in your short and long-term goals, risks, and rewards.
Get Professional Help
The real estate market isn't only complex for the average person and very vast for you to navigate on your own. A rule of thumb is to onboard an expert real estate professional such as a loan officer, property manager, salesperson, broker, appraiser, etc. That way, you'll benefit from critical insights on getting started with real estate investing.
You want to be keen on who you listen to, as paid advisors could easily mislead you. Always do your homework before approaching any professional for help. You can also gauge their reputation by checking their reviews on trusted third-party sites or scheduling a one-on-one interview.
Finding the best investment property takes time, effort, and skills. So you want to understand the current market and have a clue about the future market to better plan ahead and align your priorities.
Rethink Your Income and Finances
Financial leverage is key to success for everyone else getting into real estate. Financing your real estate investment as a nurse who may not have a lot is savings calls for a well-thought-out strategy. Before funding your investment, most lenders will consider your income, credit score, overall financial strength, and business/investment plan.
Generally, it would be best to have your W2s ready as proof that you have a consistent income. Even if you've had breaks between contracts, a W2 will highlight your annual wages and the tax amount withheld from your paycheck for the years you've worked.
For 1099-nurses or those working on a contract basis, you'll need at least two years of consistent income to qualify for a substantial investment loan from a reputed lender. The benefit of securing a traditional mortgage as a contract nurse is the low-interest rates, lower down payments, increased transparency, and peace of mind.
That said, this doesn't mean you should not consider other financing options if you have the opportunity to do so. You want to embrace an open mindset and choose what works for you now and in the future.
Another critical consideration as far as finances are concerned is your taxable income. Owning a home can be a challenge if you make a sizeable income but write off expenses to reduce the taxable income.
When qualifying you for a loan, lenders will always look at your taxable income and not the gross income. The goal is to have a higher taxable income, as this will help qualify you for a larger loan when exploring the different mortgage and real estate financing options.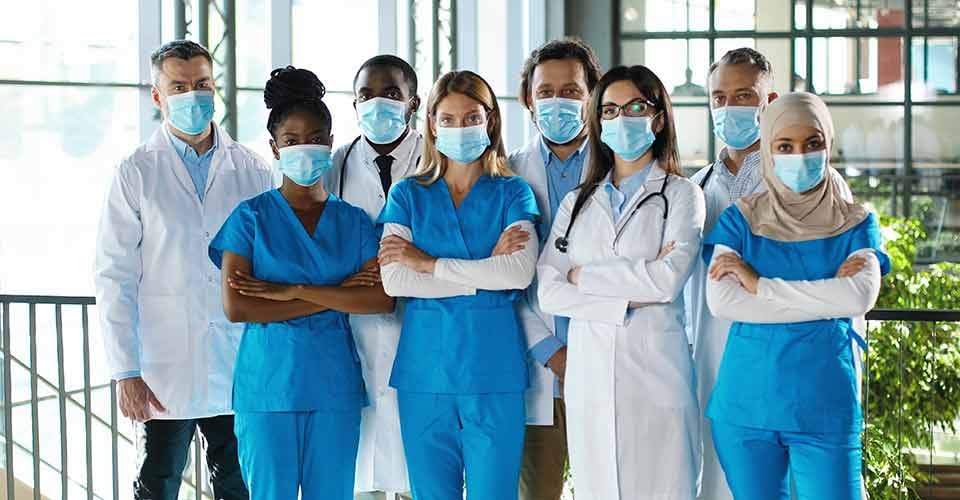 Choose the Right Property
Real estate is considered one of the safest investments, thanks to the increasing demand for housing as the population grows and people relocate from one place to another. However, this isn't to say that any property you buy into will guarantee success, as there are many destructive projects out there that are exclusively marketed as excellent investment opportunities.
You can avoid the risk of investing in the wrong project by working with a seasoned real estate professional. This is especially true if you buy a rental property or a primary home in an area you are not quite familiar with. Some of the common property types you can choose from include:
Condos – apartment buildings with individually-owned residential units and shared common areas.

Single-family homes – as the name suggests, this property accommodates only one family.

Townhomes – this property is often a single-family house with two or three stories, usually attached to a similar house/property by a shared wall.

Duplexes or two-family homes – this is a residential property constructed on two floors. It consists of two living units, a common central wall, and often separate entries.

Triplex or three-unit property - consists of three individual units combined into one building, often with one or two shared walls.

Fourplex or 4-unit property – this is a multifamily property designed to house four separate families under one roof. The units could be stacked on top of one another or side by side, or a combination of the two.
From the options above, the right investment property to choose depends on your unique needs and preferences. Some of the critical factors to consider are your budget and long-term investment or financial goals.
Timing is Key
Nobody can accurately time the market, but at least you can try to speculate on it and take the most appropriate action. Whether buying an investment property or a primary residence, you always want to buy low or when the market is favorable. That would mean a time when there are many options to choose from and less competition from seasoned real estate investors.
Spotting such an opportunity can be challenging, considering the market can at times be quite volatile. However, the good news is that if you intend to hold on to your property for the long term, you'll build equity on it, plus you'll learn more about timing, especially when to join and exit the market.
It's a terrible idea to trust your instincts when you are just getting started with real estate investing, especially as a nurse with no practical investing experience. Instead, what you should do is leverage the insights from your real estate professional.
Start Small and Diversify Your Investments
If you are super passionate about investing in real estate, it can be tempting to go all-in without weighing in on the risk and rewards. As a nurse with limited real estate experience, starting small as you focus on building your portfolio is advisable. That would mean investing in one project, perhaps a less-demanding one, before advancing to the more complicated ones.
For instance, you can choose to begin your real estate investment journey with a 4-unit property where you occupy one and rent the rest. You will live in one of the units for at least one year, after which you can move out of the property and buy another one. Here, you will go for an FHA loan as it has the least down payment requirement of 3.5% compared to the traditional bank mortgage of 20%.
Provided you choose the right spot and invest in the right home, you'll have four tenants paying your mortgage while still having something left over as a passive income in just two years. This is a quick real estate hack that anyone can use.
Once your investments are up and running, you want to consider diversifying your portfolio. You are not investing only in one geographical location or the same property types. This is a risk mitigation strategy that can shield you from market volatilities and help you avoid potential losses.
Different Ways to Invest in Real Estate
If you are a typical nurse with no real estate experience, perhaps you only know one way to invest in real estate – becoming a landlord or landlady. And while this is a popular option, there are several others you can pick. We've highlighted them below:
Rental Properties
This is a classical real estate investment technique requiring time, patience, and management skills. You will have to deal with tenants and contractors, real estate agents, and managers. The benefit of this investment type is regular income that comes with many tax-deductible expenses.
If the property is strategically located, it can also appreciate faster, and you can maximize the equity as leverage to advance your investments. On the flip side, the income may reduce due to vacant houses, and your property could suffer potential damage from the tenants.
House Flipping
As the name suggests, house flipping is about buying a low-priced property and selling it high. In other words, you find a valuable property that needs some repairs, then you fix it and immediately get it to market. Most house flippers go for foreclosure homes and abandoned houses in some great neighborhoods.
Some of the benefits of house flipping are that it ties up capital for a short time, plus you can make quick returns. The only challenge is that the house can be stuck in the market, and the lender may need their money back, leading to foreclosure. This investing technique also requires time, patience, and some house-hunting skills, which you may not have.
Real Estate Investment Groups (REIGs)
If you want to own a real estate property without the hassle of managing every bit of events happening on the ground, this could be the way to go. With REIGs, the company builds or buys a set of condos or blocks before inviting investors to buy them and join their group. Investors will then own one or more self-contained spaces, but the company handles all the management duties/activities at a fee.
Depending on the REIG's terms and conditions, you can also choose to lease the property solo or as a group. The benefit of leasing as a group is that you can receive some monthly income even if your unit is empty. The company can take a portion of the rent and pool them together for such occasions.
One of the benefits of REIGs is that you enjoy hands-off investing where you own your property that provides income and appreciates with time. The cons, however, include the risk of paying con managers and the high fees charged by some REIGs that could eat into your profits.
Real Estate Investment Trusts (REITs)
Unlike REIGs, which bring in investors to buy or build real estate properties, REITs are companies that own, finance and operate real estate ventures. They are more like mutual funds, which give investors some exposure to the real estate market without the cost and time commitment of buying their property.
Before buying into a REIT, you want to know if it's an equity REIT that owns buildings or a mortgage REIT that provides financing for real estate. Both these options are great, but the exposure and experiences are different. When you invest in REITs, you get income and dividends based on the shares you have with the company.
Real Estate Platforms
Apart from the four options highlighted above, you can also choose to join a real estate investing platform often called real estate crowdfunding. These platforms connect investors who are willing to finance projects with developers.
The benefit of this investing technique is the less entry capital you'll need to own your property. You also benefit from geographical diversification as you can have properties from different towns, cities, and even states. Some of the drawbacks are the high management fees, long lockup periods, and the high chances of falling victim to con artists.
Bottom Line
Now that you know the different types of real estate investments, the various properties to choose from, and the investing in real estate tips to get you started, you want to take action and work on your investment strategy. Navigating the real estate market can be challenging. Being a healthcare professional doesn't mean you cannot venture into real estate.
Still, with the right professionals by your side, you can comfortably and confidently put your money in the right place and enjoy fantastic returns in the long run. Make the decision today and secure your financial future.