The Tough Task of Saving Money During Inflation: Expert Tips to Make it Happen
Phil Ganz
/
8 Min Read
/
May 20, 2022
The prices are rising, products and services have become more expensive, and inflation is highest. Unfortunately, the Russia-Ukraine conflict has also led to a spike in prices and the cost of gas and goods. All this, combined with the pandemic, puts people in a particularly tough situation financially.
(Mar 31, 2023)
Most people have become overwhelmed by the general uncertainty of the economy, ever-increasing cost of living, and future. However, there is a more direct approach you could use to make the situation more comfortable. You can focus on aspects you can control, especially your finances.
So, how can we manage the skyrocketing prices to enable us to check out at local grocery stores and pay the bills without being afraid of breaking the bank? How hard is saving money during inflation? This article acts as a guideline you can use to help you save some money during inflation and how you can improve your mental health simultaneously.
Create a budget
A'Shira Nelson is a certified public accountant with over 187,000 Instagram followers and advocates for personal financial literacy. She is aware that most people don't like the word budget. However, with the ever-increasing prices, she states that every individual needs to rethink their position when saving money during inflation.
She states that people have to try and get a better mindset. For instance, people should understand that there is a spike in inflation and that products and services cost more than they ever did; however, people need to create a plan for their money. She advocates that it's the best place to begin since your expenditure is where you have the most control.
If using the word budget makes you less motivated, you could employ an alternative form of thinking. I.e., you can choose to think of it as planning for your money and analyzing where each dollar goes. For instance, you can start by looking at your pay stubs to figure out how much money you earn each month and take it from there.
Creating a budget requires you to make a list of essential monthly expenses like:
Car payment
Mortgage or rent
Prescriptions
Health insurance
Debt payments
Groceries
Next, you should list non-essential expenses like takeaway or dine-out, subscriptions, and streaming services. You can check with your bank to get a breakdown or graph representing your expenditure if you aren't sure where to begin. The graph won't provide you with all information regarding your expenditure.
However, it'll provide you with your most significant monthly expenditures, suitable for beginners. You can also review your credit card and bank statements from the past few months if asking for a graphic representation of your expenditure isn't an option.
It's advised that you to take the credit card and bank statement and highlight all items that are wants and not needs. Doing this provides you with a simple visual that informs you of your expenditure and how you can move most (if not all) of that money to your savings.
How to cut back on expenses
Cutting out your expenses may give you some hope of saving some money during this period. However, you'll have to be strategic about it. For instance, you don't have to cut out all your luxuries, or it may become a mental burden. Ideally, you have to leave some self-care expenses to help you celebrate your progress.
Some self-care expenses that may be good for you include taking care of your looks. For example, you can get your nails and hair done. Doing this may be costly. Therefore, you could lengthen the time between appointments instead of cutting them out altogether.
You can opt to get a pedicure and manicure once a month instead of one every two weeks. You can also find inexpensive alternatives for your activities. For example, you can choose to go out for lunch with your friends every other week instead of doing it every week. You'll still get to hang out with your friends and save some cash in the meantime.
Remember that having a social life is important for your mental being. Therefore, you shouldn't avoid it altogether. A better alternative can be planning for a night where friends bring a dish instead of going out. You should find the perfect balance that helps you manage your mental well-being.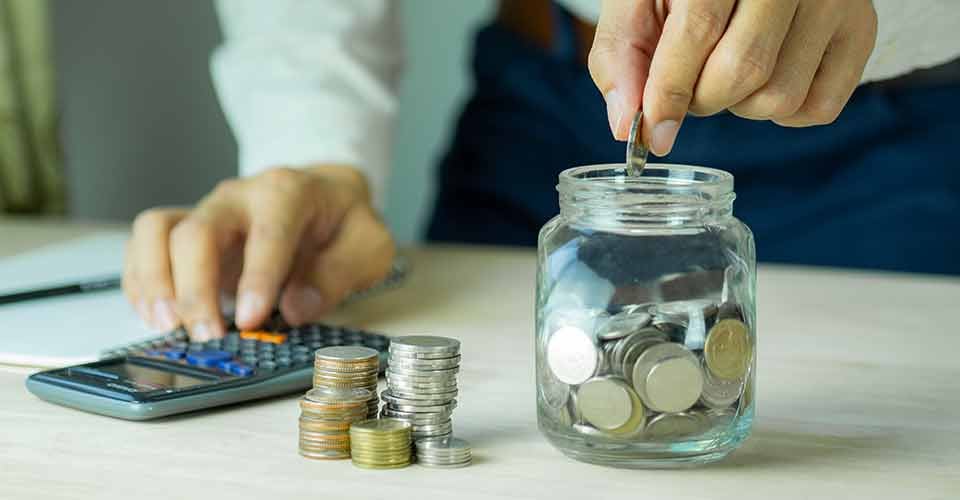 Best tip for saving money during inflation
Remember that you shouldn't have to become a budgeting pro overnight. Some people take more than three months to get comfortable with the process and become good at budgeting. It would be best to work more on making positive steps and refining your budgeting skills over time.
It would be best if you didn't stress about making the perfect budget. It would be best to start by becoming more aware of your spending and being intentional regarding where the money goes. Next, you should focus more on improving your strategies step by step.
Get in the right frame of mind
Creating a budget is critical; however, making it suitable and sticking to it requires you to have the right mindset. Saving, budgeting, and tracking your expenses can feel overwhelming and tedious; however, you could change this by making it something good to look forward to. There are so many ways you could go about it.
For instance, you could schedule time for budgeting and go out for lunch or make a cheese tray. Doing this makes it open and relaxing, i.e., something to look forward to. Remember that it's a new experience, and you need some time to get it down. Otherwise, rushing could make the entire process more complicated and challenging to the point where you'll want to quit.
Creating the right mindset can help you make a reasonable budget. It would be best to begin by understanding that budgeting is meant to help you out through tough times. Remember that not budgeting can lead to far worse consequences. Therefore, you should look at budgeting as something positive that needs to be done.
You can also make the process a little easier by making a budgeting ritual where you analyze and assess your budget. You can set aside an hour each month that you can use to budget and learn about financial literacy. You can prepare for that time by buying some snacks or cooking your favorite meal to help you become more relaxed and ready to handle your finances.
Grow your emergency funds
According to experts, you should have a 3-6 months emergency fund covering your expenses in any unexpected eventualities. If setting aside that much money in a short period is difficult, you can aim to start by saving about $1000 monthly. Remember that it's only a suggestion; however, the end goal should be to save as much as possible.
You should create your budget and figure out how much you can put in your emergency fund without compromising other expenses. You could do it weekly or monthly, depending on your payment schedule. Whatever amount you choose to save can be helpful in case of an emergency like losing your job.
Look for sales at the grocery store
When making your grocery list, get creative, and shop based on what's on sale; you should take your time. Ideas on how to save when buying groceries:
Purchase household treats and staples in the clearance rack marked down.

Research your grocery store, find out weekly deals through their circular or online website, and make your list around the sales.

Switch to generic versions of sauce, ice cream, bread, pasta, and medications. Compare the ingredients to ensure that you get what you need. Often, you'll find that the ingredients are pretty similar.
You can check various channels like YouTube if you aren't sure how to create efficient grocery budgets. Such platforms can also help you discover that you are not alone and provide you with a community that'll help you get even more insights—research what other people are doing and get inspired by their creativity.
Shop second hand
You should check various second-hand stores before purchasing something new. Such stores include:
Craigslist
eBay
Thrift stores
Facebook Marketplace
Consignment shops
"Buy nothing" and Local Facebook yard sale groups
Estate sales
Yard sales
Salvage yards
Shopping from such stores could help you find gently used or like-new items for a lower price than buying new ones. People sell or donate brand-name clothing, smartphones, furniture, laptops, and various goods when they have to downsize faster than they expected.
You can also find many free listings on such platforms listed by people who want to give various items away to anyone willing to pick them up and haul them. You may be on a tight budget if you've recently bought a home. Second-hand furniture can be a great option if you don't have enough cash to buy new items.
Buying new pieces of furniture is quite expensive and can cost you thousands of dollars. Remember that you'll also have to buy other items like picture frames, rugs, and other types of decor. Purchasing from thrift stores, yard sales, consignment shops, and estate sales could help you reduce your expenses.
Start a garden
We aren't suggesting that you start growing all your food; however, planting a few items in your garden could help supplement your groceries and reduce expenses. You could grow your most-shopped herbs and vegetables to cut back on how much you'll need to spend at the store.
You don't have to plant your herbs and vegetables in a big garden. You can plant the herbs and vegetables indoors if you have limited space. You could grow your microgreens and herbs indoors near the window, where they'll get enough sunlight. You can also grow some vegetables and fruits outdoors if you have enough space.
Start an outdoor garden on a budget:
You could start by planting your seeds in up-cycled containers like sour cream tubs and yogurt containers. Make a few holes in the bottom of the lid to improve drainage and place them on trays, which help catch the water.

Fill your planting containers with dirt, sticks, compost, and leaves, then add fertile potting soil to the containers as the top layer. Doing this helps you use less money since it reduces the amount of potting soil needed.

Make compost using coffee grounds, paper towels, and tea bags. Mix it with some dirt and leaves ad to aerate it for a few days to help break the materials down more quickly. Using compost reduces the amount of fertilizer required.
Reduce your gas bill
The cost of fuel is highly concerning, and with the current headlines about the ever-increasing fuel prices, it would do you good to find a way to reduce your gas bill. Here's how you can go about it:
Ask for a hybrid or remote work option - You can ask your employer whether they'll allow you to work remotely or offer you a hybrid option. While this won't work for all professions, it could help you cut down on your commute and the amount of gas used daily. You could also confirm with your company and confirm whether they offer any assistance plan or reimbursement for commuting costs.

Opt for fuel-efficient routes - Research confirms that google maps suggest fuel-efficient routes meant to help commuters avoid hills, traffic, and other terrains that could increase your traffic expenditure.

Compare gas prices - You can also compare gas prices using various sites like GasBuddy to help you locate cheaper gas stations near you.

Look for cash discounts - You should also make sure you have some cash with you since some gas stations charge less for customers that pay in cash.

Look for fuel rewards - You can also get some fuel rewards with various companies like Hy-Vee and Harris Teeter that you could redeem and get reduced gas prices.

Maintain your vehicle - Maintaining your vehicle, using the appropriate motor oil, regular tune-ups, and ensuring your vehicle has the correct tire pressure can improve fuel efficiency, reducing fuel expenditure.
Take care of your mental health when saving money during inflation
Economic uncertainty and inflation can be stressful, and the current spike in inflation comes at the most challenging time. The COVID-19 pandemic created the worst emotional, financial, and psychological hardships that make life difficult for everyone. The conflict and war between Russia and Ukraine don't help matters either.
It would be best to take control of your financial difficulties, through which you can cope with fears and stress about not being able to meet your expenses. It can also help reduce your anxiety and depression. However, while all this is important, the most important thing is taking care of your health.
Remember that budgeting isn't about denying yourself all social opportunities and avoiding self-care. For instance, you shouldn't avoid meeting with family and friends if you consider them your emotional lifeline. However, it would be best to cut back on other expenses that aren't adding to your mental and financial well-being.
It would be best to let someone else in your social group know what you are going through. Sharing minimizes a thought's impact by more than 50%. You could start by talking to your family and friends to let them know what you are going through.
It would be best to work on looking at life positively and finding ways to keep you moving forward. Talk to someone you can trust about your fears and financial troubles and take any help they may offer. Don't alienate yourself since it could affect your mental health. Instead, look for cheaper alternatives that allow you to have fun without breaking the bank.
There are ways you can get help if you suffer from depression and anxiety and think about harming yourself. They include:
Calling the National Alliance on Mental illness to connect with mental health resources and support groups.

Calling the NSPL (National Suicide Prevention Lifeline) at 1-800-273-8255.

Reaching out to the NAMI crisis line through the text. Text the word "NAMI" to 741-741.

Reach out to the Trevor Project for LGBTQ+ youth through the text number 678678 or by calling them at 1-866-488-7386.

Calling 911.
Saving money during inflation - Final word
Inflation creates challenging circumstances and lots of stress that come with economic uncertainty. It would be best to take control of your budget to boost your peace of mind and improve your financial well-being and mental health.
You should take your time when saving money during inflation, take it slow, and work on improving yourself one step at a time. Take care!