Training Center Corry Navy Base - Military BAH
Phil Ganz
/
8 Min Read
/
Nov 30, 2022
About Training Center Corry Navy Base
The Training Center Corry Navy Base - Military BAH serves as a training facility for Naval Education and Training Command, whose headquarters is the Naval Air Station Pensacola Corry Station, located in Escambia County, Florida.
Location
As a historic military facility dating back to 1923, this Navy Training Center holds a prominent place in the military as the home of the Center for Information Dominance (CID) of the United States Navy. This navy base is located in Myrtle Grove, Pensacola's central neighborhood, covering more than 600 acres.
Specialty
The Corry Navy Base Training Center supports the Department of Defense through close collaboration. This base hosts several schools and training centers, and the Department of Defense trains troops, reserve troops, and civilians here. Though this facility is open to civilians, it is subject to strict rules and regulations.
Other than that, some students come from countries other than the United States of America. Besides, there are five different detachments at the base - Maryland, California, Texas, and Arizona.
Facilities
Besides the official training ranges and schools, training clubs are available if you enjoy extra physical activity. You got fitness clubs, gyms, and plenty of sports courts for golf and basketball. Training Center Corry Navy Base - Military BAH offers a society center, several snack bars, and impressive dining facilities for more recreational activities. If you prefer outdoor activities, there are plenty of picnic spots.
The housing in this facility is user-friendly and flexible, and they customize it according to your needs. If you notify them early, everything will be set up for you before you arrive. The utilities come with a relatively small fee, while the commissary is enormous compared to the size of the base. Not forgetting the many exchange center offering everything you can think of.
History
The history of Training Center Corry Navy Base - Military BAH dates back to 1923 when it began somewhere else but within the same metropolitan area as Pensacola. But it moved years later, in 1928, and the base is a tribute to William M. Corry, Jr., a Medal of Honor recipient.
Interestingly, it was a training facility for advanced aircraft during its first years, and it invented many innovative techniques. It continued with the same mission through World War II and the Korean War. But the base was disestablished in 1958 since it no longer served its purpose.
1960 marked the beginning of the conversion of the base to a learning center, with some hangars and magazines converted into classrooms and teaching rooms. The on-site schools were accredited by 1973, making them among the first in the region. In the past few decades, the mission of this place has changed several times until Training Center Corry Navy Base - Military BAH became what it is today.
Understanding Your Military Basic Allowance for Housing
Many sacrifices come with serving in the military, and the government offers unique benefits to those who do. One of the most significant rewards of joining the military is that it pays most or all of the housing costs, although it's not that simple.
Here is all that you need to know about the basic military allowance for housing:
What Is Military Basic Allowance for Housing?
If you serve in the military, you already know how valuable the Basic Allowance for Housing (BAH) package is. BAH is a monthly stipend for your housing costs, and you use it primarily to pay for your rent or mortgage. Well, the BAH amount varies depending on your rank and your location.
Of course, BAH in Mississippi will be less than the one for San Francisco Bay Area. The same is true regarding ranks, and a private will receive a lower BAH than a five-star general. It all boils down to the cost of living, which is the main factor that determines which locations have higher BAHs.
Generally, different types of BAH are available to assist those serving with their housing expenses. It is even available for military housing and service members living in the barracks. Service members are eligible for the following types of housing allowances:
BAH for those with or without dependents
You will receive a military BAH based on whether or not you have dependents. Service members with spouses and children receive more BAH than those who don't have families to cover a larger living space.
Partial BAH
A partial BAH may be available based on your location and rank for those living in government housing, such as base housing or barracks.
BAH-differential
Often known as a BAH Diff, it is a payment for military personnel who live in government housing and pay child support. If the child support amount owed is lower than the BAH Diff amount, which the service member qualifies for, they are not eligible for the BAH Differential.
BAH reserve component/transit
The BAH reserve component/transit, or BAH non-locality or BAH Type II, is offered to military members in specific situations, including reservists on short-term active duty or overseas service members. This BAH is not based on location but is uniform throughout, according to the (BAQ).
What happens in the case of a divorce? In this case, your BAH rate will depend on BAH-Diff. Other factors, such as court decisions, may necessitate changing the rate. As for the rest, your pay grade, location of duty, and dependency status determine your BAH.
Who Is Eligible for BAH?
Those serving in a permanent duty station in the continental United States are eligible for BAH if they cannot get government housing. Service members have limited housing options in the military, and BAH is an option when base housing is unavailable, and they can live off-base.
When it comes to new military personnel attending tech school or basic training, they are eligible for BAH only if they have dependents, and the amount depends on their location. You will receive an overseas housing allowance based on your dependents if you live overseas. You still qualify for a BAH determined by your U.S. residence zip code and dependents.
How Long Has BAH Been Around?
Basic Allowance for Housing has been around for more than two decades, and it came into effect in January 1998, replacing the Basic Allowance for Quarters (BAQ) and the Variable Housing Allowance (VHA).
The previous allowance programs required the service members to report their housing costs annually, which wasn't the correct representation of the average cost of housing. Rather than focusing on military bases alone, the new BAH system considers all the housing rates in the surrounding areas.
How Are BAH Rates Determined?
You can determine your BAH rates using the BAH Calculator, a Defense Travel Management Office (DTMO) service. Put your location, pay grade, and dependents into the fields to determine your BAH amount.
Several factors affect your BAH rate:
Years of service.

Pay grade.

Location of duty which is the average rent in your location.
So, your BAH amount will be higher with an increase in the years of service and pay grade, while your location determines the cost of housing in your area. If you live in an expensive place, your payment will increase. The amount will vary depending on these factors, but ultimately, the BAH will cover almost at least 95% of your rent.
Uses and Benefits of BAH
The Basic Allowance for Housing (BAH) is the most valuable benefit for military personnel. Qualified service members can receive this monthly allowance if stationed in an area without government housing. It's a stipend that helps service members cover housing costs if they live off-post.
Regarding your paycheck and purchasing power, you can often count BAH as the most practical benefit of getting a mortgage. BAH does not limit you to renting; you can use this monthly allowance to become eligible for a VA loan and purchase a home. And it can cover all or most of your mortgage payments each month.
Regarding mortgages, one thing to keep in mind is you can gross up your entitlements in revenue to buy a home. For example, if your monthly entitlements are $2,500, you can gross it up by 25% to get a monthly qualifying income of $3,125, a benefit only available to a veteran.
The BAH also offers you stabilized rates depending on your location's rental market data and considers the cost of utilities. Rather than penalizing service members for decreasing rent prices, it applies the Individual Rate Protection. If your status remains the same, you will get a fixed amount unless BAH changes it.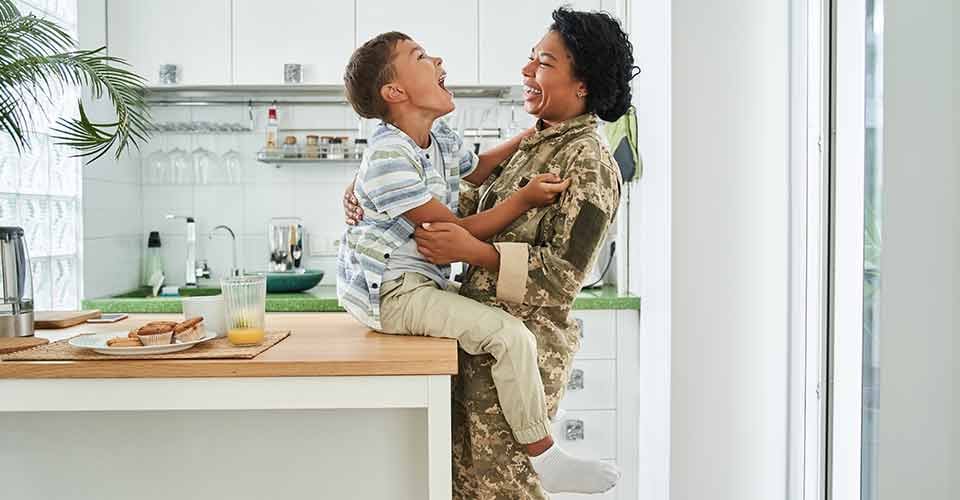 What It's Like to Live Off a Military Base?
Living off-base has plenty of benefits for military families, and it's a good option, particularly if your base has a long waiting list or you prefer not to live in the barracks and can find an affordable house where you can live independently and meets your housing needs.
It can be confusing and frustrating to decide whether to live on or off a military base. While living on base has perks, you also have plenty of reasons to consider looking for off-base housing. Ultimately, it all depends on your preferences and situation, and the following are some benefits of living off base.
More savings
BAH is a game-changer if you have a saving mindset. This monthly stipend is strictly yours to keep and use as you see fit, and you can save money by renting an apartment or home below the amount you receive in BAH.
While this may be easier in some areas, it's excellent having control over how much money goes to rent and how much you spend on other expenses.
More Variety
You have a wide variety of neighborhoods and houses to choose from when living off-base, and it is easy to find something you like. Search for a community close to the base gate or select the style and amenities you want.
Keep Your BAH
When you live off-post, you receive a monthly allowance (BAH) based on the cost of living in your area. This amount may be sufficient to cover rent and utilities.
When you live on-post, all of this money goes directly to your housing, and you never see a cent of it, regardless of what type of on-post housing arrangement you have.
Homeownership
You can use your BAH to purchase a home and build equity. If you have been in the military for a reasonable time, you could use your VA loan to buy that house and use the BAH to pay for it.
You can build quite a bit of equity if you buy a house while staying at your duty station for some years. You can sell the property or rent it out when you switch bases, and you can start building your rental portfolio.
House Hunting Process for Military Families Living Off Base
Homeownership is one of the best investments you can make. Buying a home is always an exciting experience, especially if you're used to military bases with outdated and unattractive housing.
Here are some steps to get you started with your house-hunting process for off-base living:
You can get a VA loan guaranteed by the Veterans Administration as a service member. You must get your finances in order ahead of time, and you can use your BAH payment to be eligible for a VA home loan. What's more, the BAH payment probably covers the entire mortgage payment.
VA loans offer many benefits, from lower mortgage rates and higher loan limits to lower closing costs and down payments. Often, you can get a VA loan without making a down payment.
Consider Your Needs
Before looking for houses, establish your must-haves and deal-breakers by discussing your expectations with your spouse and kids. By doing so, you won't get distracted by attractive descriptions or well-designed staging areas and feel you can overlook the lack of an entire garage in favor of that posh living room.
The chances of finding a home that meets all your needs and wants are slim unless you're building your own. Prepare to compromise on a few things, but the key is to see that you and your spouse are on the same page before moving forward.
It's essential to have the right team behind you when buying a house, as it's one of the most important decisions of your life. Working with a real estate agent you trust will make your experience seamless and comfortable.
No matter what kind of agent you choose, find an agent who specializes in relocating military personnel in the area you'll be moving to. Ask them if they are familiar with VA loans or other military benefits.
Involve Your kids
Your children are also involved in the many moves your family makes, regardless of how they feel about it. It can be difficult for kids to return to school in a new town and leave behind friends, especially if stability is important to them. Include your children in the moving process to make this transition easier.
You can reduce stress and anxiety associated with this change by talking to your kids and considering their opinions. Try to find a home within reach of child-friendly parks, schools, and community centers, even if they don't have specific desires. Recreational activities keep your kids occupied and help them meet new friends so that they will appreciate your proximity to them.
Conclusion
Finding a home at an affordable price will help you maximize your military BAH. You can achieve this by finding military housing that suits your family's lifestyle.
Off-base living with BAH creates a win-win situation for you and your family with lower prices, more space, and better amenities. You can also use your BAH payment to apply for a VA mortgage and buy a house.