Universal's Islands of Adventure: Camp Jurassic
Phil Ganz
/
4 Min Read
/
May 14, 2022
Beautiful plant life and the noises of prowling predators greet visitors as they move through the vast stone gateway into a modern flair in prehistoric times. Say hello to Jurassic Park, an island premised on the blockbuster book and film series in which people have reconstructed living, breathing dinos using DNA extracted from fossilized dinosaur blood.
(Mar 25, 2023)
Camp Jurassic, a dino playground with tunnels, slides, water cannons, and climbing nets, will appeal to children of all ages. You will get to interact with a T-rex on the Jurassic Park River Expedition or snap a selfie at the Raptor Encounter with Blue the velociraptor.
Stop into the Jurassic Park Discovery Center, a dino museum featuring displays, events, and life-sized dinosaur reproductions, to make your visit informative.
In our view, this is the most underappreciated point of interest at Universal Orlando Resort. It's the ideal location to get lost in the Jurassic Park world to let your imagination go wild.
The size of the Park - The Universal Orlando Resort area, including the theme park and surrounding hotels, takes up 541 acres. Wet 'n Wild on International Drive adds an extra 40 acres or so to the equation.

Where is Camp Jurassic located? In Jurassic Park, which is located on Islands of Adventure.

Is there any visitor service in Jurassic Park? Washrooms in Jurassic Park are close to the Jurassic Park River Adventure, beside Pizza Predattoria.

First-aid treatment - The closest first-aid station is in the Park's Lost Continent portion.

ATMs - Are available in the Jurassic Outfitters shop, located near River Adventure.

Lockers - Just outside River Adventure, lockers are available for a fee. Riders should think about purchasing one to safeguard any items they don't want to get wet. The cost of a safe is $4 for the first 90 minutes; afterward, $3 for each additional hour.
Camp Jurassic Attractions
Jurassic Park has many attractions, including:
Jurassic Park River Adventure
Take a river raft tour through Jurassic Park to enjoy the scenic waterways and friendly herbivores. Everything goes smoothly until disaster strikes, and the dinosaurs escape from their enclosures – forcing you to escape down an 85-foot water flume.
Pteranodon Flyers
This Universal attraction is unusual because it is intended exclusively for 36 to 56 inches tall children. Adults may only ride if they are escorted by a passenger at least this height; thus, you'll primarily see parents riding with their children.
Flyers allow you to fly over Jurassic Park like a pteranodon, enjoying the sights of the landscape and the lagoon.
Jurassic Camp
Explore Camp Jurassic's massive play area, and you'll feel as if you're on your unique prehistoric adventure. Ascend the rope bridges, traverse the wood-plank passageways, fire the dino water cannons, and make your way out of the raptor cage.
Stay close to your kids as you explore the playground since it is big and covered with tropical greenery.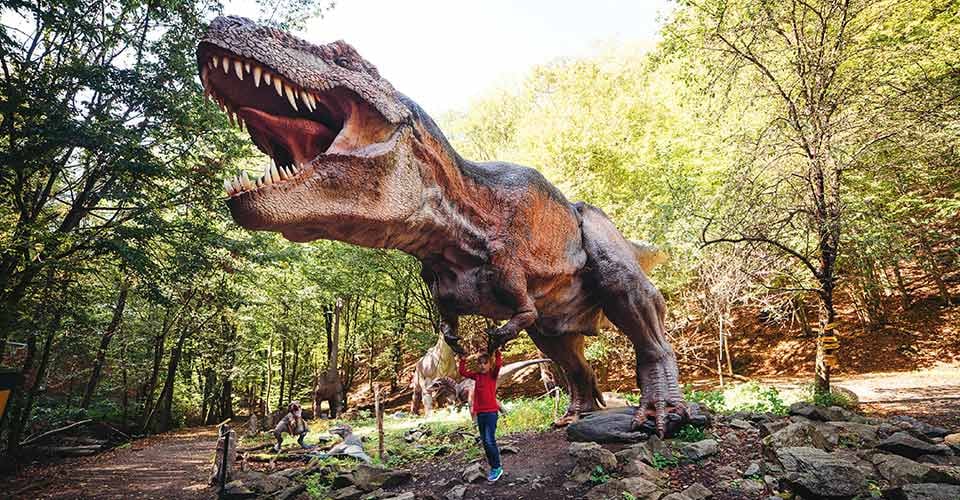 Jurassic Park – entertainment
When you visit Jurassic Park, you will have many options for entertainment, including:
Animal meet and greet
As one of the most recent dinosaurs in the Jurassic World world, Blue the velociraptor engages with visitors in her cage, which is the closest many of us will get to engage with an actual dinosaur in this not-to-be-missed animal meet-and-greet.
Discovery Center
The Dino store Burger and the Digs quick-service eatery are located on the floor level of the building. It is designed after the legendary Discovery Center from the actual Jurassic Park film.
However, it has various full-size dinosaur specimens and models and interactive activities, such as the pleasure of watching baby raptors sprout from their eggs.
Jurassic Park Dining
There are endless options to pamper your taste buds at Camp Jurassic, including;
Quick-service Thunder Falls Terrace
Thunder Falls Terrace is among the best-kept surprises for dining at Universal. Much of the cuisine provided is the same as in what you'll find at the nearby Three Broomsticks there At Wizarding World of Harry Potter - Hogsmeade, which serves rotisserie chicken, ribs, corn on the cob, and far more.
If that wasn't enough, the sights from Jurassic Park River Adventure's boats as they splash down towards the finale of the trip are unbeatable.
The Quick-service Burger Digs
The Burger Digs, located within the Discovery Center, offers herbivorous and carnivorous selections to hungry guests. Take a seat on the terrace, which overlooks the lagoon, and order a cheeseburger or a vegetarian burger with fries.
The Quick-service Watering Hole
The Watering Hole, which has a laid-back cantina ambiance, serves beer, frozen drinks, wine, and cocktails, as well as sodas, nachos, pretzels, and pork sliders.
The sitting area is dominated by the overgrowth that can be seen throughout Jurassic Park, giving you the impression that you're sipping a cocktail in the jungle.
Predattoria Pizza (quick-service)
Pizza Predattoria (a pun on the Italian term trattoria) is a walk-up counter that serves pizza, spinach and artichoke calzones, meatball subs, and Caesar salads, along with a brookie, brownie, or strawberry cheesecake for dessert.
Shopping at Jurassic Park
There are plenty of opportunities for shopping at Jurassic Park, including:
Dino store
You'll find not only the expected Jurassic and Universal souvenirs at the Dino store, and also some unexpected presents and toys which you'd usually expect at a natural history museum.
Choose from various dinosaur-themed books, instructional toys, and clothing, or bring home your fossilized replica.
Jurassic Outfitters
Don't miss Jurassic Outfitters, which has nearly every dinosaur memorabilia known to man, including shirts, dino toys, keychains, mugs, hats, and magnets, as well as necessary accessories for your next expedition, such as cell phone chargers or a cloth to dry off and after your river excursion.
Jurassic Park Interesting Facts
Jurassic Park - The Ride debuted in 1996 at Universal Studios Hollywood before being relocated to Islands of Adventure in early 1999 as an opening-day feature. The ride is based on a moment in the first Jurassic novel in which Tim, Dr. Alan Grant, and Lexi escaped on a river barge from the marauding dinosaurs.

Universal restored Jurassic World - The Ride in 2019 after some 10-month hiatus in California, with new animations and spectacular effects inspired on the Jurassic Park films.

Universal Orlando Resort has gradually entered the World game, first with Raptor Encounter and then with the Jurassic World VelociCoaster, still under development. (Yes, this implies that Jurassic Parkland has been transformed into a mini-Jurassic World.)
Conclusion
Will you be able to endure the thrills and excitement of Jurassic Camp? It's up to you to decide. We hope we've given you enough information to make an informed decision.
Is it worthwhile to pay a visit? You, once again, are in charge of making the decision. However, if you need some motivation, we feel VelociCoaster is a fantastic coaster that deserves consideration.