Universal's Volcano Bay: Tropical Landscapes and Mighty Fire
Phil Ganz
/
4 Min Read
/
Mar 08, 2022
Volcano Bay is one of the best water parks in the industry and boasts of unique and exciting attractions, rides, amenities, and features. Below is a comprehensive overview of everything you need to know about Universal's Volcano Bay.
The Volcano Bay Theme
The story behind Volcano Bay Water Park is an interesting one. It starts with the native islanders, called the Waturi, who discovered Volcano Bay. Legend has it that the islanders traversed the ocean in search of a mythical fish that led them to this tropical island paradise.
The adventurers made Volcano Bay their home and added all types of attractions and rides that celebrated and used water. Universal's overall theme for Volcano Bay is designed to recreate the experience of discovering the island paradise and never wanting to leave.
The water park's main icon is the aforementioned towering Krakatau, which features scenic waterfalls during the day and fiery lava flows at night. The attractions are situated in four tropical-themed sections. Each area is inspired by several Polynesian islands and cultures.
Krakatau Section
Krakatau is the area named after Volcano Bay's signature volcano. It is the most amazing aspect of the water park and is especially spectacular from the front. For the thrill-seekers, below are some of the slides you can enjoy at Volcano Bay's Krakatau section:
1. Ko'okiri Body Plunge
The Ko'okiri Body Plunge is a death-defying slide that Universal says is the first-of-its-kind. If you are brave enough to take the plunge, it is a near-vertical speed slide featuring a trap-door start. Passing through the Krakatau volcano, you will slide down 125 feet at a 70-degree angle.
Your reward for braving this exhilarating drop is passing through a pool attraction filled with guests at the base of the volcano. What many people may not know is that the Ko'okiri Body Plunge happens to be the world's tallest capsule slide!
2. Krakatau Aqua Coaster
The Krakatau Aqua Coaster is the first-of-its-kind in Florida and a must-do. This family-oriented slide is Volcano Bay's signature ride.
Aqua Coaster takes a four-person canoe inside the heart of the volcano. The water coaster will have you screaming uphill and racing through dark turns and twists with the Krakatau volcano. As for the grand finale, you will plunge through a scenic shimmering waterfall.
3. Kala & Tai Nui Serpentine Body Slides
Kala & Tai Nui is where the sky and sea meet. This attraction is a pair of high-speed body slides that drop from high atop the volcano. These twisting body slides, along with Ko'okiri Body Plunge, are the world's tallest drop capsule slides. Twin drop doors plunge a pair of guests down 125 feet of intertwining tubes into the turquoise waters below.
4. Punga Racers
Punga Racers is a great ride for kids of all ages. Punga Racers sends four riders down single tube lanes through underwater sea caves. The first racer down the slides gets a watery salute from Punga.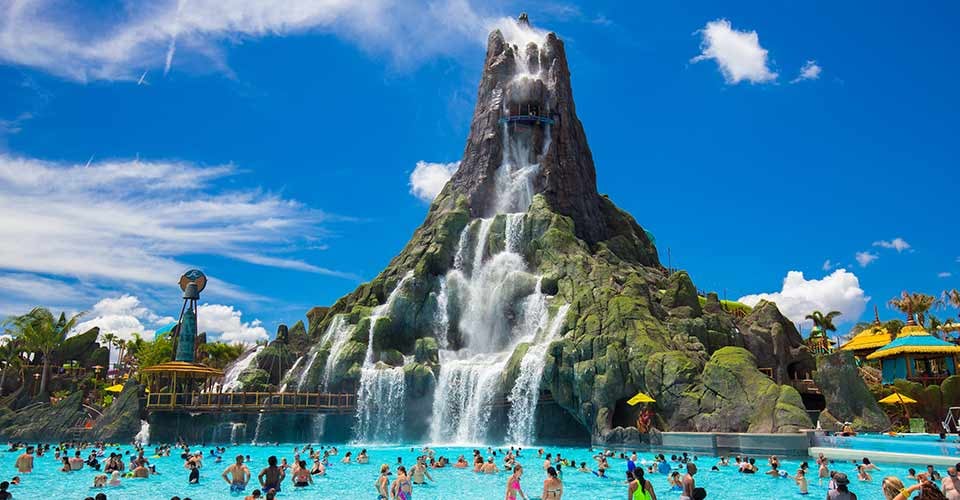 Wave Village Section
Wave Village is suited for relaxation and sunbathing. It is situated at the base of Krakatau Volcano and features cabanas that guests can rent out. Below are the attractions at Wave Village:
Waturi Beach - Waturi Beach is an entertaining, multi-directional wave pool where you can swim and relax on the white sands. Wave Beach features abundant seating areas. You can lounge at the beach or upgrade to a padded lounger with a canopy. Alternatively, you can rent a one or two-story private cabana.

The Reef - The Reef is a leisure pool that is adjacent to Waturi Beach. Here, you can enjoy calmer waters with fewer waves. You also get a perfect view of the riders zipping through the transparent tubes of the Ko'okiri Body Plunge.

Drop Slides and Puka Uli Lagoon - Wave Village has two body slides, the Ohyah and Ohno drop slides. They feature tall drops into splashing pools down below. The Puka Uli Lagoon is an interesting pool that was designed for relaxation purposes.
River Village
The colorful River Village section of Volcano Bay offers fun and excitement for guests of all ages. It is especially fitting for the youngest of visitors. Below are some of the attractions you should try out in this area:
Kopiko Wai Winding River – A lazy but picturesque river winding through Krakatau. It passes through hidden decorated caves in the volcano. It also features special nighttime lighting and random water effects.

Tot Tiki Reef – This one is for toddlers. It is a whimsical play area with slides, spraying Maori fountains, and a miniature-sized volcano.

Runamukka Reef – Situated next to Tot Tiki Reef, it is a sprawling play area with a coral reef theme. This water fortress features sprinklers, fountains, twisting slides, and more water features.

Honu Ika Moana – Boasts of two unique multi-passenger raft slides. Honu sweeps daring guests up two massive walls. Ika Moana is a longer, twisting raft ride.
Rainforest Village
Volcano Bay's Rainforest Village is located along the shores of a river. It offers visitors spots for exhilaration and relaxation, including:
Maku Puihi Round Raft Rides – Maku is the first "saucer slide" in North America to send rafts zipping around three saucer-shaped curves. Puihi is a multi-member raft ride that plunges several channels, two funnels, and a final single drop.

TeAwa Fearless River – A swift-moving river where you get to ride a raft stimulating white-water rafting.

Taniwha Tubes – Four separate Easter Island-themed raft slides that you can enjoy solo or in pairs.
Dining and Restaurants at Volcano Bay
Volcano Bay has many culinary discovering in store. Several locations serve unique island-inspired meals, snacks, and drinks to satiate the entire family. You can engage your palate at the restaurants and eateries below:
Kohola Reef Restaurant – Nestled at the base of Krakatau volcano, it is the closes restaurant to the park's entrance. They serve island favorites such as Island bacon cheeseburgers, BBQ pork sandwiches, and coconut-crusted fried chicken.

Dancing Dragons Boat Bar – This canoe-shaped bar will keep you refreshed with tropical cocktails and chilled drinks.

Whakawaiwai Eats – Features shaded seated areas overlooking the back of Runamukka Reef. They serve island BBQ chicken pizza, pretzel dogs, tropical baby greens, and jerk shrimp mac & cheese.

Bambu – A shaded hideaway that provides quick snacks such as the Mahi Sandwich, Bambu Burger, and Island Chicken Salad.

The Feasting Frog – A frog-shaped snack shop that serves snacks and beverages, including Loaded Nachos, tacos, and the Poke Poke Bowl.

Kunuku Boat Bar – Situated at the backside of Volcano Bay, head on over for specialty cocktails, draft beers, fountain sodas, and other frozen drinks.
Volcano Bay's TapuTapu Wearable
One of the most inconveniencing hassles you'll encounter at many water parks is long waiting lines. Volcano Bay has developed a smart solution to eliminate these inconveniences- the TapuTpau.
TapuTpau is an interactive bracelet that visitors are given when they enter Volcano Bay. You are required to have this bracelet if you want to enjoy the rides. Touching the bracelet at a totem pole located at the rides indicates your wait time.
You can go about your business, and the bracelet will alert you when it's time. You use TapuTapu to reserve rides, so you don't have to waste time in lines. You can also use the bracelet to access interactive features in Volcano Bay.
Conclusion
If you're planning on visiting Orlando, Florida, trying out Volcano Bay is a must if you seek an exciting and fun-filled day, be it alone or with your family. The ambiance is great, you will be extremely thrilled, and you get to skip the long lines. Moreover, you'll enjoy the amazing food and drink and appreciate the little things this water theme park has to offer.
Interested in learning about becoming a resident in Florida or moving there? Read more.