Using the Internet to Your Advantage
Phil Ganz
/
3 Min Read
/
Mar 24, 2022
Most property investors find the internet an incredible research tool with a wealth of information related to housing listings. Currently, 90 percent of customers launch their search for a house on the web.
As a result, you no longer need to contact a realtor, wait for a list of potential homes, and make a site visit to get a house.
(Mar 31, 2023)
You can unlock all the free home classifieds that use similar criteria, such as price and functionalities, with a single click.
This article highlights how to use the internet to make your home search efficient, effective, and stress-free. We also have a detailed recommendation of the best sites to get reliable listings for houses on sale.
Top Real Estate Sites on the Internet
There are fantastic government agencies and real estate sites that contain informative content on their websites. But how will you identify the genuine sites?
Here are our top picks on the best sites to look into:
National Association of Realtors
This site has earned a reputation among other portals, thanks to constant improvements by the National Association of Realtors.
It features millions of home listings from different services throughout America. Most listings on the site contain photos and detailed maps to precise locations for easy identification.
The site doesn't contain any listings by individual owners, as it aims to link prospective buyers to realtors and not individual sellers.
If you wish to search for home listings within a specific community or neighborhood, the site offers reliable resources such as crime statistics, local public schools, and demographic information.
The site also has the most accurate info, usually updated after fifteen minutes. They are also famous for using plain language and having valuable charts, which provide buyers with sufficient information about the communities.
The site offers reliable clues to areas susceptible to floods and major earthquakes. If you require resourceful assistance, the site also provides details on emergency preparedness and preventive measures.
If you are looking for a certified home inspector, then ASHI is the place to be. Here you'll find a list of certified inspectors and information about home inspection. Additionally, the site contains links to consumer protection resources, including water testing and septic services.
Eric is a real estate writer and author. He owns a website that hosts timely and informative articles on purchasing and selling a property. The website also contains various real estate topics, including managing personal finances for real estate investment.
The Housing Department in the US provides insights on home listings up for grabs on its website. There you'll also find excellent listings suited for persons with disabilities. You can also submit your complaints about homeownership or sales via the agency's website.
The US Trade department is a goldmine of economic info. If you wish to have a sense of the financial performance of an area before buying a property, then this is the site to visit.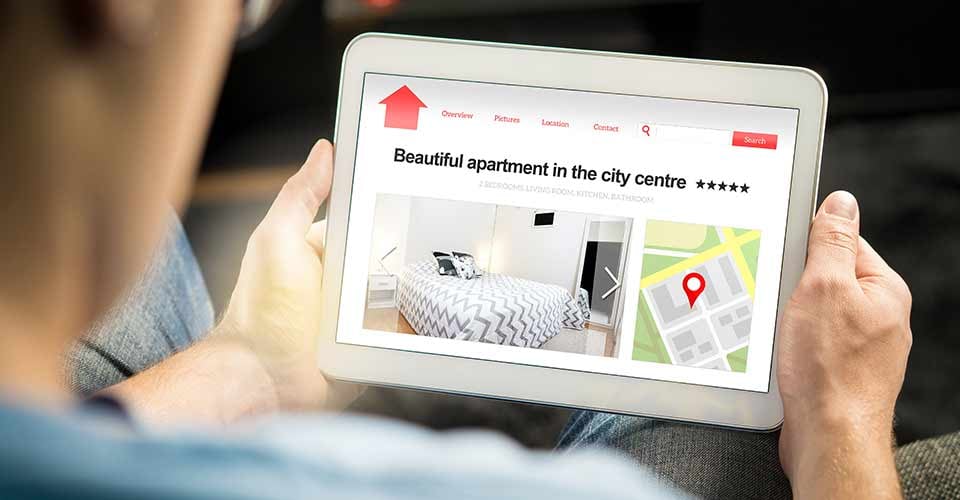 Preliminary Online Shopping
The best thing about the internet as an innovative tool for real estate search is that you can get a quick overview of the property market at your convenience. You can compare communities regarding crime rates, amenities, and the weather.
You can also find details about accredited agents, home prices, mortgages, and property inspectors, at the comfort of your chair. Learn more about the homebuying process here!
Surveying Your Preferred Home
The internet is a great contributor to the home buying process because it allows you to peruse home listings at your convenience. Home listings will be ideal if you are particularly interested in moving from one state to another.
When you conduct a general search for a property within a locality, you'll have a list of famous real estate sites on your search page. Contacting any websites will link you up with an approved real estate agent.
If you don't wish to work with an agent, begin your search on realtor.com which grants you the freedom to customize your search criteria.
However, during your home search, bear in mind that what you see is not necessarily what you get. Some listings may be outdated or have scanty information. It, therefore, pays off to make a physical site visit to your desired property.
Avoiding Foreclosure Sites
Despite the high influx of foreclosures, the internet is still a rich source of themed websites that sell foreclosures. They exaggerate the alleged profit you can earn from buying and selling foreclosed property.
However, such sites have prevalent inaccuracies on their listings that often disgruntle potential clients.
So if you wish to buy a foreclosed property, you can check for listings in local newspapers. You can also search manually over the internet using a city's name and the word 'Foreclosure.'
For instance, if you want a foreclosed house within Pittsburgh, you can enter the keyword "Pittsburgh foreclosures''.
Finding Information About Schools
Do you have school-going children? Then proximity to a good school for your children should be essential in your home search. Even if you have no school-age children, having information about the local schools is vital for the future.
A nonprofit website (greatschools.org) contains information about public schools within an area. You'll also find details on how schools compare their performance on the website.
Finding the Best Place To Live
Whenever job relocation comes up, the task is to find a suitable place to call home. Do not fall into the trap of sensational magazines that publish exaggerated ratings of the best places to live.
Instead, Neighborhood Scout offers reliable and customized online searches according to your needs. If you don't use a personalized search, you could still launch your search with preset criteria.
Online Home Search: Is It Worth?
The worldwide web is a reliable platform for first-timers in the housing market. Web-based search results can make your work easier, whether starting your first search or upgrading to a higher status. So, look through the sites listed above to find an apartment that meets your requirements.
However, looking at images of houses online may sometimes not suffice. Before you make a decision, you must schedule a visit to the home of your interest and choice.
Walk into every room and inspect each one for yourself, regardless of how good their virtual home tour is.
Interested in learning about becoming a resident in Florida or moving there? Read more.