What To Consider When Purchasing a Fixer Upper
Phil Ganz
/
4 Min Read
/
Mar 09, 2022
Many people want to buy a fixer-upper. The appeal is obvious: fixing up an old house can be a great way to save money while also creating a unique home. It's also possible to make a substantial profit by selling the house after you've fixed it up, which is one of the biggest draws for many people.
(Mar 25, 2023)
But buying a fixer-upper isn't always as simple as it might seem. For starters, you need to consider all sorts of factors, and many of them are more complicated than they might seem at first glance.
What Is a Fixer-Upper?
A fixer-upper is a home that has something wrong with it. It might be in bad shape or have structural problems that make it difficult to live in without repairs. Whatever the problem is, the house will require some level of work before selling it. You can always buy fixer-uppers at a discount because of this fact, but they can also be more expensive than other properties if they're located in a desirable area.
How Much Work is Involved?
The amount of work involved depends on many factors, including which type of fixer-upper you're purchasing and how badly the current owner needs to sell the property. You'll need to do some research about typical costs for certain repairs, as well as how much time it takes to complete them. A few hours of labor might be enough to get started on some projects, while others could take days or weeks. Most DIYers can handle basic tasks like painting and simple plumbing repairs.
Check the Neighborhood
The first thing to do is research the neighborhood and its history. This will help you determine if there have been any problems in the area that you should be aware of before purchasing a fixer-upper. What has happened in this neighborhood in the past? Are there any zoning issues? Are there any abandoned properties nearby? Is there a high crime rate? You will need to answer these questions before moving forward with purchasing a fixer-upper.
Pull Up The Calculator
The next thing is to estimate how much it will cost in labor to get started with your new home. You'll want to figure out what needs to be done, how much it will cost and how long it will take. Be realistic about what your end product should look like. It's probably going to take longer than you think and cost more than you think. If you know this initially, you won't get discouraged along the way when things don't go exactly as planned. Learn more about how much you can afford here.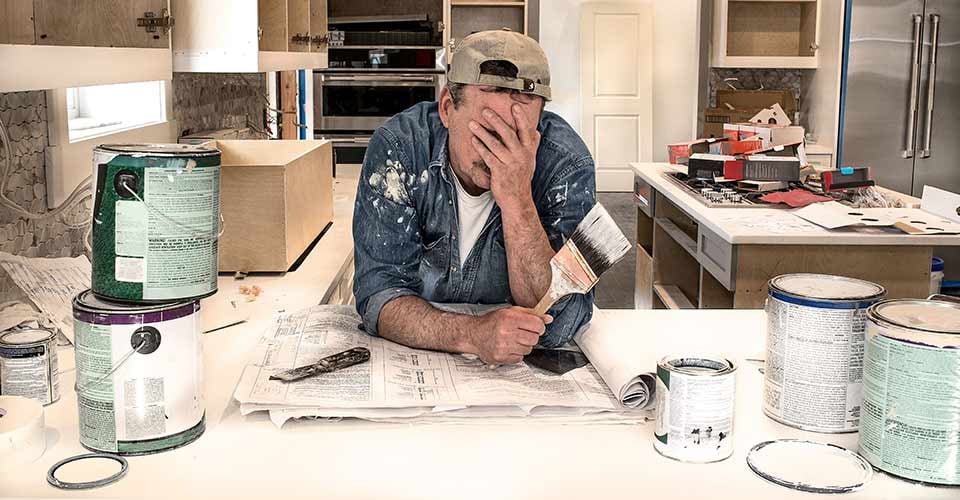 Understand the Scale Of the Fixer Upper You Wish to Purchase
When it comes to fixer-uppers, size matters and not just in terms of square footage. How much work will be needed on this house? What are your costs going to be? Are you prepared and able to invest the time and money necessary to rehab this home? Having a clear understanding of what's involved in the rehabilitation process is essential before leaping into homeownership.
Check Zoning Laws
Check local zoning laws before purchasing a fixer-upper. You don't want to go through all this trouble only to find out that your dream home is zoned commercial or residential-only or that it sits in a flood plain or something similar.
Structural Repairs Vs. Renovations
There are two broad categories of work done on fixer-uppers. The first is structural repairs, and the second is renovations. The biggest difference between the two is that structural repairs are needed to comply with city codes and state building codes, while renovations aim to improve the value of a home.
Structural repairs serve as an essential function in ensuring that homes last for as long as possible. These types of repairs help keep a building safe from danger and prevent the need for complete reconstruction in the future. Although some structural repairs can be pricey, they will ensure that your investment lasts for as long as possible without breaking down or falling apart.
Renovations are changes made to improve a property's value, appearance, or both. Renovations are typically done on interior areas of a home and can include remodeling the kitchen and baths, adding an addition, and making repairs to the home's exterior.
Cosmetic renovations are a few of homeowners' most popular improvements to their houses. They can be as simple as changing the bathroom countertops or changing the light fixtures to something more extreme, like building a new deck.
While some homeowners add value with renovations, others make changes without considering impacting the home's future value. Before renovating, determine whether your renovations will add or detract from your home's value.
When looking at properties, take note of certain structural issues that can't be repaired with simple fixes like paint or new flooring. If the roof leaks when it rains, replacing it could involve tearing out walls and flooring throughout most of the house. Learn more about renovations here.
Finding Your Diamond In The Rough
The reality is that finding the right fixer-upper doesn't take luck. It takes patience, hard work, and an understanding of the market. Here are a few key things to keep in mind when shopping for a fixer-upper:
Remember the principles of conformity and progression and regression. Determine the home's fair market value, so you don't overpay. You need to be fully informed as a real estate buyer: know the laws, educate yourself on the market, and do your research to find the right property. Once you're fully engaged in the process, you'll be ready to swing the hammer and make some improvements!
Do your homework before you make an offer. When buying a home that's in rough shape, it pays to get a good inspection from an impartial third party. A thorough inspection will give you a realistic idea of what needs to be done to the house, so you know what to expect when it comes time to negotiate the price and the repairs.
Make sure to get contractors' bids for structural repairs and renovations. Try to get at least three bids for work requiring a permit, such as a new roof, plumbing, electrical work, or risk liability, such as asbestos removal.
Get referrals from friends and other homeowners who've used local contractors in the past. Be sure to check out the contractor's references and Better Business Bureau rating before hiring them. Once you have the bids for your project, figure out if you can afford it. A good rule of thumb is that you should only spend about 3 % of your home's value for upgrades.
Once you narrow down the right home, the next step in finding the best lender for your fixer-upper is determining which types of renovations you want to complete. By knowing what you want to accomplish, you can search for lenders that offer services tailored to fixer-uppers and provide the financing for your project.
Fixer-Uppers Should Be Considered A Long Term Investment
If you plan on selling your property in five years or less, it may not be worth purchasing a fixer-upper. Fixer-uppers take time and effort to rehabilitate. They also take a lot of time to sell when you're ready to move on from your new home. A quick sale is rarely the case with this type of property.
Takeaway
If you're so inclined to buy an older house and make it your own, take these tips into account to make sure you find the right house at the right price.