Why is Daytona Beach Considered One of the Top Areas to Retire?

By Phil Ganz

Edited by Ryan Skerritt
8 Min Read
May 24, 2022
Many people looking for custom-made Florida homes prioritize a temperate year-round climate coupled with reactional and outdoor living options. Florida's beautiful sandy beaches come in as a big plus, and this is where Daytona Beach retirement features the most.
How it is Like To Live in Daytona Beach, Florida
Daytona Beach is a fascinating place for both visitors and residents. Each winter season in the US sees thousands of visitors heading to this region to escape the cold temperatures in their home areas. The opposite happens in the summer and this is the best time to relax on the sandy beaches after visitors have gone back home.
Many things make Daytona Beach retirement the only option for those looking to take a break from years of working and saving. This popular vacation spot stands out as a perfect place to enjoy the rest of your retirement life.
Besides, Daytona doubles as a leisure fishing spot for residents. You can spend your fine evenings casting from a deck or power of your yacht as you enjoy the picturesque and beautiful sunset. Fishing is considered a land-based recreational activity almost similar to golf. Affinity to this sport goes way back to more than one century.
Apart from golf and fishing, Daytona Beach residents enjoy racing. This is evident thanks to the infamous Daytona International Speedway. As a matter of fact, NASCAR fans from all corners of the country flock to the area to enjoy the racing. These sporting events suggest that Daytona Beach provides all aspects of life to its residents.
Also, life in this part of Florida is balanced by theatres, museums, antique markets, malls, restaurants, colleges, and performing arts centers. A combination of these social and recreational amenities makes Daytona Beach a well-rounded metro area in Florida and across the country.
Another thing that makes living in Daytona Beach for the rest of your retirement time is access to various places of interest. Examples of these places that you can easily access from Daytona Beach include the adjoining towns and metro area. Communities such as South Daytona, Port Orange, Ormond Beach, Ponce Inlet, and Holly Hill provide a wide range of living choices for newcomers.
Daytona Beach, Florida Rankings
Different rankings help explain why Daytona Beach retirement should be on your bucket list. The rankings are usually based on different factors that affect people's lifestyles in a given location.
During the ranking, the US News analyzed around 150 metro areas in the country. This exercise was carried out to find the most appropriate and desirable places for retirees to call home. The analysis was based solely on the quality of life and the available job market in every metro area. The people's preferences and values of living in those areas were also considered.
Daytona Beach was ranked 69 among the best places to live, 3rd best among the best places to retire, and 7th the fastest growing place in the country. In the state of Florida, Daytona Beach emerged as the 11th best place to live. The ranking also covered the safest places to live and the most expensive places to live with Daytona becoming number 15 and 17 respectively.
Popular Neighborhood in Daytona Beach
Since Daytona Beach is in Florida, its setup is almost similar to those of other cities in this state. It features both the barrier island and mainland. The island consists of beautiful beaches, plenty of bars, several high-end hotels, and a boardwalk.
The mainland has several builder-planned neighborhoods complete with amazing homes and condos located on the shores of the Halifax River. Several neighborhoods border Daytona Beach and they are perfect for retirees who prefer leading a quiet life away from the tourist-packed boardwalk and speed track.
Some of these neighbors include:
South Daytona - The South Daytona community is located 3 miles from Daytona Beach. It boasts affordable homes and a lower cost of living than other US cities. This neighborhood is part of the South Daytona Independent School System. Its unemployment rate is around 3.7%, which is also equivalent to the national average.

Daytona Beach Shores - Despite its location next to the shore, Daytona Beach Shores is a quiet community. It is located slightly more than 3 miles from the main beach. The cost of living in this neighborhood is a bit higher than in other neighborhoods in Daytona.

Indigo Lakes - Indigo Lakes is situated on the Daytona Beach mainland. This neighborhood sits between International Speedway Boulevard and LPGA Boulevard. Its homes are affordable and slightly lower than Florida's average sale price. Residents are within a short distance to shops, restaurants, and a medical complex.

Ortona Homes - Even though Ortona Homes is smaller than other neighborhoods, it is well-planned. It is located on the beachside and shares its borders with the Halifax River and the Atlantic Ocean. Its location makes it a perfect fisherman's dream community.
What to Do in Daytona Beach, Florida
Whether you are coming to Daytona Beach as a young professional, family, or retiree, there are plenty of things to do. Those coming to settle here can find the beach itself to be a place of relaxation and fun.
For instance, driving along the beach is still allowed, especially in the designated sections. That is why you may come across miles upon miles of cars parked along the beach.
As a resident of Daytona, you will have arts at your fingertips. This is because Daytona Beach is a hub for theater productions and live music. These forms of entertainment are offered at the state-of-the-art Peabody Auditorium. There is always a chance to enjoy immersive shows at the beachfront Daytona Beach Bandshell amphitheater as well.
Another entertainment spot in Daytona Beach is Main Street. The area draws entertainment seekers from far and wide to enjoy their favorite drinks at the onsite nightclubs and bars. There is also the Daytona International Speedway for racing events. This venue hosts charitable events and a half marathon, including the ever-popular NASCAR races.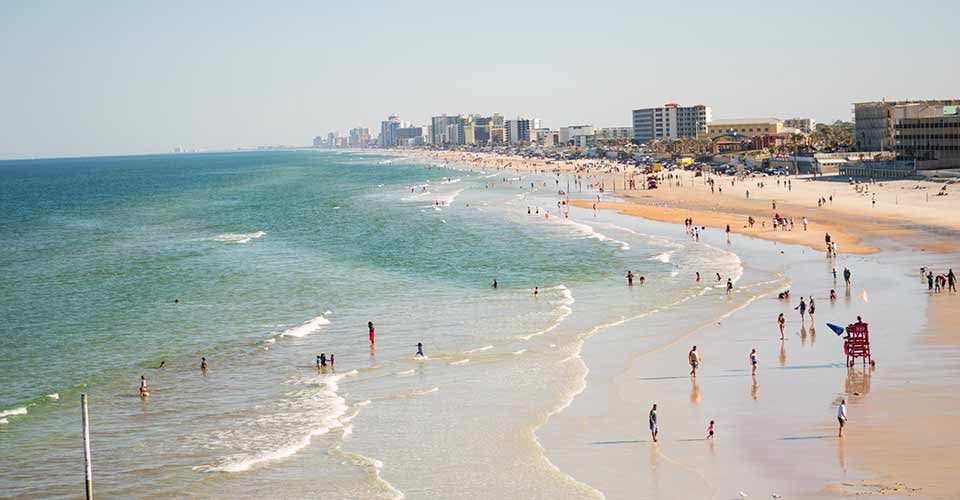 The Cost of Living in Daytona Beach, Florida
Surprisingly, the cost of living in Daytona Beach is lower than in most places across the country. In this case, daily expenses tend to be lower than the national average. This is attributed to the fact that those living in Florida and its cities are not required to pay the state income tax.
On the flip side, area residents earn less than what others earn in most parts of the United States. Since you are a retiree looking to start your new life in this area, the cost of living will undoubtedly fall within your means.
Even though living in this part of Florida is affordable, you need to factor the following expenses into your budget:
Cost of Food and Groceries
Compared to the Daytona Beach island area, the mainland is less expensive when it comes to groceries and other types of food. The island has a few shopping options, making it costly to buy food items in comparison to mainland Daytona Beach.
The presence of fewer shops on the island is due to increased tourism activities. Also, there is a limited variety of foodstuff because of the smaller storage space. This is a completely different story when you settle on mainland Daytona. Here you will come across several grocery stores and a number of seasonal farmers' markets to buy your supplies.
The cost of groceries on the mainland is about 3% lower than the national average. The price may depend on individual sellers and where the shop is located. Meals at the restaurants are more affordable than on the island. Generally, food and groceries in Daytona Beach are affordable for all residents.
Cost of Utilities
Utility rates in Daytona Beach are all the same regardless of where you are living. However, these rates depend on the individual service providers. For instance, some electric companies charge lower rather on electric power consumed than others.
Therefore, you need to consider going for providers that charge lower rates. Florida Power and Light is the main service provider for electric energy in Daytona Beach, followed by New Smyrna Beach Utilities and Duke Energy.
When it comes to water and sewerage, The City of Daytona Beach Utilities Department has you covered. Its main task includes inspection and maintenance of the ditches, canals, and storm drainpipes. In general, the utility costs less than 3% of the national average.
Transportation Costs
Just like most cities across Florida and the rest of the country, Daytona Beach has a well-established public bus system. This mode of transport is mainly operational on the mainland.
For this reason, there are no public transportation services on the island. Only a few bus stops are found along A1A. Fares on the mainland are usually inexpensive. Frequent riders tend to save a substantial amount of money when they buy a month-long or day pass.
If you are a rider, you will save your money by using a bicycle when moving around the island and even the mainland Daytona Beach. Foot traffic is another frequent mode of transportation used in this area.
Public transportation cost in Daytona Beach, Florida is around 12% less than most cities nationwide. Most residents prefer using their own private cars when getting around Daytona Beach or traveling around the state of Florida. Car hire companies are also in plenty and you can choose a car of your choice to enjoy a ride or a road trip in Daytona Beach and the surrounding areas.
Healthcare and Medical Cost
Health care is important, especially if you are planning to retire later in life to Daytona Beach. With that being said, most healthcare services and medical facilities are located on the mainland. This is the location where you can find emergency care in Daytona Beach, Florida.
The island boasts just a few medical and healthcare facilities. The island is also home to top physician and dental offices along with several satellite emergency room-style clinics. All these are designed to take care of minor injuries such as cuts, sunburns, and broken bones.
As a resident, you can take advantage of the available insurance industry to offset your medical bills just in case of a medical emergency. The good news is that residents pay less than 2% of the national average for healthcare and medical services in Daytona Beach.
Available Taxes
The fact that Daytona Beach is part of Florida, it does not have the state income tax. This is one of the greatest advantages of retiring here. However, there is a sales tax that residents must pay. The sales tax is actually the same as that charged across other cities in Florida and it stands at 6.5%.
Most states in the United States require residents to pay between 7% and 8% sales tax, which is slightly higher than what you will pay once you start your retirement life in Daytona Beach, Florida.
Another tax that you should know before moving to Daytona Beach, Florida is the property tax. Currently, the property taxes stand at around 0.95% of every home's value yearly. This tax rate is subject to change depending on the size and location of your home.
People and Culture
Before moving to Daytona Beach, you should have an idea about the people and the culture. Just know this is a friendly city for everyone visiting or coming to settle.
Daytona Beach has a rich history worth knowing. Its history includes the American Indian tribe known as Timucua and African American as well as the racing heritage.
Several historic sites are available in Daytona Beach, Florida. A good example is the Deland Memorial Hospital Museum, Rose Room Gallary, Fairchild Oaktree, and Coquina Clock Tower.
During your stay in Daytona Beach, you will meet people from all walks of life with different occupations and diverse backgrounds. The only precaution you should take is not to ask one about their occupation. This is due to the live-and-let-live attitude among residents of this city. Ironically, this is one reason you will find Daytona Beach, Florida an appealing location to start their retirement life.
Things to Do in Daytona Beach, Florida
Due to its location, Daytona Beach offers plenty of things to do for residents and those on vacation. Its long sandy beaches are considered one of the best attractions in the area. The International Speedway is another attraction that you will find to be exciting on a race day.
There are also the Dunlawton Sugar Mill Gardens and Museum of Arts and Sciences located not far from the residential settlements. During your free time, you can take a tour of the Dunlawton Sugar Mill Gardens (botanical gardens) to view the ancient ruins of a sugarcane plantation.
Also, you may visit Tomoka State Park for camping and boating activities on the Halifax River. The boating adventure will certainly give you a slight idea of what this area looked like in past years before development transformed it.
If you love fishing during the evening hours, the Main Street Pier will provide a great platform for this leisure activity. The pier also provides a carnival-like setup complete with arcades, games, and delicious street food.
A couple of miles from Daytona Beach you will come across the historic Ponce Intel Lighthouse. This structure is considered one of the world's existing tallest lighthouses. You can climb up its 203-step winding staircase on your way to the top to have a great view of the surrounding areas.
These are only a handful of things to do when you retire to Daytona Beach. There is plenty of fun activities, adventures, and entertainment to make your life more exciting.
Final Thought
From the information above, you can trust that Daytona Beach is an ideal place to retire. This is because your Daytona Beach retirement will get you closer to the exciting beach life of Florida all year round. Plus, you will engage in various outdoor activities like fishing and golfing, not to mention watching marine life as part of your pastime.
Art galleries, museums, and antique malls will get you immersed in the rich history of Daytona Beach and Florida in general. So, if you think Daytona Beach has what it takes to make your retirement worth it, this is the time to start your relocation plans.
With over 50 years of mortgage industry experience, we are here to help you achieve the American dream of owning a home. We strive to provide the best education before, during, and after you buy a home. Our advice is based on experience with Phil Ganz and Team closing over One billion dollars and helping countless families.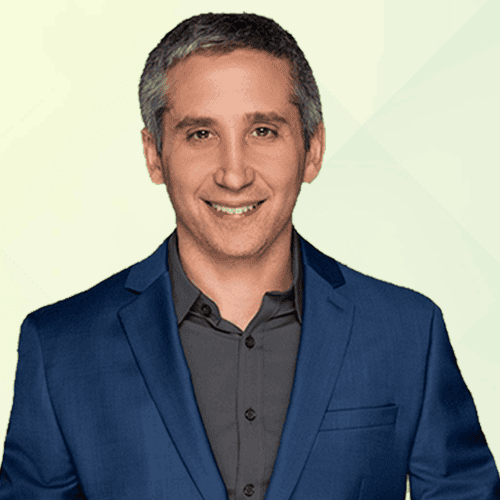 About Author - Phil Ganz
Phil Ganz has over 20+ years of experience in the residential financing space. With over a billion dollars of funded loans, Phil helps homebuyers configure the perfect mortgage plan. Whether it's your first home, a complex multiple-property purchase, or anything in between, Phil has the experience to help you achieve your goals.