Why You Should Retire in Tampa, Florida
Phil Ganz
/
8 Min Read
/
Apr 12, 2022
For decades, Tampa has been home to seniors from different parts of the United States. Many reasons contribute to why most retirees choose to settle in this part of the Sunshine State. So, if you are retiring in Tampa, Florida soon, the information below will help you get started.
Benefits of Retiring in Tampa
Retiring in Tampa, Florida is a great idea, especially for seniors. Check out these important reasons why you need to consider your retirement in Tampa:
1. Plenty of Sunshine
Since Tampa is part of the Sunshine State (Florida), expect it to have plenty of sunshine across the year. As a matter of fact, this city enjoys an average of 220 days of sunshine.;
Its subtropical climate assures you of warm summers, temperate springs, mild winters, and temperate falls. The rainy season starts from May all the way to October, making Tampa and Florida in general a place to enjoy months of sunshine.
Temperatures in winter months vary considerably across all cities in Florida, including Tampa. What you need to know is that no matter where you choose to settle in this city, winters are always mild.
2. Tax Breaks for the Retirees
Before you move to Tampa, Florida, you need to understand everything about taxes. Fortunately, the state of Florida is a tax-friendly haven for retirees. So, retiring in Tampa, Florida means that you will save a substantial amount of your income retirement. This is attributed to the fact that the entire state of Florida, Tampa included, has no state income tax.
At the same time, the state does not deduct Social Security benefits and the tax retirement income. The inheritance or estate taxes are also not available. Property taxes are always reasonable for residents. All these reasons make Tampa a financially appealing place for seniors and retirees looking to save money during their retirement time.
3. Famous White Sand Beaches
Florida beaches are famous all over the world. With Tampa being part of this Sunshine State, you should expect to find more beaches around. The 1200 miles coastline from the Atlantic Ocean to the Gulf Coast provides beaches with soft, white sands, sunshine, and gentle breezes to make you feel comfortable on a sunny day.
The beaches are also calm, with an abundance of shells. This means that if you are not swimming, then you should be collecting shells just for fun. Beach walking is another activity that you may consider to keep yourself fit and active.
On the other hand, you may choose to play in the sand with some of your grandchildren or explore different areas around the beach. Later in the day, you may wind up at one of the shopping or dining facilities to have a taste of dishes served by restaurants in Tampa.
If you are daring enough, you may occasionally take part in the ever-popular water sport while spotting sea turtles and dolphins. For retirees, beaches in Tampa provide a conducive environment to relax the body and mind.
4. Amazing Social Life
Retiring in Tampa, Florida is a sure way to keep yourself active, social, and healthy. This is attributed to the fact that Tampa attracts scores of retirees from different parts of the country. When these retirees finally make Tampa their next home, they befriend each other.
In most cases, these retires create a bond over shared ideas and new experiences in their current location. This type of social life is not only fulfilling but also inspiring to those who may not have many friends or relatives to give them some company. You too can make friends as soon as you start your retirement life in this city.
5. Active Coastal Lifestyle
Living the rest of your life in a coastal region can bring a lot of benefits to your general lifestyle. Since Tampa, Florida is a coastal town, you should look forward to an active lifestyle regardless of your age. Your retirement in this city gives you more time for resting and relaxing.
Active outdoor opportunities for retirees are available. For instance, you can take your time exploring the Everglades National Park using a high-octane airboat or dive alongside some manatees at Crystal River. You may as well have a look at the amazing coral at Looe Key National Marine Sanctuary.
The friendly climate, the national park, and beautiful beaches all combine to give you an everlasting active lifestyle in Tampa. These features encourage you to take advantage of activities such as running, hiking, swimming, and surfing among others. Each activity is tailored to help you age well as you enjoy years of your retirement.
6. Available Active Senior Communities
Once you settle in Tampa, you will realize that there is a huge senior population. As a retiree in this city, you will choose the most appropriate active senior communities that suit your lifestyle and needs.
Most seniors choose to relocate to Tampa, Florida before moving to a living community for seniors. The main reason they prefer this city is that there are 55 and older active communities around. This should tell you that moving to a community that consists of adults aged 55 and older can help you make new friends quite easily. As such, you will discover a strong sense of belonging to a group of people with a similar lifestyle to yours.
7. Nearby International Airports
Tampa's location in Florida places its residents close to several international airports. This makes it easy for your family members and friends to visit you. Up to 13 international airports are located not far from the city of Tampa. Regional airports are also available, making it convenient for seniors to travel whenever they want to.
The presence of these airports makes retiring in Tampa, Florida a sound idea. They also give you easy global access, in addition to creating the adventure of your retirement lifetime worth it.
8. Easy Access to Health Care
You may experience several health conditions in your retirement age. Therefore, inaccessibility to good medical care may become a big problem for your general health. Retiring in Tampa, Florida will undoubtedly bring you closer to one of the world-renowned high-quality medical care and health services.
The high number of seniors in this city has greatly contributed to the presence of the world's finest geriatric professionals in Tampa and other cities in Florida. These professionals provide seniors with some of the best healthcare and medical care services in the world. With your good health in check, you can be sure of enjoying more years of your retirement in Tampa.
9. Unique Arts and Culture
Just like any other city in the world, Tampa, Florida has its own unique arts and culture. This city is a perfect example of a melting pot of all different cultures in the country. This is due to the presence of beautiful beaches, stunning scenery, and tropical climate that have drawn people from different cultures and backgrounds.
From art galleries to art museums and restaurants to concerts, Tampa offers residents a unique cultural experience not found anywhere. Besides, the arts, and culture of this city appeal to the seniors who come to spend the rest of their retirement time in Florida.
10. Close Proximity to Disney World
Retiring in Tampa, Florida does not just serve the interest of the seniors alone. Young individuals can also find this place to be a gateway to a lot of fun activities. Seniors too can still feel young again by visiting places of interest such as Disney World.
Even though Disney World is located in Orlando, Florida, access to it from Tampa is not a problem. You can have your grandchildren accompany you to Disney World when they pay you a visit.
Disney World attracts many people each year and your grandchildren will certainly love the idea of spending their time there. Choose Tampa as your retirement home and spend some quality time at the World's Happiest Place.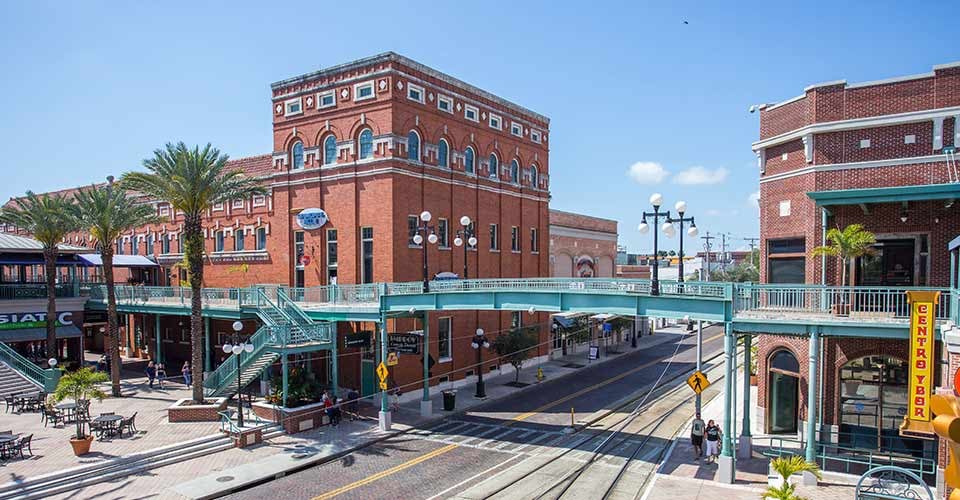 Best Neighborhoods for Retirees
Tampa boasts active senior communities, easy access to the beach, and top-notch healthcare providers. Plus, the city has a vibrant neighborhood for seniors to settle down when their retirement time comes.
Below are some of the best Tampa neighborhoods for retirees:
1. Bayshore Beautiful
Bayshore is not only luxurious but also safe for retirees. This Tampa neighborhood assures you of a suburban feel thanks to its tree-lined streets, great views of the picturesque Hillsborough Bay, and spacious properties. For that reason, these impressive features make Bayshore Beautiful a desirable place for retirees moving to South Tampa.
Most residents of this neighborhood are aged over 55 and they make up a large percentage of the entire local population.
Several healthcare facilities are also available and you can find them within the area. They include TGH Urgent care and Bayshore Pointe Nursing and Rehab Center. MacDill Air Force Base is also nearby Bayshore Beautiful, making this neighborhood a great place for veterans and those looking to retire in Florida.
Things to Do
Once you settle in Bayshore Beautiful, you can acquire your membership at the South Tampa Family YMCA. Your membership will give you unrestricted access to swimming facilities and senior fitness programs.
Alternatively, you may become one of the members of The Stovall House. This membership will allow you to walk along the paths in the estate or make good use of the pavilion's guest houses when visited by your family members.
If fishing is one of your favorite outdoor activities, you can reach out to Outdoorsy Adventures and Resort.Inc to schedule your fishing trip to the Gulf of Mexico. Away from a fishing expedition, you may grab your favorite Cinnamon Role Latte along with a fresh-baked pastry at Espresso Yourself Coffee Shop.
Visit the Bull Market to snack on a variety of appetizers such as Buffalo Chicken Mac, Miso Glazed Shrimp Bites, and Cheese. Or you may order your dinner from Cafe Paradiso and have it delivered to your doorstep in record time.
2. Bayshore Gardens
If you are searching for a high-rise condominium with waterfront views, Bayshore Gardens has you covered. Condos in this neighborhood are affordable and designed to fit the needs of those coming to retire in Tampa, Florida.
Bayshore is an excellent Tampa Neighborhood for you to retire. This neighborhood is located ten minutes from the Tampa Riverwalk and Hyde Park Villa Village. It also features good walkability, specifically for active retirees who need to experience the best part of their local community.
Healthcare and medical care facilities are also within easy reach. They include Memorial Hospital of Tampa and South Tampa Immediate Care.
Things to Do
While in Tampa, Florida, you can become a member of Tampa Federation Garden Clubs to help preserve and celebrate Florida's Natural beauty. In addition, you may take advantage of early morning walks, picnics, or bike rides by visiting Fred Ball Park overlooking the bay.
Create some time to take your grandchildren to the Gasparilla Parade of Pirates. Your little grandkids will certainly get excited by marveling at the Gasparilla Parade of Pirates' elaborate boats, festive music, and colorful costumes.
Spend some time at Palma Ceia Golf and County Club (the oldest private golf club in Tampa) to improve your swing. Take a tour of Elevage SoHo Kitchen and Bar to have a taste of the Farmers Omelette or Baked French Toast.
Finally, reach out to Sally O'Neal's Pizza to grab a slice of mouth-watering Beef Gorgonzola Pizza or Goat Cheese Prosciutto Pizza. Wind up your evening by checking out Bellas Italian Cafe for its Lasagne, Carpaccio, Tiramisu, and Napoletana.
3. Beach Park
Another colorful neighborhood for retirement in Tampa is known as Beach Park. This is one of the most sought-after retirement places in Tampa, Florida. Beach Park provides marina access, waterfront views of the Old Tampa Bay, and housing options. You can choose from condos to townhouses and large luxury estates.
West Florida Orthopedic Rehabilitation and Centra Care South Tampa are all within Beach Park. Tampa International Airport is just ten minutes away to make your travel easy and convenient.
Things to Do
You can go for a walk or choose to relax while reading a book at Swann Circle Park. On the other hand, you may rent a boat at Tampa Bay Marina to go boating or shop at Heads and Tails in support of Tampa Bay Lightning (NHL), Tampa Bay Rays (MLB), ANF Tampa Bay Buccaneers (NFL).
During your free time, you can attend the Sylvan Ramble Lights show with your family. For breakfast or dinner, you can visit Bay Center Cafe, Curry Leaves Indian Cuisine, and Terra Gaucho Brazilian Steakhouse to sample the finest Asian, Continental, and local dishes.
4. Oakford Park
Retiring in Tampa, Florida can be exciting if you know the right neighborhood to settle down in. In this case, Oakford Park should be among your top choices. Oakford Park is an area in midtown Tampa with a population of individuals aged more than 55.
It comprises a tight-knit community of seniors and retirees, meaning that you will easily fit in as soon as you settle there. Housing options range from assisted living facilities to single-family homes. Nearby healthcare facilities include Care Team Home Healthcare and Florida Orthopedic Institute.
Things to Do
You may take your dog for a walk or jog in the morning and evening hours at MacFarlane Park Trail. Alternatively, you can catch a live belly-dance show or take part in napkin throwing and plate breaking at Acropolis Greek Taverna.
Find your way to Care Massage to have a deep tissue massage that will relax your body. Order a peanut butter doughnut and a custom-made cake for your special events at Alessi Bakery. You may also order Seafood Enchiladas and Lobster Tacos along with Miguel's Signature Margarite from Miguel's Mexican Seafood and Grill.
Final Thought
Have you made up your mind to retire in Tampa, Florida yet? If yes, just know Tampa is one of the most desirable places in the Sunshine State to enjoy your retirement life. Tampa is ranked among the top-10 areas to retire, this is according to the latest US News & World Report rankings.
Living in this part of Florida feels like being on a very long vacation. Tampa provides a laid-back beach lifestyle while offering all amenities suitable for seniors. Most importantly, the cost of living in this city is slightly less than the usual US average.
Interested in learning about becoming a resident in Florida or moving there? Read more.